Slow Cooker Chicken Coconut & Lime Soup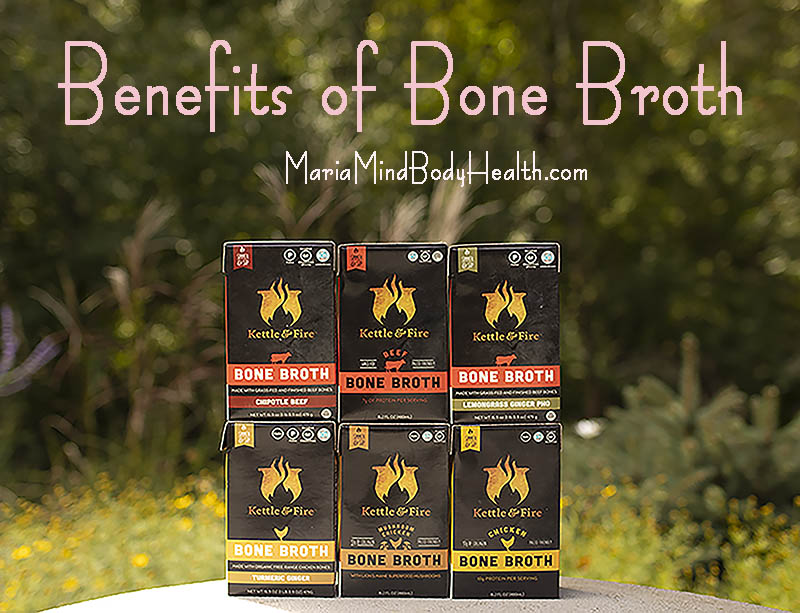 I once made my own homemade bone broth every single week! No lie, it was my son's first food after breastmilk. He LOVED it and would beg for it! I believe that has helped form his healthy savory pallet! He doesn't crave sweets like most children. On my birthday we went out to eat and he devoured a 14 ounce rib-eye steak on his own! The restaurant owners were impressed!
Now that life is quite busy, I LOVE that I now have a quality bone broth product like Kettle and Fire! This is not your traditional watery stock broth that I grew up with. This is filled with collagen and nutrients just like you made a pot of bone broth at home, without the 2 days of simmering!
I LOVE how popular bone broth has become! When I get asked, "I am sick and do not have an appetite. What should I eat?" I always tell them, drink bone broth! It is filled with nutrients and will help them get better! 
Bone broth provides a nutrient profile that is extremely healthy for any lifestyle! 
1. It has collagen! That lovely collegen that helps keep skin healthy and joints feeling great! Read more on collagen HERE.
2. Electrolytes and micro-nutrients to replenish lost energy (AKA the dreaded "keto flu".) 
3. Broth has a hearty, wholesome flavor to get that "treat yourself" feeling that became less common when you threw all your junk food away. 
I also get asked all the time, "Maria, if you do not recommend Gatorade for my kids, what should they drink when they are in sports?" Skip the sugary drink filled with fructose and food dye and pack a box of Kettle and Fire broth! You could think of bone broth as the healthy and natural "Gatorade!" Poke a hole in the top and toss in a straw and you have a healthy "juice box!"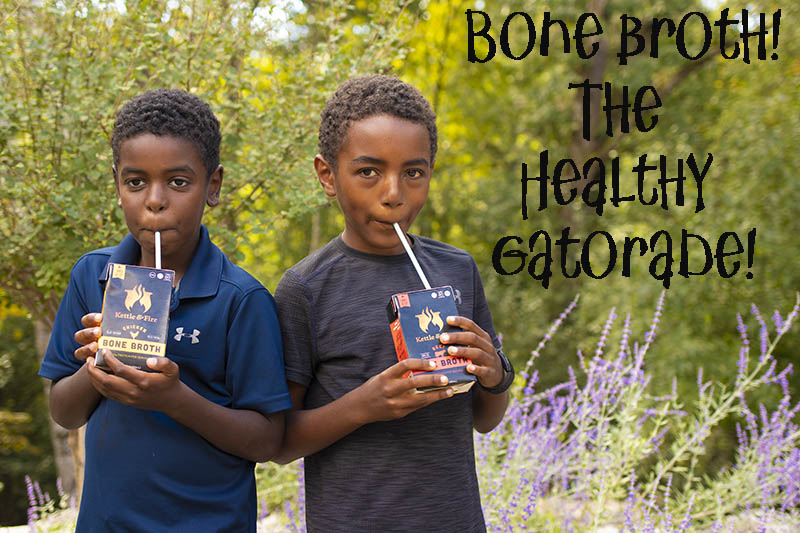 I LOVE using Kettle and Fire broths for making easy soups in the Fall and Winter months! This Coconut & Curry Lime broth helps make delicious soups even better with a special flavor profile!
Kettle and Fire is so generous! They are offering 25% OFF for my readers!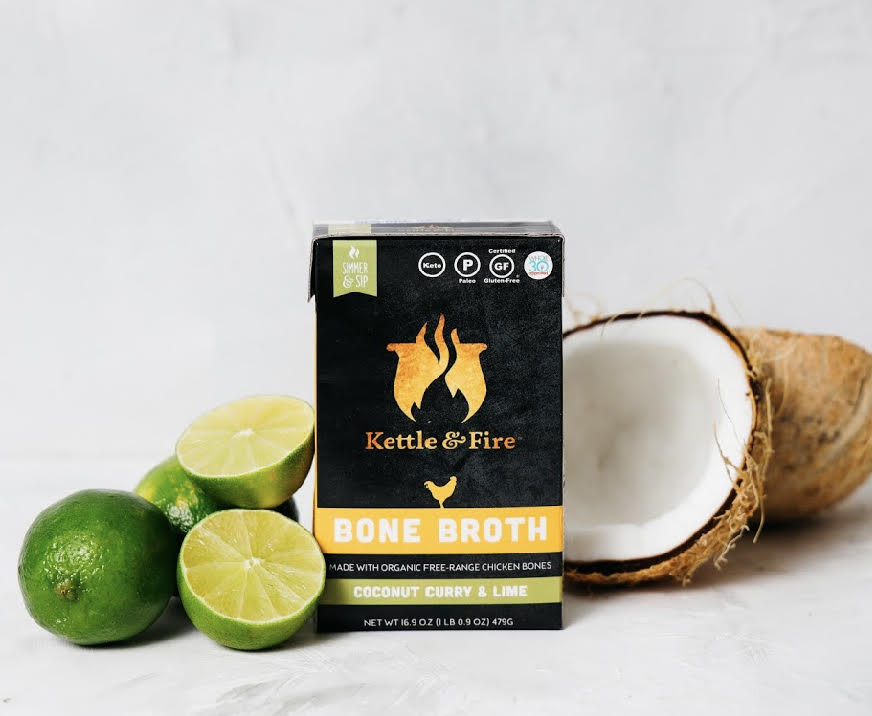 I also love slow cooking! Slow cooking makes the house smell delicious when you get home! I also love that you can open the slow cooker up and eat when you are hungry! If you are having a hard time feeding a busy family during the school year with sports, after school activities and work obligations, OR if you are practicing Intermittent Fasting and don't eat at the same time, SLOW COOKING is perfect! After school or work, just open the cover and dish up a bowl as needed!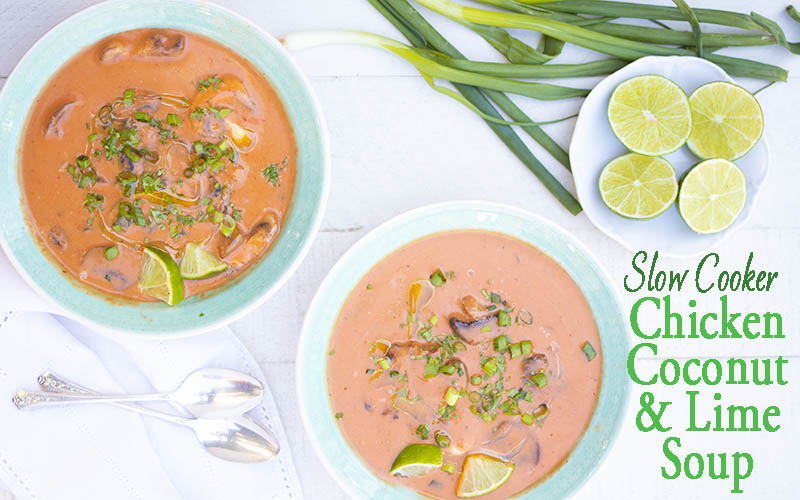 Slow Cooker Chicken Coconut & Lime Soup
Ingredients
1 1/2

lbs

boneless chicken thighs

cut into bite-size chunks

2

cups

mushrooms

sliced

1/2

cup

red bell pepper

seeded and sliced

4

green onions

white and greens part, sliced

3

cups

Kettle and Fire Coconut Curry and Lime broth

1-3

drops

stevia glycerite

1

TBS

peeled and finely minced fresh ginger

Fresh lime wedges and 1/3 cup chopped fresh cilantro
Instructions
Grease a 6-quart slow cooker. Place the raw chicken chunks, mushrooms, peppers, green onions, Kettle and Fire Coconut curry and lime broth, natural sweetener, and ginger in the slow cooker and cook for 6 hours on low or until chicken is done.

Serve into soup bowls, garnish with lime wedges and sprinkle with cilantro.

Store extras in an airtight container in the fridge for up to 4 days. Can be frozen for up to a month. To reheat place in a pot over medium heat for 4 minutes or until heated through.
Notes
Nutritional Information:
184 calories, 9g fat, 22g protein, 4g carbs, 2g fiber
TESTIMONY OF THE DAY
"Hi Maria and Craig,
I started my keto journey about a year ago. I knew it was working because I was feeling better, clothes didn't fit anymore, the scale was moving down and people were commenting how good I was looking but as always hung on to self criticism that is wasn't that big of a change. These were friends and family, they were just being nice right?
This morning really solidified how far I've come. At the Dr's office they informed me I was 62 pounds lighter than I was last time I had seen them. That's huge!!! 62 pounds!
Thank you again so much for providing the guidance and feedback that you do." – Stelli
Most people I consult are doing keto totally wrong. Get fast results with the my NEW Keto Packages!