Roasted Cauliflower
THYME FACTS
I guess it is "thyme" for a bath!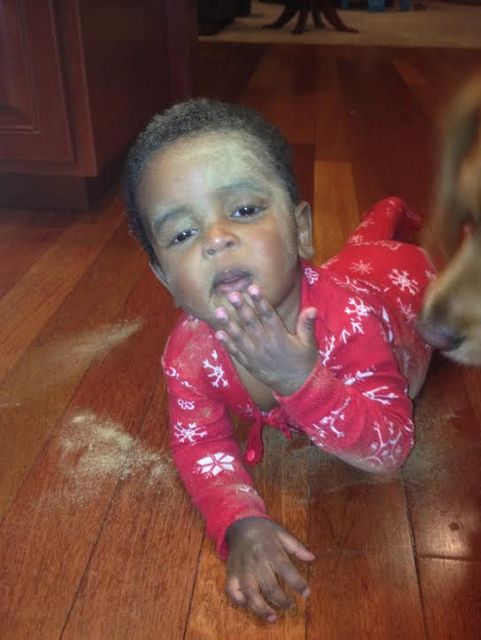 Benefits of Thyme:
1. Contains Highest amounts of Antioxidants: lutein, zeaxanthin, and many others. If you are cutting out fruit to lower the sugar in your diet, herbs like Thyme are way higher in antioxidants than fruits anyway!
2. Thyme is one of the richest sources of selenium, potassium, calcium, and iron! No need for those potatoes and bananas to get your potassium in!
3. Thyme contains Thymol: an essential oil that is antiseptic and anti-fungal.
4. High in Vitamin C: There is something called a "phagocytic index" which tells you how rapidly a particular lymphocyte can gobble up a virus, bacteria, or cancer cells. We know that glucose and vitamin C have similar chemical structures, so what happens when the sugar levels go up? They compete for one another when entering the cells. And the thing that mediates the entry of glucose into the cells is the same thing that mediates the entry of vitamin C into the cells. If there is more glucose around, there is going to be less vitamin C allowed into the cell. It doesn't take much: a blood sugar value of 120 reduces the phagocytic index by 75%. So when you eat sugar, think of your immune system slowing down to a crawl. Simple sugars aggravate asthma, cause mood swings, magnify personality changes, muster mental illness, fuel nervous disorders, increase diabetes and heart disease, grow gallstones, accelerate hypertension, and magnify arthritis. Since sugar lacks minerals and vitamins, they draw upon the body's micro-nutrient stores in order to be metabolized into the system. SO instead of reaching for an orange for vitamin C which has sugar, try adding thyme into your diet!
5. Thyme contains high amounts of B-6. B-6 increases GABA  which is our anti-anxiety neurotransmitter in the brain. GABA deficiency displays as emotional eating, anxiousness, nervousness, irritability, restlessness, allergies, blurred vision, clammy hands, butterflies in the stomach, dizziness, IBS, constipation, neuropathy, fibromyalgia, headache, insomnia, trembling or shaking, tinnitus, manic depression, and mood disorders. You don't need all of these issues to be deficient in GABA. To read more on how to increase GABA through foods and supplements, check out my book: Secrets to Controlling Your Weight Cravings and Mood.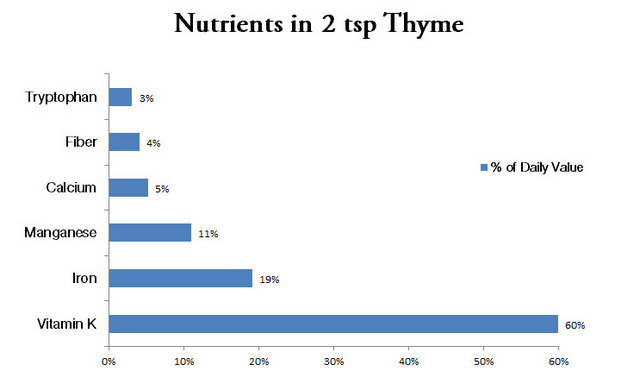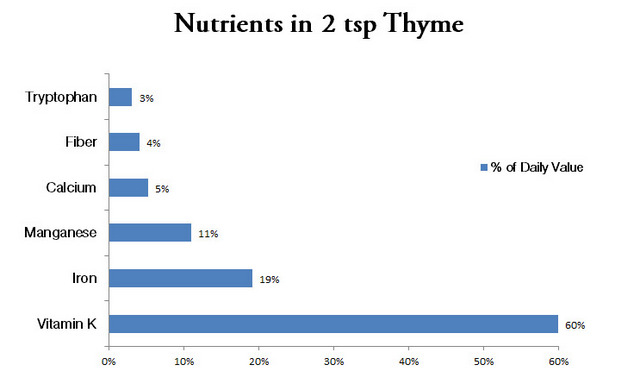 NOTE: to get the benefits of vitamin K, you MUST eat fat! Vitamin K is fat-soluble, which means you need to consume a fat with it to reap the benefits. Are you taking your vitamin D supplements on an empty stomach, with an egg white omelet or a banana? Sorry to burst your bubble, but your vitamin D level will not increase; you need fat for absorption.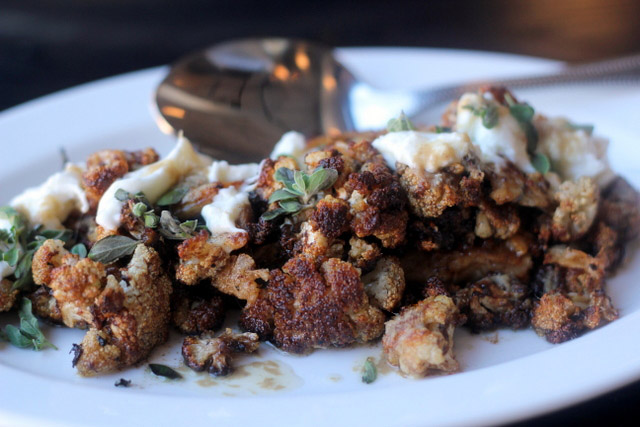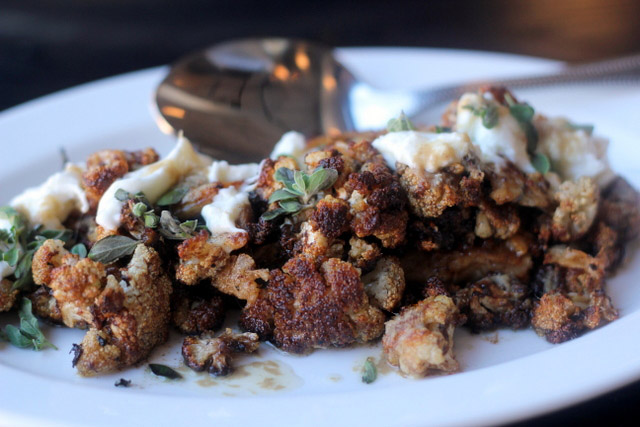 There are over one hundred varieties of thyme, with the most common being Garden Thyme and Lemon Thyme.  Lemon thyme has a slightly more-pronounced lemony fragrance, particularly good with this dish!
This Roasted Cauliflower is a perfect keto Thanksgiving or keto Christmas side dish!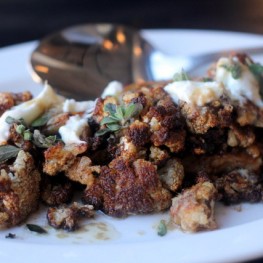 Roasted Cauliflower with Burrata
Burrata cheese is fresh mozzarella cheese with cream in the middle of the ball....drool!
Ingredients
1

large head cauliflower

washed, trimmed, cored, and sliced (pieces may crumble but it's ok)

2

TBS

MCT oil or melted coconut oil

2

TBS

fresh thyme

1

tsp

Celtic sea salt and fresh ground pepper

OPTIONAL: 1 head roasted garlic

see below

GARNISH:

8

oz

burrata cheese

if not dairy sensitive

2

TBS

fresh thyme
Instructions
Preheat the oven to 425 degrees F. Spread the cauliflower in an even layer on a rimmed baking sheet. Drizzle the oil evenly over the cauliflower and sprinkle with thyme leaves, salt and pepper (squeeze soft roasted garlic onto cauliflower if using). Toss to combine. Roast until the cauliflower is lightly caramelized, turning once, about 30 minutes. Garnish with burrata cheese and fresh thyme leaves.
Notes
NUTRITIONAL INFO (per serving)
"Healthified" Cauliflower = 129 calories, 10.8g fat, 7.2g protein, 6g carbs, 2.9g fiber
(70% fat, 20% protein, 10% carbs)
ROASTED GARLIC
Roasted garlic is something so different than raw garlic. Craig and I were once eating at a Greek restaurant in St. Paul, MN called Shish. Craig's kaboobs came with a side of the white "mash" which we thought were garlic mashed potatoes. It had the consistency of mashed potatoes and had a smell of garlic. We asked the owner what it was and he said roasted whipped garlic. We tried it and we had to ask again to make sure there wasn't anything added because it really tasted like mashed potatoes. Nope, just roasted garlic. So, I came home and started making roasted garlic like mad. It is so tasty!
I also tried making it in my slow cooker and it works perfect! I do a large batch and store extra in the freezer for meals and side dishes like the Roasted Cauliflower.
To find my easy Roasted Garlic recipe, check out The Art of Healthy Eating Slow Cooker. Thank you all for your love and support!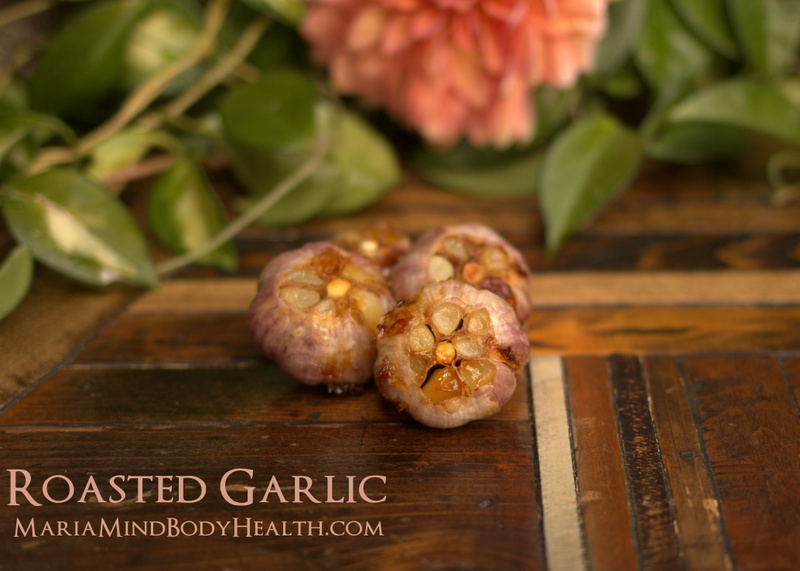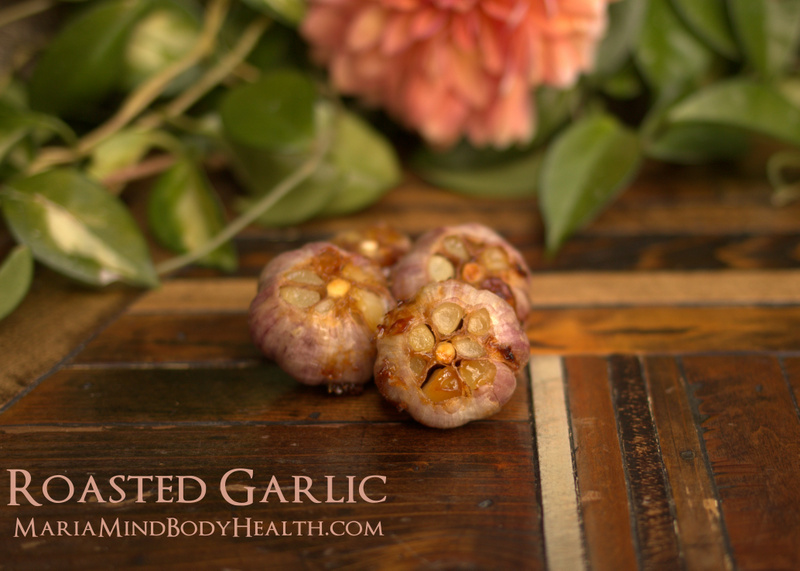 Another Cute Testimony
"Thank You so much Maria, I LOVE you so much for what you've done for me. I feel alive again! You can't get stuck on a number when you feel so SUPER FANTASTIC!" Adri from Australia