Testimony of the Day
"Several years ago, I felt like I was dying. I was plagued by numerous symptoms, i.e. always cold, no sleep, racing and out of rhythm heart, depression, hair falling out and always sick with something. My doctor took the usual tests and told me that my thyroid was normal and handed me a referral to a psychologist. I was so discouraged, but found a Osteopath that ordered a ton of blood work. It turned out that I have Hashimotos, an immune dysfunction where your thyroid hormones are destroyed by your own immune system. I was on several medications, then a naturopath I visited told me if I would get off of gluten I could kiss the meds goodbye.
I initially just got of wheat, but through the help of Maria Emmerich, I have gone totally grain free and sugar free. Currently, I don't need any medications, which is awesome because the am super sensitive to prescription; there is always a price to pay. Hope this helps someone out there!"
If you too want to get off your thyroid medication, click HERE for a consult. With the right diet and supplement plan, you can feel like a new person!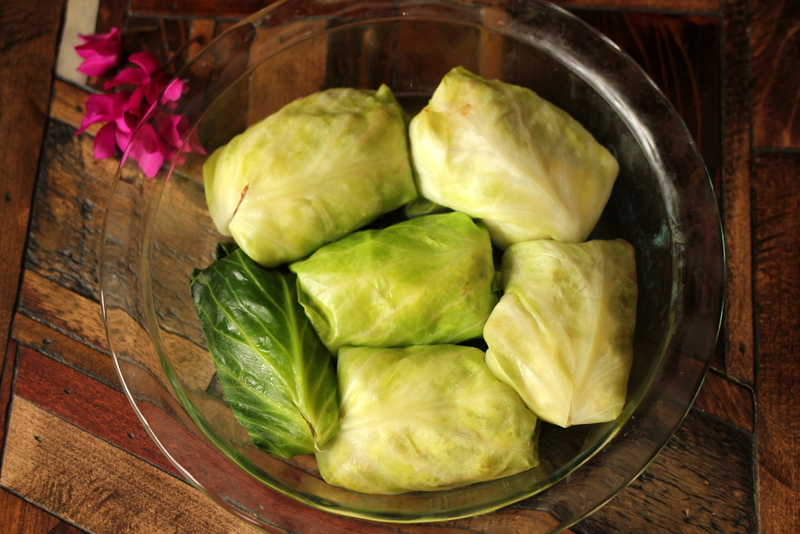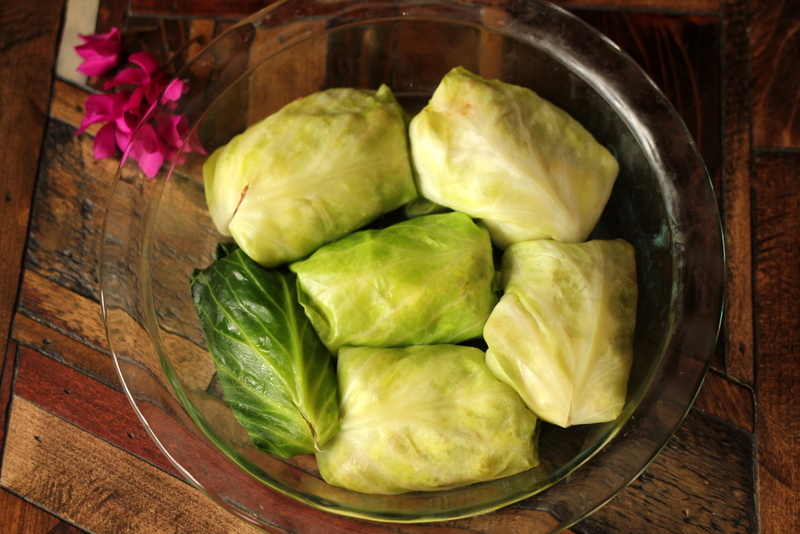 DIGESTIVE HEALTH
Digestive problems? Yeast infections? Chronic Fatigue? Allergies? IBS? Cravings? Eating fermented vegetables daily is a natural cure. If you have a history of using antibiotics, it causes your gut to be more susceptible for parasites and Candida overgrowth.A healthy large intestine is very acidic and has lots of beneficial bacteria such as Lactobacillus acidophilus. These healthy microorganisms feed on the waste left over from our digestion and create lactic acid. We need lactic acid that they produce to keep our colons healthy and in an acidic state. Without them the colon does not have enough acidity to stop the growth of parasites and yeasts and eventually the environment becomes hostile to acidophilus.Some of the signs of candida yeast overgrowth are fatigue, poor memory, a "spacey" feeling, intense food cravings, gas, loss of sexual desire, bad breath and indigestion. Candida has also been directly linked to allergies, chronic fatigue syndrome, irritable bowel syndrome, multiple chemical sensitivity disorders and various cancers. Use of antibiotics, birth control pills, alcohol and refined foods all increase the risk of developing candida.
Theses desired microorganisms that create lactic acid in the colon are naturally found in all vegetables and helps turn cabbage into highly-digestible sauerkraut. The fermentation process increases the amount of microorganisms.
Lactic acid also helps digestion at an earlier stage in our stomach. As we get older, our stomach's natural secretions of hydrochloric acid decrease. Hydrochloric acid breaks down food so it can be more easily absorbed by the small intestine. It is also the most important defense we have against harmful bacteria and parasites often present in food. Lactic acid can help compensate for reduced hydrochloric acid.
Unpasteurized sauerkraut also benefits digestion in the stomach by assisting the pancreas. The pancreas secretes essential digestive enzymes into the stomach. Sauerkraut is high in enzymes that work just like the ones from the pancreas.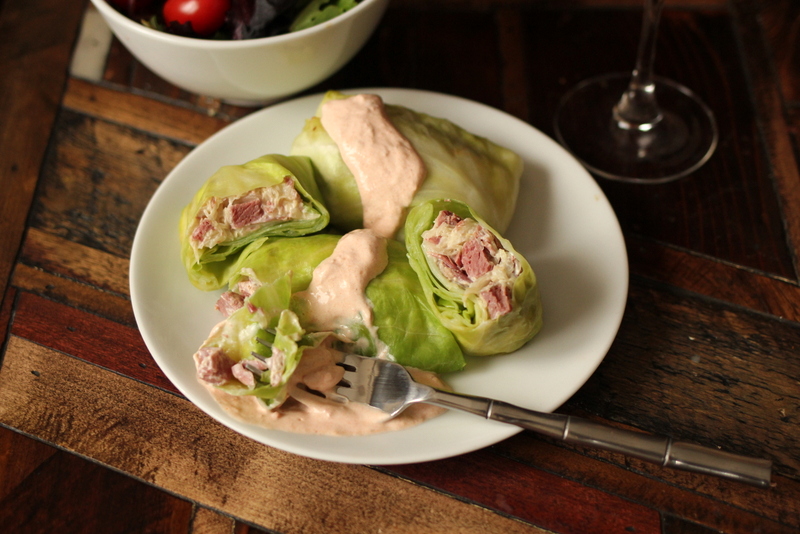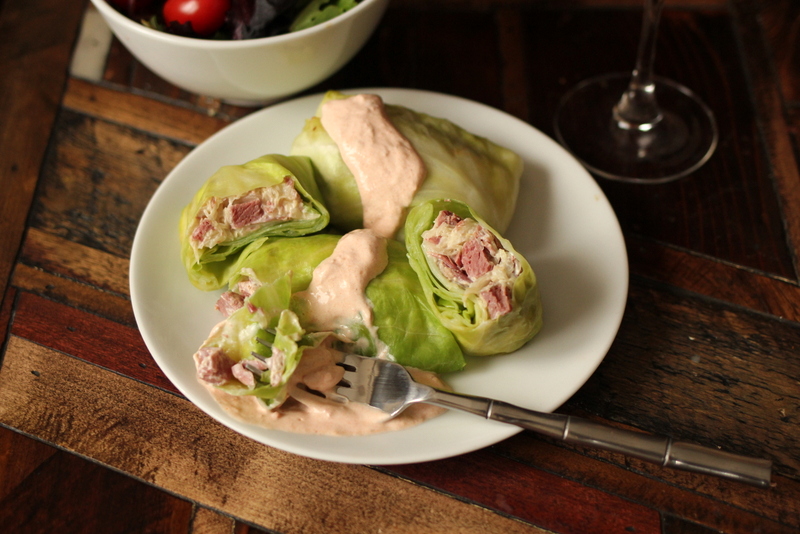 Reuben Enchiladas
Ingredients
8

oz

corned beef

8

oz

cream cheese

3

cups

naturally fermented sauerkraut

2

cup

Swiss cheese

shredded

1

large head of cabbage

Homemade Thousand Island dressing

click here
Instructions
Preheat oven to 400 degrees. In a pot, boil water and place large leaves of cabbage in the water. Boil for 5-7 minutes or until tender.

Spray a baking pan with nonstick coconut oil spray and set aside.

Place the corned beef in a bowl and shred using two forks; one to hold the beef in place and the other to scrape across the meat. Add cheese, sauerkraut, and cream cheese. Mix well and set aside.

Lay cabbage tortillas out flat, and evenly distribute corned beef mixture between the centers. Wrap the cabbage tortillas up tightly, and place them in the baking pan with the seam sides down. Bake in the oven until hot, about 10 minutes.
Notes
NUTRITIONAL COMPARISON (per serving):
USING CORN TORTILLA = 447 calories, 31.5g fat, 22.1g protein, 20.2g carbs, 4g fiber (16.2g effective carbs)
USING CABBAGE TORTILLA = 377 calories, 30g fat, 22.7g protein, 6.2g carbs, 2.1g fiber (4.1 effective carbs)