Ranch Meatloaf
When I was little I dreaded meatloaf night. I probably would have actually liked it if I would have just given it a chance but seriously I think the name turned me off. I love meatloaf now. It is like a gigantic hamburger. Who would want that?  I officially am renaming the meatloaf to "Gigantic Hamburger Loaf!"
Instead of using breadcrumbs or cracker crumbs, I use an egg for the binder along with finely chopped mushrooms (don't worry you don't even taste them, but it makes it very moist) and grated Parmesan cheese. Mushrooms and aged cheeses have something called "UMAMI." Umami is a pleasant savory taste produced by glutamate and ribonucleotides, chemicals which occur naturally in many foods. Umami is subtle and not generally identified by people when they encounter it, but blends well with other tastes to intensify and enhance flavors; it plays an important role in making food taste delicious.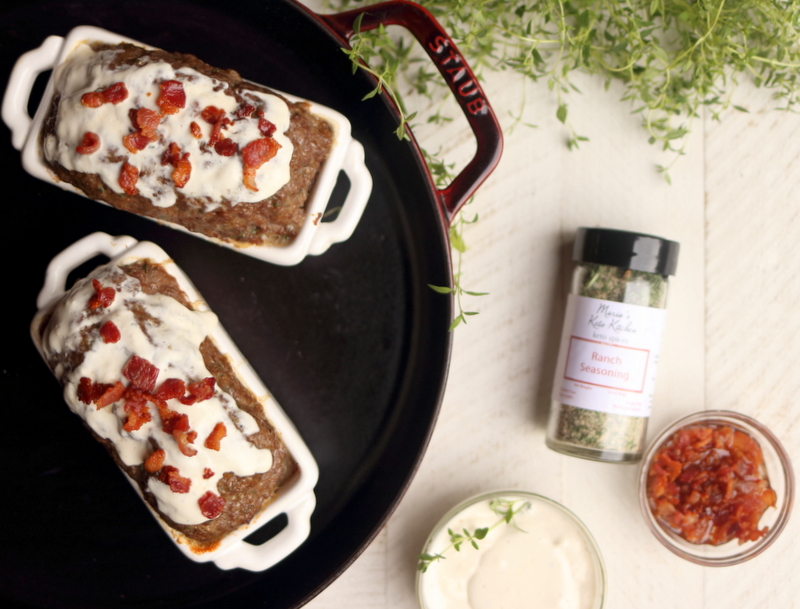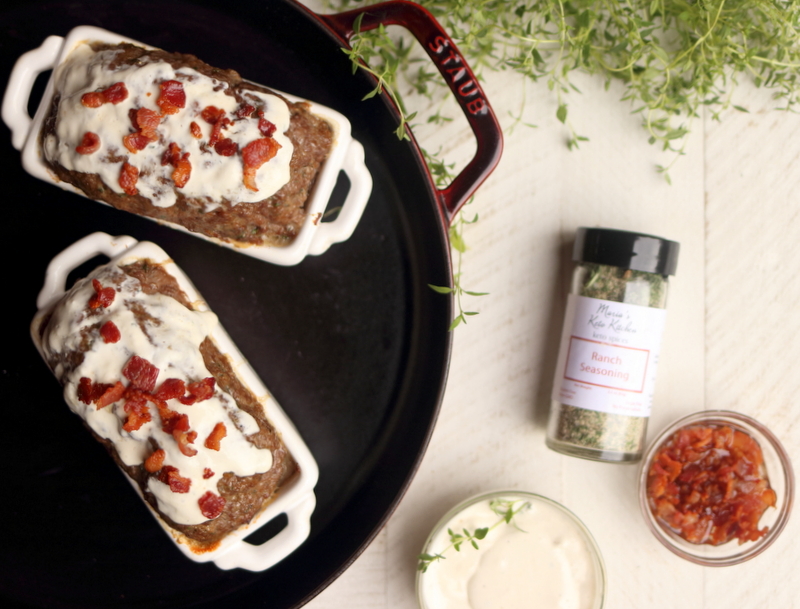 About 8 years ago, Craig's parents gave us the BEST Christmas present! It was a 1/2 grass-fed cow from a farmer! Grass-fed beef is probably the best gift they could have gotten us! I suggest a box of quality beef from Butcherbox as a gift to your family or friend! Each month they will remember you and enjoy healthy meals!
We love using Butcherbox ground beef for lots of recipes including this Ranch Meatloaf. Check out this video with Micah as my assistant on what you get in a box each month! You can customize your box too! We now are getting ribs and ground beef which we eat all the time!
Ranch Meatloaf
Ingredients
1 1/2

pounds

ground beef 85% lean

1

egg

beaten

1/2

cup

finely chopped mushrooms

4

teaspoons

Ranch spice recipe

see below

1/2

teaspoon

Redmond Real salt

Garnish with dairy free Ranch Dressing

OR use Primal Kitchen Ranch
Instructions
Preheat oven to 350 degrees F (175 degrees C). In a large bowl place the ground beef, egg, mushrooms, Ranch seasoning and salt. Mix well to combine. Form into 6 mini loaves and place into mini meatloaf pans. Bake in the preheated oven approximately 30-35 minutes, or until internal temperature reaches 160 degrees F (70 degrees C). Meanwhile make the Ranch Dressing (click HERE to find the recipe).

Store extras in airtight container in the fridge for up to 4 days.
Notes
Nutritional Info:
325 calories, 26g fat, 21g protein, 0.5g carbs, 0.1g fiber
TESTIMONY OF THE DAY
Testimony 40 pounds in 4 months following The 30 Day Ketogenic Cleanse!
 Thank you for your love and support!
"My husband joined me on this Keto journey on Mother's Day, May 14th of this year.  The "before" picture is probably from a year or so ago and I'm sure I was heavier when I started, but it was the only photo I had (we'd taken some family photos of all of our adult kids and their boyfriends/girlfriends as well).  The shirt was a gift and I love it, but had to safety pin it closed to wear it so it wouldn't gape open, now I'm doing to have to pin it so it isn't quite so revealing.
 
Prolonging hitting "post" so without further ado, I'm posting these for all to see that this was the easiest thing I've ever done and if you follow this plan as it's been laid out, you WILL be successful.  I went from 190.8 and needing a size 14 (but refused to buy them), to 148 pounds in just 4 months and my size 10 jeans are now baggy.  From XL tops to mediums (my 22 year old daughter and I now wear the same size shirt and I'll admit to wearing her clothes when she's not home, but don't tell her.  =) )  My husband has gone from 190-195 to 165-170 at 6 foot tall.  I'm 47, pushing 48 so trust me when I tell you this was the easiest thing I've EVER done.  I'd totally given up ever being thin again, I'm a bit lighter than when I got pregnant with my son who was 25 in May, he was our first of 4 kids." – Alexa