Pumpkin Pie Sorbet
I don't know about you, but it is NEVER too cold for ice cream or sorbet!
KETO SORBET and ICE CREAM TIPS
1. Add a pinch of salt: salt helps keep the sorbet or ice cream soft. Salt also should be added to desserts! Click HERE to read why.
2. Use less Swerve (or erythritol): erythritol doesn't melt and instead it crystallizes which causes keto sorbet or ice cream to get hard. Plus when you blend sweeteners you get a better flavor profile. What I do is use less Swerve and I use a few teaspoons stevia glycerite which is a non-bitter stevia which is a thick honey-like sweetener. Click HERE to find stevia glycerite. 
3. Use Allulose instead! Allulose tastes just like sugar and keeps sorbet and ice cream soft yet it doesn't effect blood sugar at all! Click HERE to find Allulose! 
Do NOT add alcohol. Some food bloggers recommend a tablespoon or two of vodka which may help keep keto sorbet or ice cream soft but if you are like me you will gain weight and most likely be kicked out of ketosis. On my trip to Italy, we discussed food a lot! Lani, a lovely woman on our trip told me she added little vodka to her ice cream to keep it soft and she was out of ketosis for 3 days! Not worth it!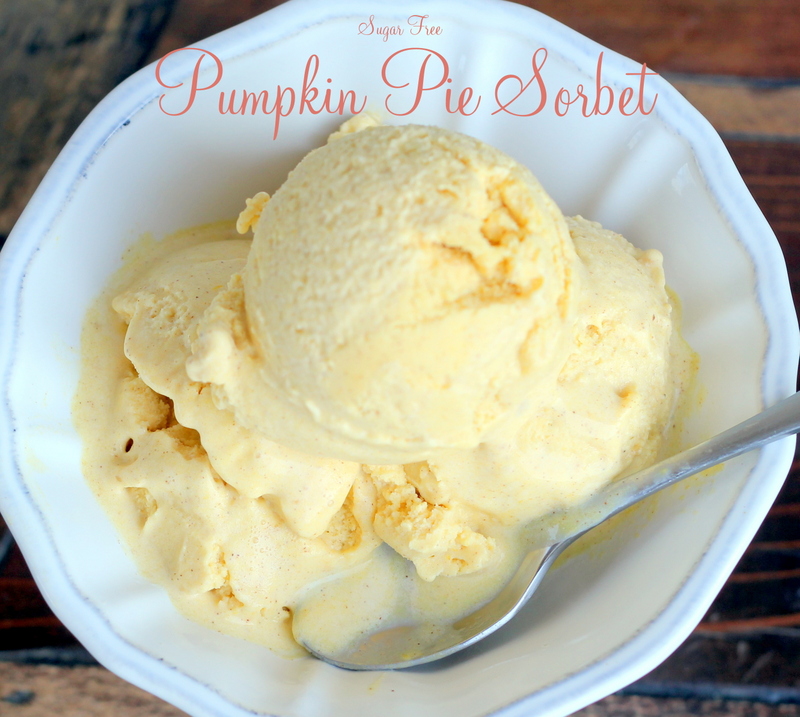 I often get questions about the cost of the ingredients I recommend, such as Swerve. I calculated the price for my ice cream recipe with all the top notch ingredients. The results:
My recipe = $2.13 per pint.
Ben and Jerry's = about $4.00 per pint.
Cold Stone Creamery = $7.50 a pint and it has 2 GRAMS of trans-fat!
I made a Youtube cooking video making this delicious Pumpkin Spice Sorbet recipe to show you how easy a keto thanksgiving can be!
Pumpkin Pie Sorbet
Ingredients
2 1/4

cups

unsweetened almond milk or 1 can coconut milk

1/2

cup

Swerve Brown

1/2

cup

unsweetened pumpkin puree

2

tsp

pure vanilla extract

or 1 vanilla bean scraped clean

3/4

tsp

pumpkin pie spice: 1/4 tsp cloves

1/4 tsp ground nutmeg, 1/4 tsp ground cinnamon

1

tsp

Redmond Real salt

to keep it soft
Instructions
In a large bowl, combine all the ingredients and mix until well combined. Place into your ice cream machine (click HERE to find the one I love AND it is 1/2 off the original price!!!)and watch the magic happen within 45 minutes or according to your ice cream maker's directions. Freeze until set. Makes 5 servings.
Notes
NUTRITIONAL COMPARISON (per 1/2 cup serving)
Traditional Pumpkin Sorbet = 354 calories, 23g fat, 2g protein, 39.3g carbs, 3.5g fiber
"Healthified" Sorbet using almond milk = 26 calories, 1.4g fat, 1g protein, 2.9g carbs, 1.2g fiber
"Healthified" Sorbet using coconut milk = 148 calories, 14g fat, 1.5g protein, 6.2g carbs, 1g fiber
Testimony of the Day
"Hi Maria! On 02/15/13 I was diagnosed with a 12mm Pineal Gland Cyst after a sever migraine. In late July I flew to Colorado in hope of finding some answers and second opinions. I was given no information from the 2-3 Neurologist that I have seen as to what caused or is "feeding" this. The doctors are very unhelpful due to where my cyst is located (dead center of my brain). Their fearful that it will grow thus forcing them to operate, so they shove RX's at me in hopes that something will help. Only more bad news followed. Not only was the Cyst causing problems, I was on my way to getting Type 2 Diabetes and leaky gut. I knew I needed to change my life and fast.
I found out about "The Maria Way" from some very good friends. I have followed your plan since the being of August. On 08/20/13 just 2.5 short weeks of being GF, I had my follow up MRI. It showed that the cyst was now only 1.1cm in size. It had already shrunk 1mm! I know that sounds tiny but when you're talking about something growing in the middle of your brain it means a lot! I have stopped all med's and have been migraine and headache free for almost a month now thanks to you!
My skin has improved and my body has never felt better. I can't wait to see how i feel in a month! My holistic doctors believe that a change in diet and the right supplements will probably shrink or even make my cyst go away. I am really looking forward to TOTAL body health. I truly do feel that "you are what you eat".
I have never felt better! Not only am I losing weight but very soon I will be completely healthy! Thank you Maria!!!!" Megan
Most people I consult are doing keto totally wrong. Get fast results with the my NEW Keto Packages!