Testimony of the Day
This is the type of thing that makes me want to spread the word of health more!  Amazing results after one of our consults.
" Hi, Maria,
It's been about 6 months since I found your blog through Dr. Davis. What a great 6 months it's been! I'm down 52.5 pounds. I was taking over 500 prescription and non-prescription pills a month for severe IBS, acid reflux, asthma, headaches, etc. I had just turned 30 and was at my heaviest! I had been a long time "points" member, and was gaining weight while eating my whole grains and fruit by the pounds! Fruit doesn't count as points you know!!! What a wake up call when I found your blog and became your client! I wanted to share some before and after pictures with you, although I am still a work in progress. Thanks again Maria, you have truly changed my life for the better. 
Tanya"
Way to go Tanya!  Keep up the great work! Click HERE to get started like Tanya
ADRENAL FATIGUE
Do you crave salt? People with adrenal fatigue crave salt because they often have low blood pressure. The adrenal glands regulate water and mineral balance in our cells. Without adequate quality sodium intake, your blood pressure drops and your adrenal hormones suffer. The adrenal glands are one of the most important organs in your body, yet they are often overlooked by medical professionals. These tiny essential glands secrete sex hormones and stress-response hormones. Internal and external stressors (exercise, lack of sleep, family, work…) have a huge effect on the adrenals and therefore our hormonal (thyroid, progesterone, estrogen, etc.) output.
During stressful events, your adrenal glands secrete hormones that help your body respond to the stressors; increase blood sugar, rate of breathing, cellular metabolism, and blood flow. They also produce cortisol (which everyone recognizes as the 'belly fat' hormone), but also estrogen (men produce estrogen from adrenals), testosterone, thyroid, and many other hormones; all of which regulate metabolism, immune system, reproductive, mineral balance, and excretory functions.
Signs of adrenal fatigue:
1. Insomnia (you can fall asleep, but wake up many times throughout the night)
2. Lack of energy
3. Little stressors make you feel anxious
4. Low moods
5. Low blood pressure
6. Bad memory
7. Low libido
8. You lack interest in the things that you use to love
9. Reoccurring infections
10. Asthma or allergies
11. Need coffee or stimulants to give you energy
12. Hot flashes or PMS
13. Loss of menstrual cycle OR prolonged cycle
Elevated cortisol uses up tyrosine, an amino acid found in protein, which is essential for the thyroid gland to convert from t3 to t4 (the more active thyroid hormone). If there is an inadequate thyroid hormone, the adrenal glands are affected and if there are inadequate adrenal hormones, the thyroid doesn't function properly.
Your adrenal glands are your main stress adaptation glands. When you are overstressed and the adrenal glands are overworked, your body converts progesterone into adrenal hormones. This depletes you of
progesterone, which is our anti-anxiety hormone. Low progesterone also is the leading cause of anxiety, insomnia, and hot flashes.
Zinc is depleted with the use of birth control and high sucralose use. A zinc deficiency causes adrenal fatigue and PMS because it is essential for thyroid function (not to mention salty cravings and desiring something sweet after meals).
Adrenal health is essential to obtaining your desired weight. There are some adrenal supporting herbs that help your body get back on track! Please contact me for a consult to help with suggestions that is best for your body; everyone has different needs!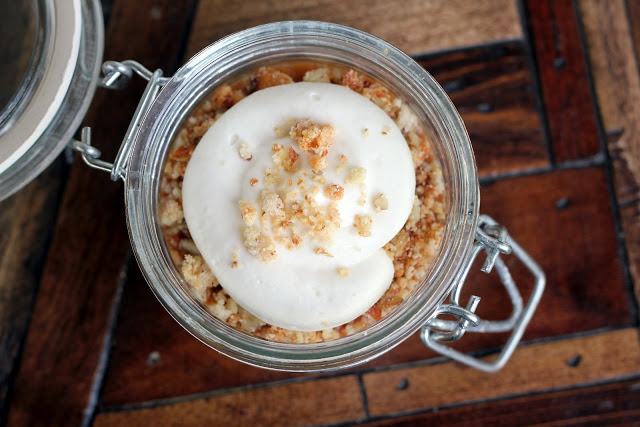 "HEALTHIFIED" PUMPKIN PIE IN A JAR
CRUST LAYER:
3/4 cup blanched almond flour
1/4 cup coconut flour
1/2 tsp baking powder
1/2 cup coconut oil or butter
1 tsp stevia glycerite (omit if using Swerve)
1 egg (omit if egg allergy… it will still work!)
1 tsp Celtic sea salt
1/2 cup unsweetened almond milk
1/4 c
powdered Swerve
(or powdered erythritol and 1/4 tsp stevia glycerite)
8 oz cream cheese OR mascarpone cheese, at room temperature (or coconut cream for dairy allergy)
1 tsp pure vanilla
PUMPKIN LAYER:
1 cup unsweetened almond milk
1 15-oz can pumpkin puree (not pumpkin pie filling)
1 cup Swerve (or erythritol and 1 tsp stevia glycerite)
1-1/2 tsp cinnamon
1/4 tsp ginger
1/4 tsp cloves
OPTIONAL TOPPING: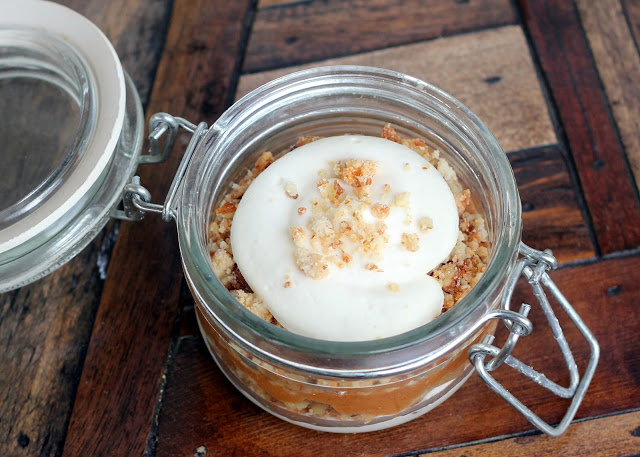 CRUST LAYER: Preheat the oven to 350 degrees F. In a medium bowl, cream the butter, sweetener and stevia. Cream for a few minutes until very fluffy. In a separate bowl mix together the almond flour, coconut flour, baking powder, salt, and cinnamon. Slowly add in the dry ingredients to the wet and mix until smooth. Add egg and mix well. Roll 2 TBS of dough into a ball in your hands (for uniform shape) onto a cookie sheet. Place cookies about 2 inches apart. Bake in preheated oven for 10 minutes or until lightly golden around the edges. Crumble and use a cookie crust.
CREAM LAYER: Mix the almond milk, cream cheese, powdered swerve, and vanilla until well combined.
PUMPKIN LAYER: Pour the almond milk into a large bowl. Add the pumpkin, sweetener, and spices. Beat with a wire whisk for 2 minutes, or until very well blended. The mixture should be quite thick.
TO LAYER INTO THE JARS: Fill a pastry bag fitted with a large plain round tip (or a large Ziplock with an end cut) with the whippy cream cheese mixture. Pipe a layer of this mixture onto the bottom of an 8-ounce Mason jar or cute jar like the ones I used (
click HERE to find
), starting at the edge of the jar and working to the center. Repeat this step with the rest of the jars.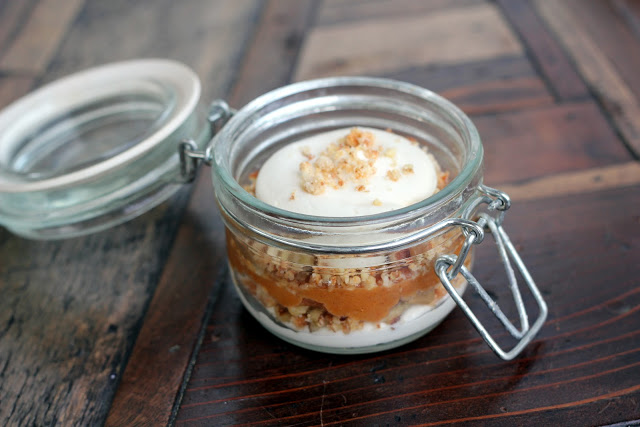 Sprinkle the cream cheese layer with 2 TBS of baked cookie crumbs. Repeat with the rest of the jars.
Fill another pastry bag (or Ziplock) with the pumpkin mixture. Pipe this mixture onto the cookie crust layer, in the same manner as the first cream cheese layer, and repeat with the rest of the jars. Add a dollop of more cream cheese mixture to the top.  Top with a sprinkling of the cookie crust and chocolate shavings, if desired. Cover and chill for 2 hours or overnight. Makes 12 servings.
NUTRITIONAL COMPARISON (per serving)
Traditional Pumpkin Pie Jars = 290 calories, 20g fat, 2g protein, 39g carbs, 2g fiber (36 effective carbs)
"Healthified" Jars = 177 calories, 16g fat, 3g protein, 5g carbs, 2g fiber (3 effective carbs)