Protein Sparing Flan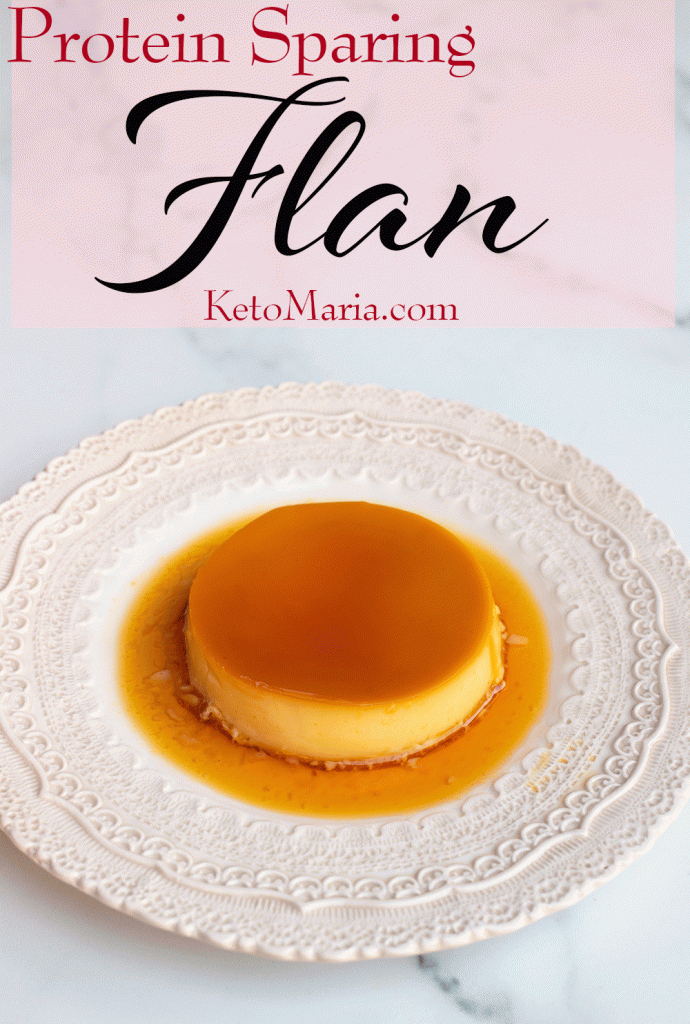 Oh my word! I have been testing this protein sparing flan for a long time now and it is now perfect!
I wanted to post this Protein Sparing Flan for Cinco de Mayo, but it wasn't perfect until now!
Testing recipes is hard! Many times the recipes flop, you waste ingredients, you waste time and you waste money. I don't think people realize how difficult recipe creating can be. This protein sparing flan was one of those complicated recipes!
Once I perfected this protein sparing flan recipe, my husband said, "This is like the best crème Brulee I have ever had!" Which is a high compliment because crème Brulee is his favorite dessert!
A traditional flan has over 240 calories and 35 grams of carbohydrates. This protein sparing flan only has 62 calories and only 1 gram total carbs!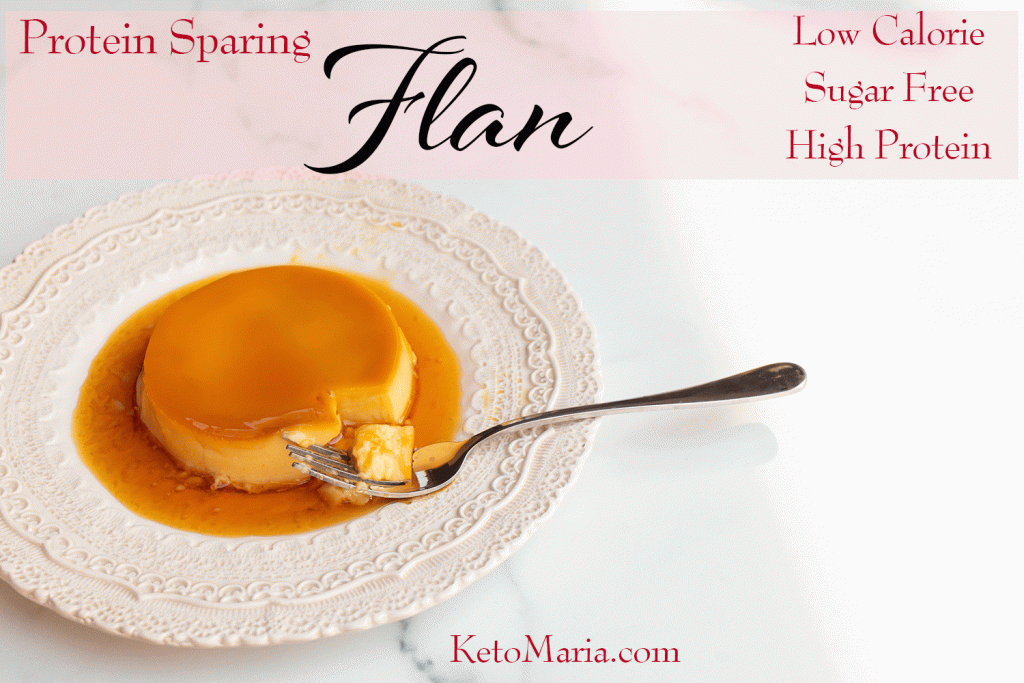 It was hard to find what natural sweetener will work for making this sugar free flan and I finally found the answer!
This Protein Sparing Flan requires Wholesome Yum Allulose. Other sweeteners like erythritol will not work because it doesn't caramelize.
Allulose is a natural sweetener that has zero calories and it a favorite keto sweetener because it tastes just like sugar and it caramelizes just like sugar! I prefer Wholesome Yum's Monk Fruit Allulose Blend!
I love Wholesome Yum allulose products for many reasons!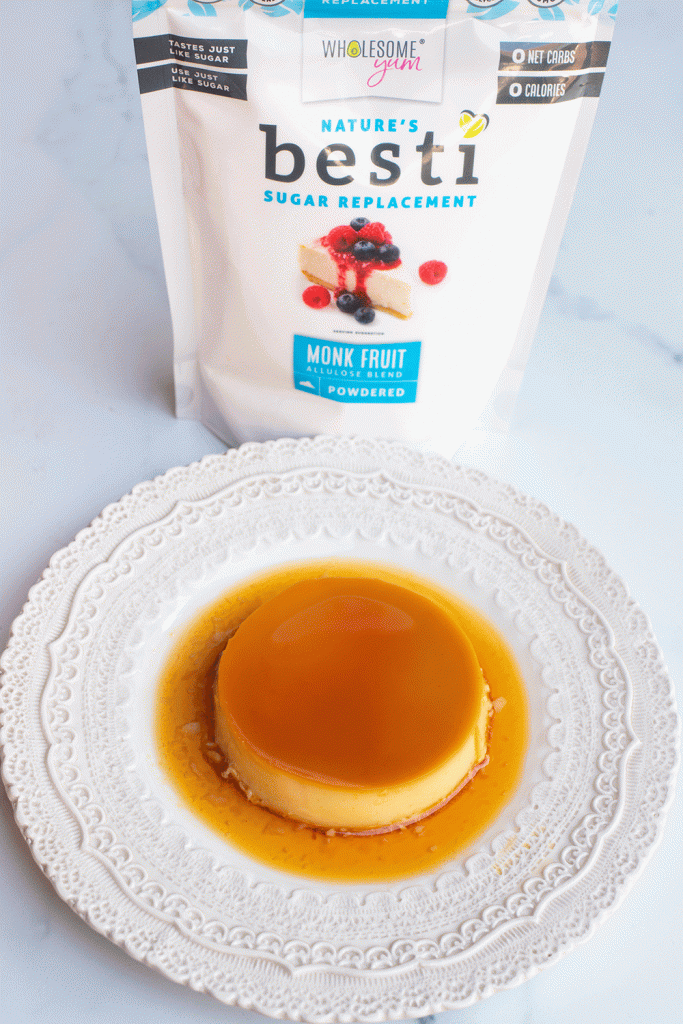 First off, most people cutting out sugar prefer the natural flavor of Wholesome Yum Monk Fruit Allulose blend. It doesn't have a cooling effect nor a bitter taste like some keto sweeteners.  Wholesome Yum Monk Fruit Allulose blend tastes just like sugar!
Not only does Wholesome Yum create the best quality sweeteners without harmful additives like some brands, they are also a kind small family-owned business. You all know I love supporting small business!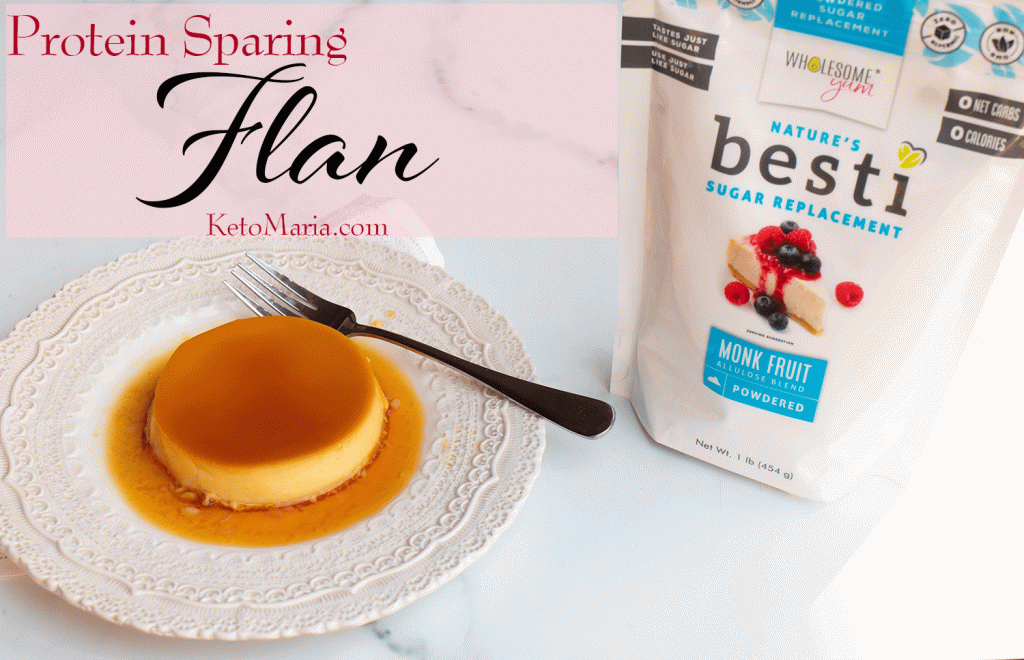 NOTE: If you are not doing Protein Sparing days and would prefer a traditional keto flan, instead of unsweetened almond milk, you can use heavy cream and instead of egg whites, use egg yolks. My son can't do dairy but he LOVES it! I tried Raw Farms dairy products and he doesn't have a reaction with it! Raw dairy has all the enzymes and health properties I feel good about eating! Go HERE and use code MARIA to SAVE 20%! It makes great sugar free Flan!

If you like this Protein Sparing Flan recipe, you can find many more protein sparing recipes in The Art of Fat Loss! Click HERE to find!
Click HERE to learn more about Protein Sparing Modified Fasting.
Protein Sparing Flan
Ingredients
1

cup

Wholesome Yum powdered allulose

divided

⅛

cup

water

1

cup

unsweetened almond milk

or hemp milk if nut free (see NOTE)

2

large

eggs

2

large

egg whites

1

tablespoon

vanilla

1/8

teaspoon

stevia glycerite

1/8

teaspoon

Redmond Real Salt
Instructions
Preheat oven to 325 degrees F. Place 4 (4 oz) ramekins into a casserole dish. Set aside.

Place 1/2 cup Wholesome Yum allulose into a large pot and heat over medium high heat until melted, while stirring frequently. Once melted, add the water. Stir occasionally until the sauce has become a golden brown. Remove from heat and divide into the bottom of the ramekins, covering the bottom evenly. Set aside and allow to cool.

In a medium bowl, stir together the almond milk, 1/2 cup Wholesome Yum allulose (or use 1 teaspoon stevia glycerite to sweeten), vanilla, stevia glycerite and salt.

In a separate bowl, whisk together the eggs and egg whites until well combined and the egg whites are well blended. Slowly stir the eggs into the almond milk mix. Divide the custard into each ramekin, on top of the layer of caramel.

Place hot water into the casserole dish around the ramekins. Bake for 25-35 minutes. Or until the flan is just set and no longer liquid.

Remove the casserole dish from the oven but leave the ramekins in the hot water for another 10 minutes.

After 10 minutes, gently remove the ramekins from the casserole dish. Place in the fridge to cool for 3 hours or overnight.

When ready to eat, use a butter knife and slowly run it on the inside of the custard to release it from the ramekin.

Turn the ramekin upside down and slowly jiggle the custard onto the plate.
Nutrition
Calories:
62
|
Fat:
3
g
|
Protein:
5
g
|
Carbohydrates:
1
g
|
Fiber:
0.1
g
|
P:E Ratio:
1.3
TESTIMONY OF THE DAY
"Thanks Maria Wojcik Emmerich and keto adapted! Finally got rid of my hashimoto health issues and could not have done it without you." Nicole
Most people I consult are doing keto totally wrong. Get fast results with the my NEW Keto Packages!