Protein Sparing DONUTS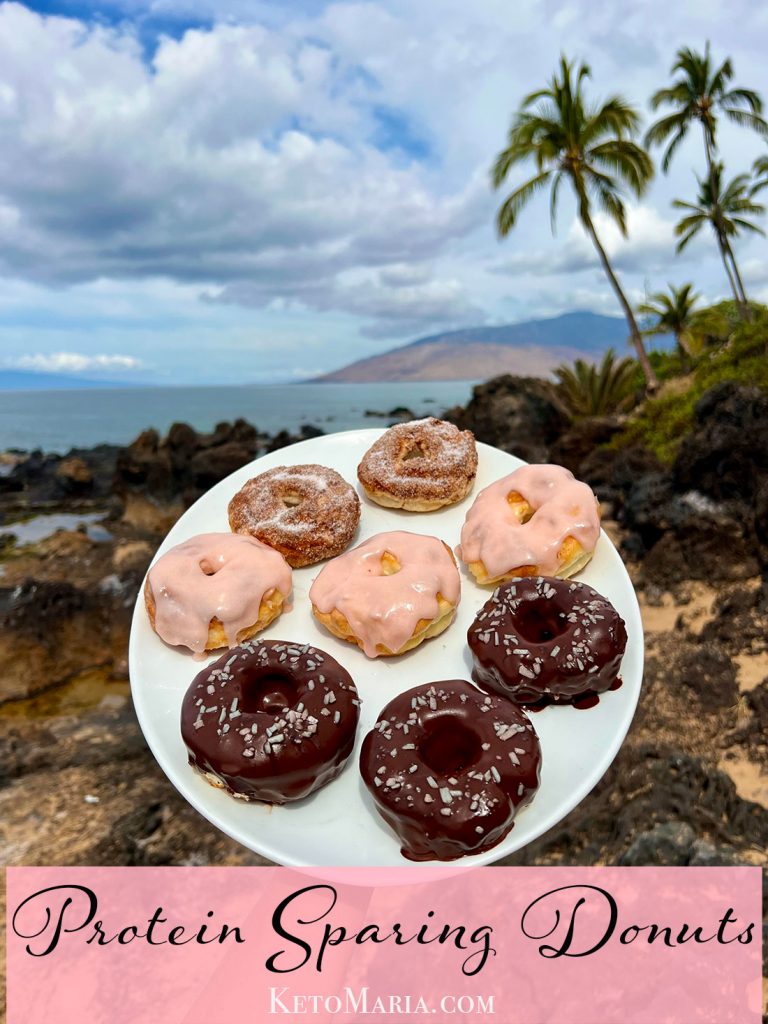 When I open my keto restaurant, I will definitely have my protein sparing donuts on the menu! I just need investors to help me launch the restaurant! Or I'm thinking a chain of restaurants around the US! Where should I open my keto restaurants?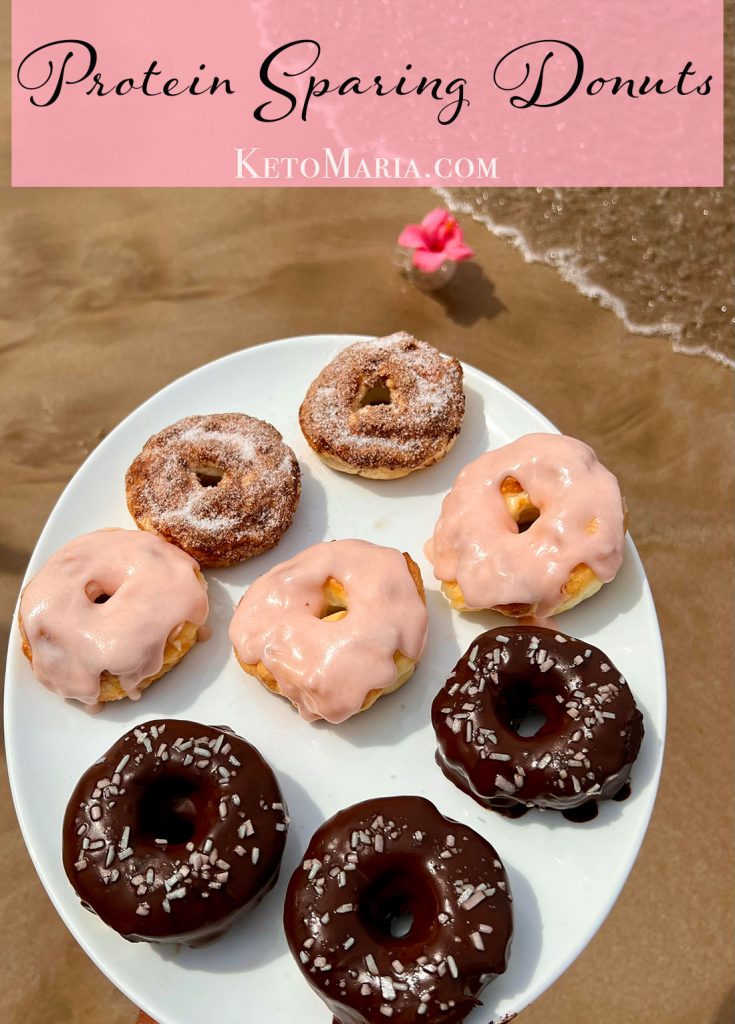 HOW TO MAKE PROTEIN SPARING DONUTS
To make my protein sparing donuts, I used Further Food gelatin!
Further Food gelatin is sourced from the highest quality, grass-fed, pasture-raised, hormone-free, and antibiotic free bovine.
Adding Further Food Gelatin works perfectly for making my protein sparing donuts extra delicious and chewy! Do not skip adding the gelatin! It adds a texture just like a real donuts!
Use code MARIAMINDBODY is for 20% off site-wide !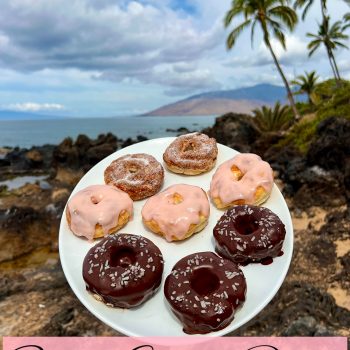 Protein Sparing DONUTS
Equipment
Ingredients
Instructions
If making sprinkles for the protein sparing donuts, start with those because they need to dry for 24 hours. To make the protein sparing sprinkles, place a piece of parchment onto a rimmed baking sheet. Place the egg white and natural sweetener into a medium bowl. Use a whisk to combine well until you have a thick paste. Add more sweetener if the mixture is not thick. Divide the mixture into 3 small bowls (or more if you want more colors). Add the natural food coloring to each bowl and stir well. Place the mixture from one bowl into a small ziplock. Cut a tiny hole into one corner and squirt a thin line onto the parchment. Repeat with colors. Dry for 24 hours or until completely dry. Use a sharp knife to cut into small sprinkles.

Preheat the oven to 325 degrees F. Spray a 4-hole (4-inch) silicone bagel pan (or donut pan) with Primal Kitchen Avocado oil spray and set aside.

Separate the eggs (save the yolks for another recipe like my keto ice cream, hollandaise, mayo or lemon curd), and place the whites into a large bowl or stand mixer. Add the allulose, gelatin, salt and cream of tartar if using and whip the whites for a few minutes until VERY stiff.

Turn the mixer to low and gently mix the egg white protein powder into the whites. Do not over mix or the donuts will end up like styrofoam.

Spread the protein sparing donut mixture onto the prepared donut pans.

Bake for 15 minutes or until cook through and golden brown.

Allow to cool completely before removing from the pans.

Coat the protein sparing donuts in whatever coating you prefer.

To make the cinnamon coating, place the cinnamon and sweetener in a shallow bowl. Brush the donuts with melted butter flavored coconut oil then dip and roll in the cinnamon mixture.

To make the glaze, place the sweetener and extract in a small bowl and slowly add the almond milk to make into a thin glaze. If the glaze is too thin, add more sweetener. If the glaze is too thin, add more almond milk. Add natural food coloring if desired. Dip protein sparing donuts into the glaze.

To make the chocolate glaze, place the almond milk in a sauce pot over medium high heat.

Once the almond milk is up to a simmer, remove from the heat and add the chopped chocolate and stir well until chocolate is melted. Add the vanilla and stir until smooth.

Dip the donuts into the chocolate glaze.

Sprinkle with protein sparing sprinkles over the coated donuts if desired.

Store leftovers in the fridge for up to 4 days or in the freezer for up to a month.
Notes
Nutritional Information:
(Chocolate):
108 calories, 3g fat, 16g protein, 3g carbs, 1g fiber
P:E Ratio 3.2
(Glazed)
72 calories, 1g fat, 15g protein, 1g carbs, 1g fiber
P:E Ratio 15
(Cinnamon)
75 calories, 1g fat, 15g protein, 2g carbs, 1g fiber
P:E Ratio 7.5
Nutrition
Calories:
108
|
Fat:
3
g
|
Protein:
16
g
|
Carbohydrates:
3
g
|
Fiber:
1
g
|
P:E Ratio:
3.2
TESTIMONY OF THE DAY
Doesn't Carole look AMAZING??? She lost 90 pounds!
"Thank you Maria Emmerich! You helped me lose 90 pounds! 

I am turning 63 this month and I feel better than ever!

If I can do it, anyone can!" Carole 
Most people I consult are doing keto totally wrong. Get fast results with the my Mind-blowing Keto School!