Protein Sparing Burrito
Cost of Eating Healthy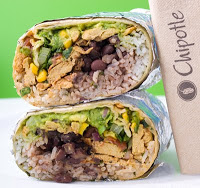 One thing that people often complain to me is that it costs too expensive to eat healthy. One way we save money is by not eating out. In a past life I LOVED Chipotle, but now we make a much healthier version and more affordable version at home.
TIP: Make extras and wrap in foil just like Chipotle does. You have lunches ready for the whole week!
PRICE COMPARISON:
Chipotle Burrito = $6 for one serving
"Healthified" Burrito = $2 per one serving
A law firm sued Taco Bell for claiming they use TACO "MEAT"…but they "meat" is only 35% beef! Most of it is fillers like maltodexterin (which is higher on the glycemic index than sugar!).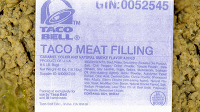 I don't know which is worse, Taco Bell for making this junk OR the fact that if they boost the "meat" to 40% the FDA approves it as "meat!" 
Another gross factor is that my husband found that Taco Bell cooks their beef off site, then places it in plastic bags. Once on site, they reheat the beef in the plastic bags! Talk about estrogen exposure!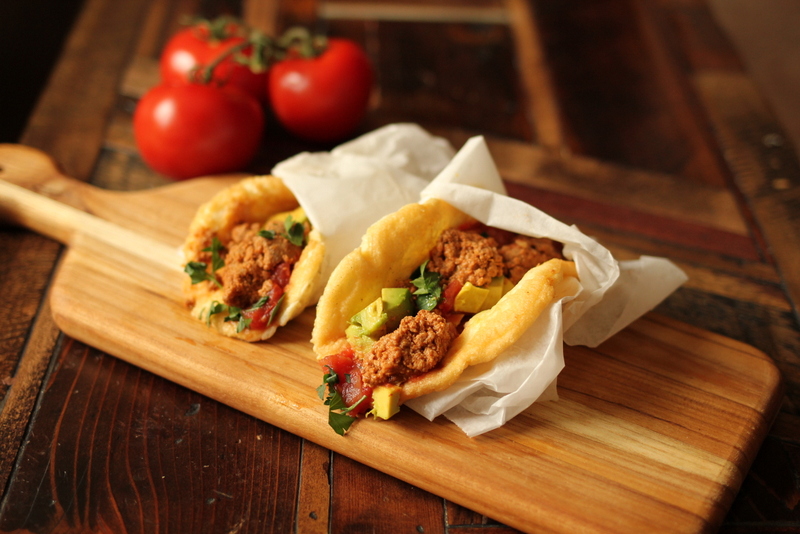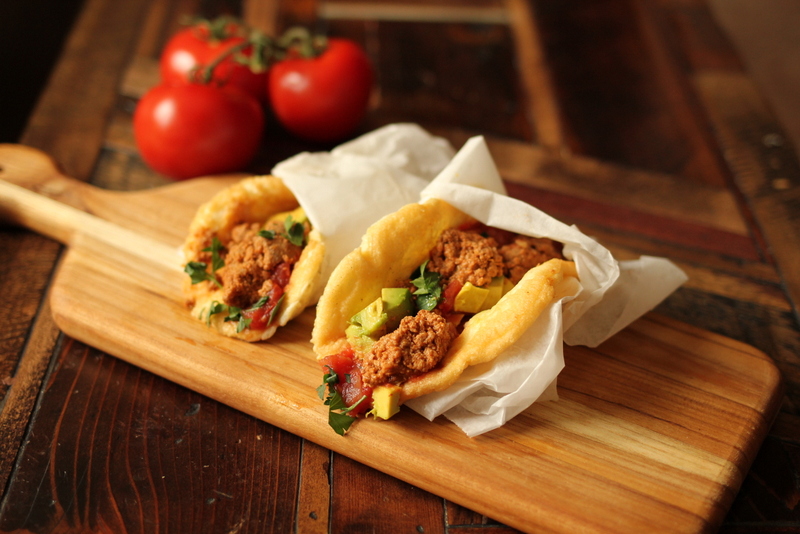 PROTEIN Sparing BURRITO 
"TORTILLA":
Coconut oil/butter/peanut oil for frying
3 eggs, separated
2 TBS unflavored egg white or whey protein powder
2 oz cream cheese, softened (or reserved yolks if dairy free)
FILLING:
2 cups Organic Lettuce
1 lb Organic Chicken/Beef/Pork Loin
1 jar Marinated Peppers (or sauteed fresh peppers)
1 cup Salsa
1 avocado
"TORTILLA": Separate the eggs (save the yolks for a different recipe), and whip the whites in a clean, dry, cool bowl for a few minutes until VERY stiff). Blend in the protein powder. Slowly stir in the cream cheese (without breaking down the whites). Heat the oil in a fry pan onmedium-highh until a drop of water will sizzle. Once it is hot, place a circle of dough on the pan. Fry until golden brown on both sides. Remove from heat and place on a plate. Fill with your desired burrito filling and enjoy! Makes 4 servings.
NUTRITIONAL COMPARISON (per tortilla)
Chipotle Tortilla = 290 calories, 9g fat, 7g protein, 44g carbs, 2g fiber
"Healthified" Tortilla = 126 calories, 8g fat, 11g protein, 1g carb, trace fiber
To make Cauliflower Rice: Cut the cauliflower into pieces and pulse in a food processor until small pieces of "rice." TIP: You can also use the heart of the cauliflower for rice, or use for making "French Fries."  Stir Fry the cauliflower rice in a saute pan for 3-5 minutes or until tender.  Set aside "rice." (TIP: pulse the cauliflower into "rice" …leave raw…  2 days ahead of time and store in the fridge for easy lunch/dinner options).
If you want a visual, click HERE to see a video of me making Cauliflower Risotto on KARE 11 TV.
Chicken or Beef Filling: Place chicken breasts, beef roast, or pork tenderloin in a crockpot on low (I also dumped a jar of organic salsa in the crockpot). Cook on low for 6-8 hours or until you can pull the meat apart with a fork. When you get home you have awesome shredded meat to fill the tortillas with. Makes 4 servings.
NUTRITIONAL COMPARISON (per burrito)
Chipotle Burrito (with rice, chicken, corn salsa, cheese, sour cream and guac) = 1975 calories, 104g fat, 56g protein, 179g carbs, 20g fiber
"Healthified" Burrito = 310 calories, 18g fat, 15g protein, 8g carbs, 3g fiber (5 effective carbs)
Pure Protein and Fat Days
I get a lot of questions about what I can eat on the Pure Protein and Fat days. In the last chapter of Secrets to a Healthy Metabolism, I added 5 tips to accelerate weight loss and one of those tips is to eat Pure Protein and Fat for the first 7 days. Some people have very damaged metabolisms where even low-starch veggies can cause an inability to lose weight. With these clients, we need to even cut out low-starch vegetables for 1 week. This will help eliminated water retention. When the body is retaining water, fat loss is very difficult. Choosing one day a week to eat only protein can help with weight loss. To read more tips on how to accelerate weight loss, check out my book, Secrets to a Healthy Metabolism. Some awesome tips include, Activating Brown Fat, Intermittent Fasting, the After-burn effect, supplement suggestions and much more! If you would like to help out a small family, rather than large business, I am happy to announce that you can now get my books as a high quality ebook that works on any platform. This is an ebook format that works on any computer or mobile device. It is a beautiful pdf that has all the full color pages and layouts as the printed books with a click-able table of contents and searching capabilities. This is extremely useful when trying to find a recipe. These books are much higher quality than the ebook platforms (kindle, apple). Plus, most of the profits don't go to Amazon or apple! Just go here to get your copy!
 Click HERE or select "My Books" above to get your copy now!


Testimony of the Day
"I am 42 years old and have been morbidly or super morbidly obese for 30 years.  When I was 11, I weighed 176 pounds and remember being very upset about it…that is when I started trying to lose weight.  For thirty years I tried numerous things to lose weight…and each time I did lose a little weight…about 40 pounds usually…then I plateaued after about a month to six weeks…then invariably I started to gain weight.  This weight gain happened while I was still working hard to lose weight…still eating low fat and low calorie foods, exercising, being hungry most of the time, and craving food all of the time.  I know people thought I just wasn't trying hard enough…I was cheating on my diet or not exercising enough…but I was doing everything I was supposed to…well, everything I was told I was supposed to do to lose weight.  So, I thought…if I am miserable, hungry, and gaining weight…why not just eat what I want, be happy and at least not gain weight?!?!?  Then I would feel guilty about 'not trying'…giving up…so I would go at it again…completely committed and think "this time it'll be different…I can do it this time"!  But just as before…success was short lived and temporary…after years of this I just felt like a failure…what's wrong with me?  …why can't I lose weight…maybe it's my thyroid…my metabolism…my genes…maybe I'm just a loser…I was 41 years old and had come to end of my rope…I had resigned myself to the thought that I would be 360 pounds the rest of my life…using a seat belt extender, ordering my clothes online, feeling guilty every time I ate anything, and being uncomfortable most places I went.
About a year before I reached this point my Dad told me about Maria as well as The Wheat Belly book…I had a little interest but not much…how could eating more fat and less fruit and grains be effective?  It couldn't.  Dad lost a lot of weight…which I somewhat dismissed as…"I'm sure it's unhealthy…or short term…men lose weight easier than women…etc.".  He kept talking to me about it and recommending I at least try it…I was tired of trying and failing though…I didn't want to try any more.  But after a little while I was inspired so I decided to give it one more shot…I went to a weight loss clinic to sign up for appetite suppressants…which I was provided along with counseling on eating right and exercise…lots of whole grains, fruit, fish and other lean protein…very low fat and low calorie.  I went back weekly to weigh in and lie about what I was eating…when asked if I was sticking to the diet I said yes but I wasn't.  I was following Maria's advice instead and for about 7 weeks I continued with the clinic weigh ins and appetite suppressants…losing almost 45 pounds in that time but I knew how dangerous the drugs were and so I stopped taking them after that 7 weeks but continued with Maria.  After 8 ½ months I lost 150 pounds, I am down to 210 pounds…less than I weighed in the 7th grade!  (As a side note a few people who started the weight loss clinic at the same time as I did…and followed the eating plan they were given including continuing with the drugs for over six months…lost weight for a few weeks but unfortunately have gained that back at this point.)  After all the years of struggling, feeling like a failure and being miserable…this lifestyle has been almost easy…the transition was a little hard in the beginning but the last six months have been a delight!  
This has changed my life…I never thought I would lose weight…I had given up.  When people ask how I lost weight and I begin to explain…I always get the looks…then the criticism…"well that can't be healthy…you know fat is bad for you…you need whole grains…fruit is natural how can that be bad"…etc.  But it makes me a little angry that there is a real solution available for weight loss and people are still struggling…and that I struggled so long when it doesn't have to be that way…and, worst of all we are still getting the 'mainstream' lies shoved down our throats. I still have weight I would like to lose but I now look forward to each day…I love that I can actually live now and not be a prisoner of my weight and a slave to the addiction of food.  I started in size 34 pants and size 5X/6X tops…I am now in size 16 pants and size XL tops…'regular people' sizes…lol." Candi
Click HERE to start your journey to a keto-adapted diet!