Protein Sparing Bread Crab Rangoon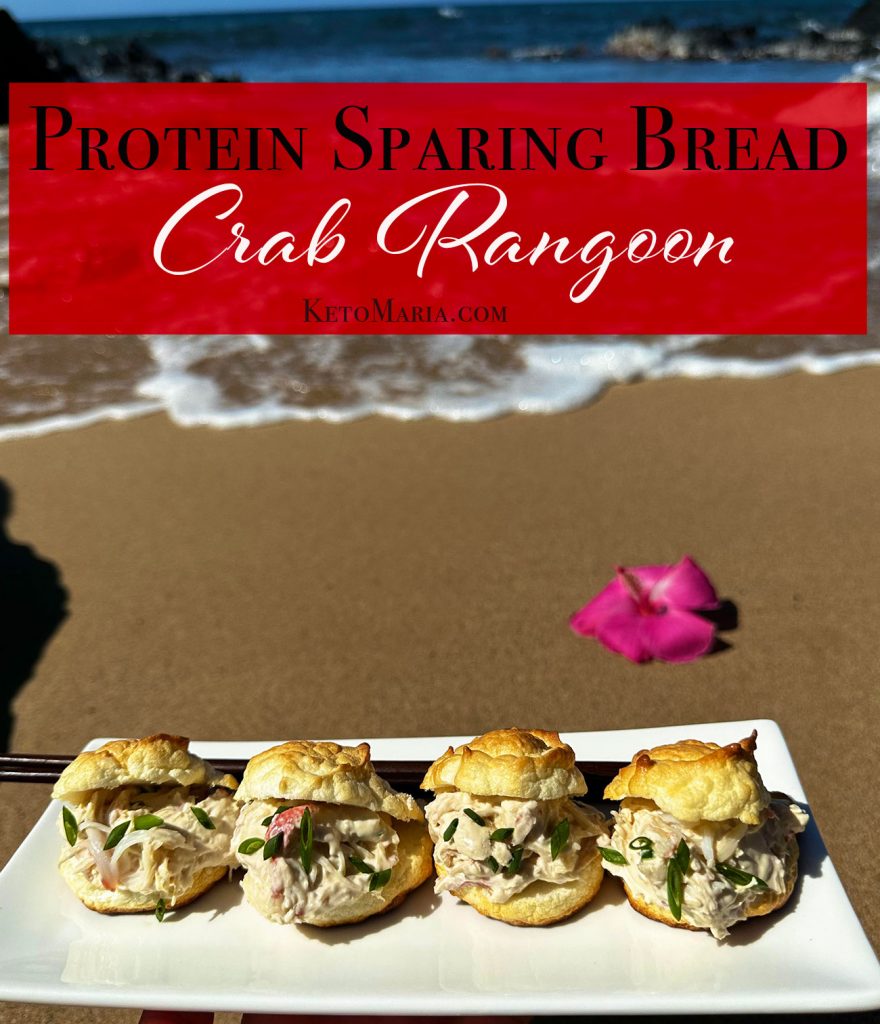 My PSMF Bread Crab Rangoon is an awesome appetizer to make ahead for an upcoming party!
I made the protein sparing bread puffs a week ahead and I stored in the freezer. I also made the filling a day ahead and kept in the fridge until just before serving.
What's not to love about a keto crab rangoon???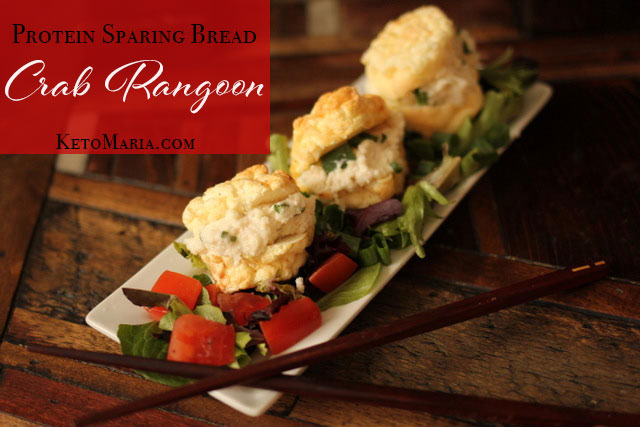 Protein Sparing Bread Crab Rangoon
Ingredients
PROTEIN SPARING BREAD PUFFS
6 eggs, separated
2 tablespoon allulose(OR use 3 ounces softened cream cheese * see NOTE)
½ tsp cream of tartar (optional, to stabilize the egg whites)
⅛ teaspoon Redmond Real Salt
½ cup unflavored egg white protein
CRAB RANGOON FILLING
1 (8 ounce) package cream cheese
1 (6 ounce) can crabmeat, drained and flaked
2 green onions with tops, thinly sliced
1 tsp fresh ginger, finely grated
½ tsp wheat-free organic Tamari (soy sauce)
1 clove garlic, minced
Instructions
Preheat oven to 375 degrees. Separate the eggs and reserve the yolks for another recipe such as my easy keto ice cream.
In a large bowl, whip egg whites, allulose (NOTE: if using cream cheese, add later), salt and cream of tartar until VERY stiff. Then add the protein powder and stir well to combine. Gently stir in the softened cream cheese if using.
Place round balls of dough onto a GREASED baking sheet (or a mini muffin tin works great). Bake at 375 degrees for 10 minutes. Keep oven shut, and leave the puffs in there for another 5 minutes or until cool.
To make the filling, combine garlic, cream cheese, crab, green onions, ginger, and Tamari sauce in a bowl. Fill into protein sparing bread puffs.
To prevent puffs from getting soggy, fill the day you plan on eating.
Notes
Nutritional Information
179 calories, 13g fat, 10g protein, 2g carbs, 0g fiber
P:E Ratio 0.7
Testimony of the Day
"Hi Maria! I just wanted to show you a quick update after being on your diet for 5 days!! I've attached a before and after picture.

My itchy, rashy legs have always looked their worse when i'm in a bath or shower; they are always there, but something about the hot water would make them very red and more noticeable than they already were.

The "before" picture is how my legs would look while bathing for the last 3 or so years. I was so happy to take a bath tonight and realize they are almost all gone! I just wanted to thank you again for saving my skin!" Malorie
Most people I consult are doing keto totally wrong. Get fast results with the my Mind-blowing Keto School!