Protein Sparing Bread Caramel Rolls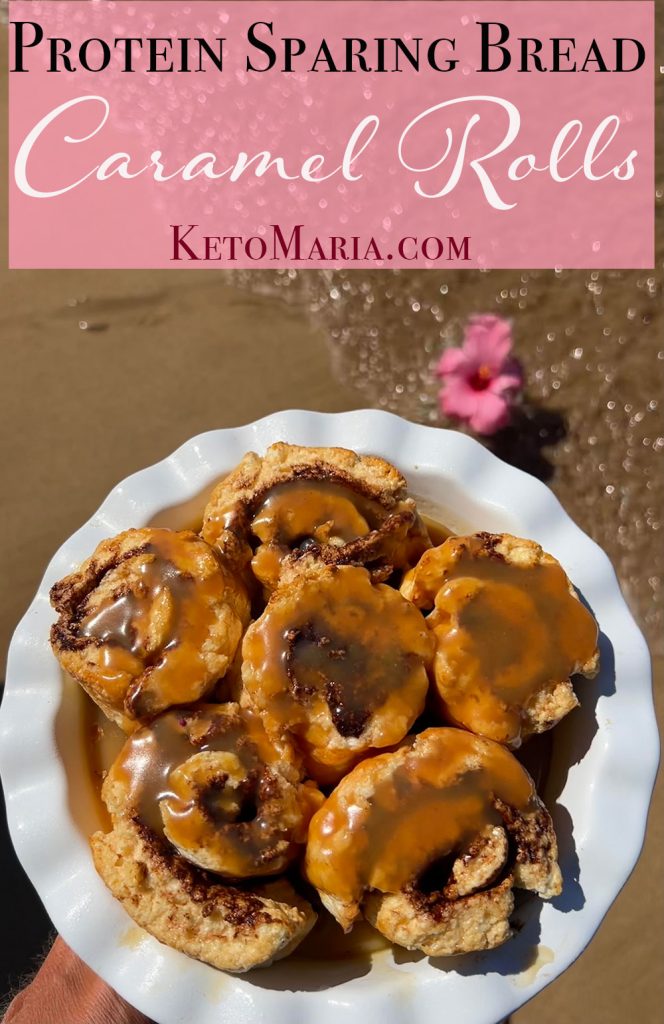 When I was a little girl, my mom would make homemade caramel rolls on Saturday mornings! I LOVED those caramel rolls!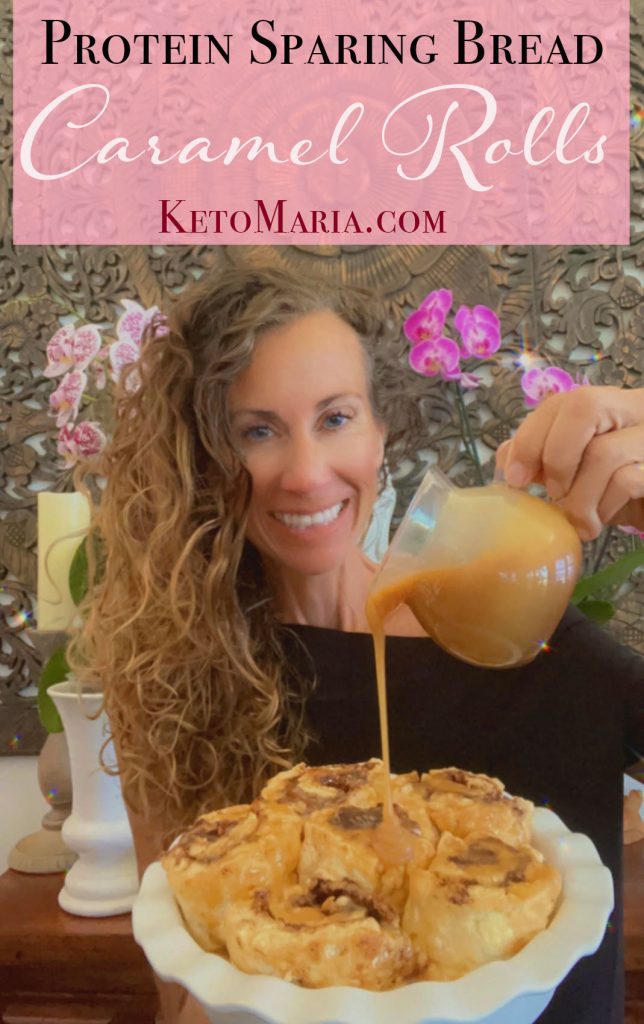 I still love caramel and I love my protein sparing bread! I married the two to make protein sparing bread caramel rolls!
These keto caramel rolls are so delicious, I made two batches to share with friends!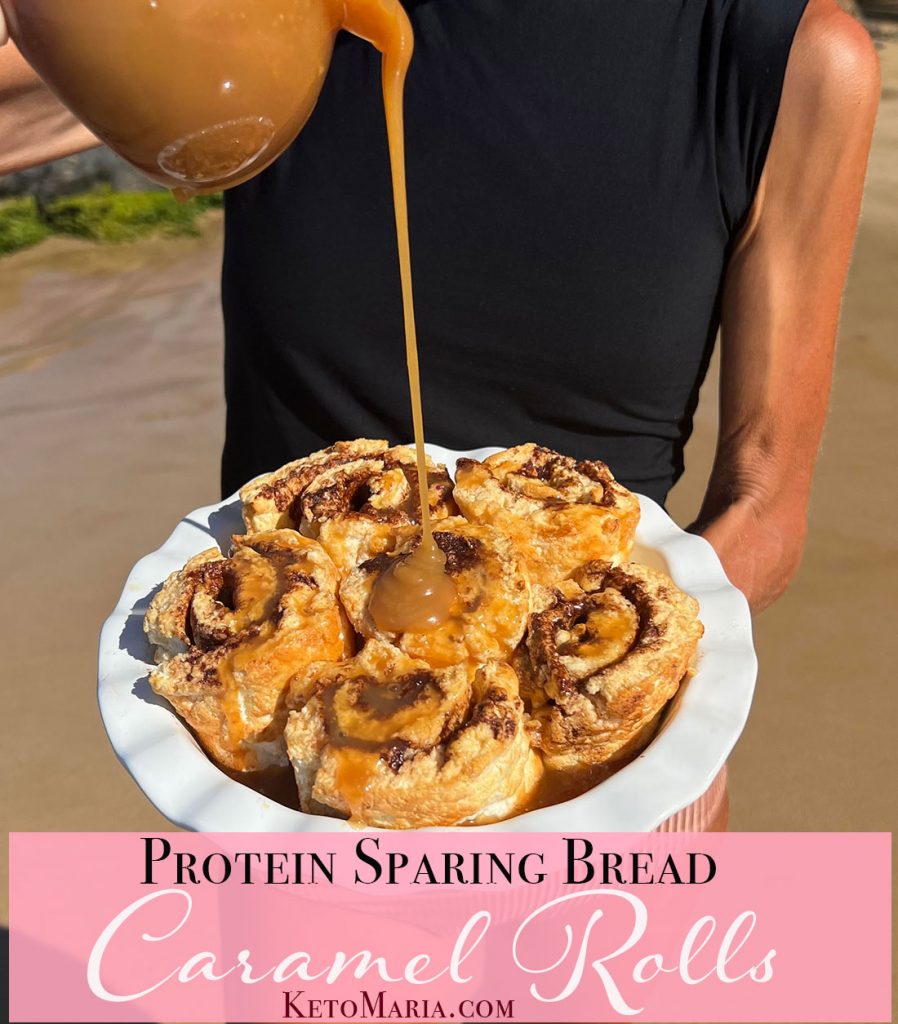 Protein Sparing Bread Caramel Rolls
Ingredients
CARAMEL TOPPING (this will make extra)
PROTEIN SPARING BREAD ROLLS:
FILLING:
2

tablespoons

butter

softened

2

tablespoons

powdered allulose

2

tablespoons

ground cinnamon
Instructions
Before you begin to make the caramel topping, make sure you have everything ready to go - the cream and the butter next to the pan, ready to put in.

Heat butter on high heat in a saucepan. Whisk and let it come to a boil, watch for specks of brown (this is brown butter....so good on veggies!). Immediately add the Allulose and whisk until melted. Add the cream to the pan and bring to a boil for 1 minute. Whisk until caramel sauce is smooth.

Let cool in the pan for a couple minutes, and then pour into a glass mason jar and set in the fridge to cool while you make the caramel rolls. Store in the refrigerator up to 2 weeks.

To make the protein sparing bread rolls, preheat the oven to 325 degrees F. Place a piece of parchment onto a large rimmed baking sheet. Spray parchment with Avocado oil spray and set aside.

Separate the eggs (save the yolks for another recipe like my keto ice cream, hollandaise, mayo or lemon curd), and place the whites into a large bowl or stand mixer. Add the allulose, salt and cream of tartar if using and whip the whites for a few minutes until VERY stiff.

Turn the mixer to low and gently mix the egg white protein powder into the whites. Do not over mix or the caramel rolls will end up like styrofoam.

Spread the protein sparing bread caramel roll mixture onto the prepared baking sheet. Bake for 10 minutes or until just cooked through (NOT browned at all).'

Remove pan from the oven and use a knife to spread with softened butter and sprinkle with allulose and cinnamon. Use a pizza cutter to cut into 6 strips (cutting from the longer end of the baking sheet). Roll each strip into a caramel roll. Set the rolls into a greased 9 inch pie pan.

Top a few tablespoons of the caramel onto each roll.

Place back into the oven for 10 minutes or until golden brown.

Remove from oven and allow to cool a bit before topping with more caramel if desired.

Store extras in an airtight container in the fridge for up to 5 days.
Nutrition
Calories:
280
|
Fat:
27
g
|
Protein:
9
g
|
Carbohydrates:
3
g
|
Fiber:
1
g
|
P:E Ratio:
0.3
TESTIMONY OF THE DAY
"About 5 months ago I found Maria Emmerich and her love, Craig. They have helped save my life. As of today, I've lost 140 lbs. I have 37 more to reach my original goal of 180.

I started wearing a size 32 jeans and am now in size 16. Once I reach my goal, I'll set a new goal! These are my before and now pics.

Thank you to Maria and Craig! You all help so many of us each and every day! Thank you. Keto on!" – Jane
Most people I consult are doing keto totally wrong. Get fast results with the my Mind-blowing Keto School!