Protein Sparing Bread Bruschetta

It warms my heart to see all of you enjoying my protein sparing bread! I have been eating it for over 15 years and to see it get the attention now is really special to me!
I have made my protein sparing bread into so many different recipes over the past decade and making it into Protein Sparing Bread Bruschetta is really delicious and easy!

HOW TO MAKE PROTEIN SPARING BREAD BRUSCHETTA
To make my Protein Sparing Bread Bruschetta, I used Further Food Gelatin!
Further Food gelatin and collagen peptides are both excellent sources of collagen. Both their Collagen & Gelatin are sourced from the highest quality, grass-fed, pasture-raised, hormone-free, and antibiotic free bovine collagen.
The benefits of collagen and gelatin are astounding! Just eating my delicious Protein Sparing Bagels helps support skin elasticity & hydration, longer hair & nails, stronger bones & joints, faster recovery between workouts, increased flexibility, improved digestion, and it even keeps you feeling full and satiated for longer!
Further Food Collagen Peptides dissolve instantly in any recipe, and Gelatin Powder naturally thickens recipes. It's perfect for making my protein sparing bread have a chewy bread texture! It also makes dairy free ice cream, jello, sugar free gummies, no bake cheesecake, or panna cotta!
Use code MARIAMINDBODY is for 20% off site-wide !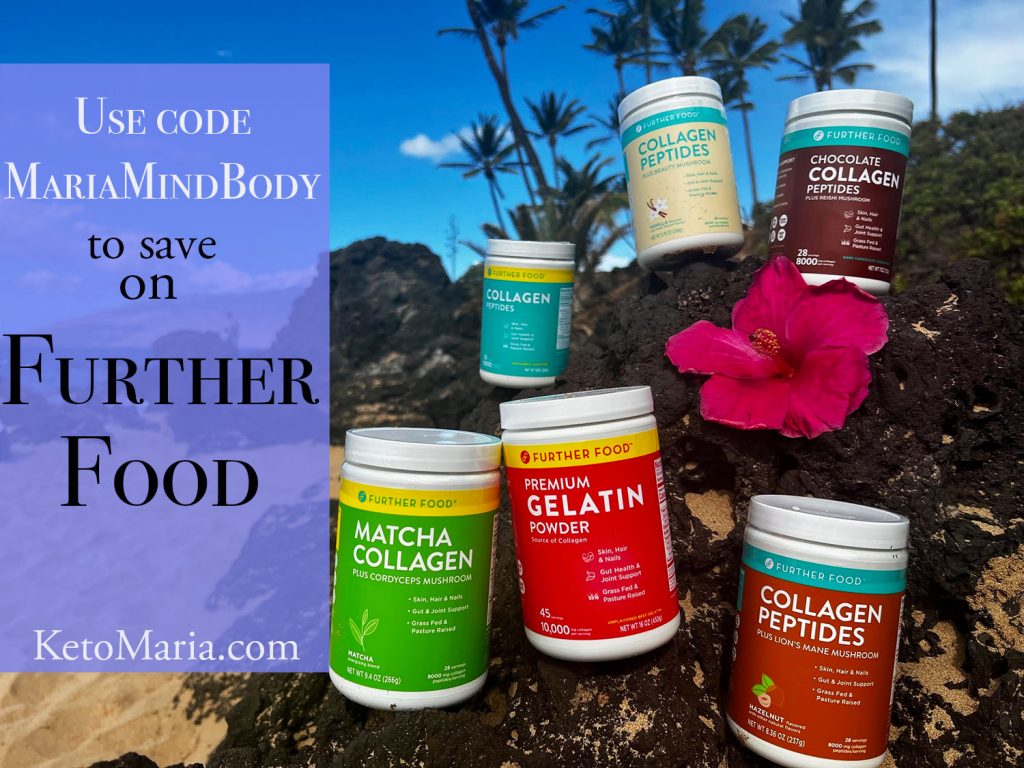 Protein Sparing Bread Bruschetta
Ingredients
BRUSCHETTA:
1/4

cup

Olive Oil

1

clove

garlic

minced
OPTIONAL TOPPINGS:
Freshly Grated Parmesan Cheese or Sliced Fresh Mozzarella

Diced Fresh Tomatoes

Fresh Basil Leaves

Crushed Red Pepper Flakes
Instructions
Preheat the oven to 325 degrees F.

Separate the eggs (save the yolks for another recipe like my keto ice cream, hollandaise, mayo or lemon curd), and place the whites into a large bowl or stand mixer. Add the allulose, gelatin, salt and cream of tartar if using and whip the whites for a few minutes until VERY stiff.

Turn the mixer to low and gently mix the egg white protein powder into the whites.

Place a piece of parchment onto a rimmed baking sheet OR Click HERE to find the baguette pan I used.Spray the parchment with Avocado oil spray and use a spatula to form 2 long baguettes shapes (about 2 1/2 inches in diameter and 12 inches long) with the protein sparing Bread mixture.

Bake for 20 minutes or until golden brown. Turn oven off and leave bread in the oven for 15 minutes to avoid the bread from falling.

Let completely cool before cutting or the bread will fall.

Store leftovers in the fridge for up to 4 days or in the freezer for up to a month.

To make the bruschetta, preheat the oven to 350 degrees. Slice protein sparing bread into ½" thick slices.

Place in a single layer on a baking sheet. Place the Olive Oil into a small dish. Add the garlic and stir well.

Brush the olive oil on both sides of each piece of protein bread.

Bake for 5-6 minutes, or until golden and toasted, flip, and bake for another 4-5 minutes or until bread is crisp.

Remove from oven. Top each slice of bruschetta with a sprinkle of parmesan. Place back into the oven for 2 minutes or until cheese is melted. Remove from oven and top with diced tomatoes, basil and red pepper flakes if desired.

Best served fresh.
Nutrition
Calories:
49
|
Fat:
3
g
|
Protein:
5
g
|
Carbohydrates:
1
g
|
Fiber:
1
g
|
P:E Ratio:
1.7
TESTIMONY OF THE DAY
"Hi Maria! My dad was diagnosed with Stage 4 nonalcoholic fatty liver disease last April. He started Keto in May and when he had a CT scan and MRI for a something else, his liver was 100% normal and healthy.

He's also OFF 3 medications for Type II diabetes.

He looks stronger and younger. This is a man who would eat a whole package of Cameo cookies and follow it with a quart of whole milk." Melissa
Most people I consult are doing keto totally wrong. Get fast results with the my Mind-blowing Keto School!