Protein Creamsicle Push-Pops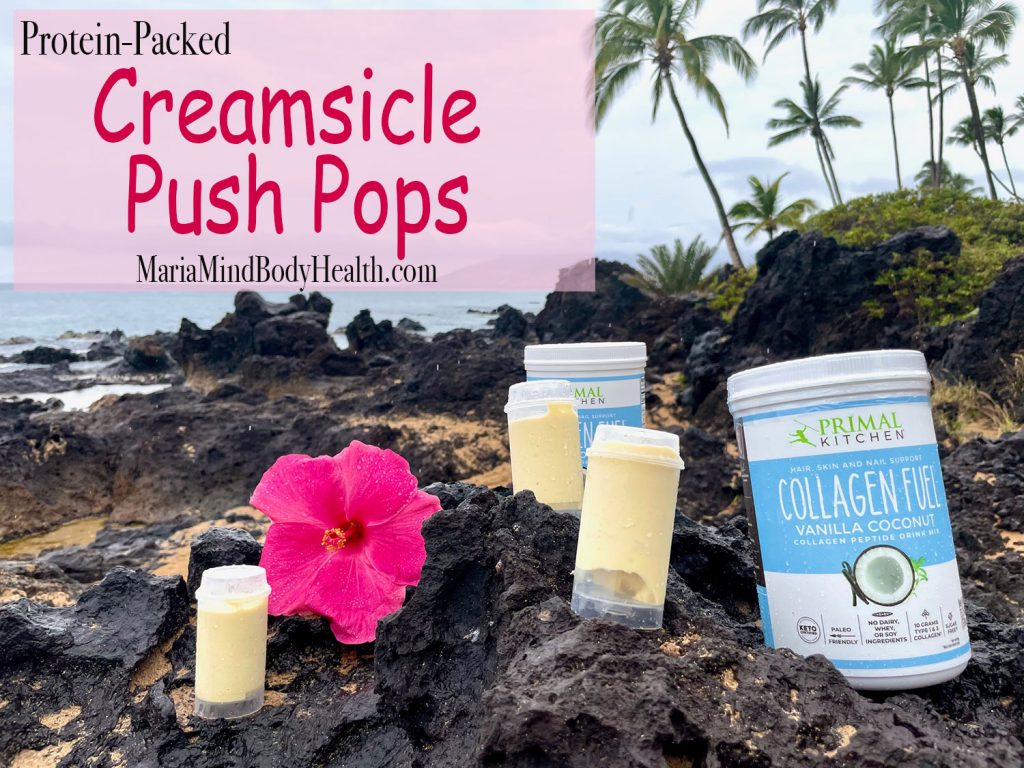 Want to get your kids to eat healthy protein? I have a great way to sneak it in!
I loved Flintstone Creamsicle Push-pops when I was a little girl! These Protein Creamsicle Push-Pops will bring you back to your childhood!
When my boys were really little, we would go on long bike rides and they would eat my Protein Creamsicle Push Pops while we biked through the countryside! This push pop recipe is very special to me.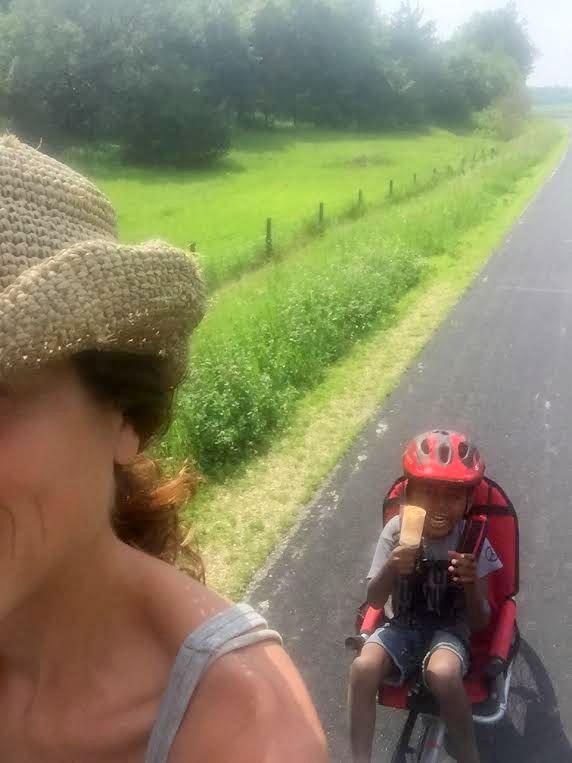 My Hard Boiled Egg Pudding recipe is a World-wide sensation! People in Australia, India, South America are sending me messages saying I'm a magician for making such a delicious pudding out of eggs!
To make my egg pudding even more delicious and easier, I experimented with some friends and found that scrambled eggs work great! No need to peel hard boiled eggs! I also found that using scrambled eggs in this Protein Creamsicle pudding doesn't have a sulfur smell like when I make it with hard boiled eggs.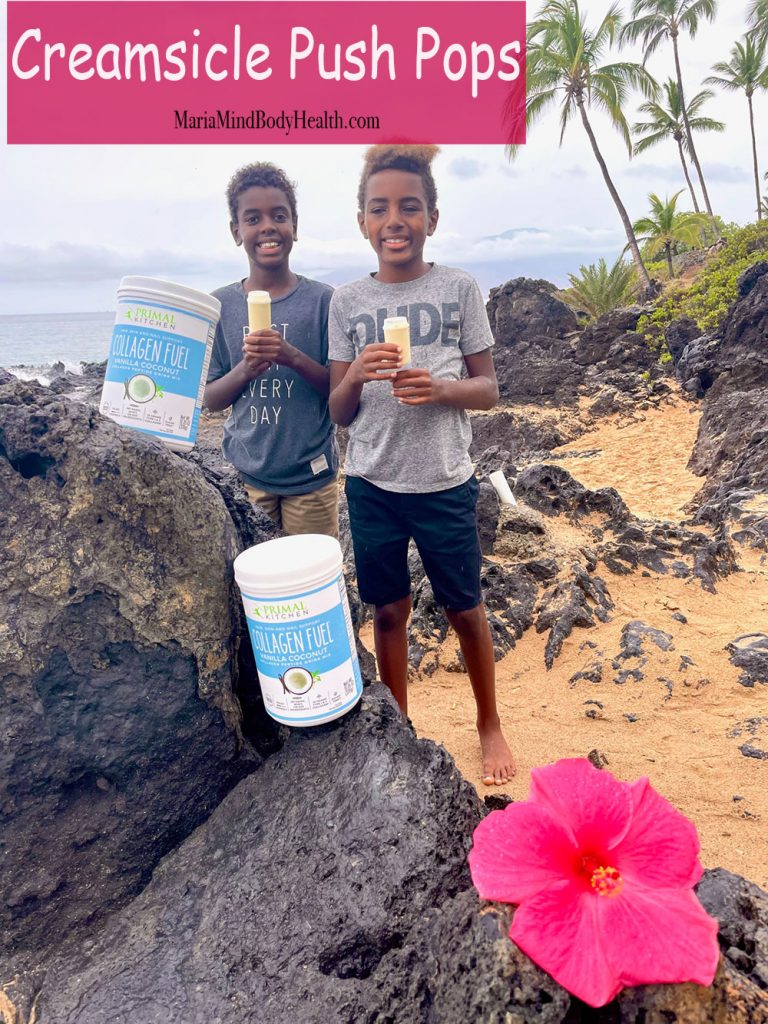 To make these delicious Protein Creamsicle Push Pops, I used Primal Kitchen vanilla collagen! 
Primal Kitchen vanilla Collagen is the most delicious collagen! If you want to get your children to cut out the sugar, I highly suggest trying these protein-packed push pops!
Primal Kitchen collagen is not only filled with top quality ingredients, it is also delicious! I love that I can add a scoop of collagen to my push pops for my boys for an extra boost of health!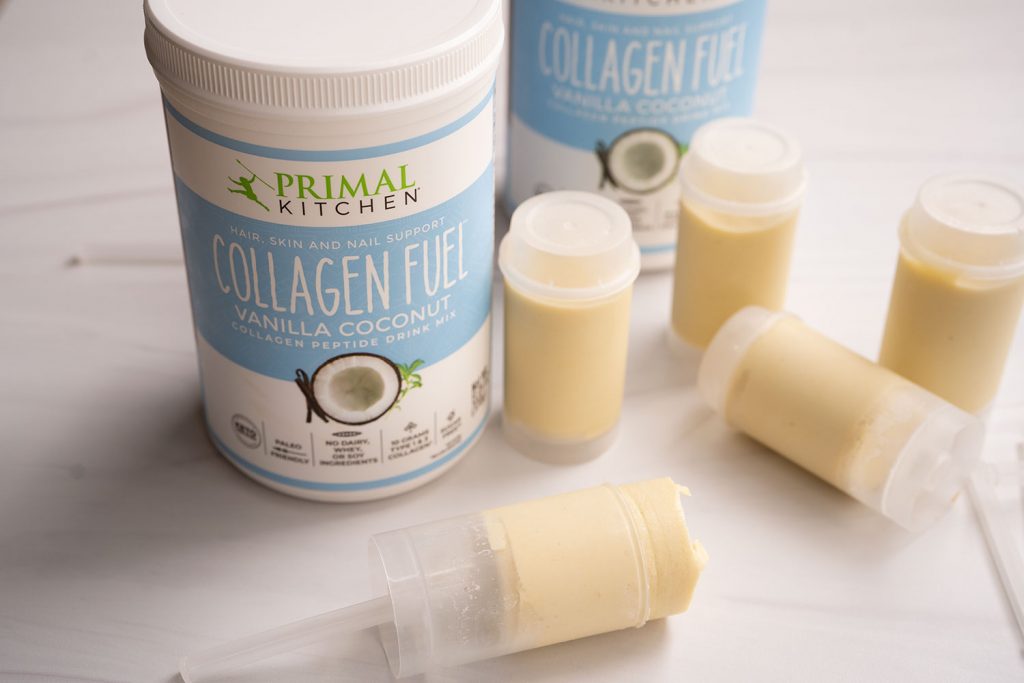 There have been many studies showing a wide range of benefits from collagen. You get a lot of glycine from collagen. THIS STUDY showed that the glycine derived from collagen is essential to maintain the normal structure and strength of connective tissue, such as bones, skin, cartilage, and blood vessels. Many other studies have shown benefits ranging form immune health, digestive health, bone strength and much more.
Collagen also greatly benefits the skin and reduced wrinkles and aging. Smoking reduces collagen synthesis and that is why smokers have more wrinkles.
Another important benefit of collagen is that it is the second most ferment-able substrate behind FOS (fructooligosaccharides). This study showed that collagen is great for feeding our gut flora, much better than almost any plant fiber (collagen is 7.96 where plant fiber is 1.53). So the push for feeding the gut flora with lots of plant fiber is really not needed. Just add some collagen.

Primal Kitchen is SO generous that they are doing a special discount for all of my readers! Use code: Maria for 20 % off!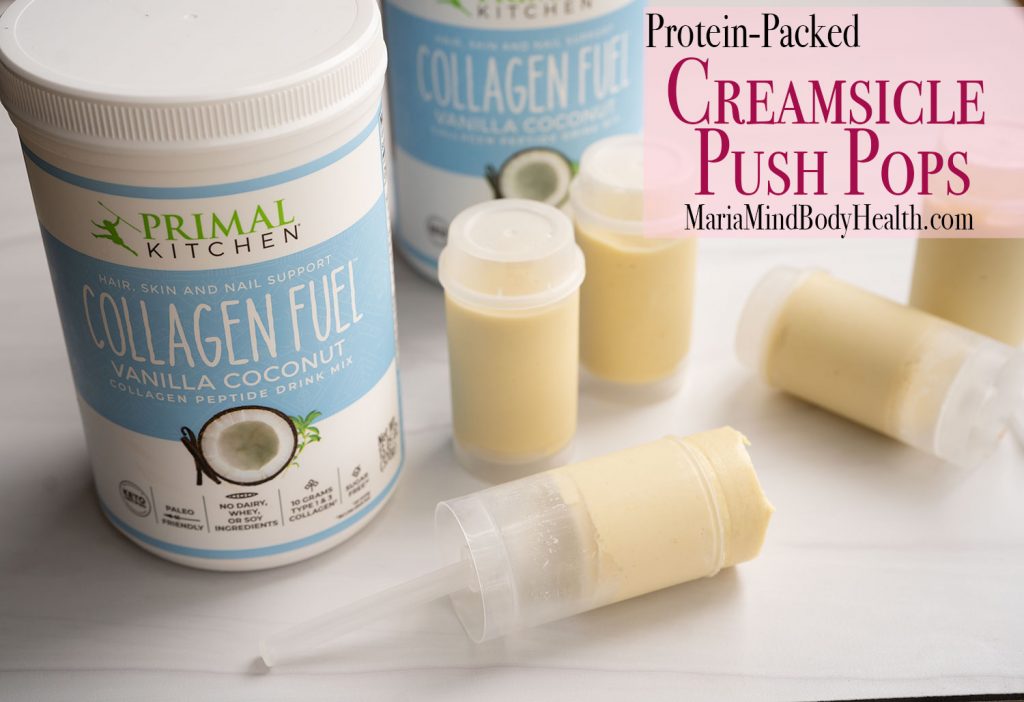 Protein Creamsicle Push-Pops
Ingredients
5

large

eggs

scrambled (or hard boiled and peeled)

1

cup

coconut milk

or heavy cream if not dairy free

2

tablespoons

Natural Sweetener

or equivalent amount of liquid or powdered sweetener

3

scoops Primal Kitchen Vanilla Collagen

use code MARIA for 20% off

2

teaspoons

orange extract

Pinch

Redmond Real Salt

use code Maria15 for 15% off
Instructions
Place all the ingredients into a blender and puree until very very smooth. Taste and adjust sweetness to your liking.

Place in the fridge in an airtight container for up to 4 days.

PROTEIN CREAMSICLE PUSH POPS: Place the mixture into ice pop molds (click HERE) and place in the freezer until set, about 8 hours or overnight.
Nutrition
Calories:
188
|
Fat:
14
g
|
Protein:
13
g
|
Carbohydrates:
1
g
|
Fiber:
0
g
|
P:E Ratio:
0.9
TESTIMONY OF THE DAY
"I have lost 102 lbs in a year! Thank you, Maria Emmerich! My health has improved significantly. I'm off of a CPAP, several asthma meds, and feel so much better!" – Melissa
Most people I consult are doing keto totally wrong. Get fast results with the my NEW Keto Packages!