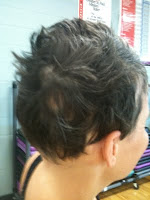 TESTIMONY OF THE DAY
Do you or someone you know suffer from an auto immune disease? Alopecia is an auto immune disorder is close to my heart. One client really sticks out in my mind. Kiki, was a middle-aged woman who came into my office. I saw her often in the weight lifting class that I take three times a week, but I never talked to her. It was impossible to ignore that she always wore a bandana on her head, but I never knew why. Her story is that in her 20's she started losing her hair and by the time she came into my office, it was completely gone.
I love this story because Kiki was a professor so I never saw her at the gym during the school year. After 6 months of my anti-inflammatory, keto-adapted, gluten-free diet, Kiki walked into the gym with a bandana on like usual and ran up to me with a huge grin. She ripped her bandana off and had a full head of hair. She said with delight, "I had my first hair cut in 10 years!" As a woman, I can't imagine. I use to let those "bad hair days" upset me, but after meeting Kiki, that just seems silly.
She thought I was crazy when I told her that she had a food allergy causing her to lose her hair. She is a total believer now! She was so excited that she had her first hair cut in over 10 years!
We eliminated certain foods and added in some specific supplements to help with skin and hair conditions. Also, in the cases that I see of autoimmune disorders (like alopecia) adding in certain supplements to heal the gut and the immune status.
30 Day Accelerated Testimony: "I've been eating your meal plans for about 3 wks now and there hasn't been a recipe I didn't like. Normally when I get a recipe book there's only a handful that are good but all of yours are. I have to pinch myself daily that I'm actually eating healthy and I feel so much better. I'm at 5 wks postpartum and I already fit into my pre having kids jeans and that usually takes 4-6 months. My husband's also lost 8lbs of "sympathy" weight. I am so glad I stumbled upon your blog. It has been life-changing for my whole family" – Amber"
If you or someone you know is interested in getting on the right path, please email me for a consult. I would be honored to help! Click HERE to get started!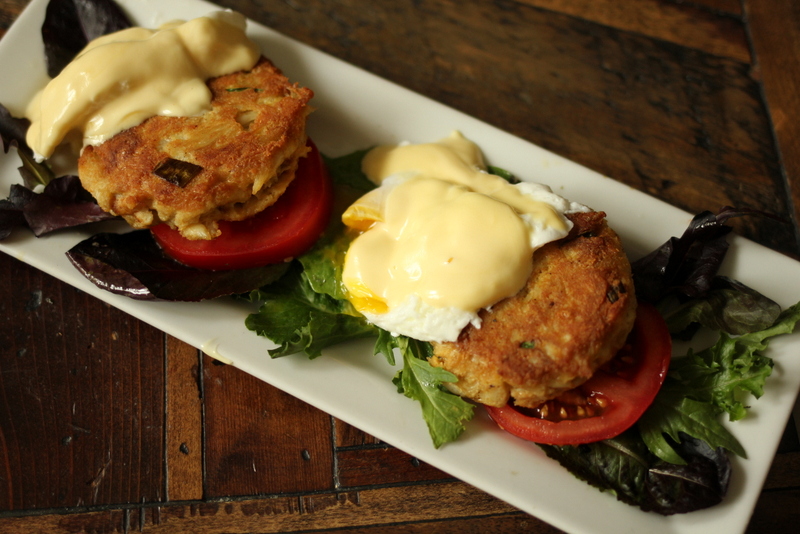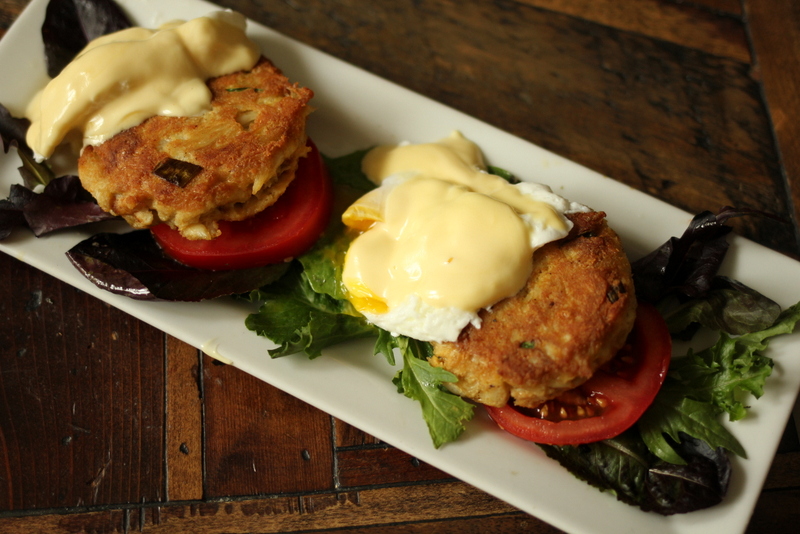 CRAB CAKES:
1 pound crabmeat (Trader Joe's and Sam's Club carries large cans of lump crabmeat)
2 TBS diced green bell pepper
1 TBS Primal or homemade mayonnaise
2 TBS coconut flour
2 eggs
2 tsp seafood seasoning
1 tsp fish sauce (Optional: umami flavor)
2 TBS coconut oil, for frying
EGGS:
4 eggs
GREENS:
1 TBS coconut oil or butter
14 oz fresh spinach
1 tsp Celtic sea salt
1/2 tsp freshly ground black pepper
1/4 tsp nutmeg
CRAB CAKES: In a medium-large bowl, mix all ingredients except oil until blended. Heat oil in a large skillet over medium-high heat. With a spoon, place 2 TBS of the crab mixture into the pan for mini-cakes. Cook until golden brown, about 2 minutes, and then flip and cook another minute.
EGGS: Heat pan to medium-high heat. Place 1/4 cup water in the pan. Crack in the egg, cover the pan so it traps any air (see photo: an easy way to 'poach' an egg). Cook the egg just until the whites is cooked, but the yolk is still soft and runny.
GREENS: Heat the coconut oil or butter in a frying pan over a low to medium heat. When it has melted, add the spinach and cook for 1-2 minutes, stirring constantly, until wilted. Add the spices to the desired taste.
Spoon the cooked greens into the center of a plate. Place 2-3 crab cakes on top of each portion, and top with an egg. Then watch the yolk pour all over the delicious crab cake as you break it open with a fork! Makes 4 servings.
NUTRITIONAL COMPARISON (per serving)
Traditional Crab Cake = 480 calories, 20g carbs, 0g fiber
"Healthified" Crab Cake = 359 calories, 22g fat, 34g protein, 6.9g carbs, 3.9g fiber
(55% fat, 38% protein, 7% carbs)
FISH SAUCE
One staple that every cook should have in their fridge is Fish Sauce. It is a special ingredient that takes good food for amazing food. Fish Sauce, mushrooms, and aged cheeses have something called "UMAMI." Umami is a pleasant savory taste produced by glutamate and ribonucleotides, chemicals that occur naturally in many foods. Umami is subtle and not generally identified by people when they encounter it, but blends well with other tastes to intensify and enhance flavors; it plays an important role in making food taste delicious. Red Boat brand is traditionally fermented, not with wheat like most others. This bottle will last you a LONG time – you only use a few drops per dish, it's strong stuff!