Nutella Protein Waffles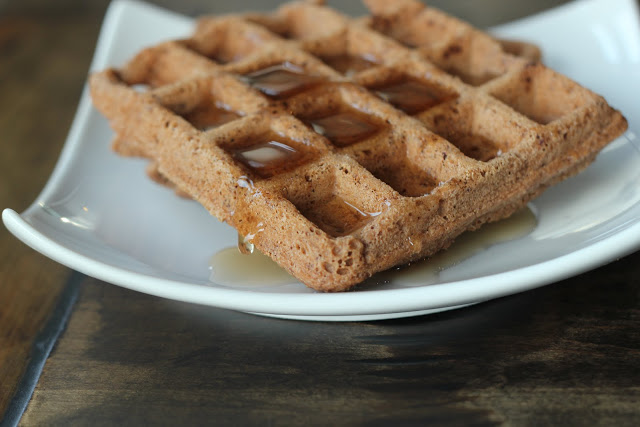 Do you LOVE nutella?
My suggestion is to make a triple batch of these Nutella Protein Waffles and keep it in your freezer for an easy breakfast. Just pop one in the toaster like you would the chemical-filled Eggo Waffle.
Make sure your waffle iron is hot hot hot before adding any batter or it will stick.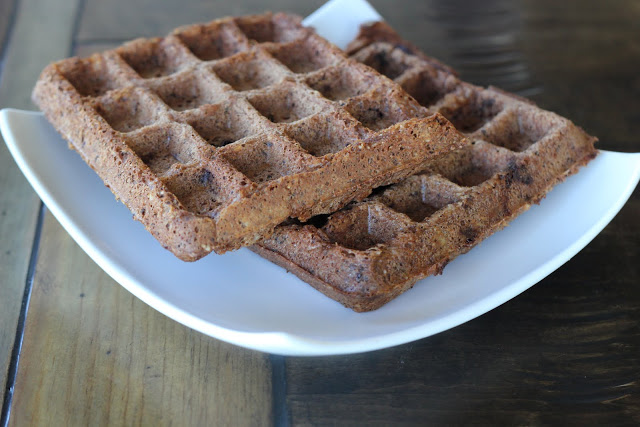 1 cup hazelnut meal
1 cup chocolate or vanilla egg white 
1/2 tsp Redmond Real Salt
1 TBS  baking powder
1 cup unsweetened chocolate almond milk
2 eggs
4 TBS butter or coconut oil, melted
2 TBS unsweetened cocoa powder (or 1/4 cup for a dark chocolate flavor)
Preheat waffle iron to high. Combine the dry ingredients in a bowl. Combine the wet ingredients in another bowl. Slowly add the wet ingredients into the dry. Let sit for 5 minutes. Bake according to your waffle iron directions (I spray my waffle iron with THIS Coconut oil spray). Enjoy! Makes 6 servings.
NUTRITIONAL COMPARISON (per serving)
Traditional Waffle = 247 calories, 11g fat, 2g protein, 27 carbs, 0.7g fiber
"Healthified" Waffle = 221 calories, 18g fat, 11.4g protein, 5.8 carbs, 2.6g fiber
Click HERE to find an affordable waffle maker that I love!
Click HERE to find the keto syrup I use!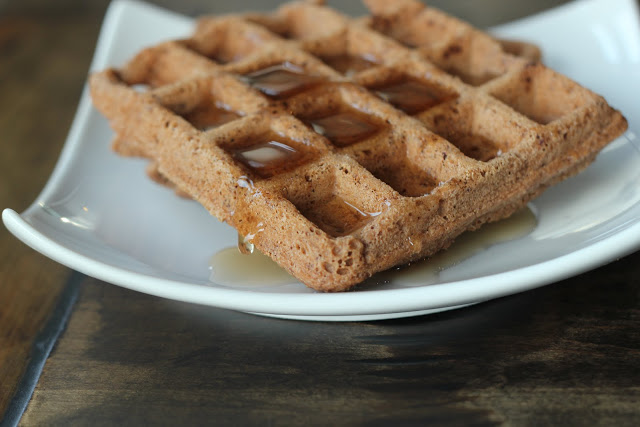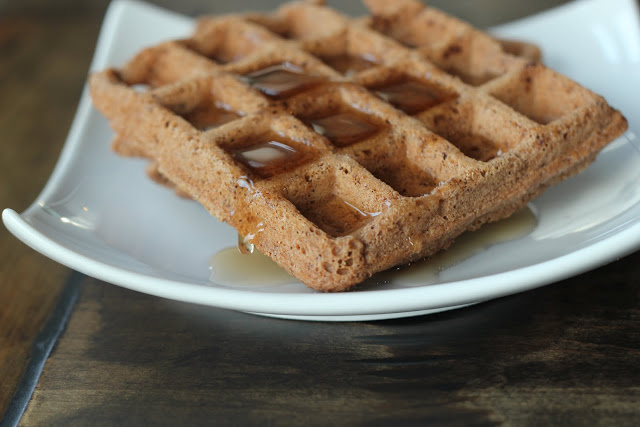 Testimony of the Day
"I am 42 years old and have been morbidly or super morbidly obese for 30 years.  When I was 11, I weighed 176 pounds and remember being very upset about it…that is when I started trying to lose weight.  For thirty years I tried numerous things to lose weight…and each time I did lose a little weight…about 40 pounds usually…then I plateaued after about a month to six weeks…then invariably I started to gain weight.  This weight gain happened while I was still working hard to lose weight…still eating low fat and low-calorie foods, exercising, being hungry most of the time, and craving food all of the time.  I know people thought I just wasn't trying hard enough…I was cheating on my diet or not exercising enough…but I was doing everything I was supposed to…well, everything I was told I was supposed to do to lose weight.  So, I thought…if I am miserable, hungry, and gaining weight…why not just eat what I want, be happy and at least not gain weight?!?!?  Then I would feel guilty about 'not trying'…giving up…so I would go at it again…completely committed and think "this time it'll be different…I can do it this time"!  But just as before…success was short-lived and temporary…after years of this I just felt like a failure…what's wrong with me?  …why can't I lose weight…maybe it's my thyroid…my metabolism…my genes…maybe I'm just a loser…I was 41 years old and had come to end of my rope…I had resigned myself to the thought that I would be 360 pounds the rest of my life…using a seat belt extender, ordering my clothes online, feeling guilty every time I ate anything, and being uncomfortable in most places I went.
About a year before I reached this point my Dad told me about Maria as well as The Wheat Belly book…I had a little interest but not much…how could eating more fat and less fruit and grains be effective?  It couldn't.  Dad lost a lot of weight…which I somewhat dismissed as…"I'm sure it's unhealthy…or short term…men lose weight easier than women…etc.".  He kept talking to me about it and recommending I at least try it…I was tired of trying and failing though…I didn't want to try anymore.  But after a little while, I was inspired so I decided to give it one more shot…I went to a weight loss clinic to sign up for appetite suppressants…which I was provided along with counseling on eating right and exercise…lots of whole grains, fruit, fish and other lean protein…very low fat and low calorie.  I went back weekly to weigh in and lie about what I was eating…when asked if I was sticking to the diet I said yes but I wasn't.  I was following Maria's advice instead and for about 7 weeks I continued with the clinic weigh-ins and appetite suppressants…losing almost 45 pounds in that time but I knew how dangerous the drugs were and so I stopped taking them after that 7 weeks but continued with Maria.  After 8 ½ months, I lost 150 pounds, I am down to 210 pounds…less than I weighed in the 7th grade!  (As a side note a few people who started the weight loss clinic at the same time as I did…and followed the eating plan they were given including continuing with the drugs for over six months…lost weight for a few weeks but unfortunately have gained that back at this point.)  After all the years of struggling, feeling like a failure and being miserable…this lifestyle has been almost easy…the transition was a little hard in the beginning but the last six months have been a delight!  
This has changed my life…I never thought I would lose weight…I had given up.  When people ask how I lost weight and I begin to explain…I always get the looks…then the criticism…" well that can't be healthy…you know fat is bad for you…you need whole grains…the fruit is natural how can that be bad"…etc.  But it makes me a little angry that there is a real solution available for weight loss and people are still struggling…and that I struggled so long when it doesn't have to be that way…and, worst of all we are still getting the 'mainstream' lies shoved down our throats. I still have weight I would like to lose but I now look forward to each day…I love that I can actually live now and not be a prisoner of my weight and a slave to the addiction of food.  I started in size 34 pants and size 5X/6X tops…I am now in size 16 pants and size XL tops…' regular people' sizes…lol." Candi
Click HERE to start your journey to a keto-adapted diet!