Maria's Favorite Things #5
TESTIMONY OF THE DAY
66 years old and feels amazing!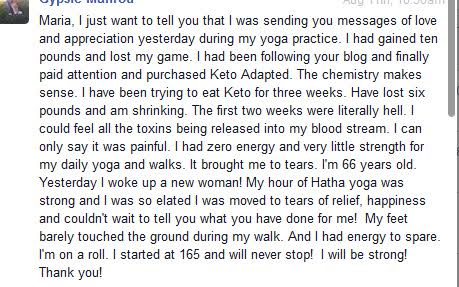 Start your path today! Honor your body!
MARIA'S FAVORITE THINGS #5!
As you all know I adore Jay Robb. It isn't just because it tastes the best, it is also because there are only 5 ingredients and none of which are hidden or "code" words for sugar!
But more than that Jay and his wife Beth (who have known each other since birth!) are some of the most kind and generous people you have ever met. Jay has a very cool story. This is a photo of Jay's home back in 1985.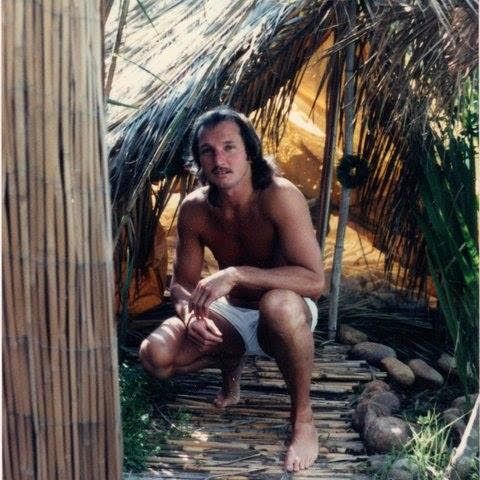 From Jay "I lived in this tent and squatted on the land of a hippie commune when I arrived in San Diego in 1985. For years I called this grass hut "home" while working at in Jimbo's Health-Food Store in Northpark. It was a peaceful way of living and I embraced the simplicity that life had to offer. The sounds of soft rain, a starry night, a cool breeze. This is one of my favorite pictures. Notice the Christmas wreath that my mom sent to me, hanging on the pole. I encourage everyone to embrace nature, spend as much time as you can outdoors, and live simply. God bless you!"
THE STORY MOST PEOPLE DON'T KNOW ABOUT JAY ROBB…
"Health and fitness have been in my blood since I was a child. At seven years of age, I joined our local swim team and began swimming and diving competitively. When I was eight years old, I started making the connection between diet and sickness. I hated getting sick and vowed to discover why people get sick and to never be sick again. I trained hard in the pool for two hours every morning and was very active. And, yes, I had abs when I was eight.
I swam and dived competitively from age 7 to 15. Nearly living in a swimming pool, I was exposed to a lot of people in swimsuits. I began to notice that some people were lean and others were rotund. From this observation, I began to observe the diets and lifestyles of those who were lean and those who were not. I also noticed when I would get sick there was a pattern that connected food to illness (instead of germs to illness).I received my first weight set at 13 years of age, started working out regularly, fell in love with weight training, and made my first Jay Robb homemade protein shake at home in a Mason jar (I had no idea at the time that someday my premium protein powders would be sold in over 10,000 stores across the nation).I worked through high school, so I put fitness and sports on the back burner. During my college years, I grew my hair, instead of growing muscles.
When I was 21, a very good friend of mine died of cancer. I was devastated and sensed I needed a change in my lifestyle. One year later, I dove head first into fitness and bodybuilding and have never looked back.One day in 1978, I collapsed after returning home from a workout and was unable to get up off the floor. I was alone, so I put my hands together and asked God for help. I was scared and not sure what was wrong with me, so I pleaded with God to return my health and in exchange, I would spend the rest of my life sharing the health secrets that were revealed to me. Within a few moments after my prayer, I was able to get back on my feet and knew I just had a life-changing experience. From that day forward I was a man on a mission!
The next day, I visited my holistic doctor and was diagnosed with a pre-diabetic condition medically termed Reactive Hypoglycemia. This blood sugar disorder caused me to experience chronic fatigue along with periodic bouts of anxiety and depression. With my faith in God as my true healer, I prayed daily and everything I needed for healing was revealed to me.
With time and effort as my investment, God guided me back to health and two years later I opened my first fitness club, Jay's Gym, to begin fulfilling my end of the bargain by teaching what I had learned. Opening Jay's Gym was a delight for me and kicked off my long and meaningful career in the health and fitness industry. I sold my club in 1984. After selling Jay's Gym, I took a break from work and began studying nutrition.
In 1985, I took a job as Organic Produce Manager at Jimbo's Naturally, a health-food store in the North Park area of San Diego. At the time, I was living in a tent in the backyard of a hippie house near San Diego State University. I had long hair (since the 1960s), and I owned a 1970 Volkswagen Beetle, six small boxes of clothes, a tent, and a sleeping bag. This almost homeless lifestyle, allowed me to save money because I was squatting on the land in exchange for being their gardener.
I started Jay Robb Enterprises three years later with a prayer, my humble savings, and a small amount of money that was left to me by my Uncle Dick. My prayer was that, through the company and in harmony with God's wishes, I could help others realize the incredible life one can experience by eating natural foods and exercising regularly. My prayer was answered—and then some.
Since founding Jay Robb Enterprises in 1988, I moved from my tent and have become a Clinical Nutritionist, the best-selling author of over a dozen health and fitness books, and created an award-winning protein powder formula that is now the #1 Premium Brand of Protein in America. Along the way, I also was a personal trainer for 10 years, owned and operated two successful fitness clubs, performed over 500 seminars nationwide, appeared as "The Fat-Burning Chef" for four years on KUSI TV Channel 9 in San Diego, taught sports nutrition for 10 years in the San Diego area, and was a feature columnist for Natural Bodybuilding magazine for over 20 years.
My love affair with health and fitness is a beautiful experience that will never end. Pointing people to God by showing them how to live in harmony with nature is my purpose on earth. I am both a teacher and a student of life. I have also been blessed with a beautiful wife, Beth, who is the love of my life along with our four beautiful children, Angelo, Francesca, Andreana, and Isabella. I live in Jupiter, Florida with my family and enjoy surfing, meditation, the beach, working out, writing, sunbathing, hiking, swimming, throwing the Frisbee, floating in our pool, dining out and spending time with my wife, taking quiet walks, "being a die-hard hippie," and spending time with my family. As for my success, I give all the glory to God." Jay Robb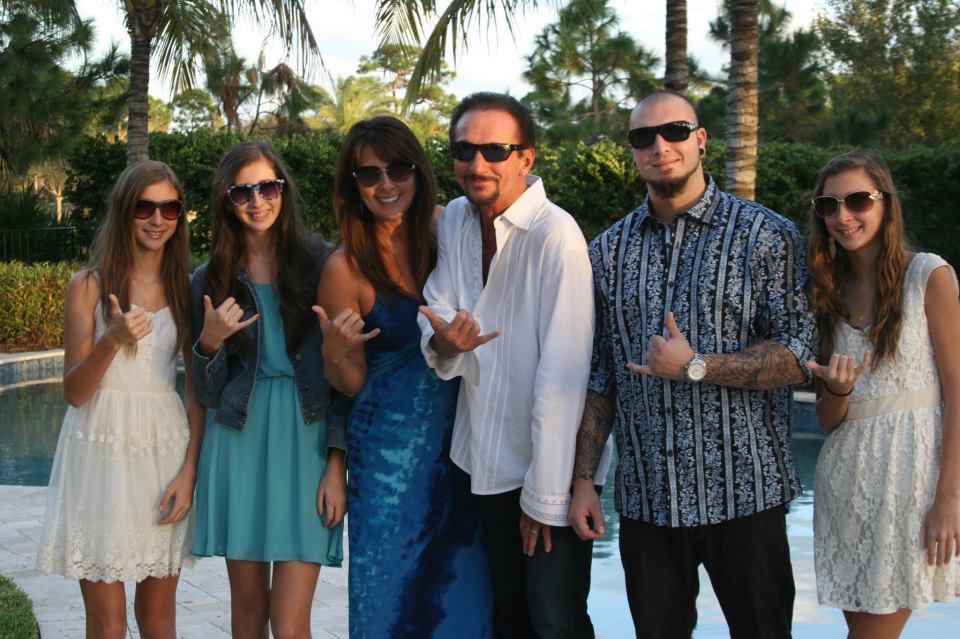 Jay Robb really does care about their customers! They have generously donated 2 huge gift packages! One is WHEY protein and the other EGG WHITE protein (for those of you who are dairy sensitive) (CLICK HERE to Purchase them.). How generous!!!
It is easy to enter! All you have to do is:
1. Like Keto Adapted on Facebook and share Keto Adapted with your friends and family!
3. Comment below what recipe of mine you would use to make with Jay Robb Protein Powder!
Winner will be chosen on December 28th! Good Luck!
AND THE WINNERS ARE…  Dimitrea Sullivan and Patti Neyrinck!  Congrats and thanks everyone for entering!