Testimony of the Day
"Before working with Maria, I had struggled most of my adult life with my weight. I had tried other plans, and they would work for a time and then once I went on my own, I fell back into the old patterns and the weight came back. In December 2012, I weighed 212lbs. I had been pushed into finding an alternative way to better eating because of some health related issues in my family. My dad is diabetic and has had a couple of heart attacks. He's been told that there's nothing that they can do to repair his arteries. Of course, this gets me paying attention as I don't want to head down that same path.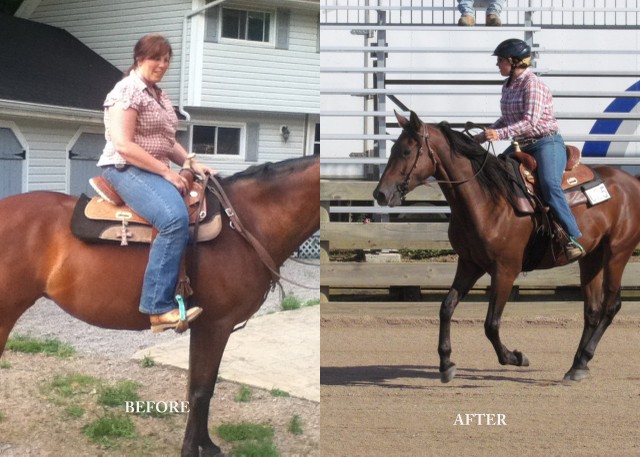 Maria was non-judgemental during this process. She was always providing me excellent resources to allow me to take this journey on my own once I got properly set up. When I was struggling she had tips for me. The videos that she's created or the ones that she recommends were always timely and helpful. I have lost 35 lbs since working with Maria – and just 7 away from my original goal. I've chosen to take the longer path to success because I want to make sure that this weight stays off – for good. Eating food that tastes amazing has been the key to my success in being able to do this on my own. I'm a fussy eater, but also one who's grown up in a practical environment. The menus that Maria has created are based on food that I grew up on – not high end fancy dishes that I don't know how to pronounce. I have to say that that has made a huge difference for me – eating foods that I would have ate – just differently so that they're healthy for me and keep me satiated. Maria has given me the tools and resources to be able to modify my own recipes in a 'healthified' way. Since losing weight, I am now able to fit into cute show clothes again, and I'm sure that I'm also much lighter for my horse's sake :-)" –Janice
To get started on your before and after photo collage, click HERE. 
What are your goals for today? Diet does NOT mean deprivation!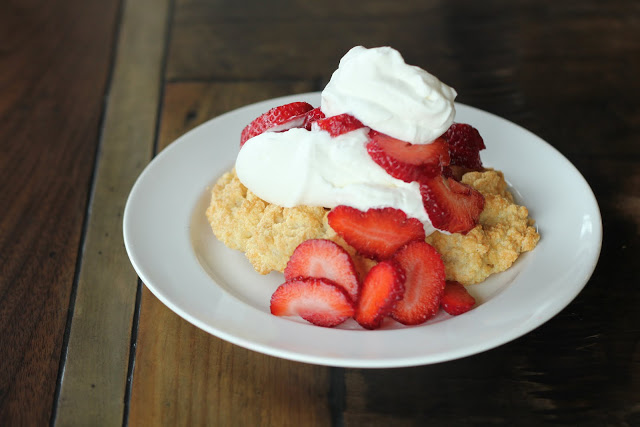 "HEALTHIFIED" STRAWBERRY SHORTCAKE
BISCUITS:
1 cup almond flour
1/4 tsp Celtic sea salt
1 TBS baking powder
4 egg whites
2 TBS chilled butter (cut into pieces)
4 TBS SWERVE (or erythritol)
1 tsp stevia glycerite
TOPPING:
1 cup organic cream or coconut cream
2-4 TBS Swerve (or a drop of stevia glycerite to taste)
1 cup sliced strawberries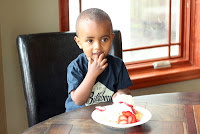 Preheat oven to 400 degrees F. Grease a cookie sheet or muffin pan with coconut oil spray. Whip egg whites until very fluffy. In a separate medium bowl, mix the baking powder into the almond flour. Then cut in the butter and salt (if the butter isn't chilled, the biscuits don't turn out). Gently fold in the dry mixture into the whites. Add in the sweetener. Dollop the dough onto the cookie sheet (or muffin tin) and bake for 11-15 minutes. Let cool for 15 minutes.
Whip cream cream until peaks form (or use coconut cream). Add in the sweetener until desired sweetness. Clean and slice strawberries. Dollop a few tablespoons of cream and berries on top of each biscuit and enjoy! Makes 8 servings.
NUTRITIONAL COMPARISON (per serving)
Traditional Shortcake = 166 calories, 5g fat, 3g protein, 28g carbs, 0.8g fiber
"Healthified" Shortcake = 144 calories, 11g fat, 5.2g protein, 6.3g carbs, 1.9g fiber