Low Carb Samoa Cookies
I blended the natural sweeteners to create a nice chewy and tasty cookie, but if you prefer, you could just use 1 1/2 cups Swerve in my low carb samoa cookies.

Low Carb Samoa Cookies
Samoa Cookies
Ingredients
COOKIES:
1½ cup blanched almond flour
½ cup coconut flour
1 tsp aluminum free baking powder
1 cup coconut oil or butter
1 cup Swerve
1 tsp stevia glycerite
1 egg
1 tsp Redmond Real Salt
COCONUT CARAMEL:
1 cup Swerve confectioners
6 TBS organic butter
½ cup heavy whipping cream
½ cup unsweetened coconut flakes
CHOCOLATE DRIZZLE:
2 TBS organic butter or coconut oil
1 oz unsweetened baking chocolate
10 TBS heavy cream
¼ cup Swerve confectioners
Instructions
Preheat the oven to 325 degrees F. In a medium bowl, cream the butter, sweetener, Swerve and stevia. Add in the egg. Cream for a few minutes until very fluffy. In a separate bowl mix together the almond flour, coconut flour, baking powder, and salt.
Slowly add in the dry ingredients to the wet and mix until smooth.In between 2 pieces of parchment (greased parchment), roll the dough out into ¼ in thick dough.
Using circle cut-outs, cut into Samoa cookie shapes.Place cookies about 2 inches apart. Bake in preheated oven for 17-20 minutes or until golden around the edges. Cool completely on the baking sheet before removing from cookie sheet.
COCONUT CARAMEL: Before you begin, make sure you have everything ready to go - the cream and the butter next to the pan, ready to put in. If you don't work fast, the sweetener will burn. Heat butter on high heat in a heavy-bottomed 2-quart or 3-quart saucepan. As soon as it comes to a boil, watch for specks of brown (this is brown butter....SO GOOD on veggies!). Immediately add the natural sweetener and the cream to the pan. Whisk until caramel sauce is smooth.
Let cool in the pan for a couple minutes, then pour into a glass mason jar and let sit to cool to room temperature. Stir in dried coconut flakes.
Place 1-2 TBS of this mixture on top of each circle. Set in freezer to set. Meanwhile make the chocolate sauce.
TIP: I always have caramel and chocolate sauce in my fridge; it keeps for quite a while.
CHOCOLATE DRIZZLE: Place the butter and chopped chocolate in a double boiler (or in a heat safe dish over a pot of boiling water). Stir well until just melted (don't burn the chocolate!), add in the cream, and sweetener. Stir until smooth and thick.
Place ½ the chocolate in a shallow bowl and dip the bottom of the cookies into the chocolate. Place on parchment paper.
Put the other ½ of the chocolate in a small ziplock bag. Cut the corner of the bag and use to pipe stripes over the cookies.
Notes
Makes 24 cookies.NUTRITIONAL COMPARISON (per serving)
Traditional Cookie = 140 calories, 7g fat, 1g protein, 19 carbs, 1g fiber
"Healthified" Cookie = 125 calories, 11g fat, 3g protein, 5 carbs, 3.8g fiber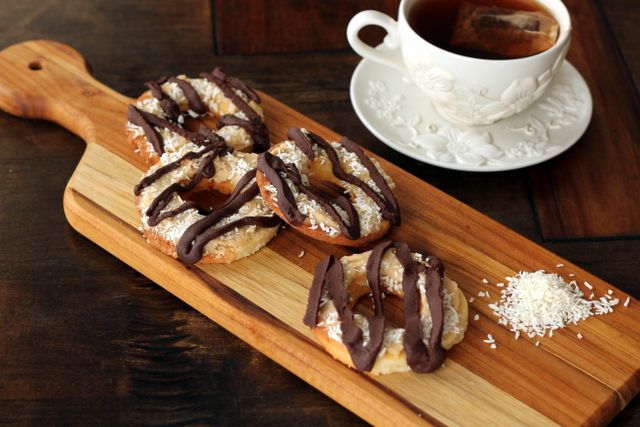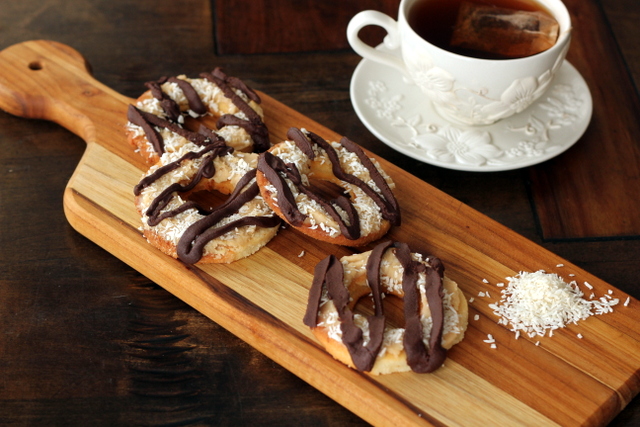 Testimonies of the Day
30 Day Accelerated Testimony: ""I have had weight issues since I was a child. I had tried many of the weight loss diets from WW to Slim Fast to the Cabbage Soup diet, etc. But when a friend of mine told me about Maria's blog I thought I would check it out. I was having migraines and was having mini seizures three sometimes four times a month. Since I have cut out not only grains but all flours except using almond and coconut flour that Maria uses in her recipes and have gone completely ketogenic not only do I not have any migraines but I've not had any seizures.
The reason for my long dialogue is to say that it works. I along with countless others on Maria's facebook page and other fans of Maria's blog will tell you it works too. Thank you Maria for showing us the right way to being healthy. God bless you and your family." – Jolena
Photo Testimony: "Photo taken in June 2014 before starting Keto with Maria's plan.  Look at that surly face!  Not happy at how I look, LOL.  After photo  Oct.29th,  having lost 30 lbs and much happier.  Love this lifestyle of eating.  NO cravings and often not having 'real' hunger.  I think I would like to lose another 20 lbs but I am happy to be healthy and at age 63+ I am not taking any prescription meds and want to keep it that way.
Thank you Maria for sharing all your knowledge with us, the great recipes and continued support." – Sue
If you want to get started on a path to health and healing, click HERE. You will not regret it!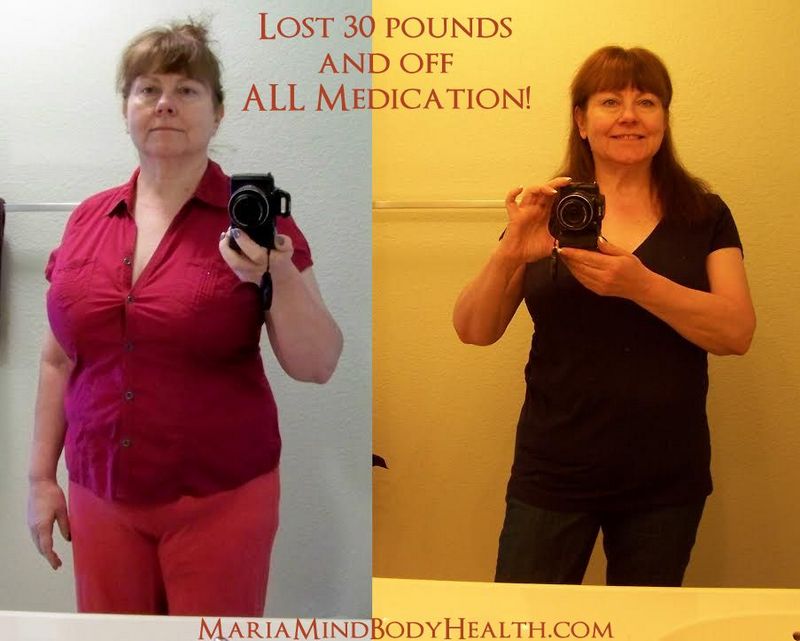 GABA
Low levels of Human Growth Hormone is a predominant reason for too much of fat in our body. Our waistline and hip region are the main victims of fat. It seems impossible to get rid of these pounds by dieting. You might lose weight by dieting and at the same time might even become weak and irritable. Fortunately, GABA is very helpful in stimulating the pituitary glands that releases the Human Growth Hormone (HGH). This is very encouraging as HGH production tends to slow down as we age. This in turn has ill effects on our mind and body.
GABA supplements decrease anxiety and emotional eating, while also increasing mood. It shuts off "brain chatter" at night and is considered nature's natural "valium" and is referred to as the
"brain's natural calming agent".
GABA (gamma aminobutyric acid) is a non-essential amino acid found mainly in the human brain and eyes. It is considered an inhibitory neurotransmitter, which means it regulates brain and nerve cell activity by inhibiting the number of neurons firing in the brain. By inhibiting over-stimulation of the brain, GABA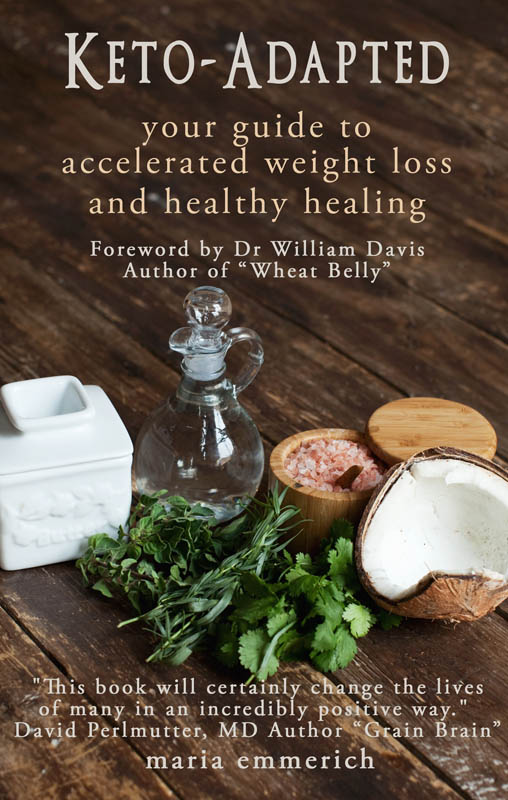 may help promote relaxation and ease nervous tension and increase QUALITY sleep. Click HERE to find capsules. Click HERE to find GABA cream.
Read more about GABA and how a Keto-Adapted diet helps, check out Keto-Adapted.
Click HERE to get a limited edition of the Hard Cover.
Click HERE to get a soft cover.
Thank you all for your love and support!