LOW CARB BLT
What is the trick to the perfect low barb BLT? Sprinkle tomatoes with a flaky salt before adding and use baconaise!
It is all about WHAT we eat rather than how much. Our bodies create biological responses to everything we consume! Choosing the right foods at the right time is an art. Here is a recipe for a healthy low carb blt lunch!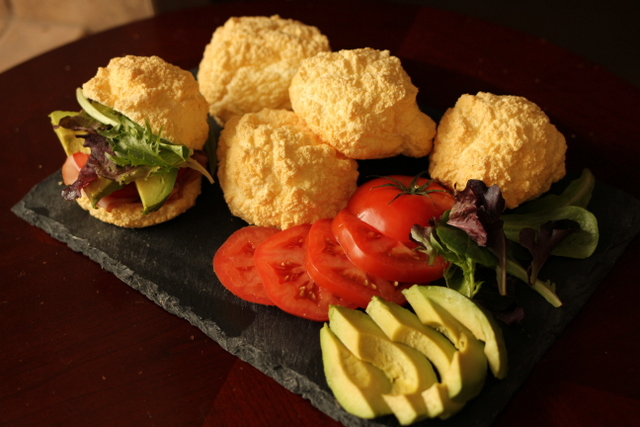 PROTEIN BREAD:
6 eggs, separated
1/4 cup Jay Robb unflavored egg white or whey protein
4 oz cream cheese, room temperature (omit if dairy allergy and fold in reserved yolks instead)
1/2 tsp onion powder (optional)
Preheat the oven to 325 degrees F. Separate the eggs (save the yolks), and whip the whites for a few minutes until VERY stiff (I use a stand mixer on high for a few minutes). Gently mix the protein powder into the whites. Then slowly fold the softened cream cheese (or reserved egg yolks) into the whites (making sure the whites don't fall). Grease a bread pan and fill with "dough." Bake for 25-35 minutes or until golden brown (if bread comes out dry, cook for closer to 20 minutes). Let completely cool before cutting or the bread will fall. Cut into 12 slices. I keep this bread in the freezer at all times to make sandwiches. OPTION: Make bread into 12 buns on a greased cookie sheet.
NUTRITIONAL COMPARISON (per slice)
White Bread = 70 calories, 1g fat, 2g protein 14g carbs, 0.5g fiber
"Healthified" Bread (with cream cheese) = 45 calories, 3.3g fat, 3.5g protein, 0.4g carbs,  0g fiber (66% fat, 31% protein, 3% carbs)
FILLING (per sandwich):
1 slice natural smoked bacon
4 oz canned crab
2 TBS Primal K-itchen Mayo
1 slice tomato, sprinkled with flaky sea salt
Handful of leafy greens
NUTRITIONAL COMPARISON (per sandwich)
Traditional BLT = 343 calories, 12.5g fat, 31g protein, 26.6g carbs, 0.5g fiber
"Healthified" BLT = 452 calories, 33.6g fat, 34g protein, 2.2g carbs, trace fiber (70% fat, 29%, 2% carbs)
Here is a video of me making this bread into loafs.
Testimonies of the Day
"Dear Craig & Maria, I have been on your 30 day accelerated plan for 1 week and I am thrilled with the results!!!! I have lost between 6-7 pounds in 1 week! This NEVER has happened before, and Craig is right, I am not hungry or having cravings as long as I stick to the plan.
I didn't believe it at first, but I can honestly say now that this 'way of eating' does work. I have avoided all dairy and don't really miss it at this point. I feel better and am experiencing higher energy levels. I noticed that when I ate a little more than the plan suggests or when I didn't exercise or get all my water in, I gained. I just have to make sure to follow the plan as close as I can now and hope for more shedding of pounds.
I made your chili recipe last night and both my husband & I absolutely loved it! ( He said he didn't even miss all the beans because it was so flavorful and tasty! ) Thank you both for your great advice and meal plans! Danielle"
To get started like Danielle click HERE. I'd be honored to help you too!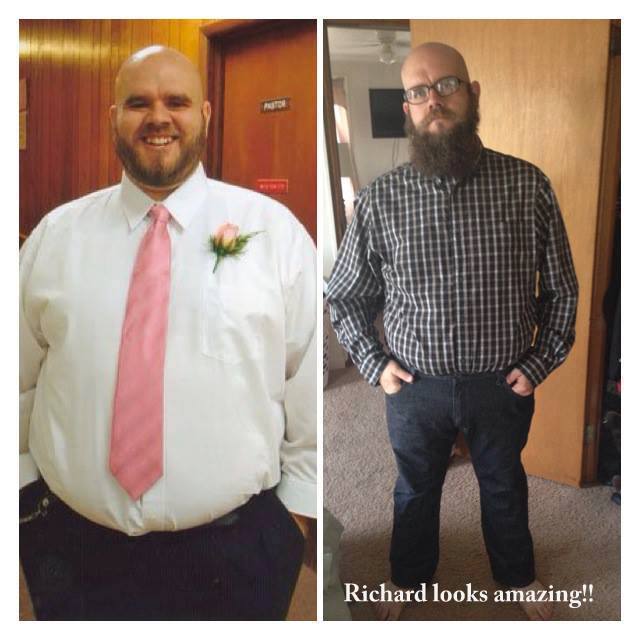 DIABETES
It is so frustrating when I hear that Paula Deen decided to work with pharmaceutical companies to help with her diabetes. First off, does she really need more money? and WHY would the pharmaceutical companies want people to know the truth about how diet can control Type II diabetes by eating no starch or sugar??? They won't make any money! Here's some proof…
Another Maria Moment…this one was with DIABETES. I myself have had my own success story with Maria's eating style…so I decided to introduce her recipes to my very picky, very diabetic father in-law. I spend the summers at the lake with my in-law and decided that this year I was going to cook out of Maria's cookbook exclusively. I made some of my favorite banana walnut muffins and almond waffles and asked my father in-law if he would please try some. He is not fond of trying new foods maybe due to being picky but also because he has had terrible diabetes for over 30 years. My father in-law has large blood sugar swings even with his insulin pump.
He tried the waffles and muffins and loved them. Keep in mind he had butter on both and sugar free syrup on the waffle. As we stood in the kitchen discussing how many units of insulin he should calculate for the food he ate, we come to the conclusion that he should take 5 units. normally for the food he had just consumed he would have needed to take 8 but since Maria's food is different we shot it on the lower side… my father in-law left for about 1 hr and came back out of sorts. My mother in-law said "Tom are you ok…go check your blood." He went and checked his blood and it had taken a huge nose dive…he had a blood sugar level of 45! Now at this time only 2 units had gone into his body…not 5 and he had to stop the rest of the insulin from entering his system. We couldn't believe it! Here he had taken almost 4 times less than he normally would have and his levels were too low.
Ok, fast forward…about a week later his blood sugar was too low so my mother in-law said "tom why don't you have 2 almond waffles with butter and syrup to bring your blood sugars up a bit." He decided he would do this but they had to decide how much insulin he should take…what they decided was that he would take NOTHING!!!! Now how crazy does that sound. In all the years I have known him, which is 28 years I have NEVER seen him not adjust his levels when he eats something. So, Tom ate the waffles and hung out to see what happened and after about 1 and a half hours his levels were back in the normal range. Not only did he not have to take any insulin, his levels were taking care of what needed to be done without huge swings and without adjusting for the food. It was SO COOL! Now it's on to trying more of Maria's recipes and working with his levels but after these results my father in-law is a believer in these recipes. Maria's way of eating does change lives…even lives that have only known diabetes for years. Thank you again Maria for your help…here is just another moment where you have made a positive effect on someone's life. YOU ROCK GIRL!" -Cindy V (Northfield, MN)