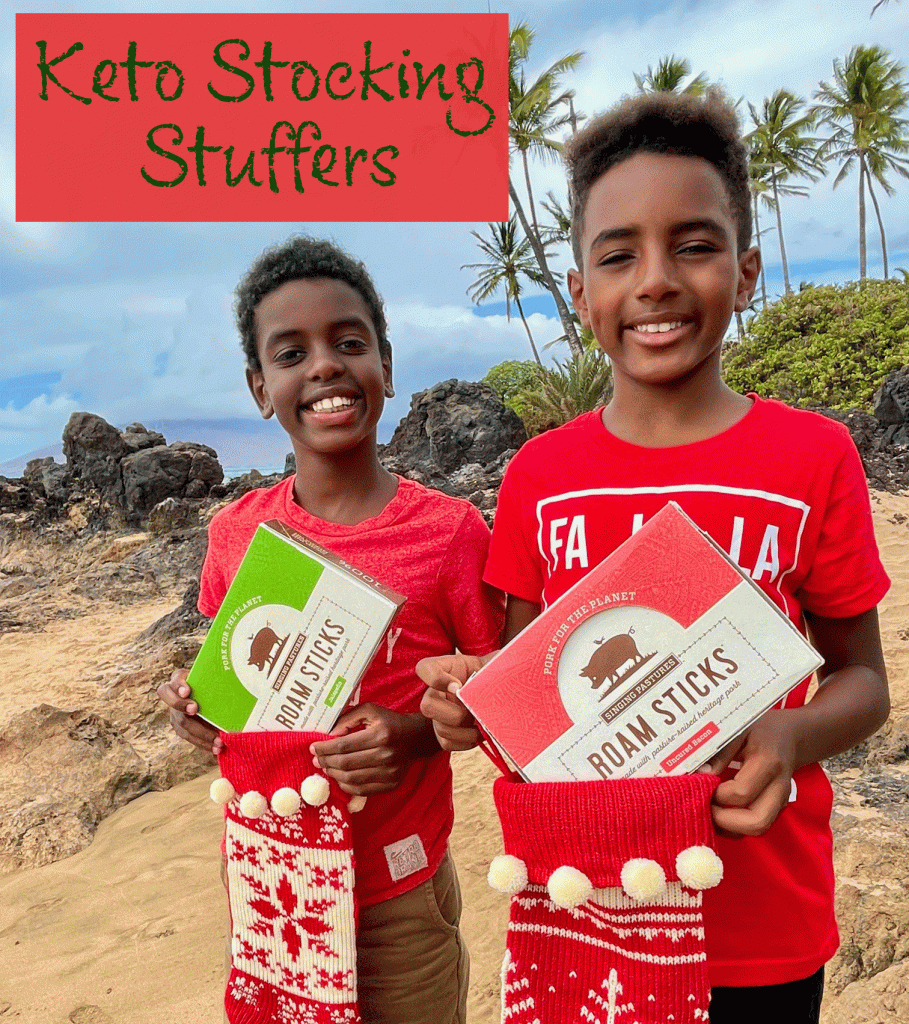 It is Small Business Saturday and I want to introduce you to my FAVORITE small business!
I was introduced to John and Holly Arbuckle who own Singing Pastures, a few months ago and I had some wonderful conversations about their products!
One question I get daily is, "Maria, what is a good keto protein bar?" I always laugh and say, "It's called a beef stick!"  Honestly, there are no good keto protein bars that I would allow my family to eat. They are all packed with whey protein, hidden sugars, tapioca starch, and things I wouldn't recommend.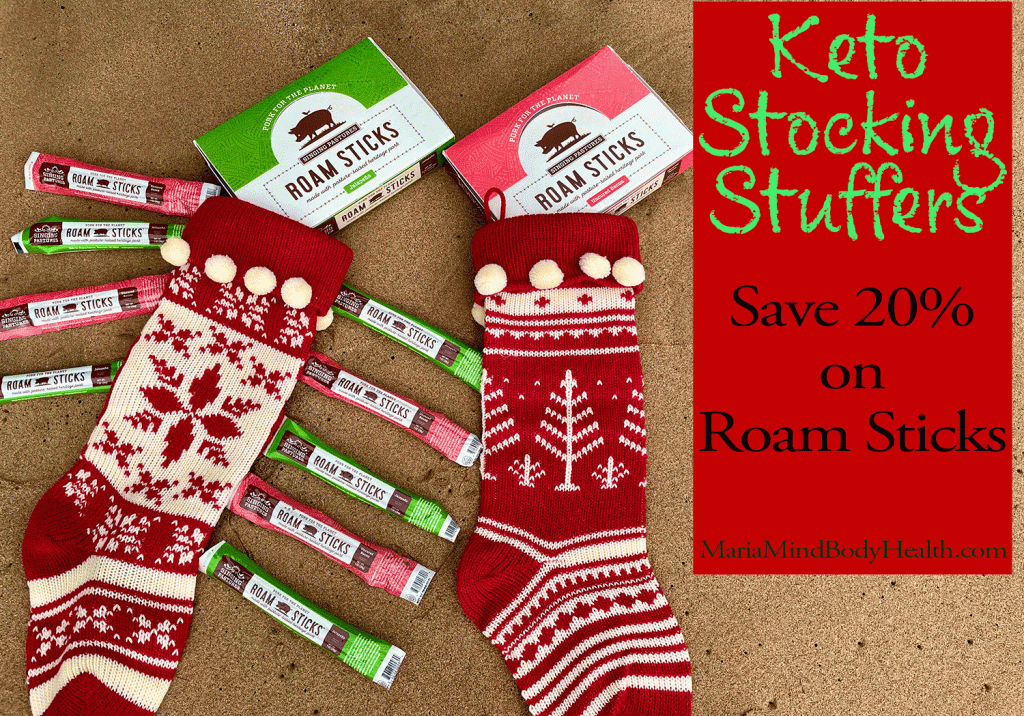 I am always on the hunt for dairy free, nut free keto foods. My books The 30 Day Ketogenic Cleanse and Protein Sparing books, which has AMAZING results, is very specific to be dairy and nut free for maximum healing and weight loss. Dairy and nuts are things that many keto newbies eat often and they are the 2 things that often cause weight gain, constipation and dairy is a more common allergen than gluten, yet no one wants to give it up. Anyway, this is another reason I love this Stocking Stuffer idea! Not only are these snack sticks dairy and nut free, they are also a great traveling snack!
Yep, his name is John Arbuckle! When I first talked to him on the phone, I told him that I already adored him because my boys and I LOVE reading Garfield books and that Garfield's owner is John Arbuckle! He laughed and said, "I also have a huge orange cat!" We laughed and he kindly invited my whole family to visit his farm someday.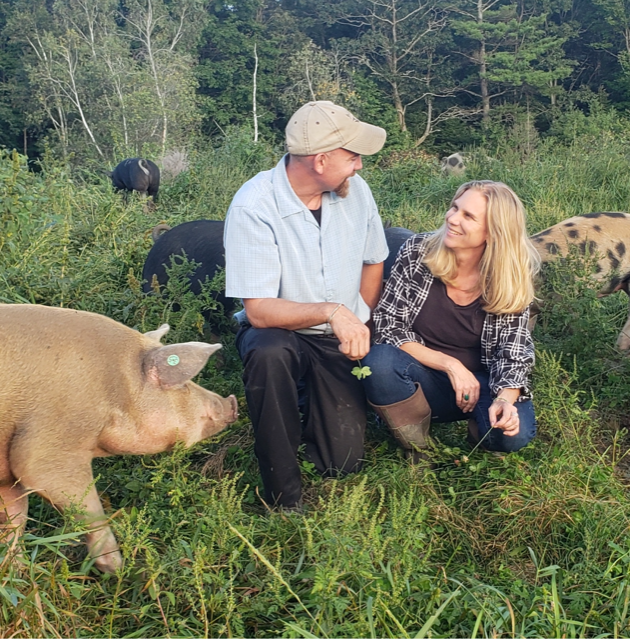 Too often I see keto products laced with hidden sugars, harmful vegetable oils and starches. I told John my concern and he knew exactly what I was talking about! Many casings for beef sticks and snack sticks have hidden vegetable oils that they do not have to disclose to you. This saddened John when he heard this and made sure his products didn't have any of that in it. He takes so much care in making such a top quality product, why ruin it with the processing?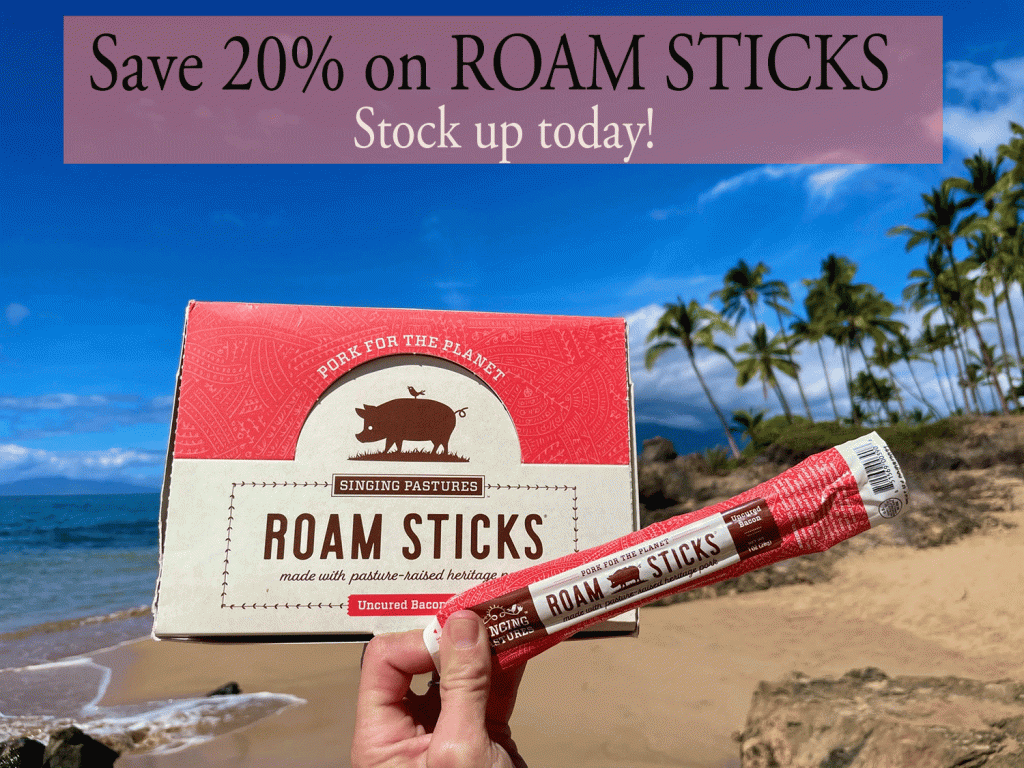 Let me back up and tell you more about why I adore this small business!
Singing Pastures is a small family farm and the owner, John Arbuckle is a 9th generation farmer. Up until World War II, almost all family farms were chemical free. Since then, pork production has changed from small, family farms to large, industrial confinement operations. 98% of all pork produced in America now comes from these factory farms, not independent farmers. John and Holly chose to go back to raising animals like our ancestors, on green grass without growth stimulants, antibiotics, and GMOs.
Regenerative Agriculture is the way to help the planet!
John and Holly raise their animals outdoors on green grass. Rather than put them in one pasture for the season, they mimic nature by moving them every few days. This also fed the microbiome of the soil, which led to rich topsoil and healthy grassland ecosystems.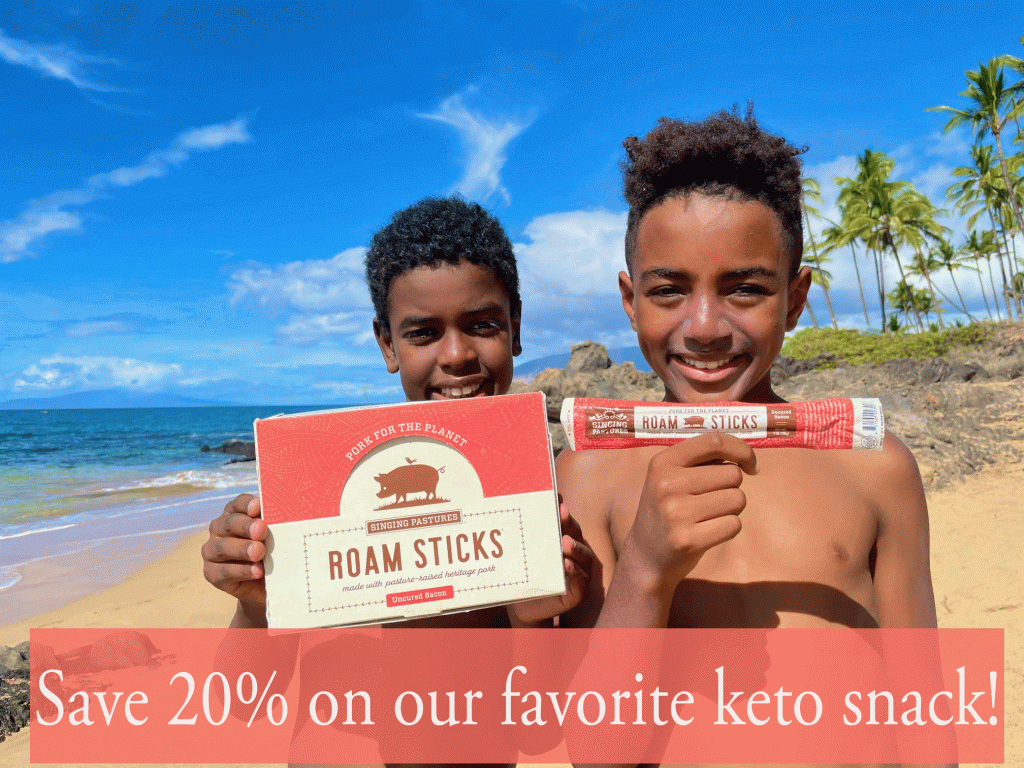 My boys LOVE snack sticks but too often they aren't made with quality ingredients. However, Singing Pastures makes Roam Sticks! Roam stick are pasture-raised heritage pork sticks (bacon snack sticks are amazing) and perfect for Stocking Stuffers!
My stockings were always stuffed with candy, melted chocolate (from the fireplace), gum and a toothbrush! Why not stuff the stockings with a great keto treat like these bacon snack sticks?
These Roam Snack Sticks are perfect for school lunches, travel snacks, protein on-the-go, or if you are like my boys, they just like to snack on them at anytime!
Instead of stuffing your family stockings with candy, gift them a delicious snack that will fuel them with love and health!
Here is a video of John and Holly's kids on the farm! Isn't it beautiful?
Here is a WONDERFUL Message from John Arbuckle himself:
"Our farm takes many forms–it is a living ecosystem, our home, our business, and our teacher. As farmers, we have to pay attention to cycles of the seasons of nature. In winter, we remember that the darkness is not eternal. Life will rise from the land again, even if we don't see anything happening yet. While we wait, we slow down. We acknowledge the stillness of the season. We embrace the cold. We savor the things that give our life purpose. We hold on.

Similarly, we are in a time of uncertainty, where families may not be able to get together the way they normally would. Small businesses may not be able to open their doors and welcome old friends and new into their stores and restaurants. It's tough. We get it. And, we will get through this. 

Our post Thanksgiving holiday sale is 20% off our products, to make them a little easier to send to your loved ones. We are calling it "TOGETHER20". It is a reminder that while we can not do all things we would like to do, we are not alone. We hold on. Together." John Arbuckle