KETO RISOTTO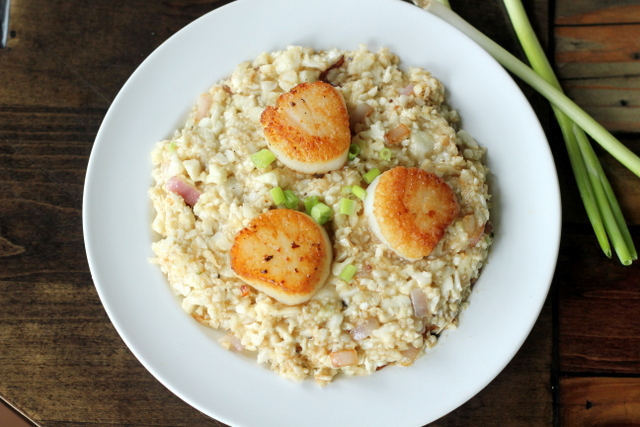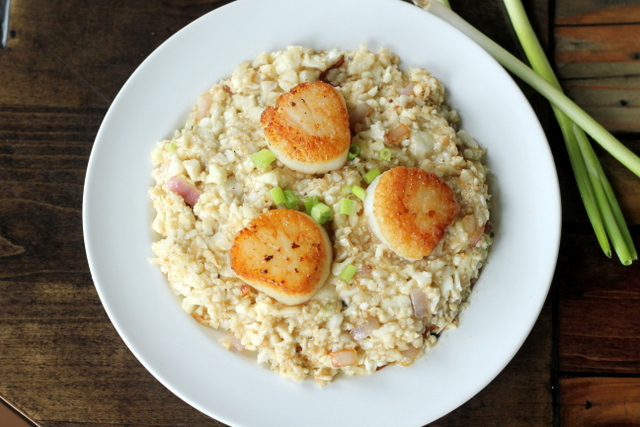 If you want to watch me make a healthy "risotto" on KARE 11 TV show, click HERE.
CLICK HERE TO FIND THE FOOD PROCESSOR I USE TO MAKE CAULIFLOWER RICE
 WHAT IS FISH SAUCE?!
One staple that every cook should have in their fridge is Fish Sauce. It is a special ingredient that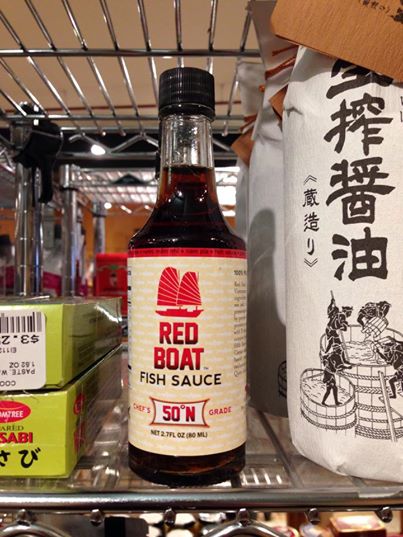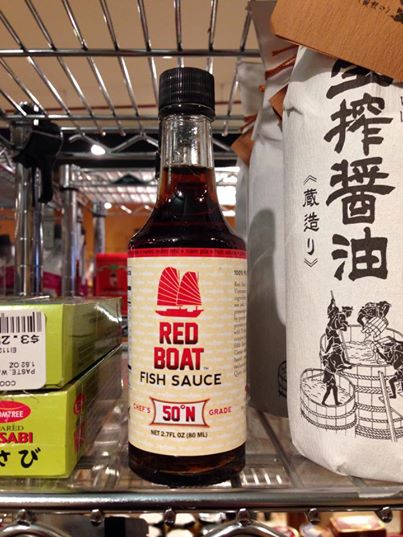 takes good food to amazing food. Fish Sauce, mushrooms and aged cheeses have something called "UMAMI." Umami is a pleasant savory taste produced by glutamate and ribonucleotides, chemicals which occur naturally in many foods. Umami is subtle and not generally identified by people when they encounter it, but blends well with other tastes to intensify and enhance flavors; it plays an important role in making food taste delicious. Red Boat brand is traditionally fermented, not with wheat like most others. This bottle will last you a LONG time – you only use a few drops per dish, it's strong stuff!
FYI: Trader Joe's has a great price on scallops!
 KETO RISOTTO
1 cup unsweetened coconut milk
2 TBS fresh lime juice
4 tsp fresh ginger, grated
2 garlic cloves, pressed
1 tsp fish sauce
2 TBS cilantro
2 TBS minced green onions, divided
4 cups cauliflower, into "rice" (OR MIRACLE RICE IF YOU WANT TO KEEP PURE PROTEIN/FAT)
1 lb of scallops
2 tsp coconut oil (or 2 tsp butter)
Celtic sea salt and pepper
SAUCE: In a medium skillet, combine first 6 ingredients and boil until sauce thickens slightly and is reduced to generous 3/4 cup, 8 to 9 minutes. Remove from heat; stir in cilantro and green onions. Season with salt and pepper.
"RICE": Place the cauliflower heads into a food processor (click HERE to find the one I use), pulse until small pieces of 'rice.'  Saute "rice" in a few tsp coconut oil until soft. Set on a plate and cover with sauce.
Scallops: Rinse with cold water and thoroughly pat dry. Add the oil to a 12 to 14-inch saute pan on high heat. Salt and pepper the scallops. Once the oil begins to smoke, gently add the scallops, making sure they are not touching each other. Sear the scallops for 1 1/2 minutes on each side. The scallops should have a 1/4-inch golden crust on each side while still being translucent in the center. Serve immediately over cauliflower risotto or Miracle Rice. Makes 4 servings.
NUTRITIONAL COMPARISON (per serving)
Traditional Risotto: 449 calories, 20g fat, 23g protein, 45 carbs, 2g fiber
"Healthified" Risotto: 305 calories, 19g fat, 23g protein, 12 carbs, 4g fiber
TESTIMONY OF THE DAY
"Hi Maria! You are a blessing.  I had so many health issues Maria, I thought I was going to die.  Literally.  You saved me.

I turned 54 last week and I feel so good!" Stacy
Most people I consult are doing keto totally wrong. Get fast results with the my Mind-blowing Keto School!