Keto Muffin Tops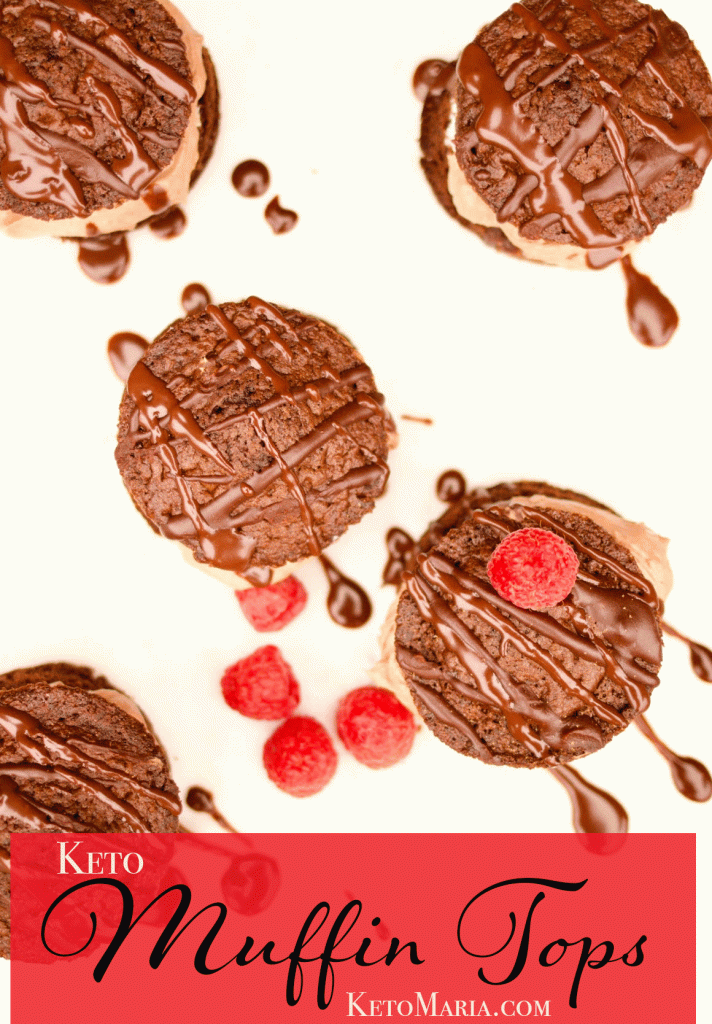 Have you ever gone to look for a recipe on a website or blog and have been bombarded with too many advertisements and pop-ups? I have. It seems as though every website now is plastered with more advertising than helpful information.
I get asked all the time to have advertisements on my website and I get offered thousands of dollars a month for it, but you know what? I tried it for a few days and I was horrified to see "healthy" chips and things that I would never recommend for people to eat. I found it so intrusive and it covered up the message I want you to leave my website with.
I ADORE that I now can fast forward commercials on the tv shows I record because right before bed I swear they always show foods like pizza and even though I wasn't hungry, I wanted pizza after I saw it. I don't want you to see temping junk food on my website. I want my website to be a safe place to be educated and encouraged on your ketogenic lifestyle. Not tempted by junk.
Also, I only list things I approve of. I don't support things like the monthly delivery boxes, etc since they often have junk ingredients, flax, etc.
Why am I expressing this? Instead of doing advertisements, Craig and I researched and found healthy foods and products to keep you in ketosis and heal your body from the inside out. Every company we endorse (such as ButcherBox, RealGood Pizza, BeautyCounter) are companies that really care about your health and not only that, they are super kind business owners that we love to support!
If you would like to find HEALTHY and KETO products we use and adore, click HERE. 
Thank you for your love and support!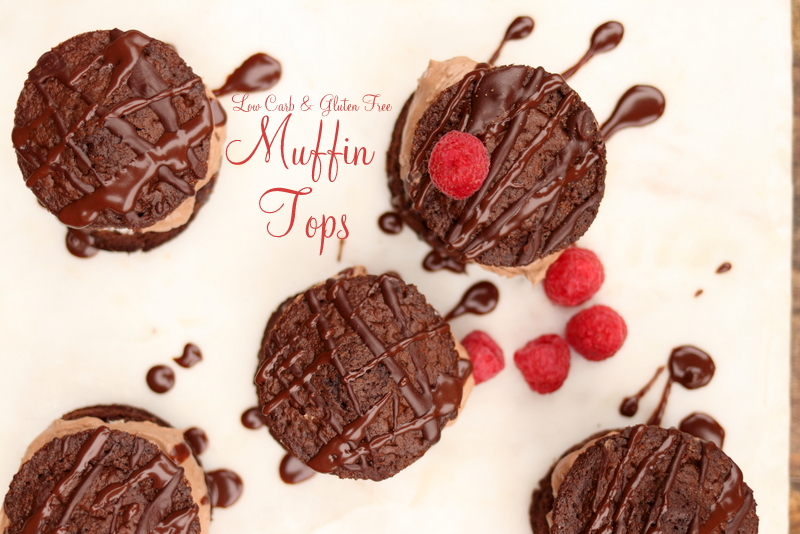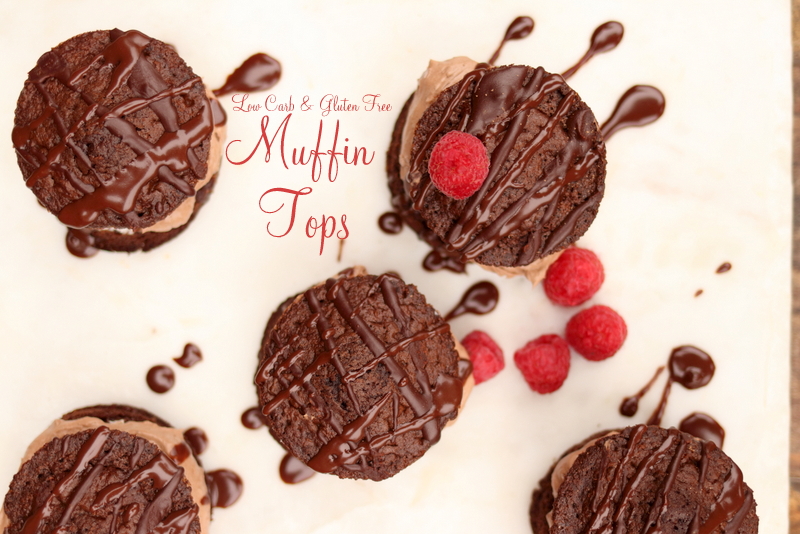 I worked at a coffee shop called Uncommon Ground in Medford, Wisconsin when I was in high school. It was the best job ever! It fueled my love for baking and taught me a lot of tips on how to save time in the kitchen. The only problem was the part where I got to take home all the extra muffins and cinnamon rolls… I ate so many muffin tops it was unreal! Which inspired me to write this recipe! The muffin tops are the best part anyway. I highly suggest getting a muffin top baking pan!
Low Carb Muffin Tops
Equipment
Ingredients
1 1/4

cup

almond flour

or 1⁄2 cup coconut flour

1/4

cup

unsweetened cocoa powder

1/2

teaspoon

baking soda

1/4

teaspoon

Redmond Real salt

1/4

cup

butter

or coconut oil, softened, plus extra for the pans

1/3

cup

Natural Sweetener

3

large

eggs

6 eggs and 1⁄4 cup unsweetened almond milk if using coconut flour

1

teaspoon

raspberry extract
FILLING:
3/4

cup

unsalted butter

11⁄2 sticks unsalted butter, softened

6

ounces

cream cheese

3⁄4 cup, softened, or mascarpone

3/4

cup

Natural Sweetener

2

tablespoons

unsweetened cocoa powder

1

tablespoon

heavy cream

1

teaspoon

raspberry extract

chocolate drizzle

I use melted The Good Chocolate Bar

1/4

cup

heavy cream

2

tablespoons

Natural Sweetener

1/2

ounce

unsweetened chocolate

finely chopped

1/4

teaspoon

raspberry extract
Instructions
Preheat the oven to 325°F. Grease a 12-well whoopie pie pan (or muffin top pan).

In a mixing bowl, whisk together the our, cocoa powder, baking soda, and salt until blended. In a separate bowl, beat the butter, sweetener, eggs, and extract with a hand mixer until smooth. Stir the wet ingredients into the our mixture. Spoon the batter into the prepared pan, lling each well about two-thirds full. Bake for 12 minutes or until a toothpick inserted into the center of a pie comes out clean. Allow to cool in the pan.

Meanwhile, make the filling: Using the hand mixer, cream the butter, cream cheese, and sweetener in a medium-sized bowl. Add the cocoa powder and stir well. Add the heavy cream to thin it out a little, then add the extract and mix to combine. Set the lling aside.

To make the chocolate drizzle, place the cream, sweetener, and chopped chocolate in a double boiler or in a heat-safe bowl set over a pan of simmering water. Heat on low, stirring, just until the chocolate is melted. Remove from the heat and stir in the extract. Taste and add more sweetener, if desired.

To assemble into whoopie pies, place one pie at side up on a plate. Place 2 tablespoons of filling on the muffin top, then top with another muffin top. Repeat with the rest of the pies and filling. Drizzle the chocolate over each whoopie pie.

Store extras in an airtight container in the refrigerator for up to 4 days.
Nutrition
Calories:
615
|
Fat:
60
g
|
Protein:
12
g
|
Carbohydrates:
9
g
|
Fiber:
4
g
|
P:E Ratio:
0.2
TESTIMONY OF THE DAY
A FANTASTIC message from Jason who is pain free and off many medications for his Cerebral Palsy!
"Yesterday was day 27 of my ultra low carb (nutritional ketosis) of eating less than 25g of carbohydrates per day and more than 85% of my total calories from saturated fat. All of my health biomarkers have improved so well that my doctor is having a hard time believing the actual numbers. I'm totally pain free and have cut my medications for the cerebral palsy by more than have the dosage.
I haven't had a panic or PTSD episode in over a month and it is so nice to have a steady stream of energy throughout the day and not worrying about the insulin spikes. Most of all, I was able to literally sit in my office all afternoon yesterday (it was beautiful weather) and I achieved complete lucid awareness or oneness with reality without the use of caffeine or Modafinil lol. It really is amazing when you are finally on the path to true health because many of us don't know what true health feels like until we are there. Thank you to Dr. Dominic D'Agostino for his ongoing research on nutritional ketosis and for Maria Wojcik Emmerich for writing her awesome book "Keto Adapted." In the near future, I'm going to be buying five e-copies of her book and giving them away on here. Seriously, if you have cerebral palsy, autism or any neurological, or psychological disorder, consider giving the ketogenic lifestyle a try.