Keto Lobster Rolls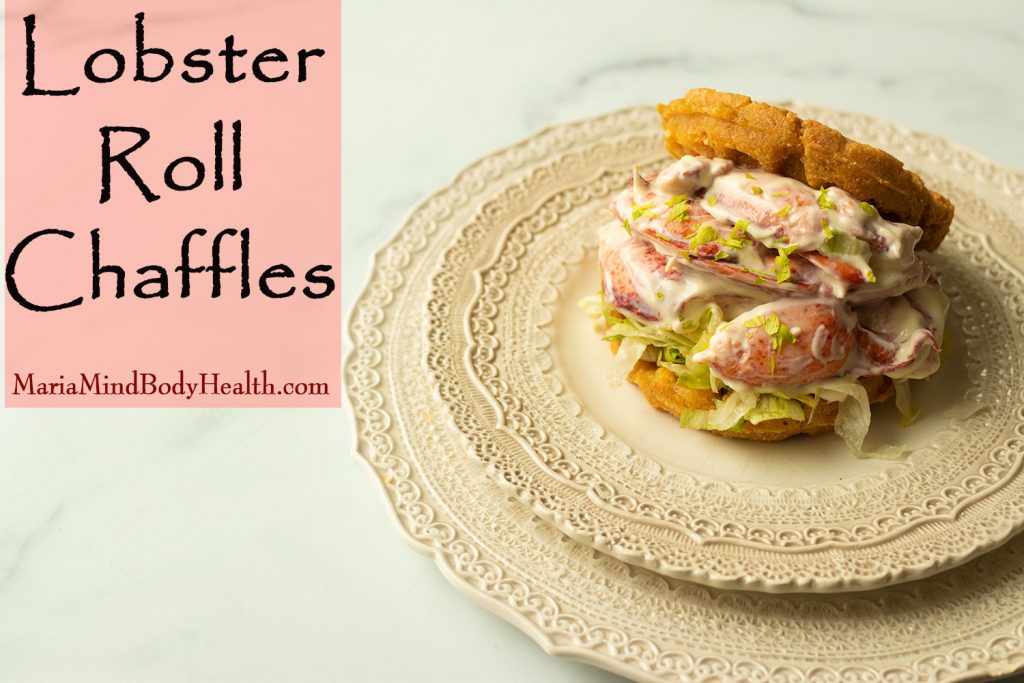 It is a dream of mine to go to Maine and eat fresh lobster while looking over the ocean! I have never had fresh lobster, only frozen but I still love it. I can't imagine how delicious fresh lobster must be!
I also have a dream of the restaurant serving Keto Lobster Rolls! Maybe I'll have to serve my keto chaffle recipe at my dream restaurant!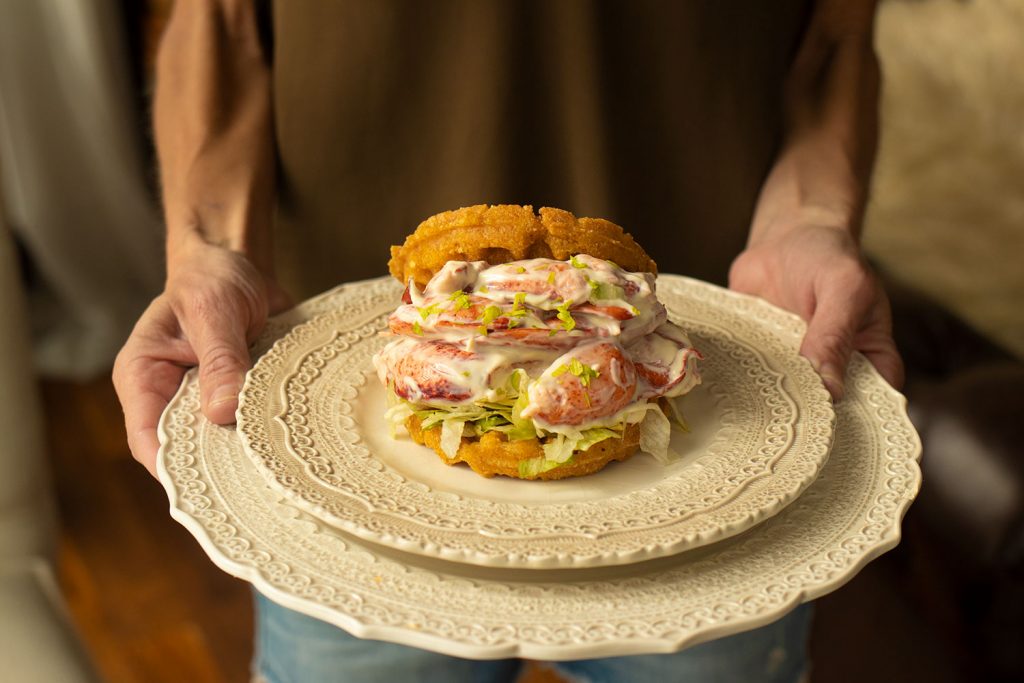 To make these Keto Lobster Roll chaffles, you can find frozen lobster meat in the frozen section at most grocery stores. But you can also get lobster meat mailed to your front door!
I also love that Butcherbox now offers whole lobster tails and they also offer lobster pieces. You can see in my photos how LARGE and meaty the Butcherbox lobster pieces are!
We aren't going out to eat with Covid-19 so I don't mind spending money on delicious food I can enjoy at home!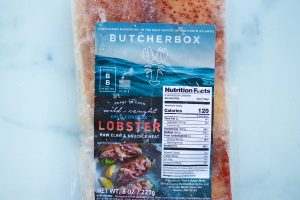 ALREADY A MEMBER???
If you're an existing ButcherBox member I've got deals for you too.
Skip the stores with all the temptations and get quality food mailed to your front door!
Click HERE to access member deals and specials. You'll find exclusive and limited time offers as well as new product launches like lobster, ground bison, seafood sampler, cast-iron favorites, their legendary bacon blast (10 packs of bacon for just $5/pack), and so much more. Their member deals are constantly changing so be sure to click HERE!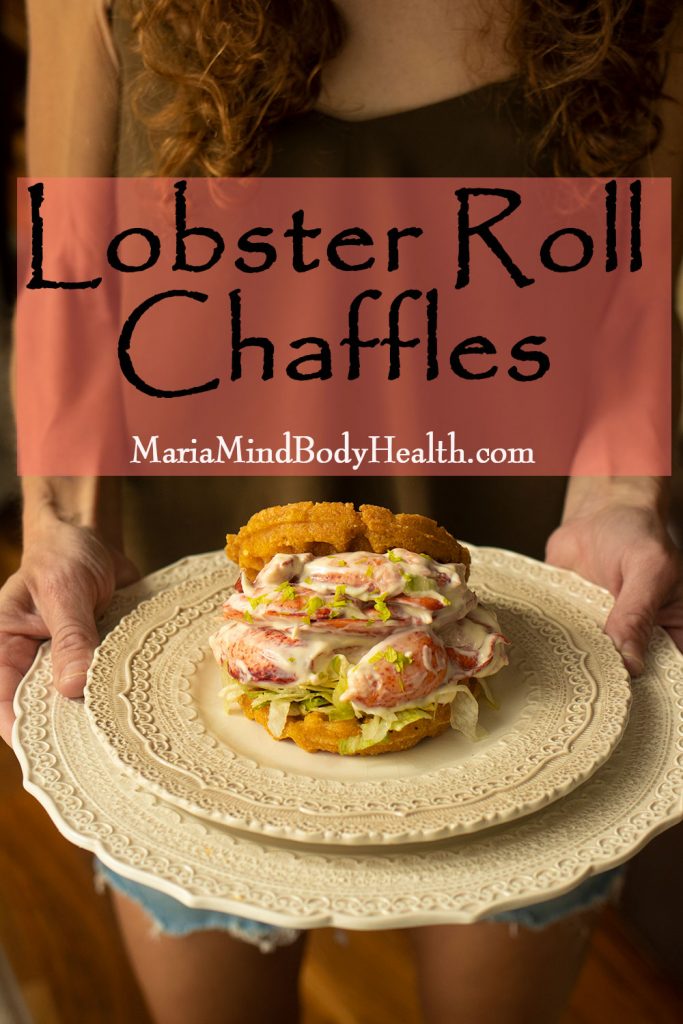 Lobster Roll Chaffles
Ingredients
3 tablespoons butter (or lard if dairy free)
1 teaspoon fresh ground pepper, divided
4 cloves garlic, minced
1 large shallot, minced
3 teaspoon lemon juice
1 tablespoon fresh tarragon, chopped
⅓ cup mayonnaise
¼ cup finely diced celery
1 dash hot sauce
CHAFFLES:
2 cup shredded mozzarella (or ground pork rinds if dairy free)
4 eggs
1 tsp smoked paprika
Avocado Oil Spray, for greasing chaffle maker
Optional: shredded lettuce for serving.
Instructions
Place the butter into a large skillet. Heat to medium heat. Add the garlic and shallots and cook for 4 minutes, or until shallots are soft. Season the lobster meat with 1 teaspoon salt and ½ teaspoon pepper. Add the lobster meat to the skillet and increase heat to medium high. Add the lemon and tarragon. Cook for 5 minutes or until lobster meat is cooked through and no longer opaque.
Place the cooked lobster meat with the drippings from the skillet in large bowl.
In a separate, smaller bowl combine the mayonnaise, celery, hot sauce, and the rest of the salt and pepper. Pour the dressing into the cooked lobster meat and mix well. Set aside while you make the chaffles.
Make the chaffles. Preheat a mini chaffle maker.
Place the cheese, egg and paprika into a small bowl and use a fork to combine well.
Grease the chaffle maker with avocado oil spray and place 2 tablespoons of the mixture into the chaffle maker and press the maker down. Cook the chaffle for 2 to 3 minutes or until golden brown and cooked through.
Remove from chaffle maker and repeat with remaining batter.
Divide the lobster salad between 4 chaffles. Garnish with shredded lettuce if desired.
Notes
Nutritional Information:
530 calories, 41g fat, 41g protein, 6g carbs, 1g fiber
TESTIMONY OF THE DAY
"Thank you Maria Emmerich!!!! My body has completely changed and healed, all Keto. Maria, you're amazing! I cannot thank you enough!
No more meds for high blood pressure and insulin resistance, best yet PCOS symptoms are all gone.
I'm almost 39 and I feel more like 25! ♥️ SW 316, CW 246 still going down! Slow and steady!" – Brandy
Most people I consult are doing keto totally wrong. Get fast results with the my NEW Keto Packages!