KETO CREPES

Great deals on Nut and Seed Flours to make Keto Crepes!
If you use this link for your Nuts.com flour orders I can a little percentage that enables me to buy flours to experiment and make more great recipes! So stock up on one of these great "Maria Approved" flours:
Almond Flour (I buy the 25 pound bag and keep extra in the freezer, only $5.49 a pound!)
Coconut Flour
Hazelnut flour
Pumpkin seed flour
Click HERE to get the deal. Thanks so much for your support!
My sister-in-law wrote this on my Facebook wall: "The delivery guy giggles out loud when he hands me this box with my almond flour in it. What a knucklehead!!"
I laughed for about 5 minutes after reading that and I'm still giggling as I post this:)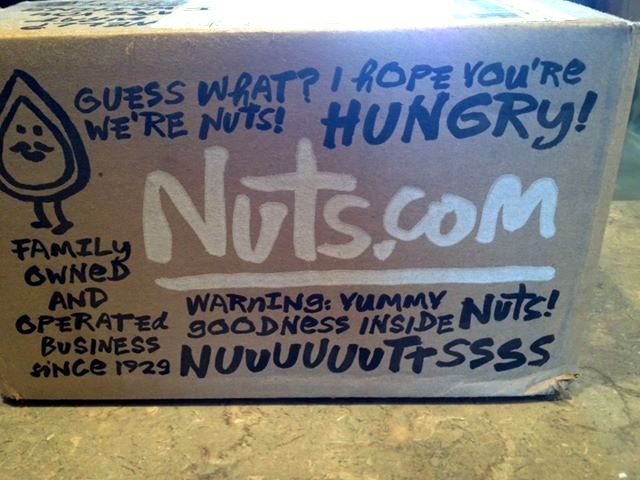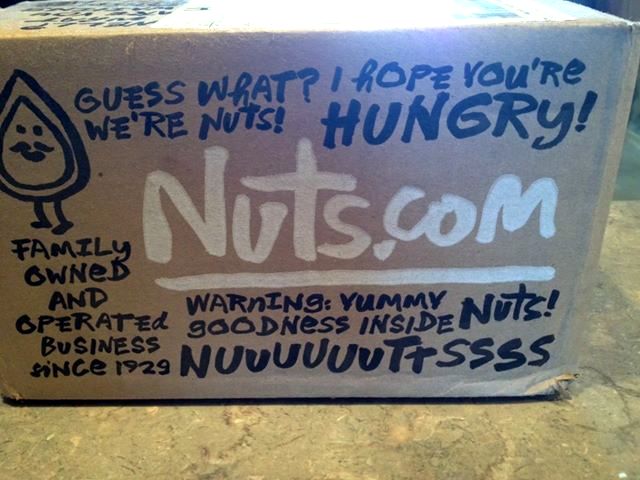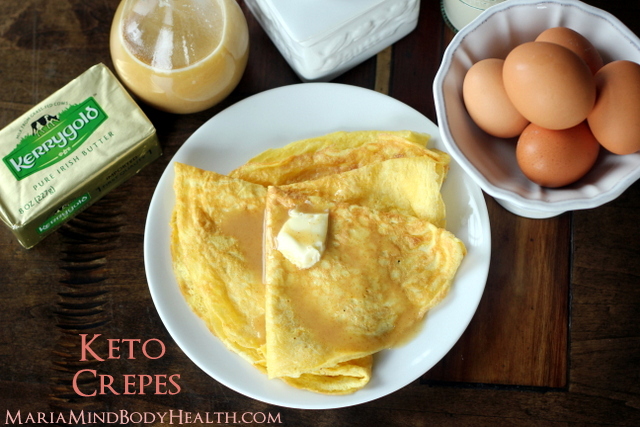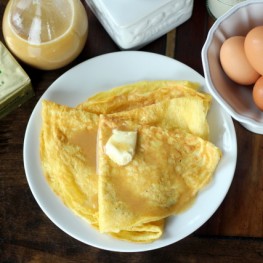 Keto-Crepes with Keto Syrup
Ingredients
CREPES

4

eggs

1/4

cup

unsweetened almond milk

1

TBS

coconut flour

1

TBS

Natural Sweetener

or a drop of stevia glycerite

1

tsp

vanilla

1/4

tsp

almond extract

Coconut oil for frying

SYRUP

1

cup

organic butter

1

cup

Natural Sweetener

1

cup

unsweetened almond milk
Instructions
In a large bowl combine all the ingredients and mix on high until smooth. Let the mixture sit for a few minutes or store in the fridge overnight for easy breakfast (the mixture thickens a little).

Stir again just before using.

Heat a large cast iron skillet onto medium high. Have a pot holder close by (the handle gets very hot).

Pour a few tablespoons of the batter into the well greased skillet. With the pot holder on your hand, swirl the dough all around the pan to have a very thin layer of batter that covers the whole pan.

Cook for 2 minutes or until golden brown and cooked all the way through.

Remove from skillet and fold in 1/2 and then fold in 1/2 again.

Top with homemade syrup.

To make the syrup: In a large saucepan, heat the butter over high heat. Whisking every few seconds. The butter will "fluff" up to the top of the saucepan and then fall back down. Watch for lots of brown flecks and remove from heat. Watch closely, you do not want "black" flecks.

Remove from heat and whisk in the Swerve until smooth.

Whisk in the almond milk.

This will thicken in the fridge.

Use the Syrup within 1 week... it if lasts that long!
Notes
Nutrition (per serving):
"Healthified" Crepes = 231 calories, 18g fat, 13g protein, 3g carbs, 2g fiber Nutrition (per 1/4 cup serving):
"Healthified" Syrup = 138 calories, 15.6g fat, 0.2g protein, 0.1g carb
Testimony of the Day
"Where's the closest bathroom?" was the first question that would come out of my mouth when we would step foot into a restaurant. From as early as I can remember I have suffered from horrible stomach pains after eating meals. I always laughed off my "digestive issues" until one day after my 2-year-old daughter saw me holding my stomach in the fetal position on the couch after a "fun" night out for dinner. She worriedly asked my husband "What's wrong with Mommy?" I knew at that point I had to get some answers and so I began the very long road to healing my gut.
I was referred to a gastroentrologist who told me, although my gallbladder was functioning at a healthy rate, it should be removed. I was not keen on having an organ taken out of my body, so instead he told me to stay away from butter and oils. I did just that…and lived on boring salads with low-fat dressing for years. Yes, my stomach pains did go away, but my diet was so boring! Then, slowly but surely, I started to get sick again. First it was pneumonia, then nearly once a month I would get almost flu-ish and end up in bed. My weight started to fluctuate, but the last straw was when I came down with shingles. I knew, at 28, that something bad was going on in my body. My doctor told me not to worry, and shingles were completely normal in a 28-year-old woman. It was just too much "stress" in my life…but I wasn't stressed!
Then one night (when I couldn't sleep…due to the steroids they pumped in me to combat the shingles) I was researching my issues and came across celiac disease. My mind raced as every description matched mine. The next day I made a conscious decision to cut out wheat. I was ecstatic! I immediately felt a difference in my energy, moods, etc.
After a month of eating gluten-free, I decided to contact my doctor and get a test to "confirm" my allergy. He reluctantly did the tests and cheerfully called me the next week to tell me I didn't have celiac…but possibly a gluten "sensitivity". I was crushed! I thought I had found the answer to all my problems. But, as Maria points out, there is a large percentage of false negatives when tested for celiac.
Fast forward to today. I am ever so grateful to have met Maria! I try to adhere to a ketogenic diet, which means high-fat (butter and oils, gasp!), moderate protein and low-carb foods. I have never enjoyed such a wide array of foods in my entire life! Eating is now fun again! My stomach issues have completely disappeared  but what's more astonishing are the other changes: my clearer thinking, my muscle definition, my energy levels, my skin, my moods. The list goes on and on. I am a group fitness instructor and most days of the week I need to be in the gym all morning strength training and teaching high-intensity cardio. I usually don't get home until late afternoon and a ketogenic diet allows me to have the energy to do this! I sometimes even need to remind myself to eat!
And my Raynaud's syndrome completely DISAPPEARED  This photograph is evidence of what my husband used to refer to as my "corpse" fingers. For 8 months out of the year I would lose complete feeling in not only all of my fingers, but my toes and nose as well! My husband even bought me a very expensive pair of boots that I would clomp around in…and that STILL didn't work. I would spend hours just focusing on trying to get blood back into my fingers, to no avail.
Out of the blue one day, after following Maria's supplement recommendations, I suddenly realized I have not lost any feeling since! It's crazy!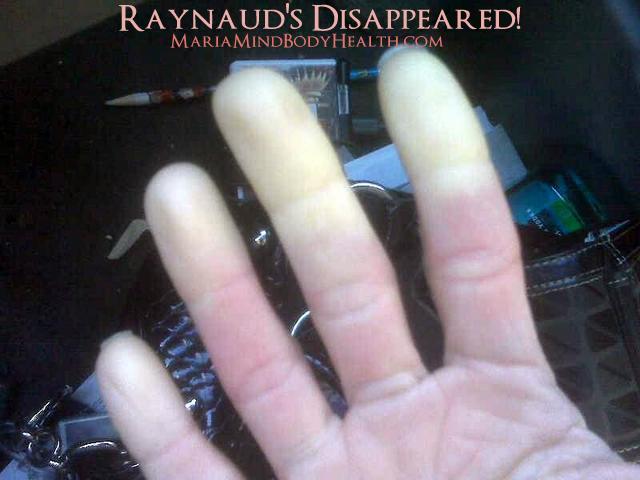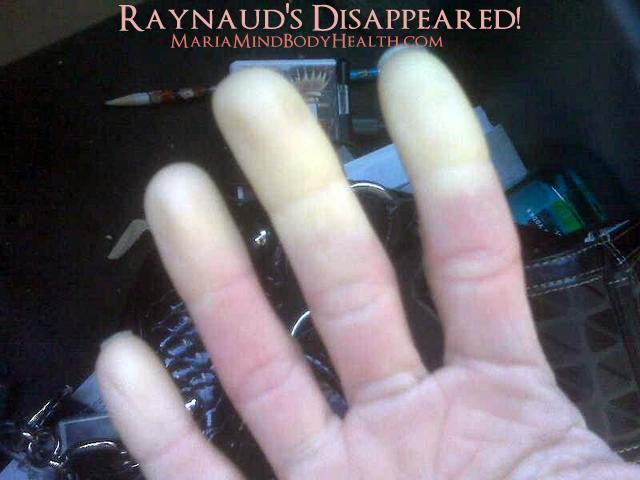 One other "plus": I have been addicted to Diet Mountain Dew since college (over 10 years ago). I used to say "If you want to kill me, lock me in a room without Diet Dew". I would drink SIX cans a day. I was so proud of myself when I cut down to four! After eating this way, I suddenly felt ill whenever I would try to slug a can. So I completely quit my pop addiction cold-turkey. The weird thing is, my body doesn't need the caffeine! The fats in my diet drive my energy sky-high. Now, if you would have told me I wouldn't drink pop five years ago, I would have died laughing!
I am forever indebted to Maria…for opening my horizons to the ketogenic diet and freeing me from a life of boring salads!" Kristen
To get the results like Kristen, click here to get started. A year from now you will thank yourself!