Keto Cream Cheese Wontons
 
If you haven't noticed, I do not allow advertising on my site.
I just didn't agree with some of the products that were advertised. They were keto products, but they were unhealthy and I would never personally eat most of the products. It was hard to say no to blog advertisements; they pay thousands of dollars a month, but I just felt uncomfortable about having the products I didn't recommend on my website.
Instead, I have created a shopping list where you can find all the healthy ingredients that are difficult to find in the grocery store (and if you do find them, they are often very expensive).
I have done a lot of detective work and found the lowest prices on for all of the products I use and love. Everything from food, pantry items, kitchen tools, supplements, and skin products are on my list.
I rarely waste time in the grocery store because I find everything online for a way better price!
All you have to do is click on the words in my recipes and it will take you right to the correct item. If you add them to your cart I get a tiny commission that helps me afford to keep practicing recipes (Recipe experimenting can costing me a fortune!…but I love helping!).
I also have GREAT HOLIDAY GIFT IDEAS on the list!
Happy Shopping and THANK YOU for all your support!!!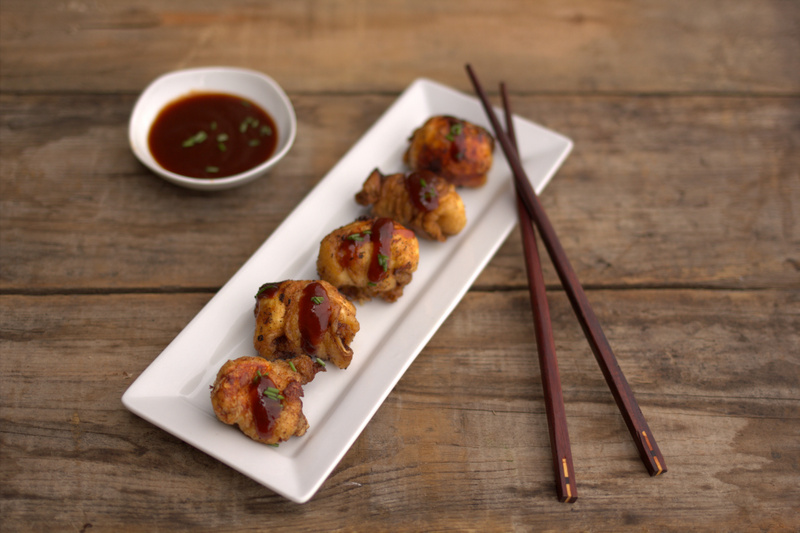 I know my recipe for Keto Cream Cheese Wontons may sound a bit crazy, but it is seriously DELICIOUS!
I have made my Keto Cream Cheese Wontons 2 different ways. One way with chicken skin and one with prosciutto. I prefer the chicken skin! It makes the wonton wrapper crispy yet chewy! Just like a real cream cheese wonton!
You may be wondering where to get all the chicken skin, but if you call your local butcher, just ask for a bag of chicken skin. A huge bag cost only $8 in my area.
Happy Eating my keto friends!

Zero Carb Wontons
Ingredients
8 oz Cream Cheese
2 TBS chives, chopped
24 pieces chicken skin (about 3.5 inches in diameter) OR Prosciutto
Avocado Oil or Coconut Oil, For Frying
Redmond Real Salt (if using chicken skin)
Dipping Sauce:
½ cup coconut aminos (or 2 tablespoons organic Tamari sauce (aged soy sauce))
¼ cup chicken bone broth (homemade is naturally thick which works great for this recipe)
2 TBS coconut vinegar or rice wine vinegar
¼ cup Swerve confectioners
1½ tsp minced garlic
1½ tsp minced ginger
Instructions
In a medium bowl, combine the cream cheese and chives.
One at a time, assemble the chicken wontons: place approximately 1 TBS cream cheese mixture in the center of a chicken skin (or prosciutto).
Wrap the skin around the cream cheese mixture. The skin will shrink a lot so make sure to use a large enough chicken skin. The first time I did it the cream cheese squirted out.
Heat 2-3 inches of oil in a large saucepan or medium skillet to just under 350 degrees. Experiment with a spare pieces of chicken skin to check if oil is ready.
About 3 at a time, fry the wontons for about 3-5 minutes, flipping carefully midway through to make sure they brown evenly.
Remove from heat, sprinkle with salt.
While they cool, make the dipping sauce.
Make the dipping sauce by combining the coconut aminos, organic broth, coconut vinegar, natural sweetener, garlic and ginger in a small saucepan on medium-high heat. Heat until natural sweetener is dissolved. Sift in the guar gum (make sure to sift or it will clump up). Remove from heat. Taste and adjust amounts as desired.
Serve the sauce with keto cream cheese wontons!
Notes
NUTRITIONAL COMPARISON (per serving)
Traditional Wontons = 290 calories, 19g fat, 5g protein, 25g carbs, 2g fiber
"Healthified" Wontons = 290 calories, 22g fat, 11g protein, 0.5g carb, 0g fiber

84% fat, 15% protein, 1% carbs
Testimony of the Day
"10 years on Keto and I'm OFF all meds for diabetes and high blood pressure.
I'm down 70 lbs by eating real food.
I suggest you look deeper into keto, deeper into what Maria Emmerich and Craig Emmerich are doing for people. They are literally thousands of amazing success stories of us." – Elaine
Most people I consult are doing keto totally wrong. Get fast results with the my Mind-blowing Keto School!