Testimony of the Day
"AAAH Maria! So after a week of pure protein and fat (which was MUCH easier than I'd imagined) I lost almost 12 lbs, and I have not taken my acid reflux meds in 3 days ! You are a miracle worker. I have been on those (and a host of other meds) for 8+ years !" Nicole
Nicole purchased the Accelerated 30 day meal plans along with a HAQ health assessment. To get started on your journey to health and healing, click HERE. A year from now you will thank yourself!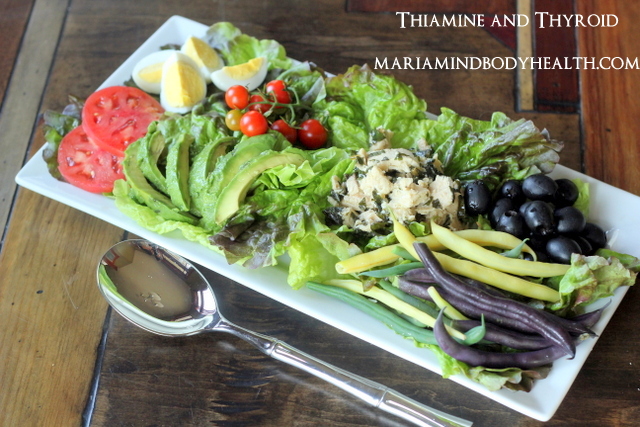 THYROID TIP: Thiamine is one of the B vitamins, known as B1 (the tuna in this recipe is filled with thiamine). Its main responsibility is to change carbohydrates into energy and it also helps with the digestion of proteins and fats. Thiamine is necessary for proper release of hydrochloric acid in our stomachs, which is required for proper protein digestion. Most people with Hashimoto's have low stomach acid or do not release any stomach acid.
MCT OILS
My parents are coming to visit today and I will be serving a Keto-Adapted nicoise salad. I use MCT oil for the dressing.
One question I get all the time from clients is, "How much protein is too much?" Well everyone has a different tolerance, just like with carbohydrates. I work with lots of extreme diabetics who can eat more than 60g protein a day (about 20g at each meal). In order to become keto-adapted, you need to turn up the healthy fat intake to push yourself over the adaptation divide as quickly as possible.  If you don't like fatty cuts of meat, you can add medium-chain triglycerides (MCT) to your diet.
Medium-Chained-Triglycerides (MCT) are different than Long-chained-triglycerides. MCT are absorbed more like carbohydrates and are used and burned quickly by the body and not stored in the fat cells and any extra are converted into ketones.  This is why I am very specific even about the salad dressings my clients use. It is always best to make your own dressing (not to mention how easy it is too), but more so because I have them make it out of MCT oil rather than olive oil (or other vegetable oils) which are a long chained triglyceride and will not turn into ketones for fat burning.
MCTs passively diffuse from the GI tract to the portal system (longer fatty acids are absorbed into the lymphatic system) without requirement for modification like long-chain fatty acids or very-long-chain fatty acids. In addition, MCTs do not require bile salts for digestion. Patients that have malnutrition or mal-absorption syndromes are treated with MCTs because they do not require energy for absorption, utilization, or storage.
MCT will speed up the ketone production process.  In rare occasions, MCT oils have caused nausea in some of my clients if they take too much of it, so start out slowly.
MCT oils
1. Organic butter: Fresh butter is one of the best sources of fat and medium chain triglycerides, according to nutritional experts and authors of "Nourishing Traditions," Sally Fallon and Mary G. Enig, PhD. Butter contains about 12 to 15 percent short and medium chain fatty acids, according to the authors. This is the type of fat that can be used quickly by the human body for energy. Fresh butter, according to "Nourishing Traditions," has both antifungal and antitumor properties
2. Coconut oil
3. MCT Oil (Can be used in my Super Salad Dressing recipe in The Art of Healthy Eating Savory)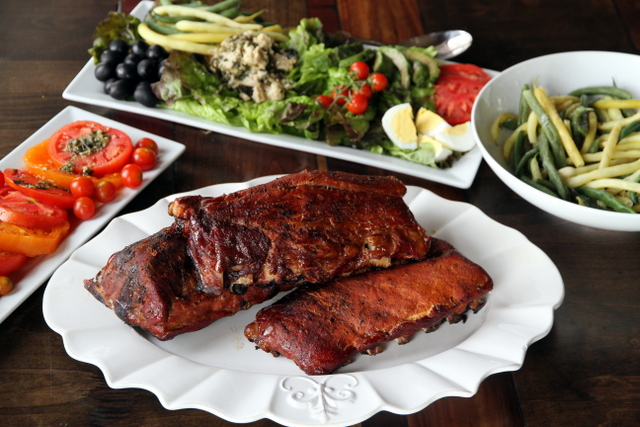 This probably looks like I slaved in the kitchen all day preparing this, but no, we were riding bikes and exploring with my parents all day. Let me tell you my tricks:
1. Smoked Ribs: These ribs are amazing! The beautiful color comes from the smoking process; there is NO sauce or marinade on them at all. Craig just seasons the ribs a little then smokes them in a smoker (click HERE to find the one we love on sale!) He often smokes 6 or more racks of ribs at a time and then we wrap them in tinfoil very well and freeze them until the day we want to eat them. All I had to do is put the frozen ribs in a delay timer at 250 degrees for 2 to 3 hours (depending on how much you want them to fall apart) and I set my delay timer to finish when I wanted to serve dinner. TADA! easy!
2. Tomato salad: I sliced up ripe tomatoes and drizzled with a homemade pesto sauce; which I made the night before.
3. I boiled extra green beans when I made the Nicoise Salad so I could serve them as a side. I just added organic butter and salt once I finished boiling them.
4. Nicoise Salad: I made the night before and stored in the fridge.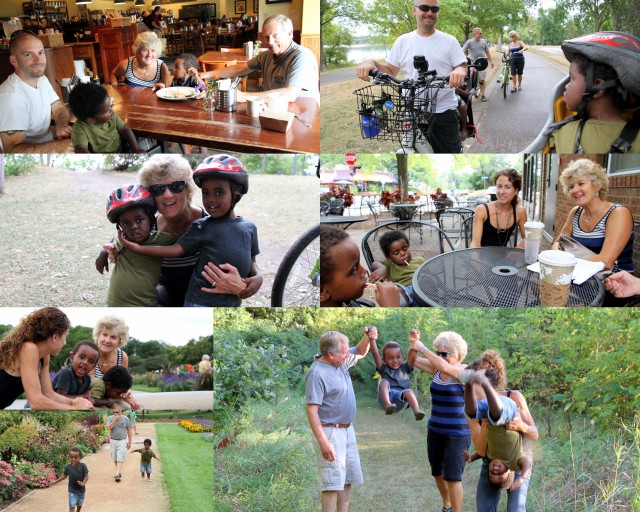 So after our adventures in Minneapolis, all I had to do was take the salad out of the fridge, ribs out of the oven, slice the tomatoes, boil the beans for 5 minutes and tada! All done!
If you choose canned tuna, please use a brand like Vital Choice which uses tuna that is lowest in mercury and is in BPA free cans.
Find this recipe in my new Quick & Easy Ketogenic Cooking Cookbook!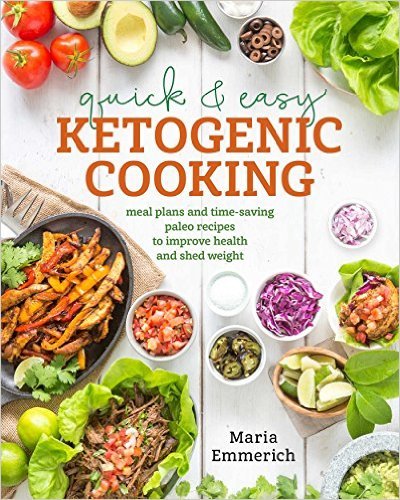 Thank you for your love and support!
Do you think my parents would mind if I served dessert first?
You can find my ice cream recipe and caramel sauce in my cookbook, The Art of Healthy Eating COMBINED COOKBOOK.
Thank you all for your support with purchasing my books! It helps my family more than I can ever express!