Jicama Taco Shells
TACO SEASONING 
Do you still have pre-packaged Taco Seasoning in your pantry? If you do, check this out! Ingredients: Yellow Corn Flour, Salt, Maltodextrin, Paprika, Spices, Modified Corn Starch, Sugar, Garlic Powder, Citric Acid, Autolyzed Yeast Extract, Natural Flavor, Caramel Color (sulfites).
There are a few issues with using prepackaged spice mixes. First off, caramel coloring is a food dye that is in the process of being banned by the FDA due the links to cancer. Another issue is the maltodexterin…the danger is that maltodextrin is very high on the glycemic index: 105. This is 5 points higher than glucose which is 100. And, it is almost double that of table sugar which is around 59. AND ingredients are listed in the order of prevalence…they don't even list a spice until the 4th ingredient! I'll stick to making a triple batch of my own mix and keeping it in my pantry!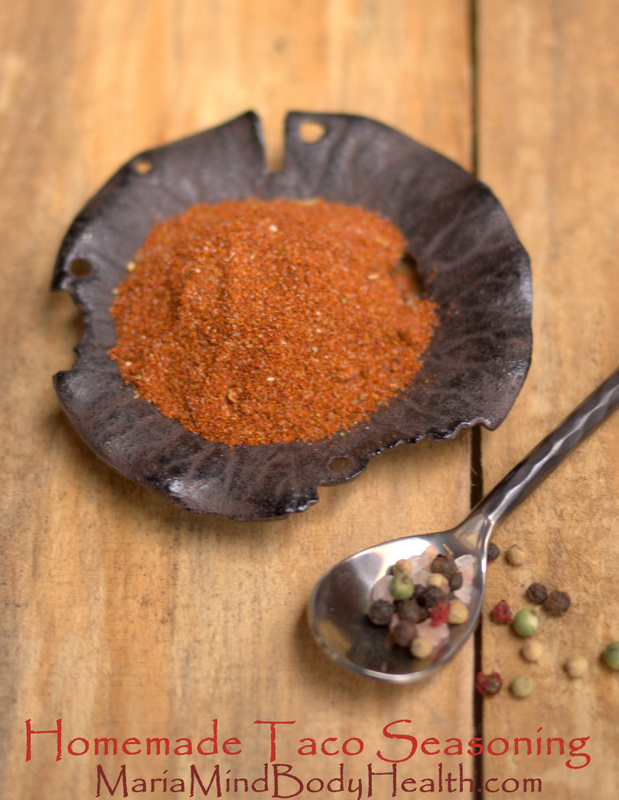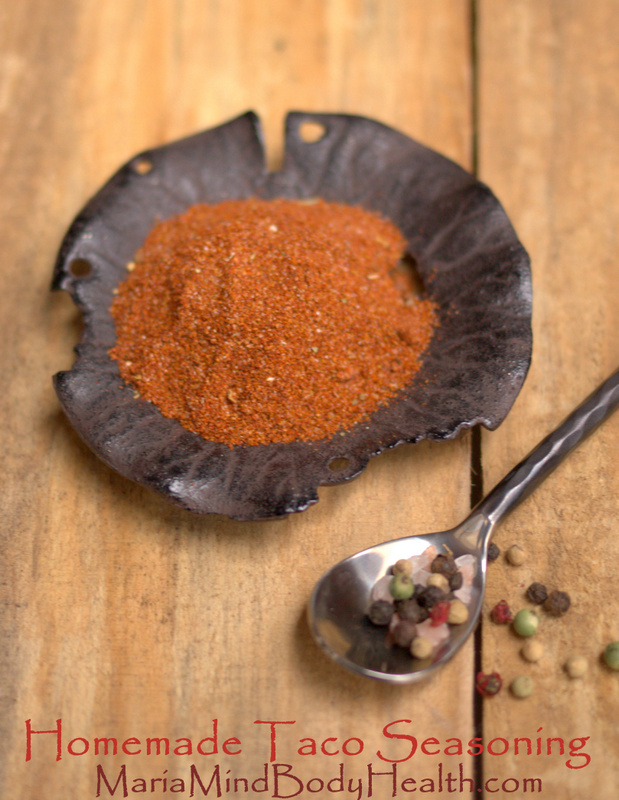 TACO SEASONING
2 TBS chili powder
1/2 tsp garlic powder
1/2 tsp onion powder
1/2 tsp crushed red pepper flakes
1/2 tsp dried oregano
1 tsp paprika
3 tsp ground cumin
2 tsp Celtic sea salt
2 tsp fresh ground black pepper
In a bowl, mix together chili powder, garlic powder, onion powder, red pepper flakes, oregano, paprika, cumin, salt and pepper. Store in an airtight container. Makes 20 servings.
NUTRITIONAL COMPARISON (per serving)
Store Bought Taco Seasoning = 20 calories, 4 carbs, 0 fiber
"Healthified" Taco Seasoning = 5 calories, 0.9 carbs, 0.4g fiber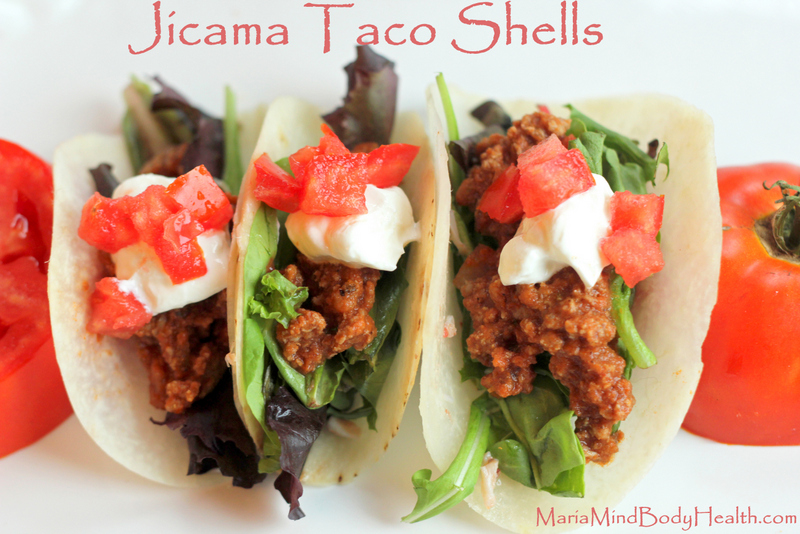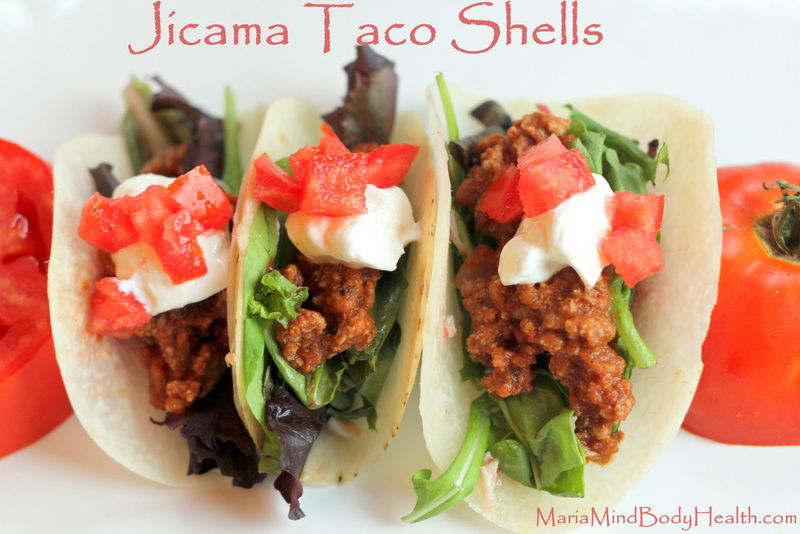 JICAMA TACOS 
Try this tasty crispy shell idea instead! This was inspired after watching Top Chef! I LOVE that show!
Jicama is very low calorie and low carbohydrate root vegetable. It contains only 35 calories per 100 g. It is also very high in quality phyto-nutrition profile comprises of dietary fiber, and anti-oxidant. It is one of the best sources for dietary fiber and excellent source of oligofructose inulin, a soluble dietary fiber. The root pulp is 13% of fiber. Inulin is a zero calorie, sweet inert carbohydrate and does not metabolize in the human body, which make the root an ideal sweet snack for diabetics and dieters.
6 Thin slices of jicama
2 cups organic leaf lettuce
6 oz grass fed ground beef
1 Lime, cut into wedges
Salsa
Sour Cream
Slice jicama into very thin slices, using an electric slicer (click HERE to find) or mandolin slicer (click HERE to find).
Cook the beef in the spice mix from above.
Fold the jicama slices into taco shells; fill with lettuce, meat, sour cream and salsa. Squirt the lime juice into each jicama shell and enjoy!
NUTRITIONAL COMPARISON (per 2 taco shells)
Traditional Taco Shell = 130 calories, 19 carbs, 0 fiber
Jicama Taco Shell = 12 calories, 1.5 carb, 1 g fiber
Testimony of the Day
"I have been following Maria closely for a couple of years now.  I adapted over time to her grain free/sugar free lifestyle.  It definitely didn't happen over night for me, but within time it became an easy habit.  Last August I decided to purchase a package with Maria because I still felt there was a major missing link to my healing.  I knew I was eating pretty good, but I was still having a lot of issues: depression, anxiety, major cravings, sleep issues, a few extra pounds, etc.  I felt like there was something off with my hormones so that is what led me to purchase the package with Maria.  Once I purchased the package Maria sent me a long questionnaire to fill out online..  By the next day she had gotten back to me with a detailed list of supplements to be taking. She also recommended some blood work to have done to test for deficiencies, etc. I ordered the supplements that day (warning-not cheap but so worth it!). I also started eating according to the meal plan she sent, which made it so easy.
I am not exaggerating when I say that I felt improvements almost instantly. Within the first week I felt like a new person. I wasn't completely "cured" but I was well on my way. 
It has now been almost 5 months since I contacted Maria. I am off meds for depression, I sleep so much better, and my anxiety is pretty much gone. I feel happier and more at peace now than I have in years.  My sleep still continues to improve. For me, that was the thing that took the longest to change. I went from sleeping about 4 hours a night and now I am up to between 7-8 each night. For me that is awesome!  I still hope to reach a full 8 hours or more on a consistent basis, and I think I will get there soon.
I would have to say working with Maria is the best money I have ever spent. Mentally and emotionally I am at the best place I have ever been in my life.  I am a better wife and mother in so many ways.  I didn't realize how debilitating my anxiety and depression were until I started feeling good.  I wake up happy every day now!  I could never put a price on that. -Cami"