Cholesterol Testimony from my client Deb:
"I don't know if you remember me, but I did your month long consult package last year in May. You convinced me to go off statins and I was getting ready for my son's wedding. I wanted to let you know I finally got enough courage to go get my blood work done and found a doctor that doesn't get too worked up about cholesterol.
I want to thank you for your post on the "LDL determination" regarding if it is large and fluffy. I brought that into the doctor and she ordered me a whole extension blood work up. I am thrilled to say I have a large and buoyant pattern!! In addition, the great news since I changed my eating habits, due to you, is I dropped my triglycerides from 199 to 86!! My HDL increased from 46 to 57!!
PS: Just an fyi, my husband has REALLY benefited from your suggestions and my new cooking habits, as his triglycerides dropped to 68 and his C-Reactive Protein was 0.39. Oh yes, he went off his statins as well!! J"
-Deb
We have gotten some amazing feedback on the 30 day meal plan option.
One email said "Holy Moly! That included more tips than I thought it would! I certainly see where I went wrong with my grain free/low carb diet before this!"
But Craig and I are perfectionists, so he helped me add even more detail along with a grocery checklist for each week. Click here to get started on your "after" photo!
CORN TORTILLAS
Deb and I cleaned out her pantry. This detrimental "gluten-free" family staple is no longer lingering in her house!
Ortega White Corn Taco Shells Ingredients: White Corn, Partially Hydrogenated Soybean Oil, Water, White Corn Flour, Salt, Hydrated Lime, Citric Acid
Try this tasty crispy shell idea instead! This was inspired after watching Top Chef! I LOVE that show!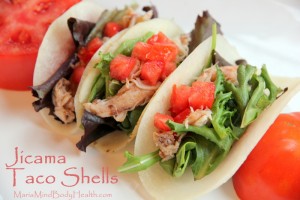 6 Thin slices of jicama
2 cups organic leaf lettuce
6 oz. lump crab meat
1 Lime, cut into wedges
Salsa
Slice jicama into very thin slices, using an electric slicer (click HERE to find) or a mandolin slicer. Fold the jicama slices into taco shells; fill with lettuce, crab meat, and salsa. Squirt the lime juice into each jicama shell and enjoy!
NUTRITIONAL COMPARISON (per 2 taco shells)
Traditional Taco Shell = 120 calories, 6g fat, 2g protein, 16g carbs, 2g fiber (14g effective carbs)
Jicama Taco Shell = 12 calories, 0g fat, trace protein, 2.6g carb, 1.5g fiber (1.1g effective carbs)
If you would like to help out a small family, rather than large business, I am happy to announce that you can now get my books as a high quality ebook that works on any platform. This is an ebook format that works on any computer or mobile device. It is a beautiful pdf that has all the full color pages and layouts as the printed books with click-able table of contents and searching capabilities. This is extremely useful when trying to find a recipe. These books are much higher quality than the ebook platforms (kindle, apple). Plus, most of the profits don't go to Amazon or apple! Just go here to get your copy!
Just Click HERE or select "My Books" above to get your copy now! Thank you all for your love and support!