Homemade Cultured Butter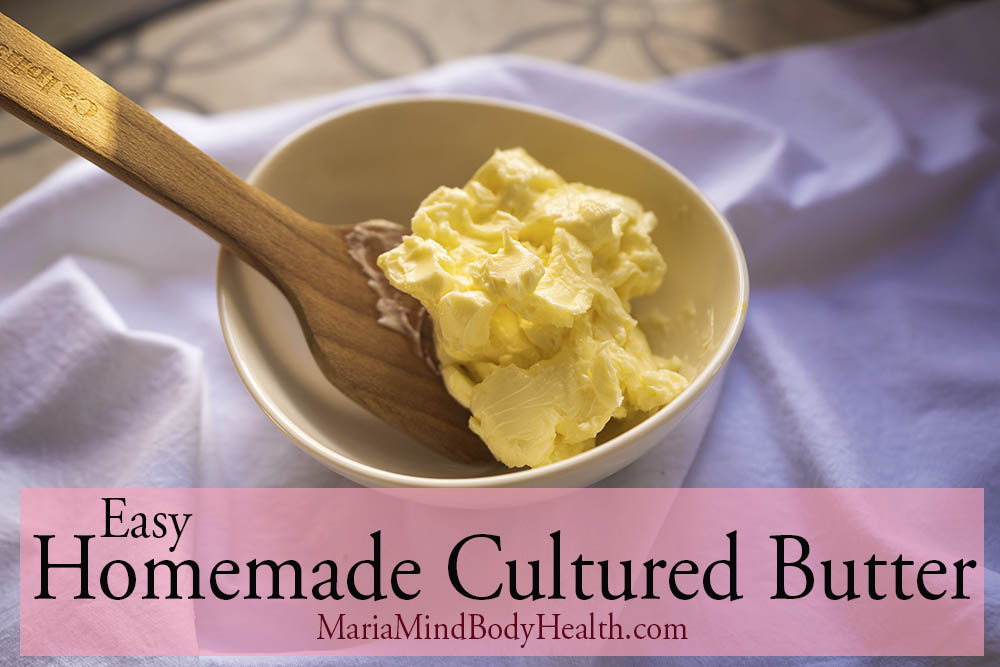 When I shop for butter, I always look for cultured butter (that is on sale!). Cultured butter is extra delicious for a variety of reasons and now that I know how to make cultured butter at home, I can enjoy the extra buttery deliciousness any time!
Before refrigeration, all butter was cultured butter. When someone made butter, the cream flockulates which is where the butterfat floats to the top.
The live bacterial cultures in the buttermilk go to work on the lactose in the cream. It converts the lactose into lactic acid. This process produces something called diasatyl which you can find added to a lot of packaged foods like microwave popcorn. This diasatyl creates a buttery flavor. Too often people think cultured butter is going to be sour but in reality, cultured butter is more buttery!
This is why cultured butter is extra delicious!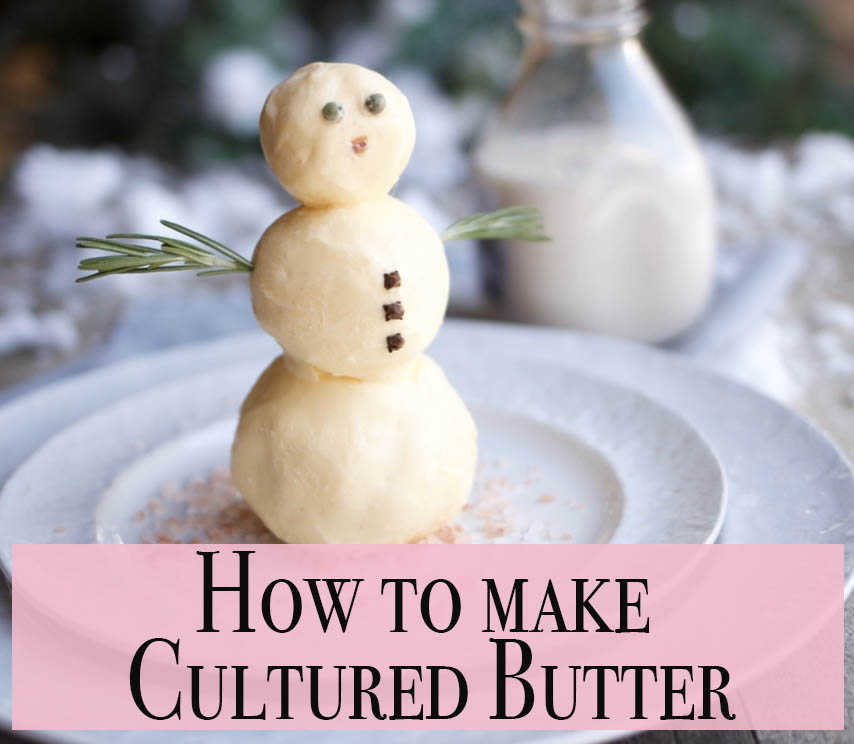 When making Homemade Cultured Butter, I suggest to not use ultra pasteurized heavy cream. It isn't recommended due to lack of flavor but it will still work.
The most important thing to purchase organic is dairy! Raw Dairy is even more important to gut health! RAW FARM Dairy uses only the highest quality ingredients and standards! You can taste the difference!
I love to make homemade cultured butter, yogurt and mascarpone cheese with their raw heavy cream!
Use code MARIA20 to SAVE 20% when you order!
Click HERE to check out their options! (use code Maria20 to save 20%)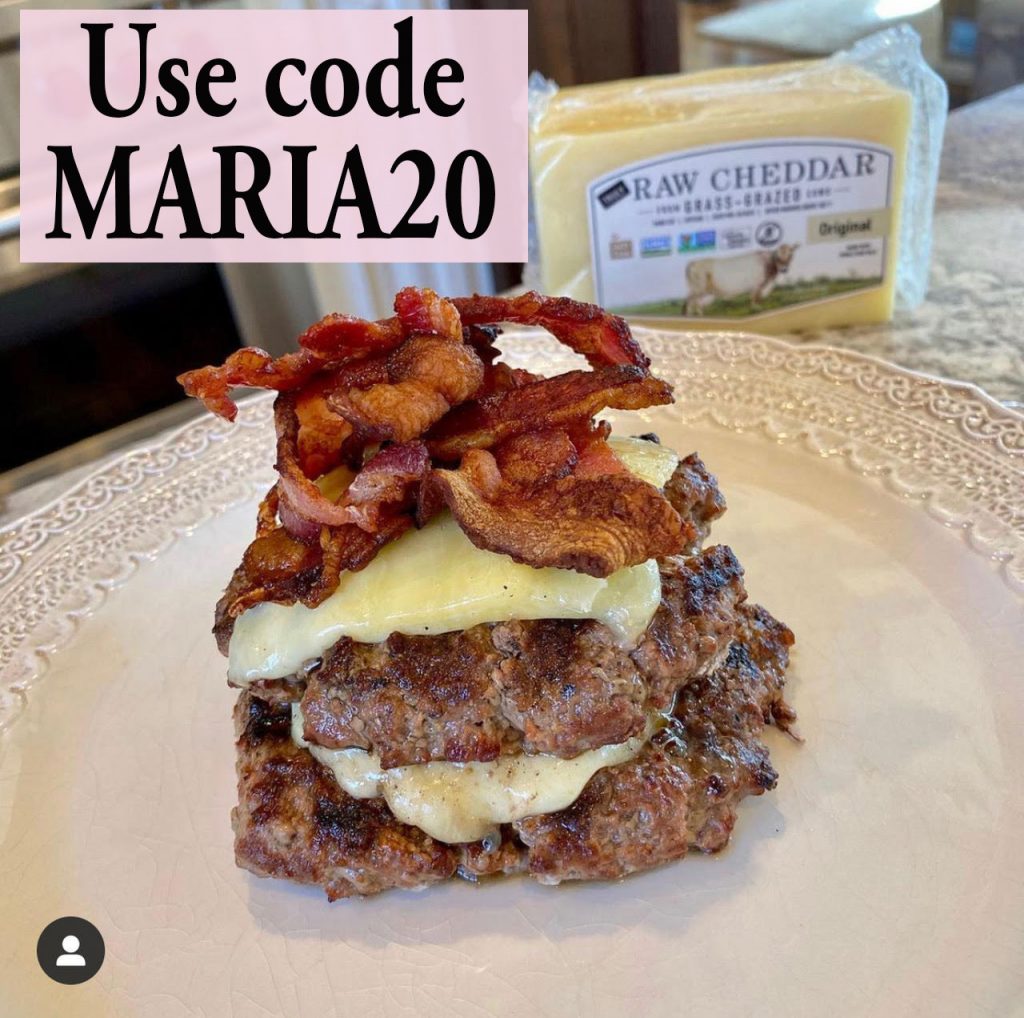 If you are looking for Level 1, 2 and 3 carnivore recipes as well as dairy free meal plans, you must check out our new Carnivore ebook!
If you would like to make a difference and support a small family rather than making a minuscule sale for a large company, I am happy to announce that you can now get my books as a high quality ebook that works on any platform (all done by my wonderful husband!). This is an ebook format that works on any computer or mobile device. It is a beautiful pdf that has all the full color pages and layouts as the printed books with click-able table of contents and searching capabilities. This is extremely useful when trying to find a recipe. These books are much higher quality than the ebook platforms (kindle, apple). Plus, most of the profits don't go to Amazon or apple!
Thank you for your support!
Homemade Cultured Butter
Ingredients
1

quart

heavy cream

use code Maria20 to save 20% (ultra pasteurized not recommended)

2

tablespoons

buttermilk
Instructions
Place the cream and buttermilk into a container. Put a lid on it and allow to sit at room temperature for 24 hours up to 7 days. Longer will cause a more funky flavor if you prefer that. Warmer temperatures will cause the reaction to happen faster. I prefer my buttermilk after 2 days of fermentation.

Place it into the fridge at 55 degrees F. This is the temperature when butter is churnable. If it is too cold, it will be too hard to churn. It it is too warm, it won't churn.

Once the mixture is at 55 degrees F, place into your food processor and run it briefly. You will see it quickly go from heavy cream to golden orbs of butter in liquid. Place that into cheesecloth and separate the butter from the liquid. Squeeze the liquid out of the butter. Save the liquid for soups or drinking (it is buttery and delicious). Place the butter that is still in the cheesecloth, into an ice bath for a couple of minutes to firm it up. The last step is to churn it with a wooden spoon while still in the cheesecloth. Bubbles of buttermilk will burst out. Kneed it for a few minutes until there are no more pockets of buttermilk.

Add Redmond Real salt if desired!

Place the butter in an airtight container in the fridge for up to one month.
TESTIMONY OF THE DAY
"I was on keto for four years almost to this day and I never could get any stable weight loss until I followed her (Maria Emmerich's) guidelines bought their book "The Carnivore Cookbook" and seriously went on the Carnivore diet. Truly it is the most freeing incredible thing ever.
I have lost more weight in 2 1/2 months than I have lost in four years trying to be on Keto! And the most amazing thing is I have not lost any muscle mass and I have 2 DEXA scan's to prove it! If you're on keto you should try carnivore because it is amazing! Maria and Craig are absolute authorities, they are so educated on this I wish people would listen to them! ( It took me four years to listen and finally I did and am I glad)" Wendy from San Diego
Most people I consult are doing keto totally wrong. Get fast results with the my NEW Keto Packages!