Healthy Stocking Stuffers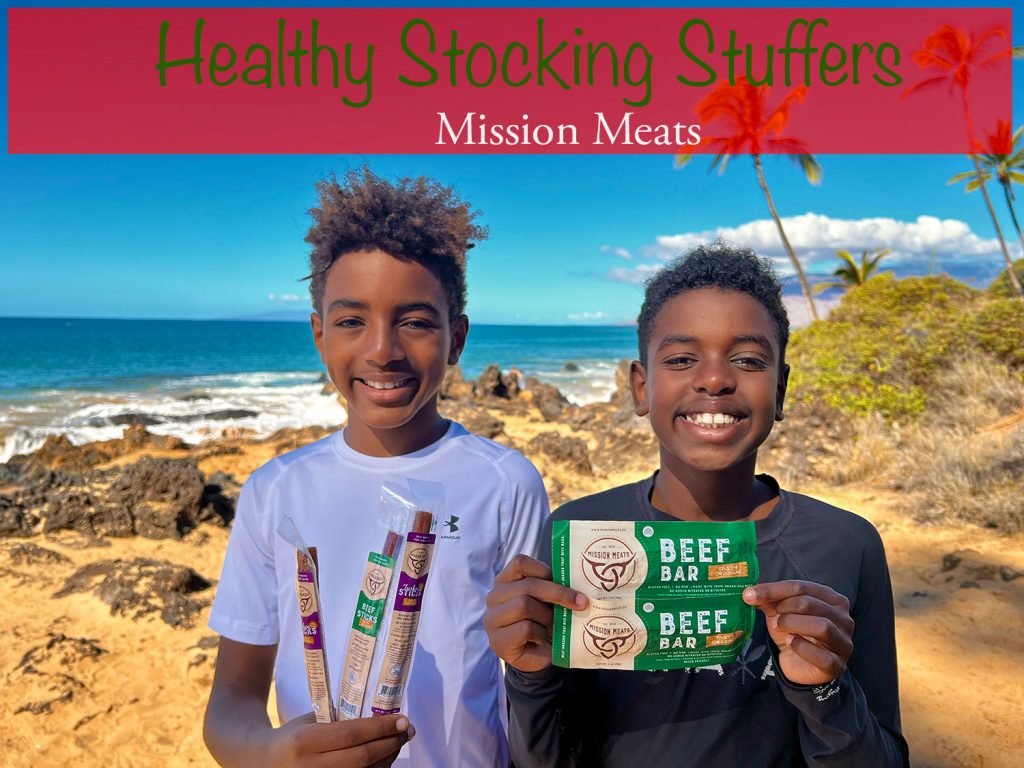 It is Small Business Saturday and I want to introduce you to my FAVORITE small business!
One question I get daily is, "Maria, what is a good keto protein bar?" I always laugh and say, "It's called a beef stick!"  Honestly, there are no good keto protein bars that I would allow my family to eat. They are all packed with whey protein, hidden sugars, tapioca starch, and things I wouldn't recommend.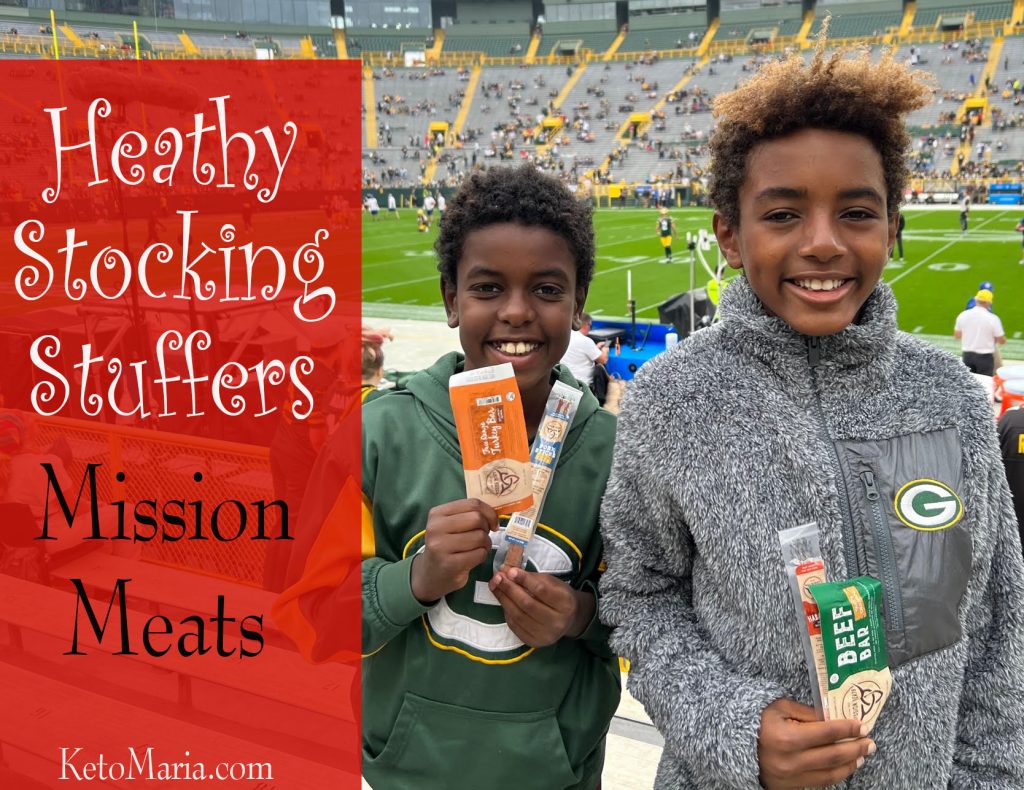 Another thing to note, not all beef sticks are created equal!
Most meat sticks have sugar added to them or other harmful ingredients like gluten, maltodextrin, or MSG can hide in them.
Mission Meats is the best beef stick I have found! Not only are they delicious, they also are a perfect snack for protein sparing modified fasting!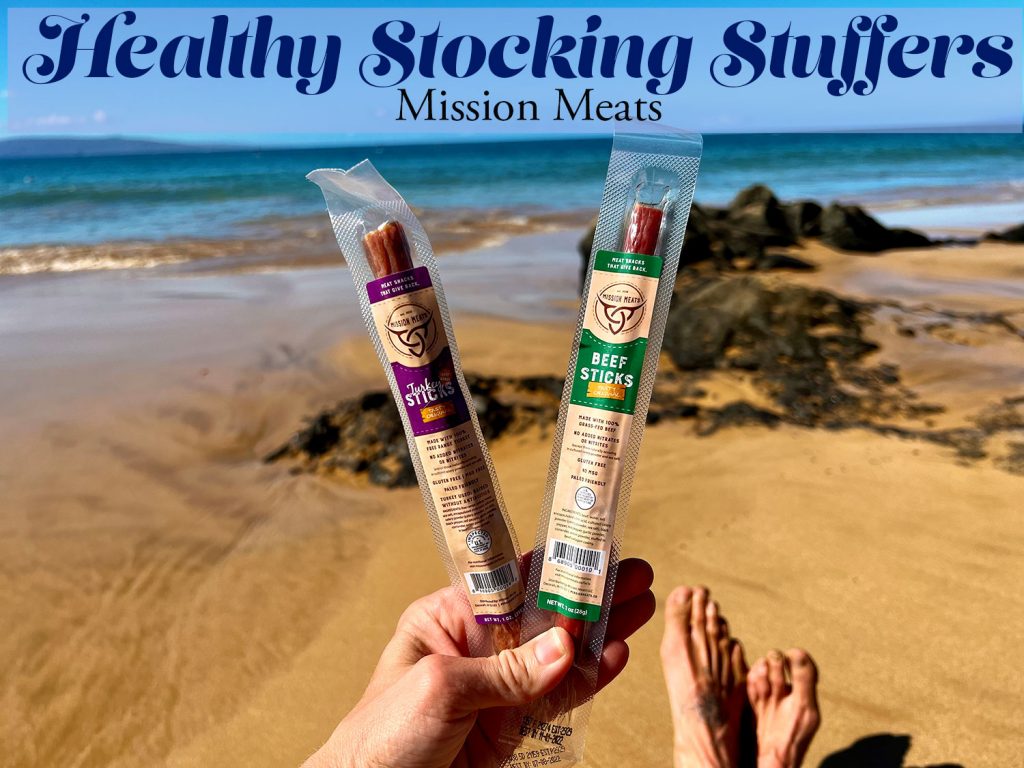 I am always on the hunt for dairy free, nut free keto foods. My Pure Protein Cookbook, which has AMAZING results, is very specific to be dairy and nut free for maximum healing and weight loss. Dairy and nuts are things that many keto newbies eat often and they are the 2 things that often cause weight gain, constipation and dairy is a more common allergen than gluten, yet no one wants to give it up. Anyway, this is another reason I love this Stocking Stuffer idea! Not only are these beef sticks dairy and nut free, they are also a great traveling snack!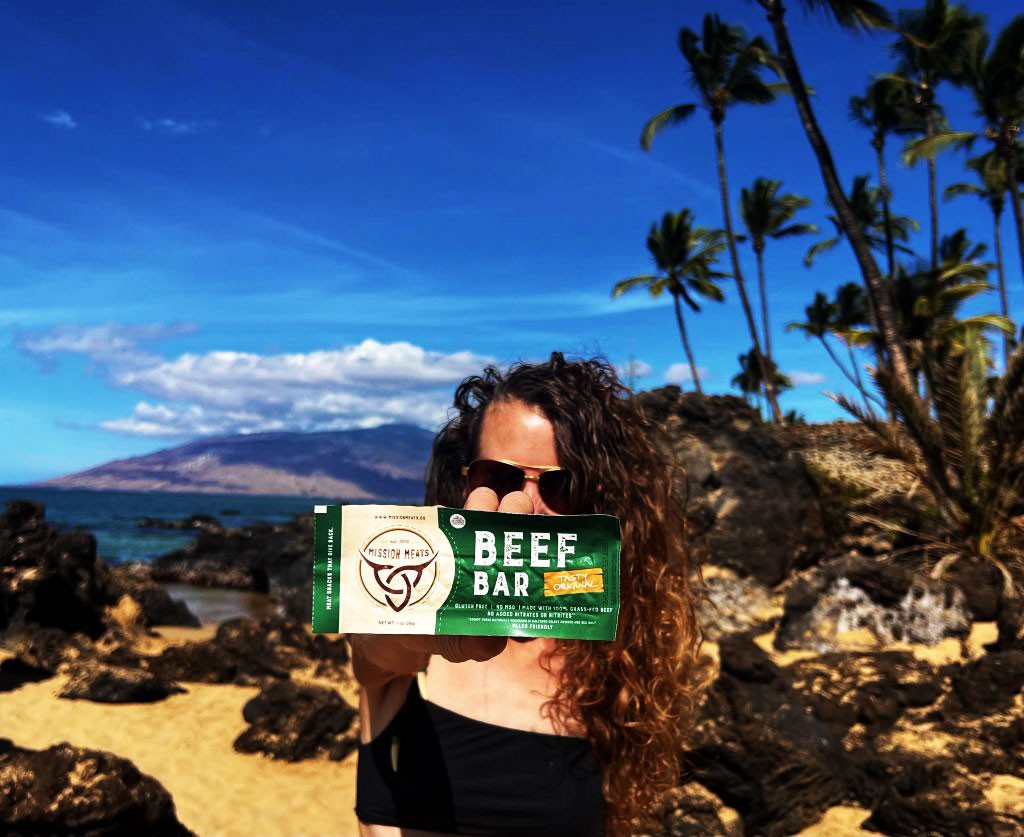 My boys LOVE beef sticks but too often they aren't made with quality ingredients. However, Mission Meats are made with quality ingredients and perfect for Stocking Stuffers!
My stockings were always stuffed with candy, melted chocolate (from the fireplace), gum and a toothbrush! Why not stuff the stockings with a great keto treat like these Mission Meats sticks?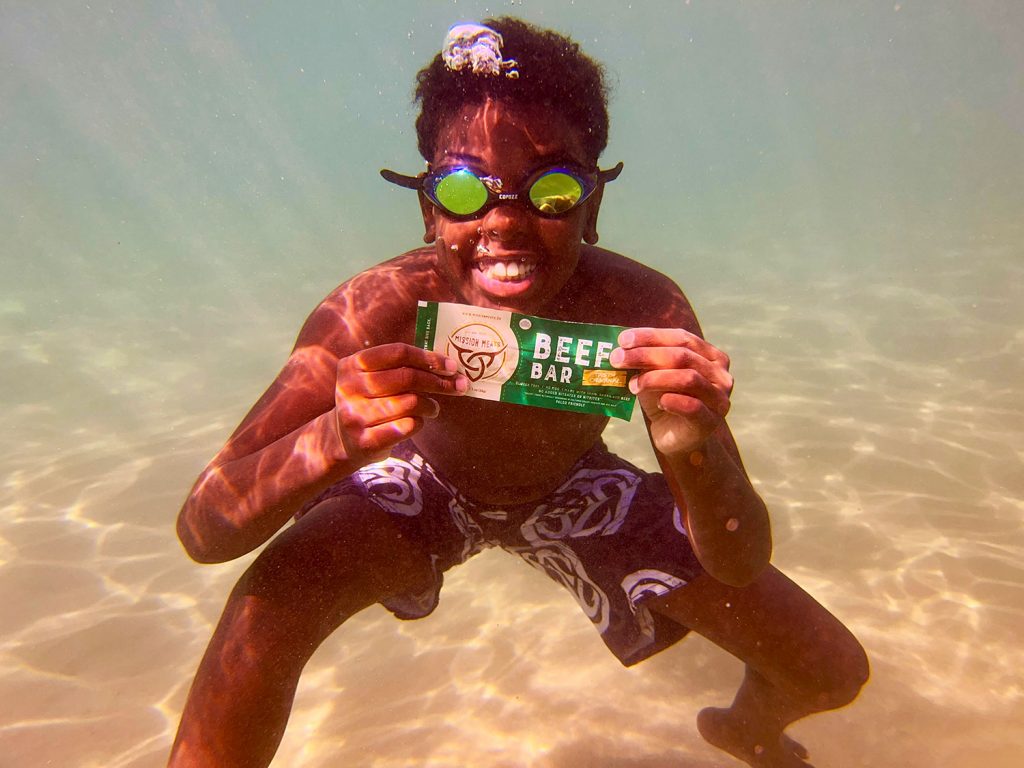 Mission Meat Beef Sticks are perfect for school lunches, travel snacks, protein on-the-go, or if you are like my boys, they just like to snack on them at anytime!
Instead of stuffing your family stockings with candy, gift them a delicious snack that will fuel them with love and health!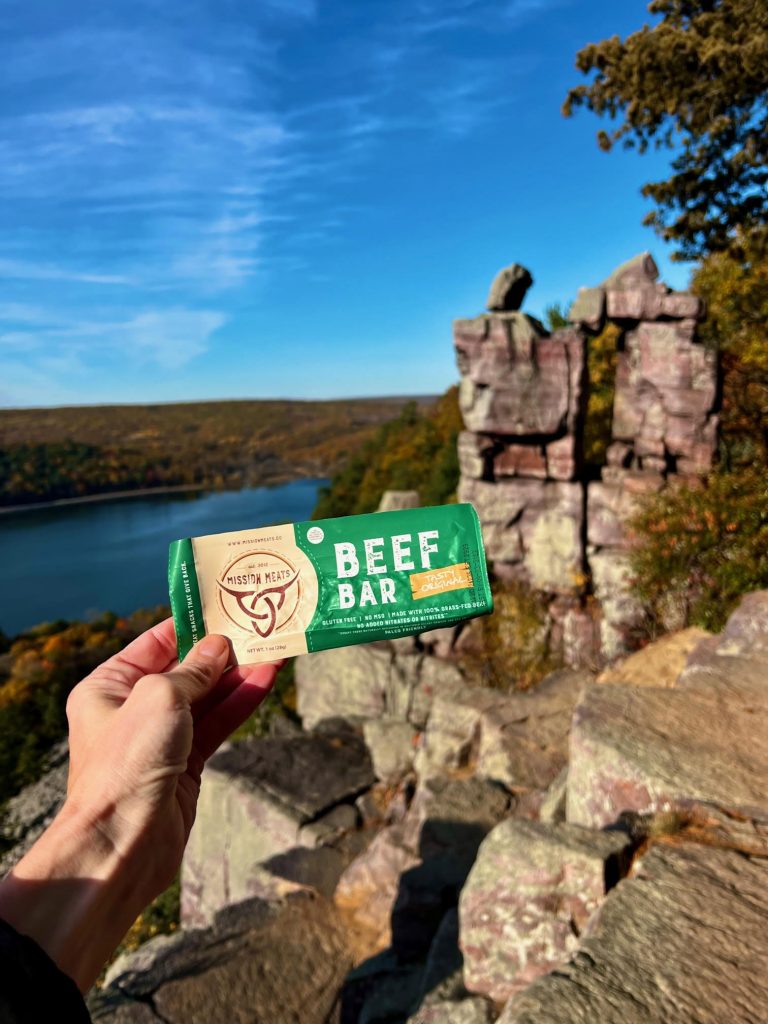 Mission Meats is my favorite beef stick for MANY reasons!
1. It is the cleanest meat stick I have found! 
Mission Meat sticks have no gluten, no sugar, no hormones, no MSG, no dextrose fillers, no nitrates, no antibiotics, only healthy protein that I feel good about giving to my children!
2. They taste AMAZING! 
Using real and simple ingredients really comes through in the flavor of Mission Meat sticks! They taste delicious, not chemical like some beef sticks do.
3. Mission Meats gives back!
I love small companies that give back! Mission Meats donates 10% of their profits each year! Mission Meats donate to fight deforestation in Haiti, help Perspectives Minnesota transform the lives of homeless mothers and their children as well as many other amazing organizations! 
4. Kind Small Business
You all know that I love to support kind small businesses! Over the years, I have gotten to know the owners of Mission Meats, Nick McCann and Peter Awad. They are kind people who have kids my age and love to help people eat healthy!
5. Protein Sparing Snacks
If you get the Mission Meats grass-fed Beef Bars, Beef Jerky, Turkey Sticks, Jalapeno Turkey Bars, they are a perfect protein sparing modified fasting snack to have! Click HERE to learn more about Protein Sparing Modified Fasting.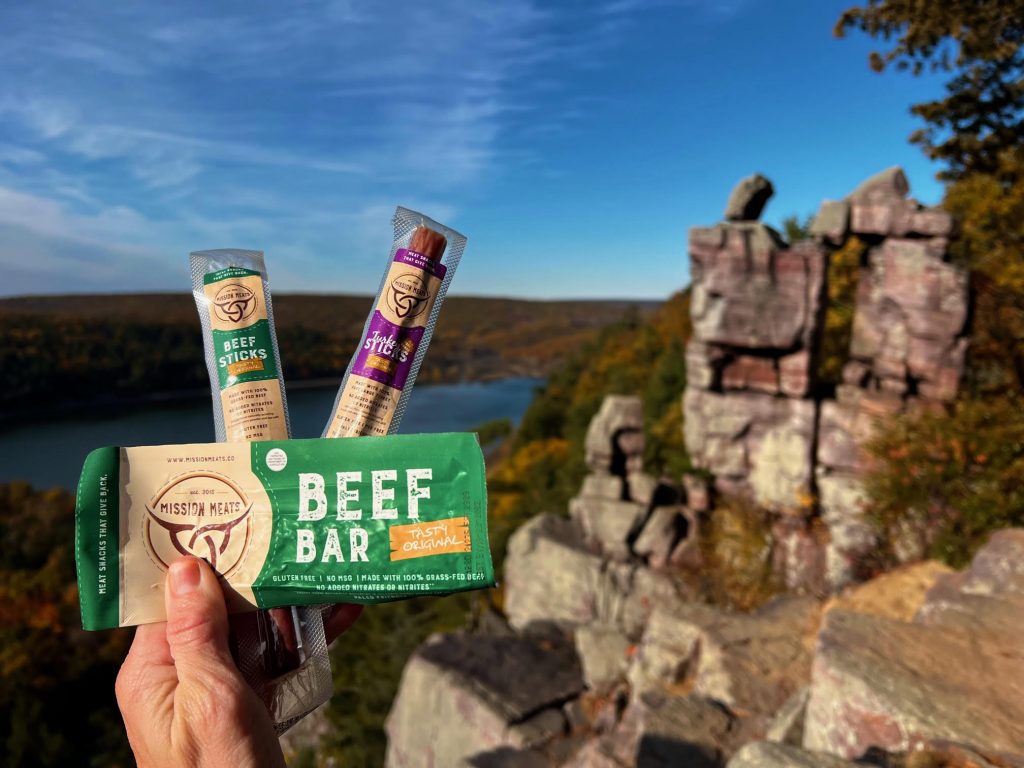 I have had Mission Meats beef sticks in my backpack and suitcase for years!
They are always in my carry-on because my boys and I love them as a snack on a long flight, but I also pack extra to help pass out to people in need and homeless people we meet on the street.
I worked with Mission Meats to do a special discount for my readers!
Mission Meats put together a very special offer for my followers where you get an ADDITIONAL 20% OFF when you use code MARIA20 (this weekend only)!