Testimony of the Day
"Hi Maria! I've been putting off doing this for awhile but finally decided its time to share! After 10 years of struggling with my weight due to the effects of enduring chemo for breast cancer, I was frantic to find answers. I don't know how I stumbled upon your blog, but it has worked wonders for me. 
You can see the left photo I was very pasty, puffy, and miserable! About the same time (one year ago) that I decided to follow your plan, my husband was having extreme digestive issues, he'd had ah Pylori, was unable to sleep at night due to bile and acid problems-no matter if he ate a banana or pizza! He was about to go on a special diet to try to remedy his problems as Prevacid and every other rx was doing no good at all. The problem was, everything his "new" diet proposed, was completely opposite from what I had been reading about and was preparing to try. I asked him to do one thing for me first. That was to try this "other way" ("Maria way") for 2 weeks to see what would happen. I told him I'd be happy to prepare his meals separately if necessary but if he would please give this a try first.
He agreed and his heartburn and indigestion went away within 3 days!!! He has never turned back!!! He dropped 30lbs quickly-he wasn't overweight but now he looks great! It took my body a bit longer to acclimate and begin the fat burning process but I did not give up. I kept hard at it, as well as exercising faithfully.
By week 8 I began to see some changes. My clothes began to get loose, and by month 3 I had lost 20lbs. The photo on the right is me 3 months into this change. I was thrilled. I will never ever go back to that old way of eating…and I love when you post the question about what some of the worst questions or comments we get from people-it never stops! But that will not deter me from my plan. My 16 year old daughter does not need to lose weight but she has embraced this way of eating and now I am working on my three younger children. (A little more difficult) I have breakfast and dinner down, just mastering lunches and snacks!!!" – Kari
If you want to get started on your "after" photo, click HERE. The 30 day meal plans will help you take the planning out of how to get the perfect keto ratios in your meals. Treats like this Angel Food Cake will also be included!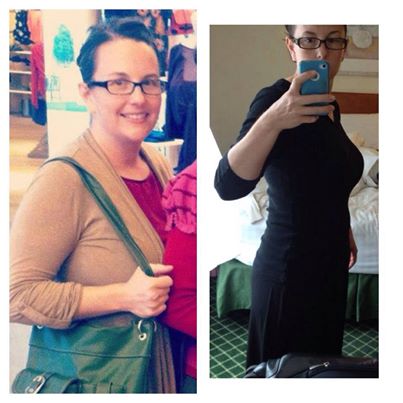 A client wanted to share this with all of you:
Dear Maria,
I wanted to write you a quick email to again thank you and to give you an update on my progress. Two different people this week have used the word "unrecognizable" to describe me. I have now lost 50 pounds by following your guidelines and amazing recipes! I am not quite to my goal of getting back in my bikini, but I have full confidence that I will get there…and soon! All of my old clothes are literally falling off of me as I have lost a shocking 8.5 inches off of my stomach, 8 off of my waist, 5 off my hips, and 5 off of each thigh! I cannot even wear old blazers and jackets since they also are giant on me now. Shopping for a new wardrobe is so exciting!
When I started learning about nutrition from you, people we questioning whether this was the right choice for me. A lot of people doubted that I would be able to stick with the plan. I am happy to report that I have successfully made a lifestyle change. Your support and information through phone and email were key pieces to my success!  The scale has never gone up since I started consulting with you. 
Finally, I went for my physical this week. My blood sugar was very high when I started consulting with you. In fact, I was just about to start medicine to correct it.  It is now completely normal!  My blood pressure had been high as well, and that has resolved. I feel great, better than I have in years and it is all due to you!
Thank You, Maria! You are a hero!
GALL BLADDER FACTS
Are you or someone you know part of the increasing population having gall bladder surgery? It is becoming a very common operation. Is there something changing in our current diets that is causing this?
In the past few recent decades, we have been mis-informed that fat-free diets are the healthy way to go. Even the medical profession is telling parents to have their kids drink skim milk! Don't get me wrong, there are some fat to totally avoid, such as vegetable oils and trans-fats. But going on low fat diets is more harmful than you realize. This is why I always use full fat (and tasty) foods! High protein diets alone are not the way to go. High fat is.
Galls are released by dietary fat. If you go on a little-to-no fat diet, the gall bladder starts to atrophy because it doesn't need to work; just as when you don't use your muscles, they atrophy and you are no longer as strong as you once were. Once the damage is done, and the gall bladder is removed, patients mistakenly believe that they can no longer eat fats without discomfort. This is not true, the bile to break down fat is made in the liver, then stored in the gall bladder. Even without a gall bladder, you produce bile and can (and should) consume healthy dietary fats.
After surgery (any surgery) you lose most of your beneficial bacteria; such as bifido bacteria, that keeps your intestines strong and healthy. Adding in probiotics and digestive enzymes are the first step to healing. Your body is smart, after years of low-fat dieting, it no longer produces lipase like it once did; lipase is the enzyme to break down fat (just as when a vegetarian adds in more protein after years of low protein, they feel sick… they no longer produce Protase, the enzyme to break down protein).
After a few days of increasing enzymes and good bacteria, adding in quality fats is essential for your body and cellular health; our brain and cells are composed of over 60% fat people! It is important! I suggest starting with coconut oil. Coconut oil is a medium chained triglyceride (MCT) which is an awesome fat because it doesn't require bile for digestion! I use this in place of butter for all my baked goods. It gives them an AWESOME and naturally sweet flavor.
Foods high in cholesterol are also essential! You NEED cholesterol to produce bile. Start to add in quality eggs (yes, the yolks…whites don't count, the cholesterol is in the yolks), organic cream and butter, grass-fed meats, lobster and other shellfish. I am not talking about "oxidized cholesterol"… which is damaged cholesterol found in skim milk and many processed foods; which triggers heart disease). If you keep avoiding fats and cholesterol, your body will keep on pace with no lipase excretion or bile production…causing a vicious cycle.
A low carb diet with LOTS of liquids will help keep this painful condition away! So using coconut flour and psyllium husks, which are in tons of my recipes, will really help too! Just make sure you increase your water consumption when increasing fiber.
Also using Just Like Sugar which uses chicory root as a sweetener, helps decrease gall bladder issues. Chicory root builds your body's resistance to gallstones and liver stones by increasing the flow of bile, it assists the body in digesting foods and liquids. The extra bile also helps break down fats in the body. Chicory root has a mild laxative effect, increases bile from the gallbladder, and decreases swelling. Click HERE to find it. 
With these tips, along with not eating processed foods and wheat, your body will start to heal and you will feel and enjoy foods like you once did. Happy Eating!
All of my recipes in my cookbooks are filled with coconut oil, coconut flour and coconut milk to consume for healthy Bile Production. Click HERE to find them. Thank you SO much for your support! My whole family appreciates your support!
Some Favorites are:
1. Almond Joy Ice Cream (The Art of Eating Healthy: Kids)
2. Coconut Flour Baked Goods made with Coconut Oil
3. Protein Waffles made with Coconut Oil topped with my Homemade Tropical Syrup (Art of Eating Healthy: Sweets)
4. Tomato Goat Cheese Tart (The Art of Eating Healthy: Savory)
5. Perfect Pancakes (The Art of Eating Healthy: Sweets)
6. Grossini (Italian Bread Sticks): (The Art of Eating Healthy: Savory)
7. Chicken Cacciatore: (The Art of Eating Healthy: Savory)
8. Super Salad Dressing (The Art of Eating Healthy: Savory)
9. Potted Crab (The Art of Eating Healthy: Savory)
10. Blondie Brownies
11. Cream of "Wheat" Cereal