Free Beautycounter Webinar
Gisele Bundchen got a lot of flack for stating she wouldn't use sunscreen.  I agree that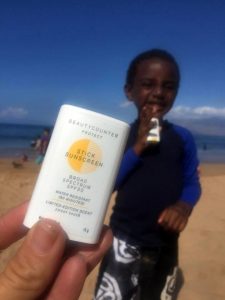 most sunscreen contain toxic ingredients and should be avoided.  One such ingredient is Oxybenzone. Beautycounter sunscreen doesn't use this toxic ingredient along with a host of others.
I think it is good to get sunlight everyday without any sunscreen.  It is good for our mitochondria, vitamin D levels and much more.  But bad burns are still a problem and should be avoided.  So after getting your 30-60 minutes of sunlight in a day, add a non-toxic sunscreen like beautycounter to avoid burns.
My favorite is the sunscreen stick by Beautycounter. It is so small it fits into even your smallest bag and I love how my kids can apply it without a hassle!
FREE WEBINAR
My friend Kate and I are doing a short 20 minute Webinar on the interesting facts on Beautycounter as well as a few fun health tips! It will also show you how to become a consultant if you are in the US or Canada. Become a part of my team and start standing behind a company that truly cares about our health! Or if you just want to learn more about Beautycounter products, this webinar is also for you.
If you would like to watch my FREE webinar Click HERE.


TESTIMONY OF THE DAY
"But the unbelievable update that I MUST share with you is this…. I watched a few of the classes and specifically the supplements class. I'm 53 years old and experiencing a wide variety of hormone related issues. I immediately purchased the recommended supplements and added to my regime.
A few days later, I woke up at said to my husband, "You know what? I feel great! I cannot remember the last time I woke up and felt this good.
It has been at least a YEAR since I've gotten out of bed and wasn't depressed, tired, foggy and hurting somewhere". And this has been the case every days since. I'm going on 4 days of sleeping all night, and wake up feeling really GOOD!
I can't thank you enough….! I finally feel like I've found my answers and a place to start healing." – Robin
Click HERE to get started on your path to healthy healing today