Easy PSMF Carnivore Bagels

This recipe for easy PSMF Carnivore Bagels came from my new and special friend Aubrey who came on my keto retreat to Greece and my keto retreat in Bali. Aubrey is a magician in the kitchen and she taught me how to make the protein sparing crepes in a blender. These carnivore bagels are basically the crepes made into bagels!
At first I thought they were too dense but when I had others try them, they said, "They are dense just like a real bagel!" How perfect!

HOW TO MAKE EASY PSMF CARNIVORE BAGELS
To make my easy protein carnivore bagels, I used Further Food Gelatin!
Further Food gelatin and collagen peptides are both excellent sources of collagen. Both their Collagen & Gelatin are sourced from the highest quality, grass-fed, pasture-raised, hormone-free, and antibiotic free bovine collagen.
The benefits of collagen and gelatin are astounding! Just eating my delicious Protein Sparing Bagels helps support skin elasticity & hydration, longer hair & nails, stronger bones & joints, faster recovery between workouts, increased flexibility, improved digestion, and it even keeps you feeling full and satiated for longer!
Further Food Collagen Peptides dissolve instantly in any recipe, and Gelatin Powder naturally thickens recipes. It's perfect for making my carnivore bagels have a chewy bread texture! It also makes dairy free ice cream, jello, sugar free gummies, no bake cheesecake, or panna cotta!
Use code MARIAMINDBODY is for 20% off site-wide !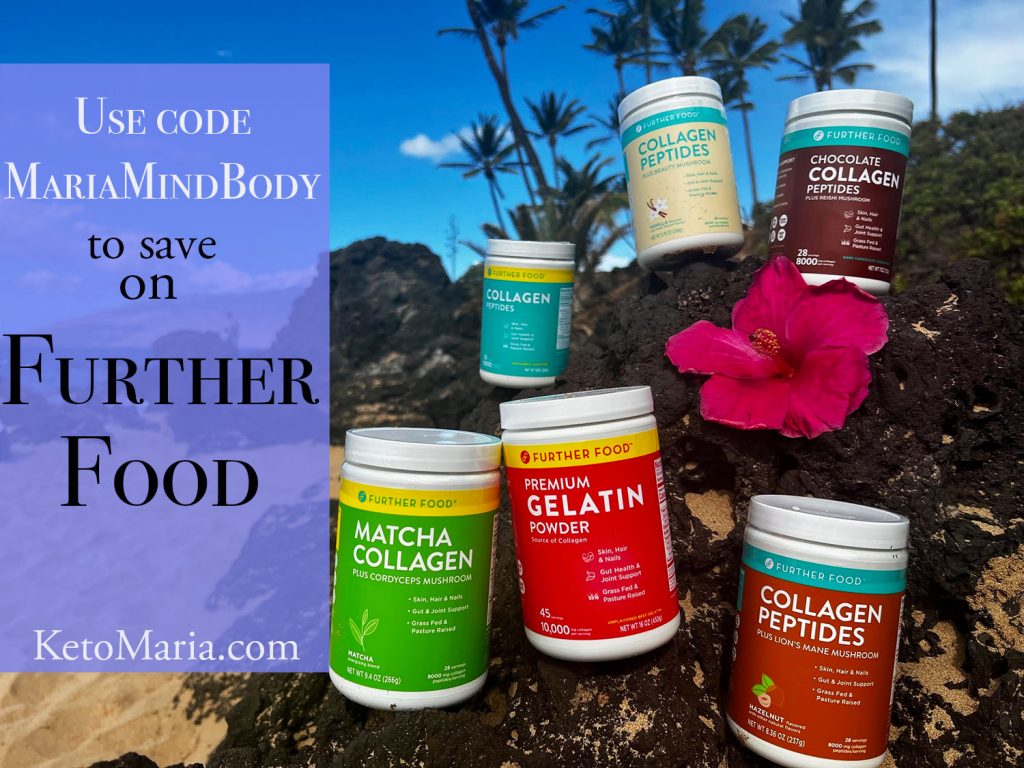 Easy PSMF Carnivore Bagels
Instructions
Preheat oven to 325 degrees F. Place all the ingredients into a blender and purée until smooth.

Divide the mixture evenly into a greased bagel pan. Bake for 20-30 minutes or until the protein bagels are cooked through. Turn off oven and leave the bagels in the oven for another 5 minutes.

Allow to cool completely before slicing.

Store extras in an airtight container in the fridge for up to 5 days. Can be frozen for up to a month.
Video
Nutrition
Calories:
119.1
|
Fat:
0
g
|
Protein:
26.6
g
|
Carbohydrates:
0.8
g
|
Fiber:
0
g
|
P:E Ratio:
33.3
TESTIMONY OF THE DAY
"Emmerich Keto has changed my life forever. The list of my previous medical concerns ranged from cancer to gall bladder, to celiac, osteopenia, GERD, and on and on and on. 

I came across Maria Wojcik Emmerich (or my pixie angel as I refer to her), three years ago this month. With her books, website blog and personal health assessment, I was able to lose 86 pounds (and counting) and heal all of my ailments. 

My energy has skyrocketed, I learned how to cook as well as eat, and my health is better now at 53 than it was 20 years ago!!!! 

There are lots of 'keto' groups out there, but the truly magical one, is the one hosted by Maria and Craig." Leisa
Most people I consult are doing keto totally wrong. Get fast results with the my Mind-blowing Keto School!