New Searchable Recipe Index
NEW! Recipe Index that contains every recipe in our published books (though today, November 2020), the book it's in, the page number it is on and the Nutritional Information! And now it is searchable with Excel! Type a recipe name in the search and its highlighted.
Have you ever wondered, "What book was Maria's recipe for hard-boiled egg shake?" But you can't remember what book it's in or page it's on? This recipe index has EVERY recipe from all our published books, the book it's in and the page number it's on! With Excel or an Excel reader you can simply type "Waffles" in the name search, and it will highlight every recipe with Waffles in its name, the book it's in and the page it's on! And now you can also see the macros for every recipe too!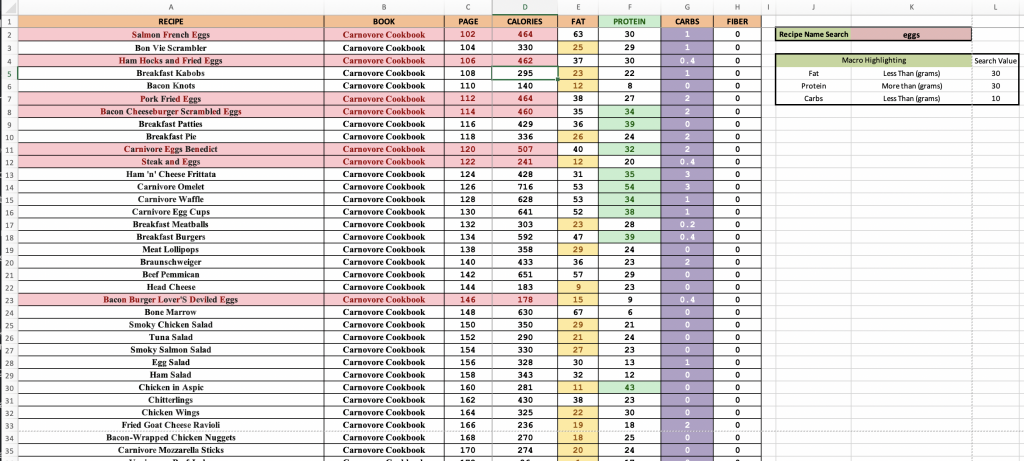 NOW you can also enter a macro limit to find recipes that fit the macros. you are trying to fit. You can enter fat and carbs to stay under (say less than 30g per serving fat and less than 5g carbs) and protein to stay over (like 30g per serving). This is an amazing tool to help you find recipes that will enable you to stay in your macro ranges!
CLICK HERE to download the recipe index in a PDF file (not searchable highlighting, but you can do regular search in PDF).
See a recipe from a cookbook you don't have? Here are where you can get all our books.
Published books:
Our eBooks:
The Art of Healthy Eating – Kids
The Art of Healthy Eating – Savory
The Art of Healthy Eating – Sweets
The Art of Healthy Eating – Slow Cooker
Protein Sparing Modified Fast ebook
A special thanks to those that helped us put this together (James and Autumn and others).