No Bake Pumpkin Cheesecake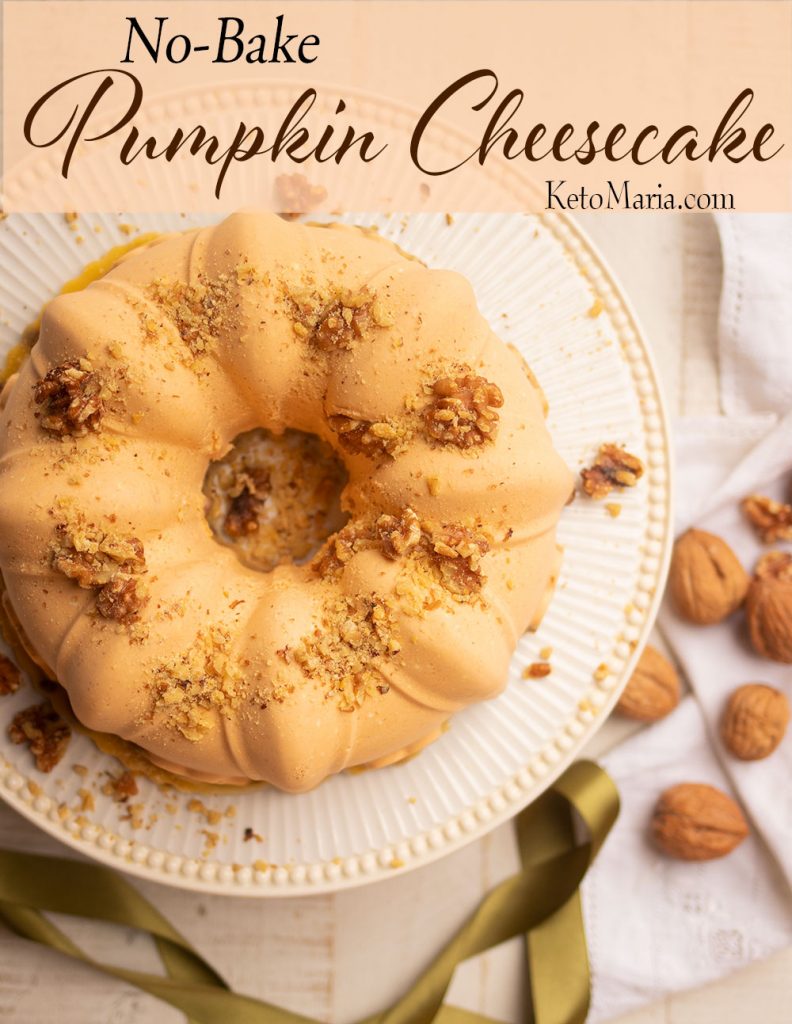 I adore this no bake pumpkin cheesecake recipe because it is such an elegant looking dessert and even though I am not an artist, the special Bundt mold made it look so classy.
But don't do what I did… when I woke up and it was still dark out, I went to test to see how it looked because I was so excited. I removed the mold from the freezer and started to push it out of the mold onto a beautiful white oval serving dish and I shattered it on the floor in a million pieces. So my tip… turn more lights on so you can see what you are doing!
No bake cheesecakes are even better than baked cheesecakes in my mind! They are creamier and more delicious!
Keto cheesecakes are always a hit at the holidays and this pumpkin cheesecake will impress even your non keto guests!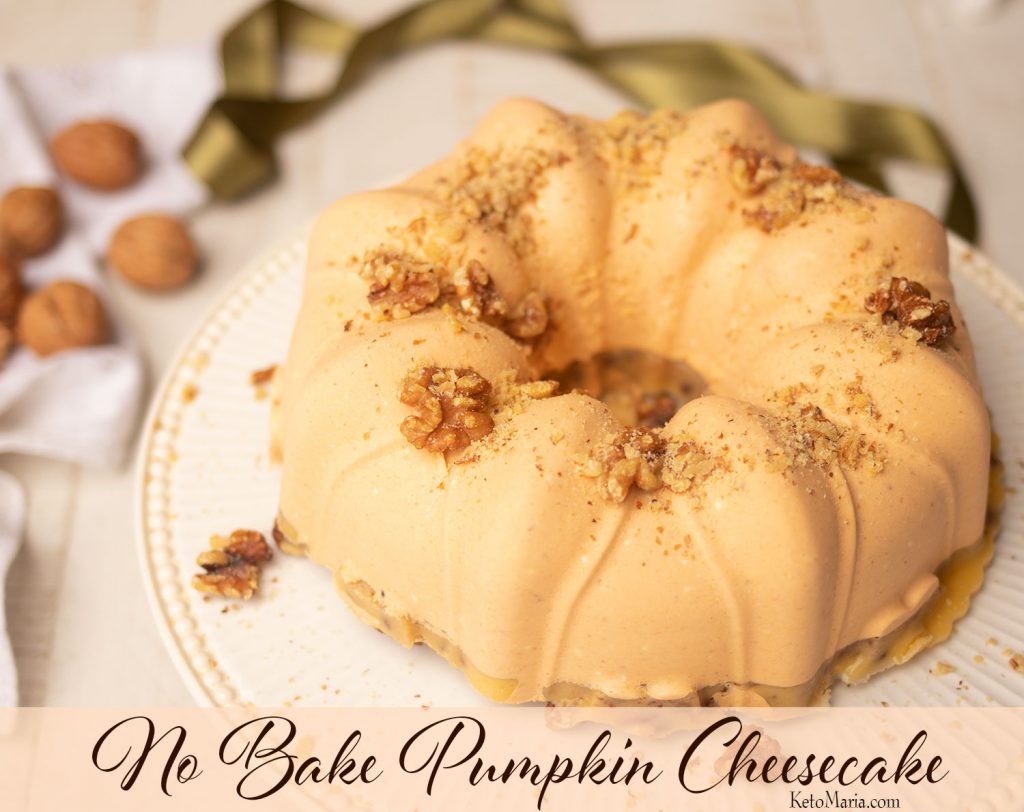 When I make my no bake pumpkin cheesecake, I always use Further Food Gelatin!
Further Foods gelatin and collagen peptides are both excellent sources of collagen. Both their Collagen & Gelatin are sourced from the highest quality, grass-fed, pasture-raised, hormone-free, and antibiotic free bovine collagen.
The benefits of collagen and gelatin are astounding! Just eating my delicious Pumpkin Cheesecake helps support skin elasticity & hydration, longer hair & nails, stronger bones & joints, faster recovery between workouts, increased flexibility, improved digestion, and it even keeps you feeling full and satiated for longer!
Further Food Collagen Peptides dissolve instantly in any recipe, and Gelatin Powder naturally thickens recipes. It's perfect for making dairy free ice cream, jello, sugar free gummies, no bake cheesecake, or panna cotta!
Use code MARIAMINDBODY is for 20% off site-wide !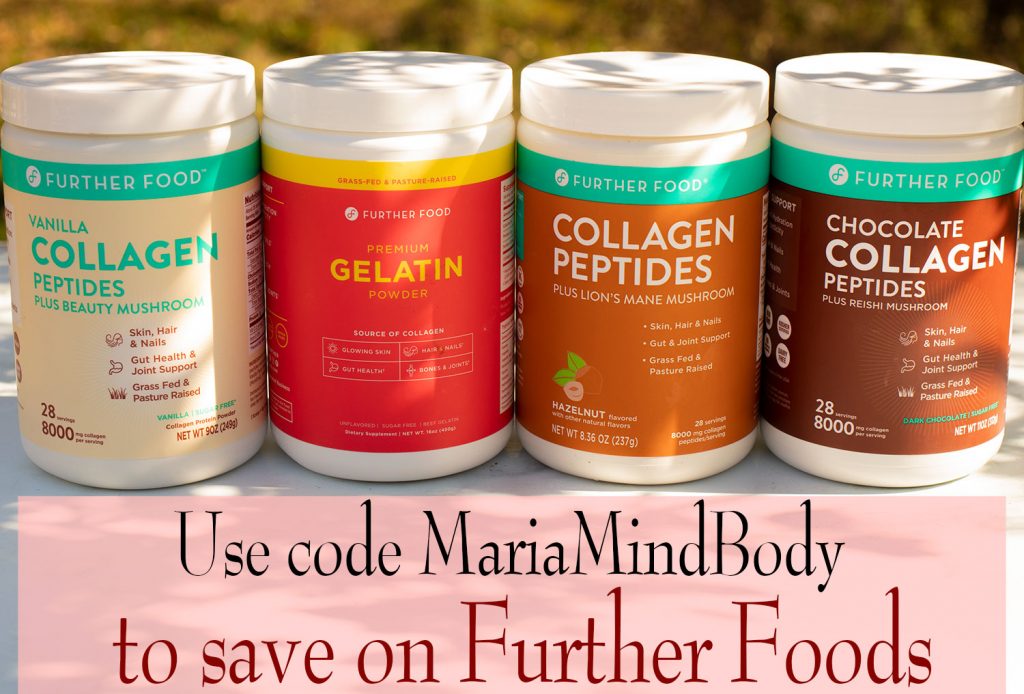 Click HERE to find the mold I used to make my no bake pumpkin cheesecake!
Note; you can make mini cheesecakes by placing the cheesecake mixture into THIS mold about 2/3rds full and placing the crust on the bottom of the pumpkin cheesecake.
No Bake Pumpkin Cheesecake
Ingredients
CHEESECAKE:
1

cup

unsweetened almond milk

or hemp milk if nut free

1

tablespoon

Further Food gelatin

3

8 ounce packages

cream cheese

softened

1

15 ounce can

pumpkin puree

3/4

cup

Swerve brown

or to desired sweetness

2

teaspoons

pumpkin pie spice

1

vanilla bean

scraped clean (or 1 teaspoon vanilla extract)
CRUST:
1

cup

butter

1

cup

crushed walnuts

or pecan

3/4

cup

Swerve brown

or equivalent powdered sweetener

1

teaspoon

ground cinnamon
Instructions
For the pumpkin cheesecake: Place the almond milk in a small saucepan (or small microwave safe bowl). Sift the gelatin into the almond milk. Heat gelatin mixture until the gelatin melts, over medium high heat for about 2 minutes. (or in the microwave for 10 seconds or until liquefied). Add in the cream cheese, pumpkin, natural sweetener and pumpkin pie spice and mix well with an electric mixer. Add extract and beat until smooth. Taste and adjust sweetness to your liking. Pour the batter into a silicone Bundt pan or a 9x5-inch loaf pan (note: if you use a loaf pan, make sure to line it with parchment paper that overhangs so you can release the cake since it will need to thaw a little before it will release. Gently put the mold in the freezer while you make the crust and coating.

To make the crust, place the butter in a large saucepan and heat until butter starts to bubble and brown flecks appear, stirring often. To watch a video on browning butter, click HERE.

Once the butter is dark brown, but not black, add the natural sweetener. Remove from heat and add the crushed nuts and cinnamon. Stir well to combine.

Remove cheesecake from the freezer. Place 1 1/4 cup of the nut mixture onto the cheesecake layer (this will be your crust). Place back in freezer until frozen. Place the extra praline mixture in aside to cool to room temp.

Once the cheesecake is totally frozen, remove it from the mold or loaf pan. Place on a serving platter with the crust side down and drizzle the top with reserved nut mixture (you may need to re-heat the topping if it hardened too much by placing it back on the stove or heating in the microwave until you are able to drizzle it). The topping will harden since the cheesecake is frozen.

Store in fridge for up to 3 days or freezer for up to a month. Allow to thaw before cutting into slices for serving.
Nutrition
Calories:
265
|
Fat:
25
g
|
Protein:
3
g
|
Carbohydrates:
5
g
|
Fiber:
2
g
|
P:E Ratio:
0.1
TESTIMONY OF THE DAY
"Thank you Maria Emmerich!   It has been special the last 9 years because I found you on FB.   My labs are awesome!   I feel awesome & continue to get younger every year.  Down 65lbs losing it gradually so I don't rock my T-4.   I'm a 44 year Thyroid cancer️ survivor.  It wasn't until I found you through reading Wheat Belly and stopped WW that my I showed ZERO tumor markers!   I was diabetic, then pre diabetic and now my A1C shows that I'm normal.  Thank you for the extra years!!!" Dawn
Most people I consult are doing keto totally wrong. Get fast results with the my Mind-blowing Keto School!