Thank you!
Thank you to all who voted! My book Keto Restaurant Favorites was voted the BEST new keto cookbook!  I feel very honored! This book is near and dear to my heart. When Craig lost his job, I started cooking our favorite restaurant meals at home! Not only was it a great way to save money, but we both lost a lot of weight eating healthier versions at home! Honestly, Keto Restaurant Favorites is my favorite cookbook! I worked at restaurants since I was 15 years old and it is filled with all of my restaurant classic dishes made keto! Which also has a delicious chicken Parmesan recipe, but here is an easy eggplant Parmesan recipe!

Easy Eggplant Parmesan
I have good news and bad news… the bad news is that a family that was going to come to Italy with me in April, had to back out because they had a sad terminal cancer diagnosis. My heart sank when I thought of such sadness and I am praying for them.
The good new is, that there are a few spots open to join me on a trip of a lifetime to Italy which was the inspiration for this Easy Eggplant Parmesan. On the last keto trip to Italy, we visited an Italian farm, looking over the Sorrento coast.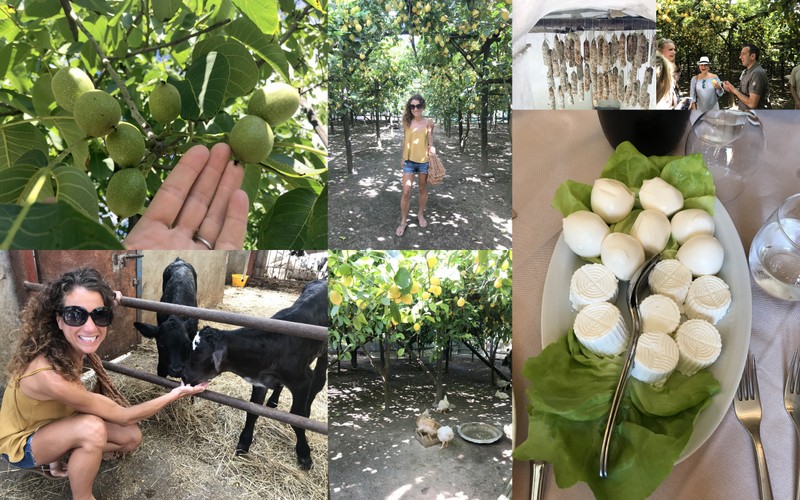 I'm not a crier, but the beauty of this place brought tears to my eyes. We had a private tour and lesson on how to make fresh mozzarella and fresh ricotta cheese. Then we sat down and had a true "farm to table" dinner. EVERYTHING was fresh from the farm. They had lemon trees, chickens, cows, gardens filled with produce, they grew walnuts, they made their own salami. It was stunning. The owner said, "I do not know what keto is, but I made this eggplant Parmesan based on Maria's rules and I hope you love it."  His eggplant Parmesan was much better than my Easy Eggplant Parmesan recipe, but I wanted to have a taste of the lovely memory of Italy.
Click HERE to watch a video of my trip from last year!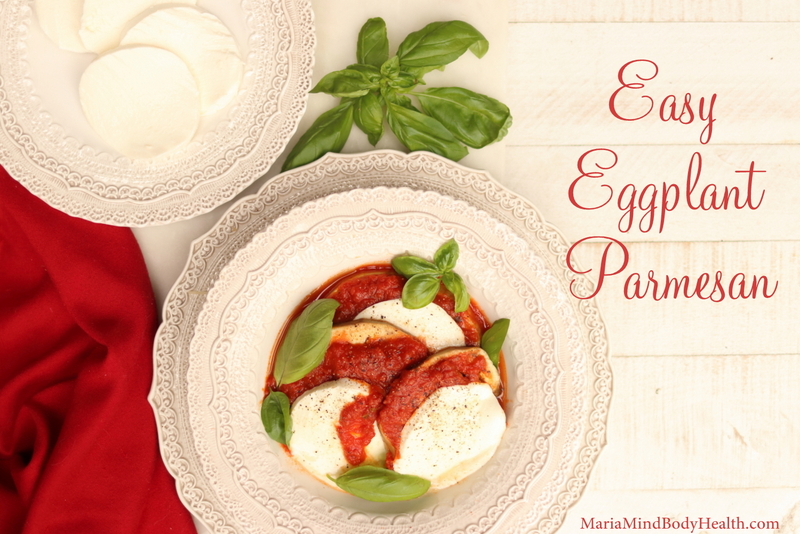 Easy Eggplant Parmesan
Ingredients
1

medium eggplant

peeled

1

jar marinara sauce

I used Organic Bello Tomato Basil Sauce

1

ball fresh mozzarella

sliced into 1/4 inch slices

Fresh Basil leaves
Instructions
Preheat oven to 375 degrees F.

Slice the peeled eggplant into 1/4 inch slices. Sprinkle liberally with salt. Place in a 9 by 13 inch baking dish and bake for 10 minutes or until soft. Top with marinara sauce and slices of fresh mozzarella. Bake for another 5 minutes or until cheese is melted. Garnish with basil and serve warm.
TESTIMONY OF THE DAY
"Hi Maria, A few years ago I heard of "keto" from a relative that was very successful in their "journey" of better health. They suggested your website. I learned a TON from your site! I'm a nerd at heart and love researching new topics – so at the time I didn't have that "umph " to begin my own weight loss journey but keto was always in the back of mind as I have always struggled with my weight.
Last summer I had episodes of feeling "off" until one day I temporarily lost my eyesight. Brushed it off. I started feeling foggy here and there. I decided to go to the doctor . My blood pressure was 185/115. I was told that is stroke level. For a "healthy" 31 year old – I was actually terrified . I was put on BP pills. Over time i had to quadruple the dosage to keep my BP down.
Around this time last year , one of my national customers offered a much better opportunity and to relocate to Phoenix. Awesome! That was my mindset until I got here and realized I had never been this far away from loved ones and did not know a soul. I fell into a 3 month long depression, continued to have BP issues.
I woke up and said to myself – I'm over this! I'm tired of feeling like this emotionally and physically. I decided to dive into keto! When I moved to AZ i was a whopping 267 lbs! Today I am 222! Miraculous! I don't even feel like I'm on a "diet." I have made multiple friends at work due to this change and I am happy to share it with them. For the first time in a long time I feel like my old self again, confident, happy, and honestly – only feel positive vibes/changes coming into my life. I wanted to thank you for all the effort and work you put into providing ample information and support for fellow keteors. Truly life changing!"
Most people I consult are doing keto totally wrong. Get fast results with the my NEW Keto School!