Keto Italy and Maria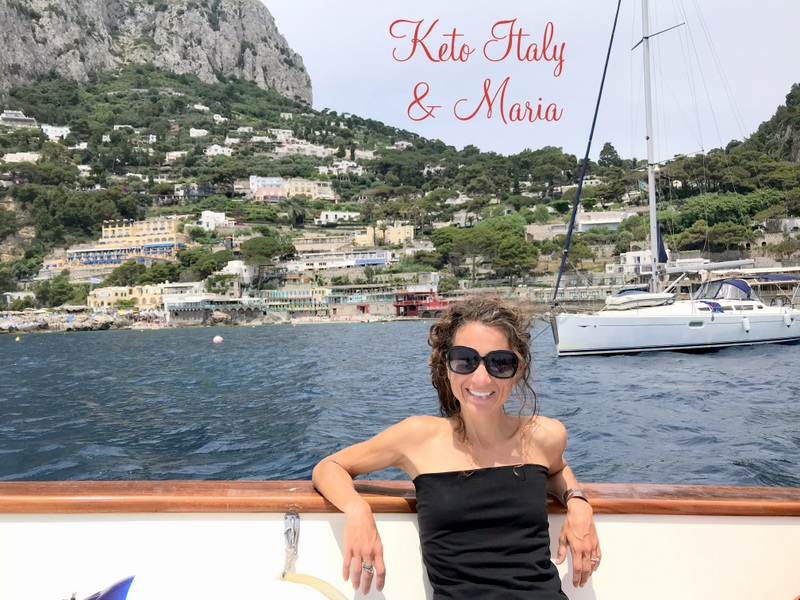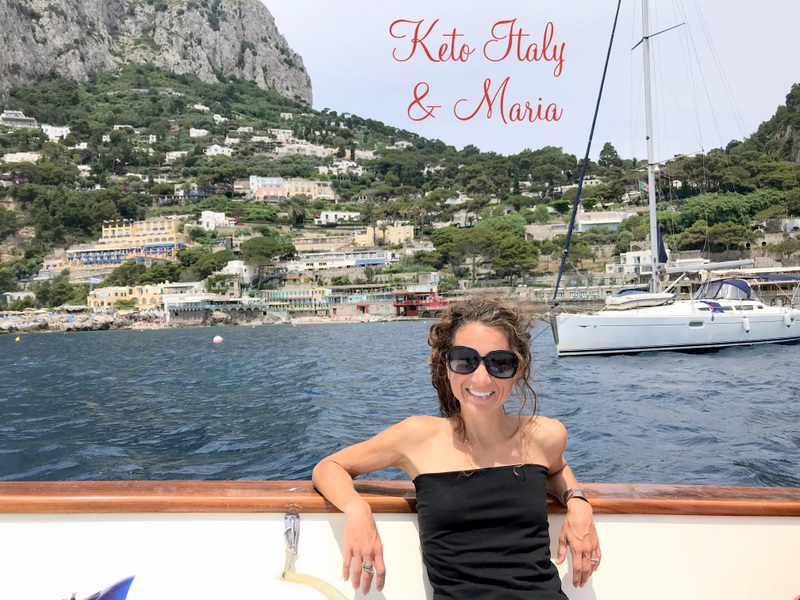 One morning I received a Facebook message that sounded like spam and I almost didn't respond. It said, "Ah! Maria! You have the most beautiful smile! Would you like to teach Keto in Italy?" Seriously? Would you respond? I thought it was a joke but I bit back and responded. This was the beginning of a very special friendship with the lovely Giuliana from Italy.
Giuliana lives in California now but friends always asked her to take them on tours of special places in Italy. She was so good at it, she started MilleVie travel company which takes fantastic tours of Italy with a special element, such as art, painting, health and others.
I arrived in Rome before everyone else. I love the hotels Giuliana picks because they always are in the center of everything. I could walk to Trvie Fountain, Colleseium, the Vatican, you name it, I walked there! AND every hotel had an amazing breakfast with great Keto food that we could break-our-fast with;)
My legs were tired from my constant desire to explore every nook and cranny of Rome. Every street I turned down, I discovered beauty!
I was excited to meet everyone and it reminded me of summer camp. We bonded and told stories. This group will be friends of mine for life!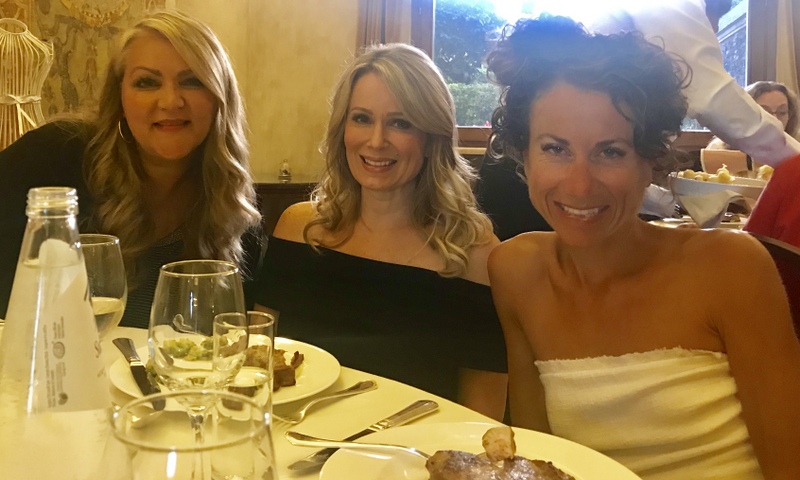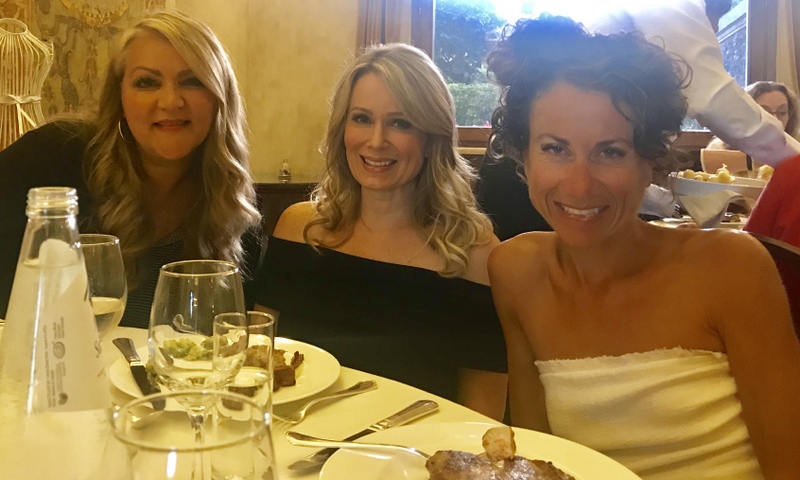 DAY 1
My favorite thing to do when I travel is to strap on my running shoes and explore the city early in the morning before the crowds of people show up! Today's adventures in Rome started with my running shoes and ended with a delicious Keto dinner with my new friends!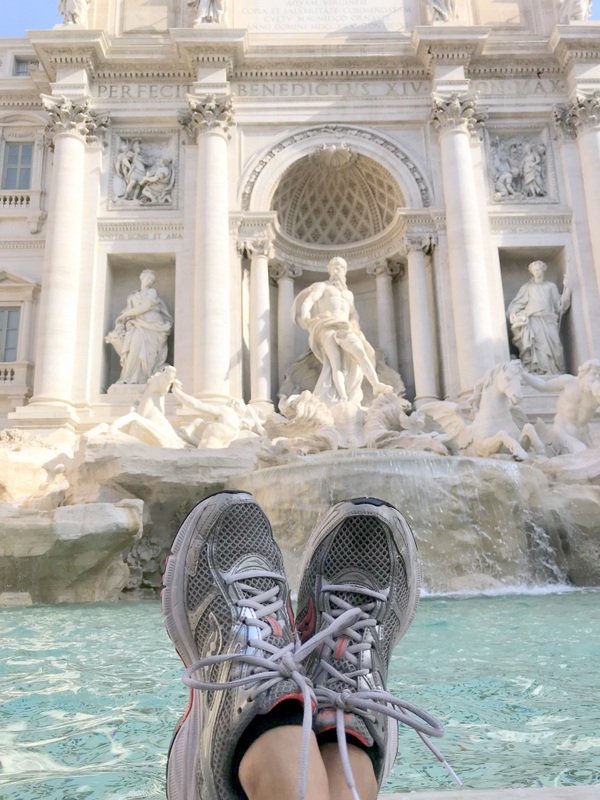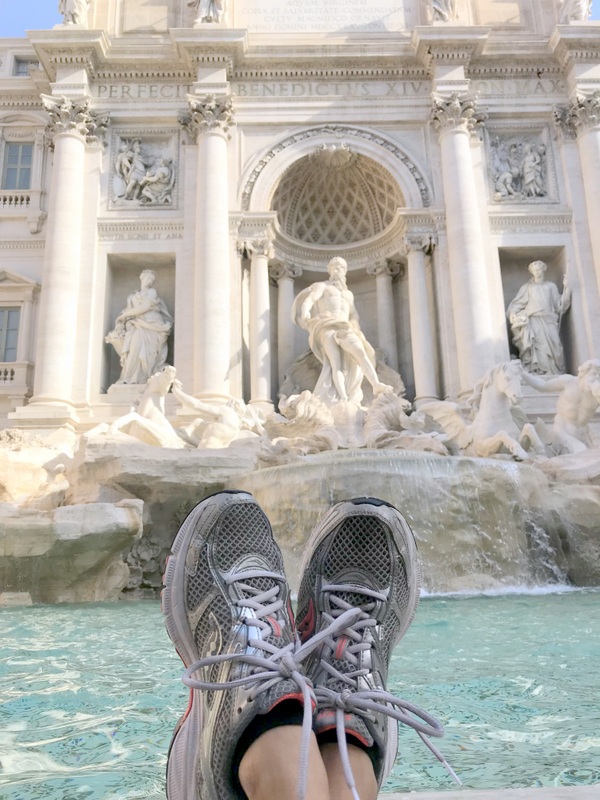 DAY 2
Today was a VIP tour of the Vatican City! The first photo of the massive line of people waiting to get in!
The beauty, history and detail is astounding! I feel very grateful to have such opportunities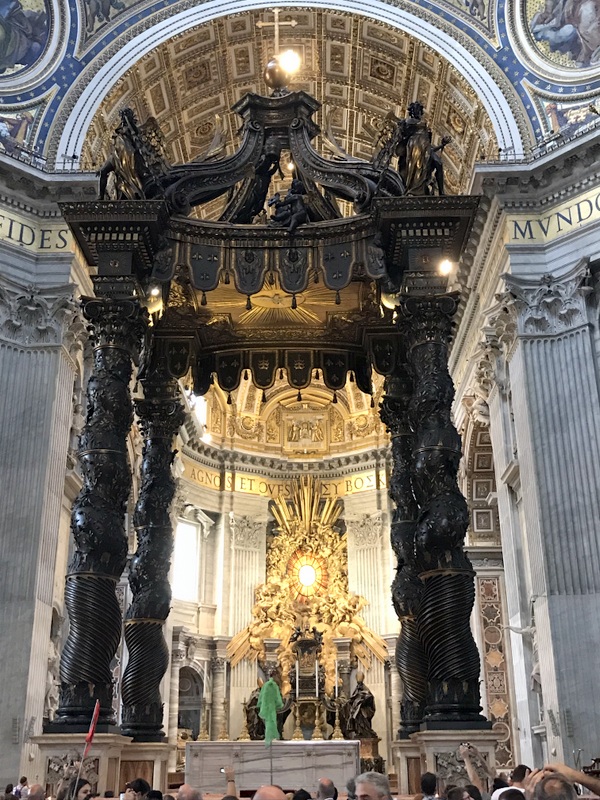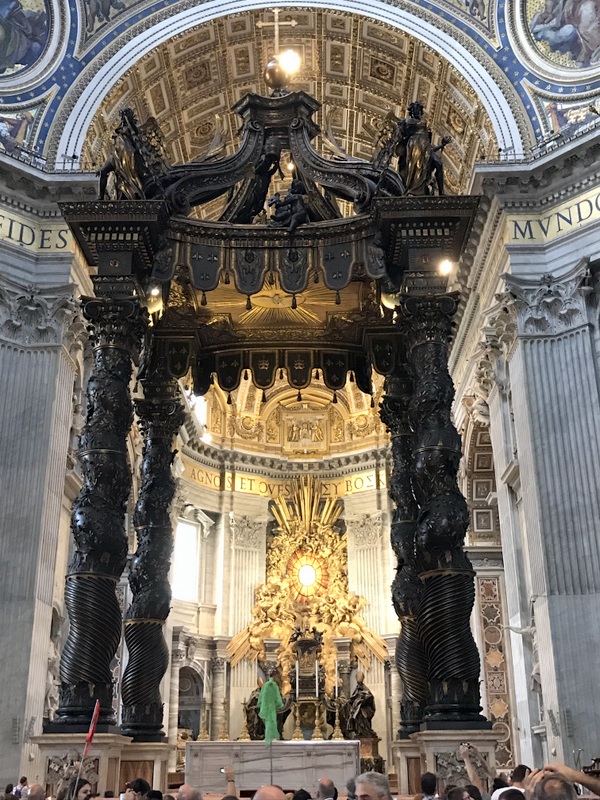 DAY 3
Today was one of the most special days I've ever had!
Started with a short run in Rome then onto a bus down the Amalfi Coast while I taught an in-depth Keto class to our group. Then we went to Pompeii and had a fantastic tour guide teach us about the city.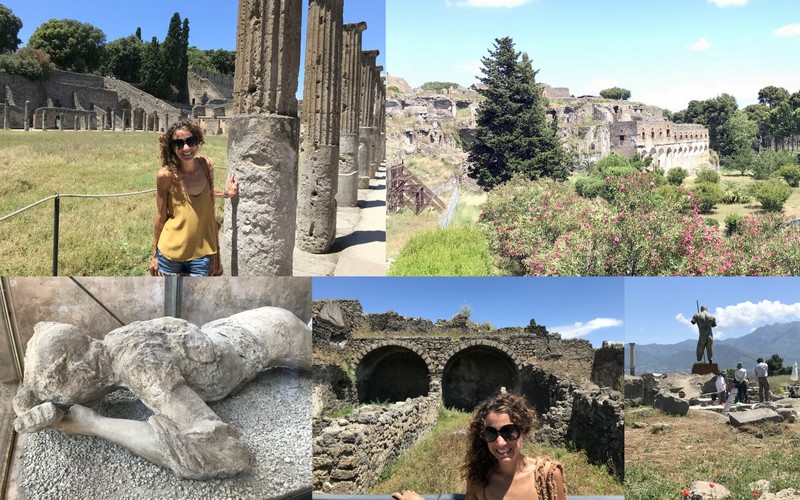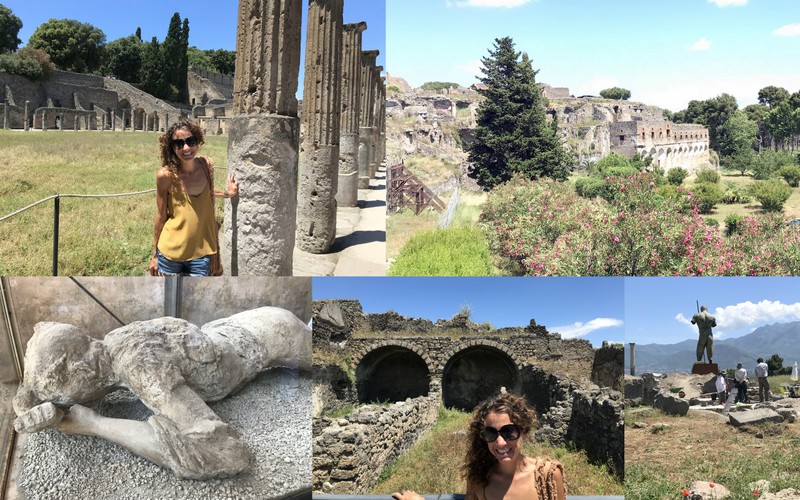 After the tour of Pompeii, we drove to Sorrento then up the hill to a farm that looked over the ocean! They made EVERYTHING! Almond trees, lemon trees, homemade salami, fresh cheese, ricotta, walnut trees, cows, chickens grazing under lemon trees, goats, veggies… you name it. We had a fresh mozzarella and ricotta demonstration followed by a VERY special Keto dinner of antipasti, first course of Keto lasagna, as well as many courses that had flavors so fresh and amazing I doubt I will ever eat such a memorable meal. I feel so grateful the chef made a special meal to our Keto recommendations.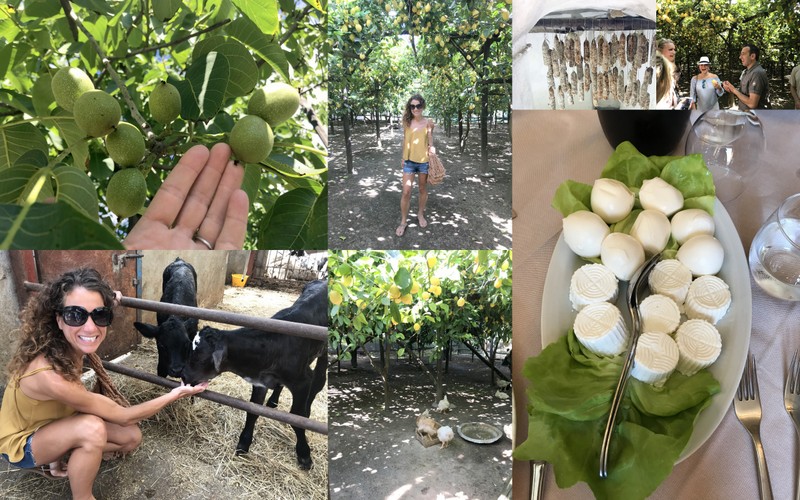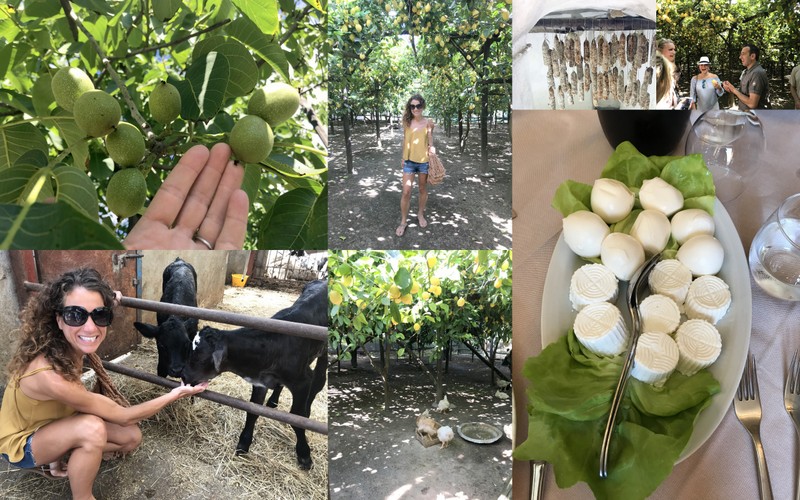 To finish this special day we arrived in town of Sorrento to the most fantastic hotel! Beautiful views from my balcony of the ocean.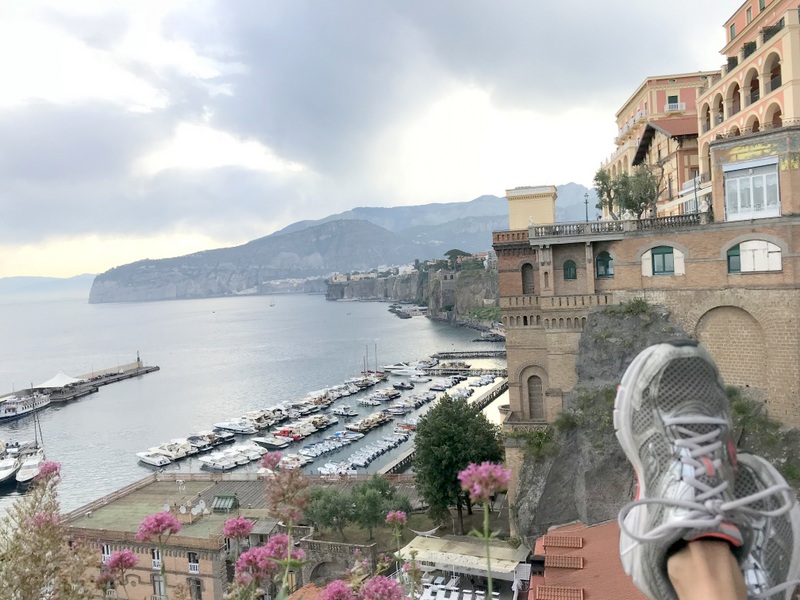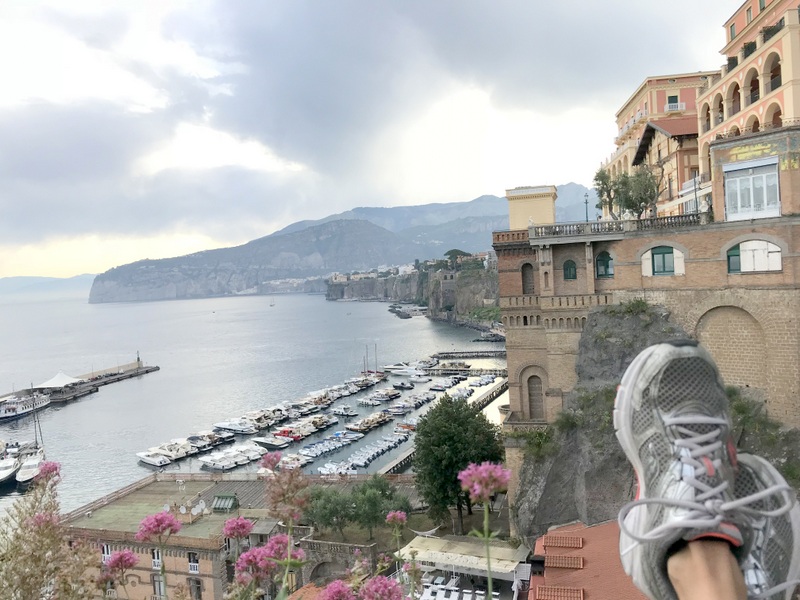 Day 4
Day 4 started early in Sorrento where we went down to the marina to jump on a catamaran to the island of Capri!
We had a private guided tour of some exclusive parts of Capri, then with some time to shop, I wandered into a store where they make handmade sandals fit to your foot! Since I was wearing my cheap $5.00 flip flops all week, I decided to get a special souvenir and the man made sandals for me! While he made them he showed me photos of how his grandpa made sandals like this for Jackie Kennedy!
After I tied on my new sandals we jumped aboard a small private boat to tour around the island and explored inside sea caves which was always on my bucket list!
After the sea caves we had a 20 minutes before the catamaran set sail to bring us back to Sorrento so I jumped into the ocean! Seize the Day!
It is now only 8:30pm but I'm exhausted and off to bed!
FYI… Italians always "siesta" around 4-6pm… I'd rather play all day and crash at night! Better for melatonin production
❤
❤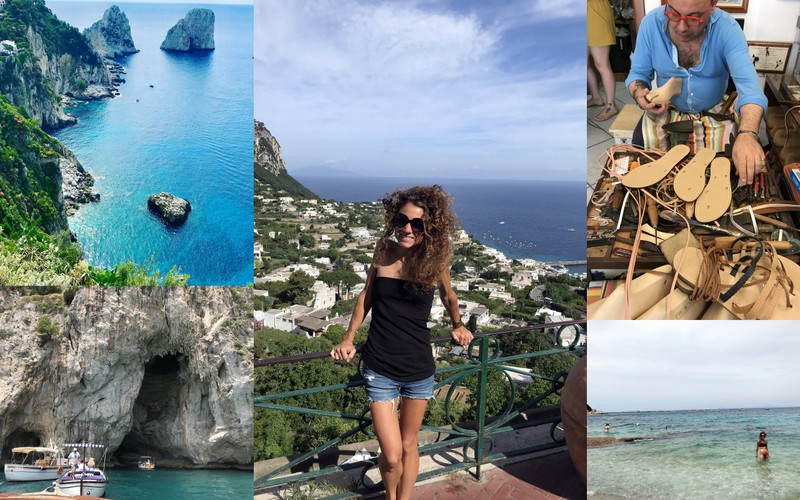 DAY 5
Day 5 started with a lovely run along the Sorrento coast (it was National Running Day!)

🏃🏽‍♀️
Then we jumped on a small tour bus down the Amalfi Coast to Positano. Now, I have a special adoration of Positano because this is where my favorite movie (Only You) takes place! The owner of MilleVie, Giuliana, knew my fascination with the movie and our tour guide knew the owner of the hotel in Positano where Only You took place so I had my own private tour!!!

❤
Then we drove down the coast to Amalfi which was adorable! Filled with musicians, artists and amazing views!

🌴
Our next stop was on top of the mountains in Ravello. I was sad to leave the ocean and beaches but this town was so quaint and special! We had a tour of Villa Cimbrone which was spectacular and had never ending views of the coast. Oprah even stayed at the hotel in the villa! Right next door was a quaint restaurant named Villa Maria that I wandered into. I told the waiter my name was Maria and tried to gift me a drink of Lemonchello but I politely declined.
DAY 6
Day 6 Italy adventure started with some bad news. We started our long journey to Florence. As I taught a Keto course on the bus, the woman next to me started to feel extremely cold and all of the sudden she started to have what seemed like a seizure. We pulled over an ambulance came and took her to the closest hospital. They did a brain scan and many tests. She ended up with a fever and a beginning of an infection but everything else was fine. The doctor personally brought her a prescription so she didn't have to worry about finding a pharmacy. Guess what? All of this cost her zero dollars! I'm SOooooo happy she is ok!!!!
We made our way to Florence. Quickly checked into our lovely hotel then we had a tour with a local man named Andrea. We started at the church in the center of the city. It is so colorful with pink and green. As we approached the church he said, "Do you notice? No paint! The colors come from different marble stone!" That blew me away!
We walked through all squares to get a quick taste of the city before we rest our tired heads! As I go to sleep, I am reminded that life is fragile. Hold your loved ones tight!
DAY 7
Day 7 started with a beautiful run through Florence. Then a fantastic breakfast with a view of the dome of the Duomo.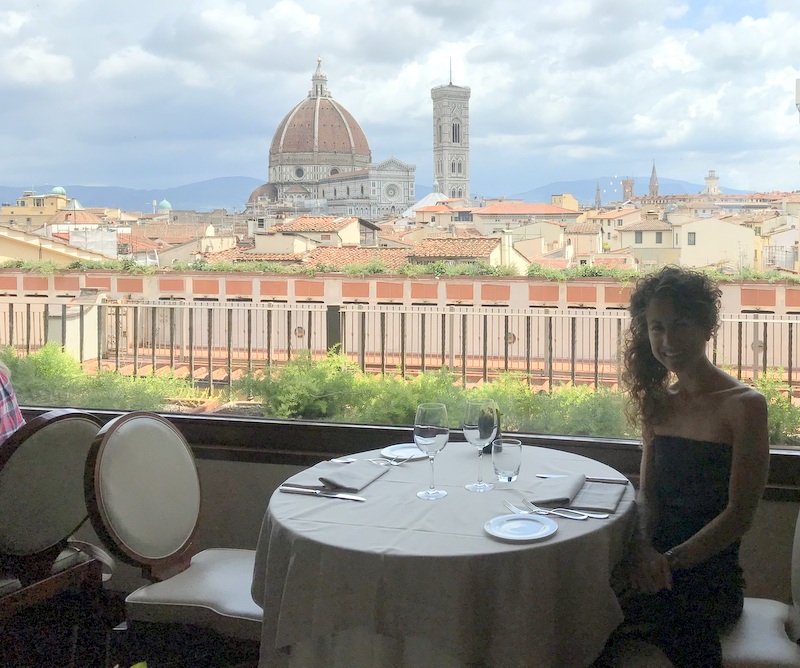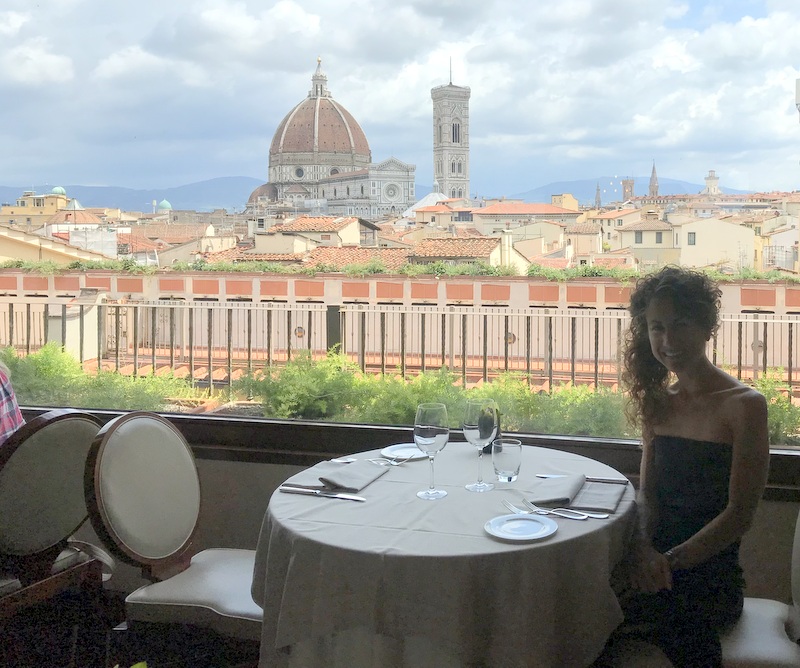 We had time to explore Florence on our own until the afternoon. We boarded our bus and made a special spot where American soldiers have been buried. Then we drove to San Gimignano which is a castle in Tuscany; such a charming place!
Our dinner was at a beautiful winery that has made wine for over 300 years! They also made extra virgin olive oil and other delicious specialties like truffle oil. They made a special Keto dinner of a salad antipasti with salami, cheeses, lettuce and eggs. Then a spaghetti bolognese with zoodles! Another course of eggplant Parmesan. A main course of pork chops and a they even made Keto dessert of my flourless chocolate torte!
Day 8
Our last full day in Italy was very bittersweet! I'm missing my family terribly but every time we travel to a new area there's such beauty and history!
I started with a lovely run in Florence then we got on a bus back to Rome. On the way I taught an in-depth Keto class which I always enjoy!
Giuliana, the owner of MilleVie planned such an amazing trip with so many adventures and the last hotel was magnificent!!!! It wasn't just a hotel… it is a real castle!!! We drove up to this lovely place and I almost started crying. I never thought I would ever be able to travel to Italy, and here I am… in a castle. My room has a beautiful window over the entrance that looks over fields of lavender.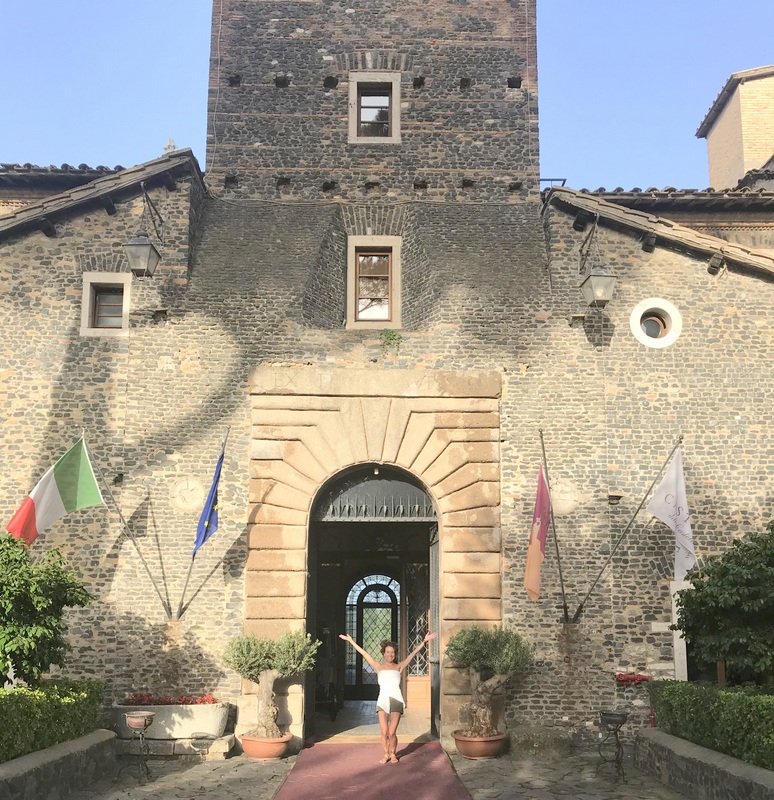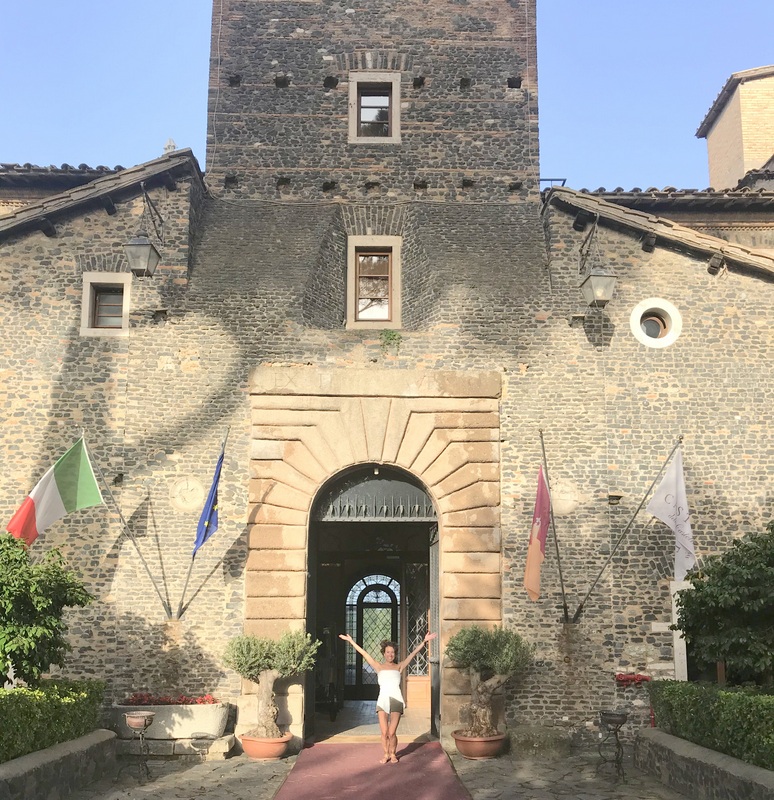 I quickly checked in and ran down to the pool! I love swimming! I also couldn't resist a delicious bacon cheeseburger (Keto-style!). It took me awhile to explain the "no bread" thing but eventually we got there and my food was delicious! There is also a spa here but I can't ever relax and get a massage when I crave an adventure!
After a fun swim and relaxation, I changed and went on a long walk along country roads.
Once I got back, it was time for dinner and it was certainly a night to remember. Only disappointment, I have to get up at 5:30am for my flight and I am sad to leave this magical place. However, I know there will be more Keto adventures in Italy!
My Tribute to Giuliana
I want to spend a moment to tell you about our travel guide Giuliana owner of Mille Ville travel. If you don't know already, I can't tell a lie. My integrity is important. So when I tell you this was the most amazing trip of my life I am not exaggerating! Giuliana made this not only a trip to Italy, she made us all feel like royalty! Giuliana was raised in Italy and knows all the places to see and also has personal connections to people who give us special access to amazing places that most people are not allowed. For example, on the island of Capri, our guide took us to a private area at the top in a garden of the most amazing views! We had a dinner in the most beautiful farm where we learned how to make mozzarella and ricotta! We stayed in a castle! Seriously, the 9 days were packed with new adventures around every corner! I NEVER would have experienced the things I did on my own. Quite honestly I would have never stood in hour long lines into places like the Vatican but with Giuliana, we had VIP passes so we went right in!
Not only is Giuliana connected with the special places of Italy, but her kindness and calmness in stressful situations is unbelievable. Never did she get flustered and every request we desired she tried to accommodate to her best ability. For example, a woman in our group had a seizure-like episode on the bus on the way to Tuscany. Giuliana handled this situation with grace and a sense of calm that made me feel safe. She immediately had an ambulance meet us and she took care of the woman the way she would her own daughter. If any emergency would happen to me in another country, I would want Giuliana by my side! Even if you don't come on the next Keto Italy trip I highly recommend ANY of her Italy trips!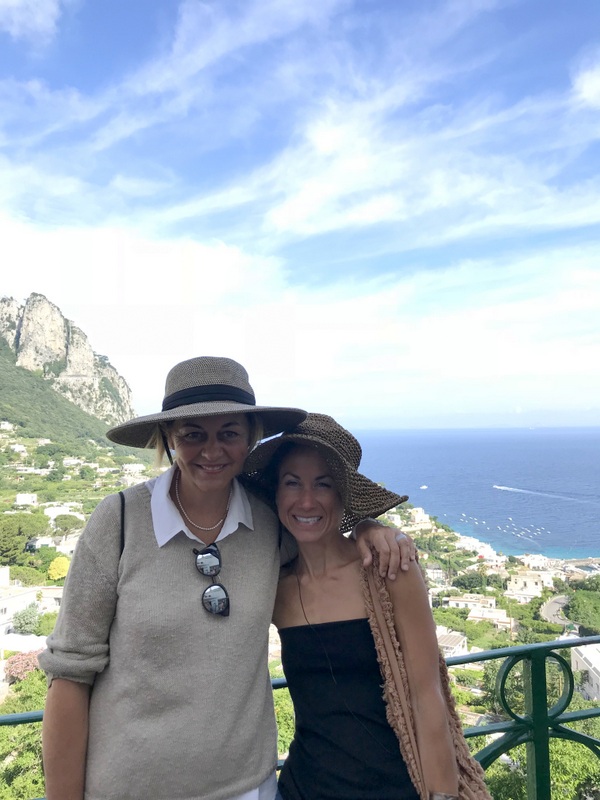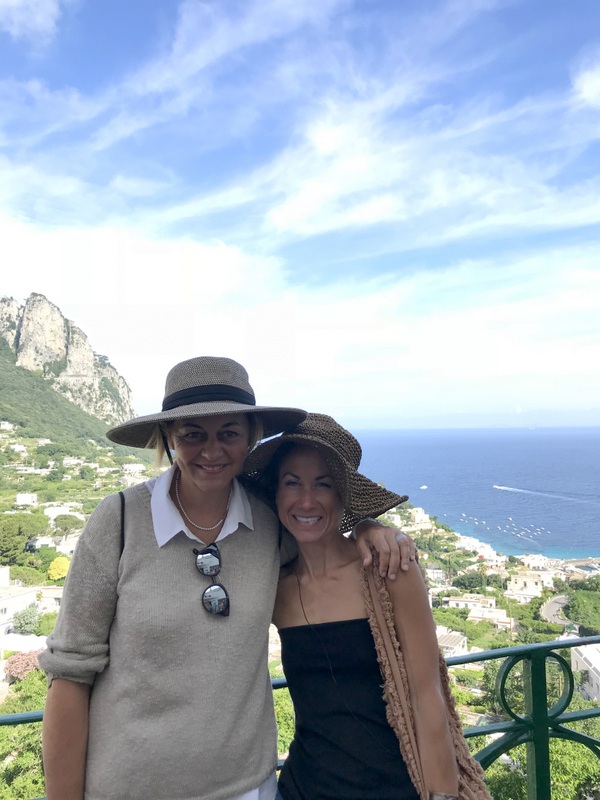 I think I've watched every movie that took place in Italy. I lived vicariously through the characters in "Only You," "Under The Tuscan Sun," "A Good Woman," as well as many others because I never ever believed I would be able to travel to such an amazing place. Not only did Giuliana make this a possibility, but she treated me like a Keto Queen! My only wish now is for you to come with me next time!
If you want to see all of my photos check out Keto Adapted Facebook wall. I posted them every night! Maybe your face will be in the next adventure photos to Italy!
OR search the hashtag: #ItalyKetoMaria
If you would like to sign up for NEXT year's trip click HERE! (should be up in a few weeks)
I am gifting you a SPECIAL offer if when you sign up and under the trip you choose you go to "HOW DID YOU HEAR ABOUT US" and you select "Maria Emmerich" I will send you a fantastic keto gift before we depart. But you must select "Maria Emmerich" in that section. See below for how to:

TESTIMONY OF THE DAY
It really is a small world!!! While I was in Italy, I texted my mom and asked her how she was. She was on the way to a new doctor.
After an hour she texted me this:
"This is Dr Edwards who I just had an appointment with. He is an avid follower of you & lost 60 pounds on your program & has every one of your cookbooks!"
📚
📚
📚

It totally made my day!!!
Click HERE to get started on your path to Healthy Healing today!