Deconstructed Waffle Cone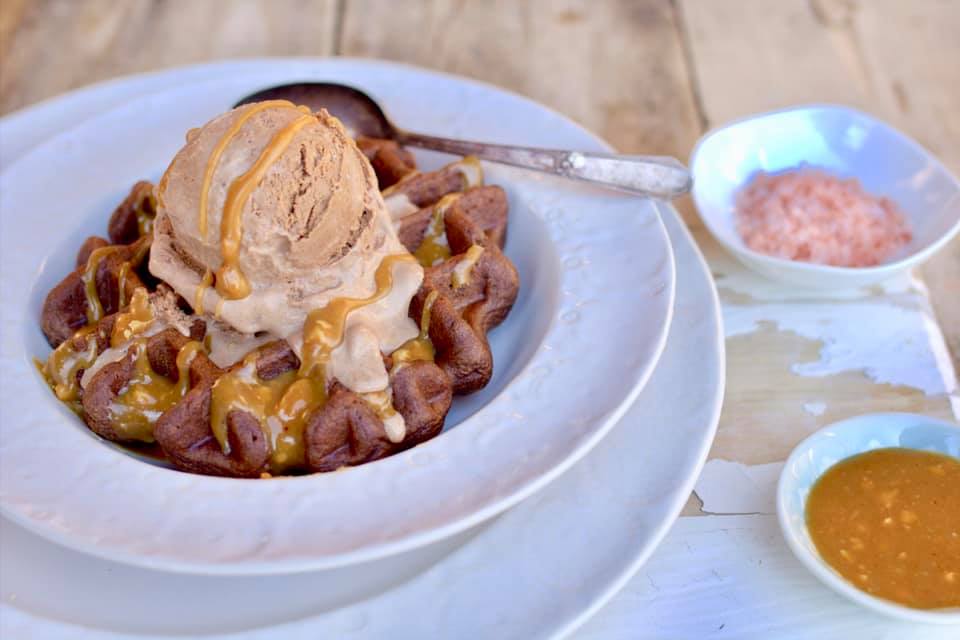 There's not a lot of things that I am tempted by anymore. There was a time I would have to excuse myself at dinner if someone ordered a decadent dessert, but I now do not feel deprived with all the tasty desserts I can make at home. But walking by an ice cream shoppe that makes their own waffle cones must bring back special memories or something because I love that smell! And when we were in Hawaii Craig said the same thing as we walked by this cute ice cream shoppe.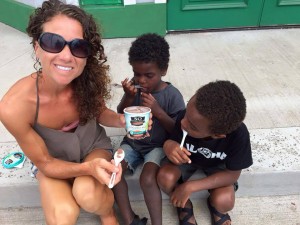 We ended up finding So Delicious No-Sugar Ice cream (buyer beware that some of the no-sugar has other things like Agave, read the labels) for the boys to enjoy while we are staying at the Keto Condo in Maui.
The smells did inspire me to come home and create this delicious decadent creation of ice cream over waffles!
As I started to think about creating a recipe (which took about a hundred tries to get the recipe perfect…. lots of wasted eggs and ingredients!) I realized I needed to borrow a waffle maker because mine broke about a year ago. I decided to reach out to see if Warning would be willing to donate one for my blog and they graciously donated TWO of them! One for me to test and one for me to give away! Not only that, but they donated TWO of their BEST waffle maker! A double waffle maker that retails for $190! They are also running a sale for those of you who would like to purchase it!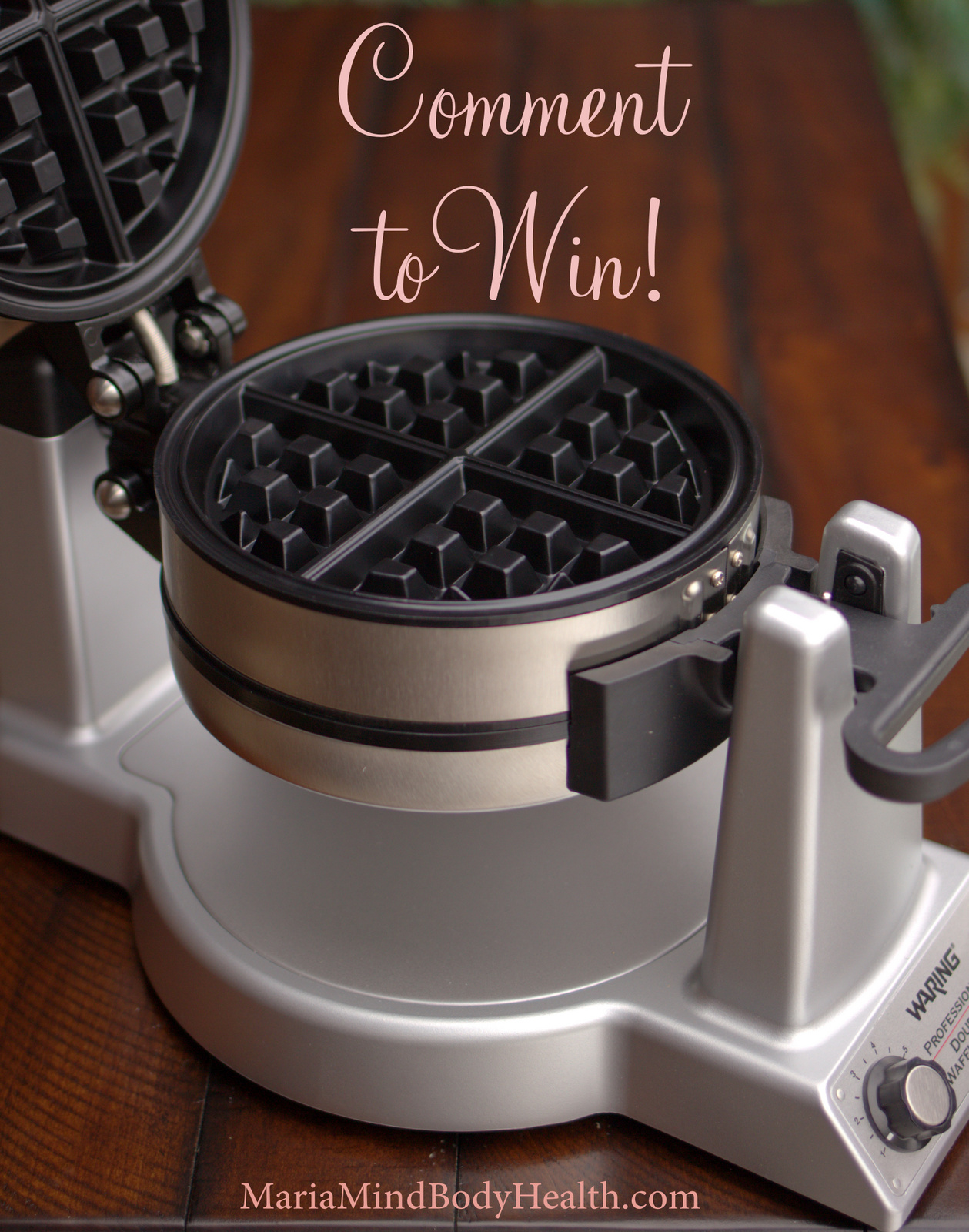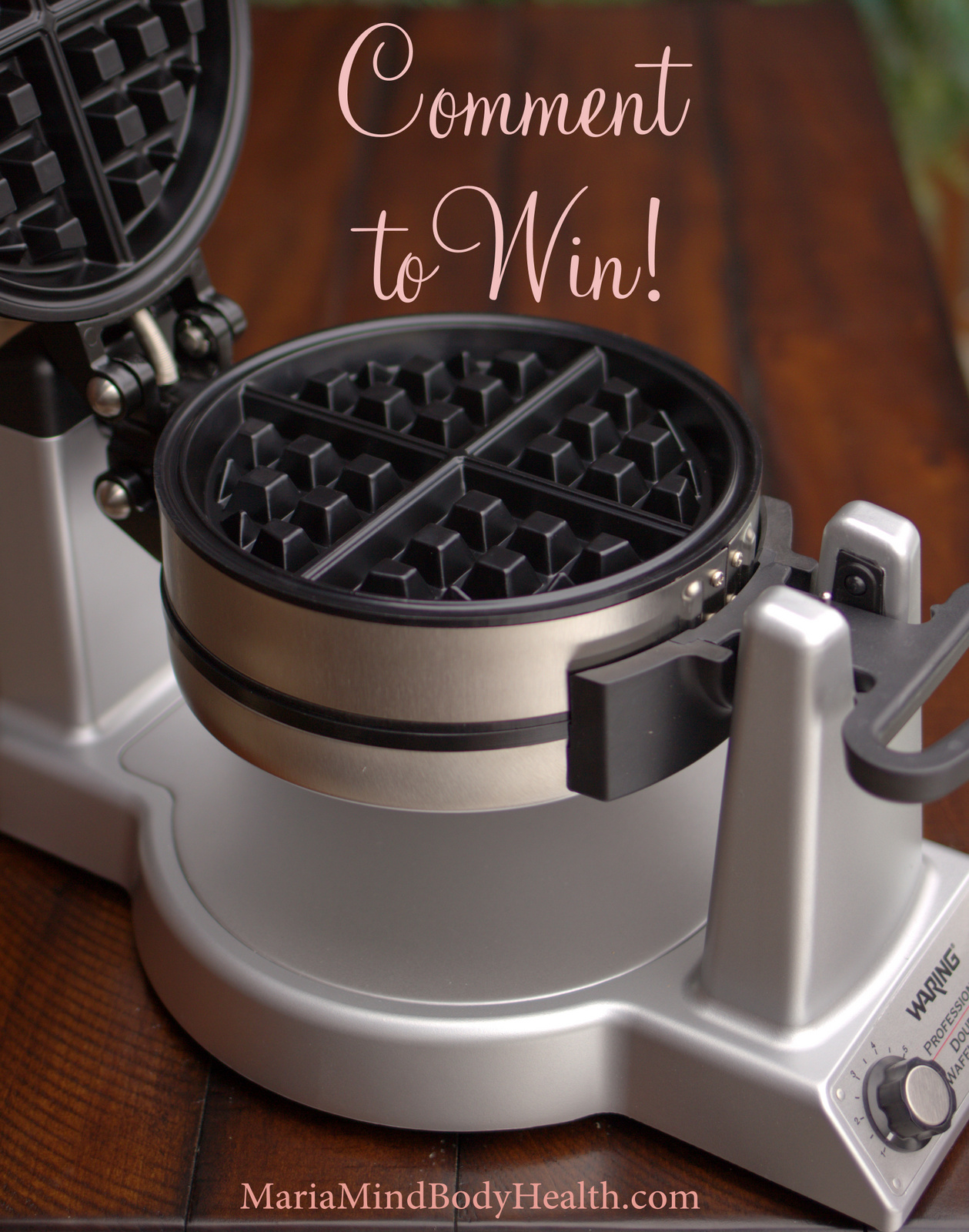 Want to win this awesome waffle maker? It is easy to enter!
1. Like Keto Adapted Facebook page and share posts with your friends and family!
2. Comment below on what breakfast recipe of mine is your favorite!
Winner will be chosen March 12th! Good luck!
And the winner is……  Glenda Westra Zielski! Congrats and thanks everyone for entering!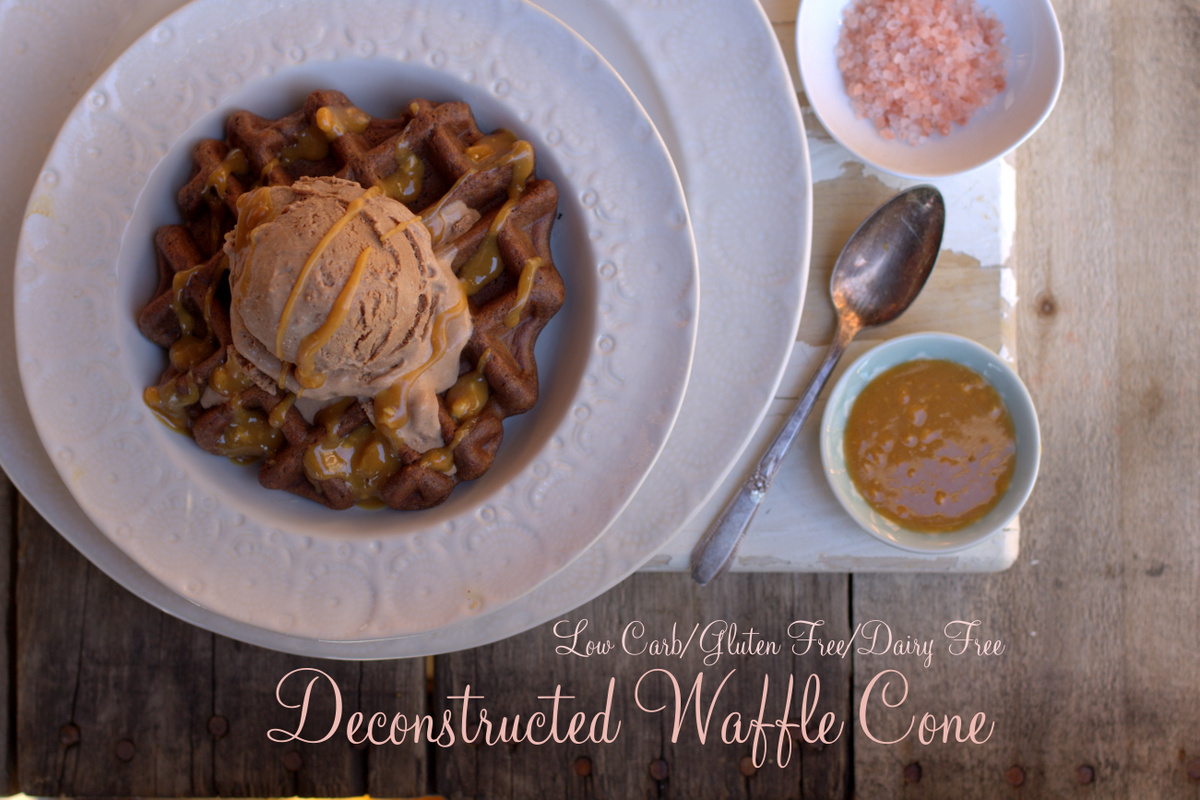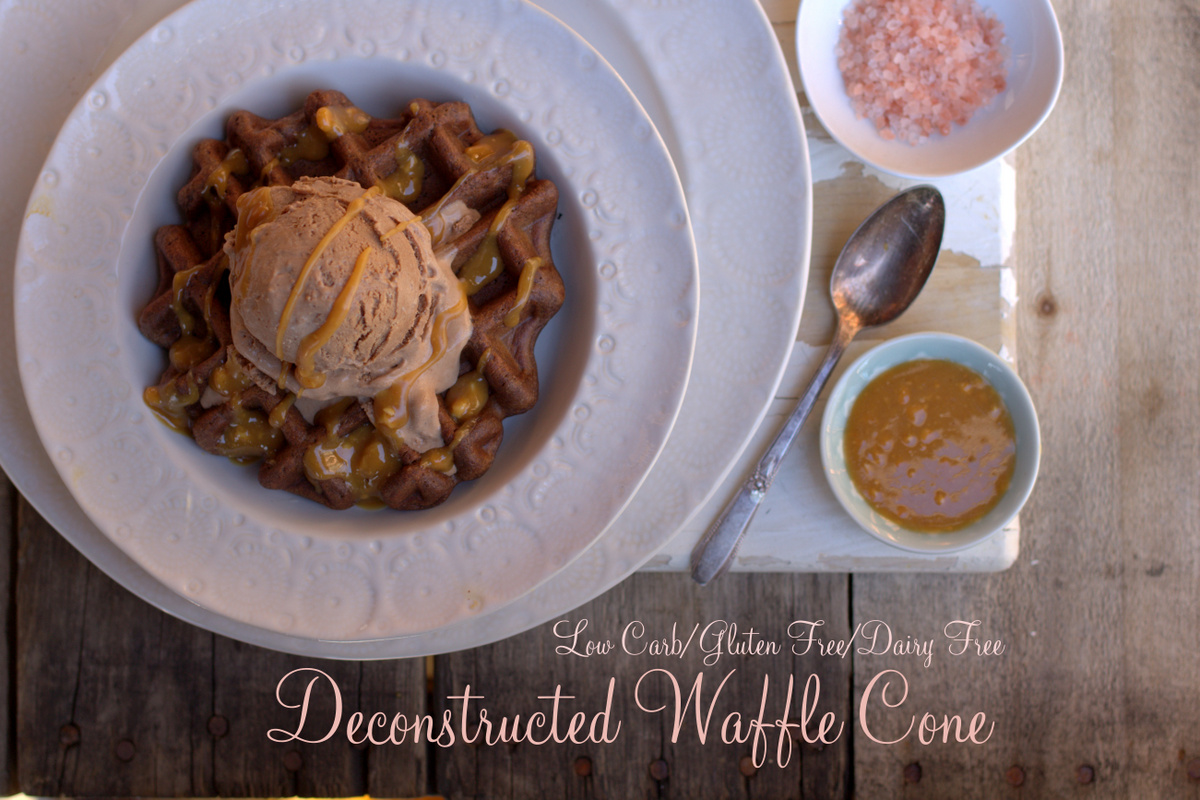 I do have a waffle cone recipe HERE. But here is a new nut-free waffle creation!
I know this recipe may sound weird, but I really wanted to create a waffle that was basically zero carbs. I don't eat nut flours unless for a special occasion. You can read why I avoid nuts and nut flours in my book The 30 Day Ketogenic Cleanse.
Creating this recipe was NOT easy! I hope you enjoy it!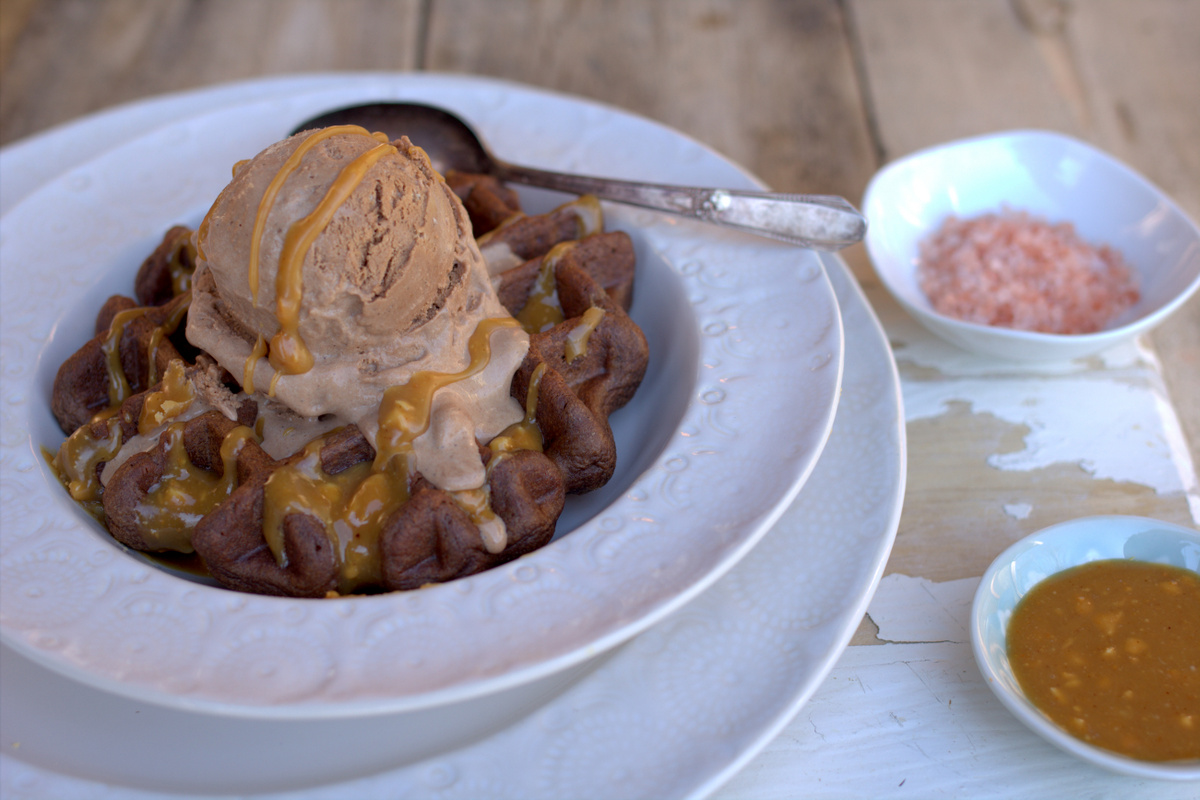 Deconstructed Waffle Cones
Ingredients
WAFFLES:
2 eggs
2 hard boiled eggs
2 tablespoons Swerve confectioners
2 tablespoons unsweetened cocoa powder
½ teaspoon baking powder
⅛ teaspoon fine grain sea salt
2 tablespoons coconut oil
1-2 teaspoons vanilla extract (option sub 1 teaspoon for almond extract if not allergic to almonds)
ICE CREAM:
¾ cup plus 2 tbs coconut oil (organic butter if not dairy sensitive)
½ cup unsweetened almond milk or water
4 whole eggs
4 egg yolks
1 vanilla bean, scraped clean or 2 tsp vanilla
½ tsp salt *helps keep ice cream soft
¼ cup unsweetened cocoa powder
PEANUT BUTTER SAUCE:
½ cup natural peanut butter, softened
¼ cup coconut oil, melted (or butter if not dairy sensitive)
Instructions
Heat waffle iron to high heat. Place the raw eggs, hard boiled eggs, natural sweetener, protein powder, cocoa powder, baking powder and salt in a blender or food processor and combine until smooth and thick. Add the coconut oil and extract to combine well.
Grease the hot waffle iron. Place 3 tablespoons mixture into the center of the iron and close. Cook for 3-4 minutes or until golden brown and crisp.
Remove from waffle iron and serve with ice cream and sauce.
To make the ice cream, In a blender (I used my blendtec), place the coconut oil, MCT oil, eggs, yolks, almond milk/water, vanilla bean seeds (discard the pod), natural sweetener, salt and cocoa powder. Blend until very smooth. Place into ice cream maker and watch the magic happen! Turn off ice cream maker. Store in airtight container in the freezer.
Meanwhile, make the peanut butter sauce by combining the peanut butter, coconut oil/butter and natural sweetener in a small bowl. Combine until smooth.
Notes
NUTRITIONAL INFORMATION (per serving):
Deconstructed Cone= 472 calories, 45.4g fat, 14.6g protein, 5.7g carbs, 2.2g fiber
85% fat, 11% protein, 4% carbs
TESTIMONY OF THE DAY!
"This is what your help has done for me…a mom of 5, and business owner with employees…parents that depend on me. I reversed, super high bp, pre-diabetes, hormone imbalance (badddd) , pre-arthritis, insomnia and a slew of other things. I must give people your website information at least once a week. Ive lost 150 in fat and massed about 20 lbs in muscle. XOXOX" -Robyn
Most people I consult are doing keto totally wrong. Get fast results with the my NEW Keto School!