CRUNCHY TOP POTATOES
One of my favorite Thanksgiving foods in my former fat life was Crunch Top Cheesy Potatoes. One of the main ingredients was Cream of Chicken Soup. Knowledge is power; now that I am aware of what certain foods do, I am able to get past the cravings!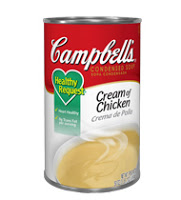 CAMPBELL'S HEALTHY REQUEST® CREAM OF CHICKEN SOUP INGREDIENTS = CHICKEN STOCK, WATER, MODIFIED FOOD STARCH, CHICKEN MEAT, MALTODEXTRIN, CREAM (MILK), CONTAINS LESS THAN 1% OF WHEAT FLOUR, VEGETABLE OIL, SOY PROTEIN CONCENTRATE, CORNSTARCH, SALT, POTASSIUM CHLORIDE, LOWER SODIUM NATURAL SEA SALT, FLAVORING, MODIFIED FOOD STARCH, CHICKEN FAT, YEAST EXTRACT, DISODIUM GUANYLATE, DISODIUM INOSINATE, SODIUM PHOSPHATE, SOY PROTEIN ISOLATE, SPICE, BETA CAROTENE (FOR COLOR), DEHYDRATED CHICKEN.
MSG is a slow poison and it is in everything; Lay's potato chips, Doritos, Campbell's soups, Ramen, Canned Gravy, frozen dinners, frozen pizzas, salad dressings (especially low-fat varieties). Tons of 'reduced' or 'no-fat' foods are laced with MSG to make up for the flavor lost when fat is reduced. If you don't see MSG on the label, you still aren't safe; the word 'Hydrolyzed Vegetable Protein','Accent, 'Aginomoto,' 'Natural Meat Tenderizer,' is just a sneaky name for MSG. Glutamic acid in MSG is known as an excitotoxin; this means it excites the brain cells. It causes brain cells to fire too much until they are exhausted and die.
This causes us to be addicted to the MSG 'fix,' which is why Lay's Potato Chips claim, "I bet you can't eat just one." Lay's knows they have the upper hand on your brain chemistry. This excitotoxin effect in our brain causes ADHD, autism, and Alzheimer's. This process of over-exciting the brain depletes our brain of serotonin (the feel-good chemical in our brain and gut). Headaches and migraines are the main complaints of MSG consumption, which makes sense because low serotonin is the Migraine headaches are caused in part by changes in the level of serotonin. Serotonin plays many roles in the body, one of which is the effect on blood vessels. When serotonin levels are high, blood vessels constrict (shrink). When serotonin levels fall, the blood vessels dilate (swell). This swelling can cause pain or other problems. Many things can affect the level of serotonin in your body, including your level of blood sugar, certain foods, and changes in your estrogen level if you're a woman.
MSG downregulates our body's leptin production (our appetite suppression), so it makes us hungry sooner. Hoe can this be? Well, MSG stimulates the pancreas, which in turn increases insulin production even though there is no need for insulin. This will cause our blood sugar to rise too much and then drop. When our blood sugar drops, hunger is stimulated (which is why you don't want to eat too many carbohydrates either). Overproduction of insulin will cause insulin resistance, diabetes and obesity.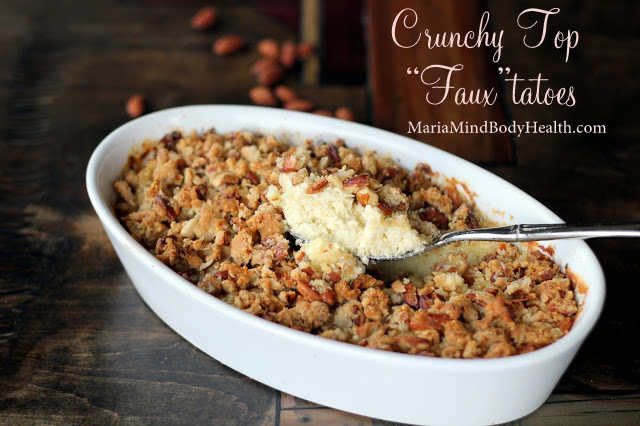 "POTATOES:"
1 head cauliflower
CHEESE SAUCE:
1/4 cup butter
3 TBS Cream Cheese
1/4 cup beef/chicken broth
2 cups sharp cheddar cheese, shredded
1/4 cup Parmesan cheese, shredded
Sea salt and pepper (to taste)
TOPPING:
1/2 cup crushed almonds
1/4 cup almond flour
2 TBS butter or coconut oil, melted
Preheat oven to 375 degrees F. "POTATOES": Place cauliflower flowerets in a food processor. Pulse until larger "rice" sized pieces (click HERE to find the one I use) (or shred with a cheese grater to resemble shredded potatoes). Transfer the cauliflower to a 2 1/2 quart casserole dish.
CHEESE SAUCE: In a saucepan, melt butter over medium heat. Stir in cream cheese and broth. Cook and stir for 2 minutes or until thickened. Reduce heat. Add the cheeses, stirring until cheese is melted. Add salt and pepper to taste. Remove from heat, pour over the veggie, and stir to combine.
TOPPING: In a small bowl, toss together crushed almonds, almond flour, and remaining butter, and sprinkle over the cheesy cauliflower. Bake for 30 minutes in the preheated oven, or until the top is golden and cauliflower if tender. Makes 8 servings. I LOVE THIS DISH!
NUTRITIONAL COMPARISON (per serving):
Traditional Crunchy Top Potatoes = 370 calories, 27g fat, 12g protein, 19 carbs, 3g fiber
"Healthified" Crunchy Top "Potatoes" = 307 calories, 27g fat, 12g protein, 5.6 carbs, 3g fiber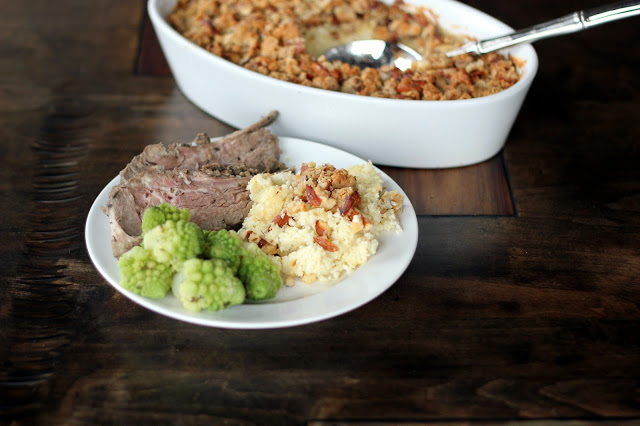 Testimony of the Day
"Maria, it's amazing – after just one day on the supplements no bleeding or pain during and after #2 for the first time since August! Thank you :)"
To get started on your path to health, click HERE. 
Another Client Testimony
"Hi, Maria! I have to tell you about a recent doctor's visit. I told my doc that I'd started working with a nutritionist (you) and changed my diet rather dramatically and he asked a bunch of questions about it. I told him that I completely eliminated both sugar and grains. He seemed really pleased about that and kept asking questions. I told him that he may be horrified by this, but I added way WAY more fat into my diet. He said that he wasn't horrified at all, and really pleased to hear it. Then he looked through my chart and told me that I'd lost about 13 pounds since the last time I'd been in (maybe a year ago). We decided it would be good to get some blood work done at this time, just to see where I compare to my last blood workup.
He left a rather long-winded message on my cell phone last night, and suffice it to say, he was waxing lyrical about my results. He said they were really, really great all around. Even my thyroid labs which had been a problem in the past. He ended the diatribe by saying that with regards to my cholesterol, he joked that he was going to hang the results on the wall to let everyone gawk at. haha! -MJ"