Client Testimonial
I received this message from someone who follows my blog and read my Metabolism book.  I love getting these messages!  Way to go Julie!
"I know that we are complete strangers, but I just feel it necessary to tell you to thank you for what you do. In October of 2012, my mom's doc gave her a copy of Wheat Belly to read which she then gave to me. As an RN, it was difficult to believe "healthy whole grains" could be a problem, but there I was, 8 months postpartum and 40 pounds overweight eating fruits and grains and everything I had learned I should be eating!
I gave grain-free two weeks and hoped it might give me results that starving myself and obsessing over points on another diet wasn't. Well, after feeling like crap for a week, I stayed motivated because I lost 6 pounds. The next week, 5 pounds and then I started to feel really great. I found a reference to you on the Wheat Belly blog and now my family's lifestyle is forever changed. No more dieting!!
Wow!! I have lost 33 pounds of eating whatever I want the "healthified" way! I threw away the acne face wash I had been using for 10 years to combat my adult acne! My husband is back in the clothes he wore when we got married 7 years ago. My kids are grain-free and always ask if there is wheat or sugar in any food they are offered because they know mom can make it healthier thanks to you! I feel like this is a miracle in my life to be free of food cravings and a past that left me struggling with an eating disorder. I know my three daughters will learn to really eat the right way now! I tell everyone I know about you and Dr. Davis and all your books. Thank you, thank you, thank you!
Julie"
Thyroid Facts
Did you know that in 90% of cases, hypothyroidism is an autoimmune disease? Did you know that autoimmune thyroid disease and is linked to gluten intolerance? Hashimoto's and Graves' are most likely caused by gluten intolerance.
What happens is that the structure of gliadin (the protein in gluten) resembles the thyroid gland. If you don't have a healthy intestinal lining, you can create holes; enter Leaky Gut. When this happens food leaks into the bloodstream and since your blood doesn't know what the substances are, it puts your immune system into overdrive to kill the foreign substance (this is why I have my clients get a thyroid 'antibody' test; it helps determine if there is a food allergy). So if you are eating skim milk and cereal for breakfast, you will most likely have a dairy and wheat allergy.
These antibodies produced to attach the gliadin in the blood, also causes the body to attack the thyroid. If you continue to eat gluten, your immune system will attack your thyroid. Some clients mistakenly think they can eat small amounts of bread or gluten on the weekend or at a party, BUT nope. The immune response to gluten can last up to 6 months every time you consume it. In order to stop the destruction of the thyroid, you have to be 100% gluten-free. Gluten, even "whole grains," contain phytates that damage our intestinal lining and inhibit nutrient absorption.
Many people make the mistake of running to their doctor for an allergy blood-test to find out if a food allergy is the root of their problems. The main issue with this is that blood tests are about 90 percent INACCURATE! Crazy but true. If I notice a food sensitivity with a client, our success comes by an elimination diet, along with nutrition therapy of enhancing vitamins, minerals, and amino acids.
1 in 3 Americans is gluten intolerant. In some clients with autoimmune disease, their immune system is so worn out they can no longer produce many antibodies. This is why everyone should kick the gluten regardless of antibody test results. Click HERE to get started with the right supplements for your body!
To find charts on what foods balance all your hormones (thyroid, leptin, ghrelin, estrogen, testosterone, and more) check out my book:
 Secrets to a Healthy Metabolism.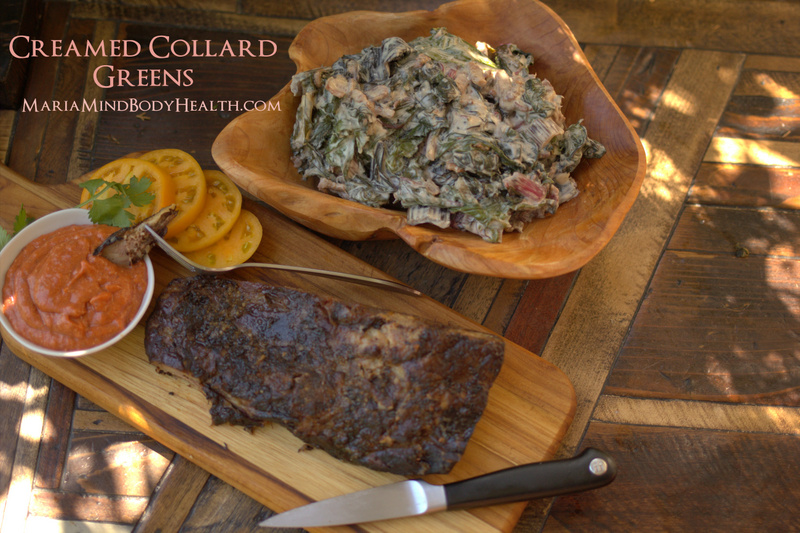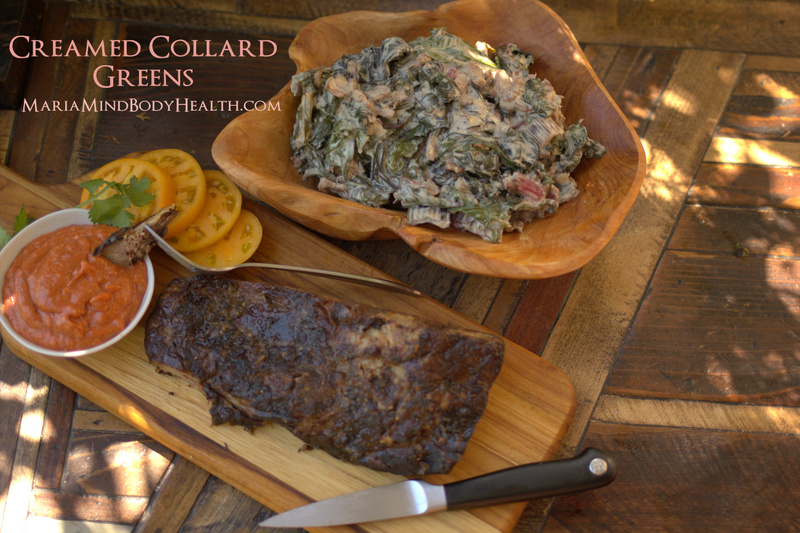 I know my recipe sounds a little crazy, but it tastes awesome. The cream cheese makes it so thick. This added an amazing flavor without extra calories, 1 TBS of heavy cream is 52 calories, 1 TBS of cream cheese is 50 calories. Since cream cheese is so much thicker, you can add a flavorful broth to thin it out and you save a lot of calories.
2 bunches collard greens (or Swiss Chard), center stems removed and cut into 1/2″ strips
Celtic sea salt
2 tsp butter or coconut oil
1 cup (6 oz) bacon, cut into 1/3 inch pieces
2 shallots, finely chopped
1 1/2 tsp smoked sweet paprika
1 cup cream cheese
1 cup of organic chicken or veggie broth
Freshly ground black pepper
Blanch greens in a large pot of boiling salted water until bright green and beginning to soften 3-4 minutes. Transfer to a large bowl of ice water to cool. Squeeze dry.
Heat oil in a large heavy pot over medium heat. Add bacon and cook until fat is rendered and bacon is crispy 5-7 minutes. Using a slotted spoon, transfer bacon to paper towels to drain; set aside.
Drain all but 3 tablespoons bacon drippings from a pot, adding butter if needed to measure 3 tablespoons. Add shallots; cook over medium heat, stirring occasionally, until soft, about 5 minutes. Add paprika; stir constantly for 2 minutes. Whisk in cream cheese and broth; whisking often to combine until smooth. Stir in greens; reduce heat to low. Simmer, stirring often, until greens are tender, about 30 minutes. Season to taste with salt and pepper. Transfer creamed greens to a serving dish; garnish with reserved bacon. Makes 6 large servings.
NUTRITIONAL COMPARISON (per serving)
Traditional Collards = 231 calories, 21g fat, 6.5g protein, 7 carbs, 1.2g fiber
"Healthified" Collards = 186 calories, 16g fat, 7g protein, 3 carbs, 1.2g fiber (77% fat, 15% protein, 6% carbs)