Cream of Wheat Cereal
Oh, my goodness! This adaptation of Cream of Wheat Cereal tastes awesome! I liked it better than B&G Brand! And it was fast and simple to make. What an easy way to send your kids off with a healthy protein-filled breakfast!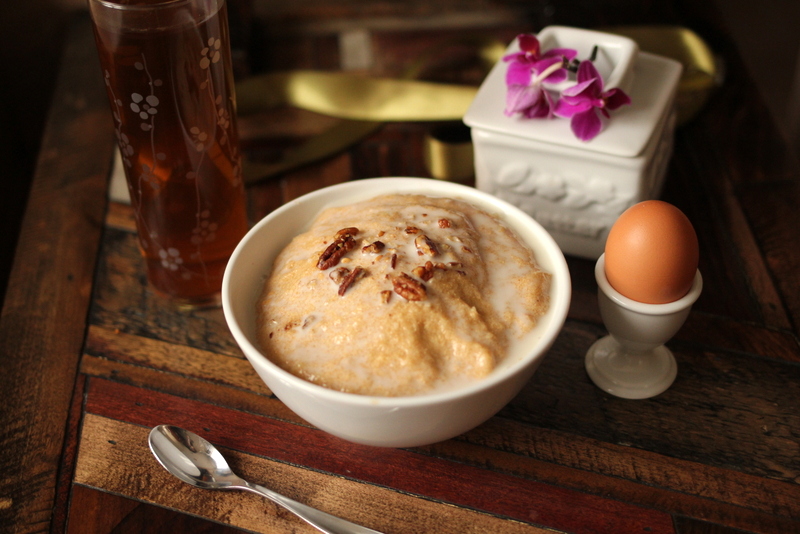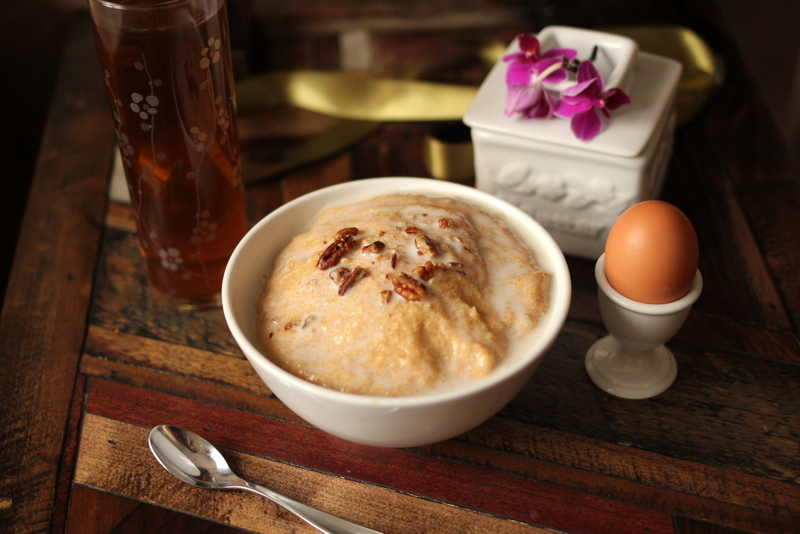 1 cup of instant CREAM OF WHEAT, prepared with water is 128 calories and 27 grams of carbs, and very little protein.
If you prepare it with 1 cup of skim milk…it totals 218 calories and 39 grams of carbs; which turns into 9.75 tsp of sugar in our bloodstream, increasing insulin fast because there was no fat consumed. Fat is the only macro-nutrient that can slow an insulin spike from happening. Why is this important? Insulin is a fat-storing hormone and can cause a bunch of different health issues including an increase in triglycerides!
Healthy CREAM OF WHEAT:
¾ cup of warm unsweetened vanilla or chocolate almond milk (or coconut milk)
1-2 tsp psyllium husk
1 scoop vanilla or chocolate (egg white or whey) protein powder
1 TBS vanilla extract
1 drop of stevia glycerite
½ tsp of nutmeg
½ tsp cinnamon
Optional: you can add some coconut flakes, nuts or peanut butter to this recipe.
Combine warm milk, whey, stevia, cinnamon and nutmeg (and other toppings) in a bowl. Stir well and let sit for a few minutes until the "oatmeal" thickens. Makes 2 servings.  Enjoy!
NUTRITIONAL COMPARISON (per serving):
Traditional Cream of Wheat with Skim Milk = 193 calories, 0.7g fat, 10g protein, 36.7g carbs, 1.2 fiber
"Healthified" Cream of Wheat = 172 calories, 4.6g fat, 14.8g protein, 17.4g carbs, 12.9g fiber
More recipes and tips like this can be found in: The Art of Eating Healthy: Sweets. Thanks SO much for your support!


Testimony of the Day
Another wonderful testimonial posted on my new Forum. You can go HERE to share your story too!
"I found Maria Emmerich Blog and books in 2012. I was hooked! I signed up for Maria's Email Support and Nutrition Planning package mid-February 2013. Best investment I ever made! She helped me every step of the way to get things started and she really cares about you!
I started in March and the first 7 days I dropped 16 pounds! I was shocked! Within the first month, I dropped 23 pounds; my skin had cleared up and was looking great. I noticed my hair had stopped falling out, no more hair filled brushes! All my body pain/aches were gone and my mood swings had stabilized! I felt normal for the first time in my life!
By June 7th I reached my first goal of 50 pounds lost which was reached 5 weeks and 2 days before deadline I set for this goal! And I did it without exercise. I feel great and I am ready for my next goal: 66 pounds, start exercising and able to jog a 5k by Christmas!
It has been a real learning process and I have had my ups and downs but I know Maria will always be there for me. I have learned so much and still growing. I am one of those people that have to learn everything the hard way. I now know what slows and stops my weight loss. Maria told me it would happen if I ate this or that but I had to eat it and learn it for myself. I guess that's just how I roll! Maria has been a real blessing in my life.
Started 315 pounds
as of July 7th 265 pounds"
Way to go Teresa!! Keep up the great work!