Another great testimonial about this lifestyle.  
"Good morning Maria, I had to share some exciting news with you! This morning I weighed myself like I always so and for the first time in over three years, I weighed UNDER 200lbs. 199!!!
It's been three and a half weeks since I started eating your way and reading your metabolism book. I just got your assessment over the weekend and finally just got all the supplements in the mail yesterday. I have lost 24lbs in 3.5 weeks but most of all I feel incredible and have a healthy happy relationship with food that I have never had before. I know this is just the beginning, but I had to share my milestone with you! I had many days before I found you that I thought I would NEVER weigh under 200 again. You have given me hope and empowered me to take back my health. Thank you!! With my warmest regards, Shauna"
Click HERE to get your 30-day meal plans and start your transformation!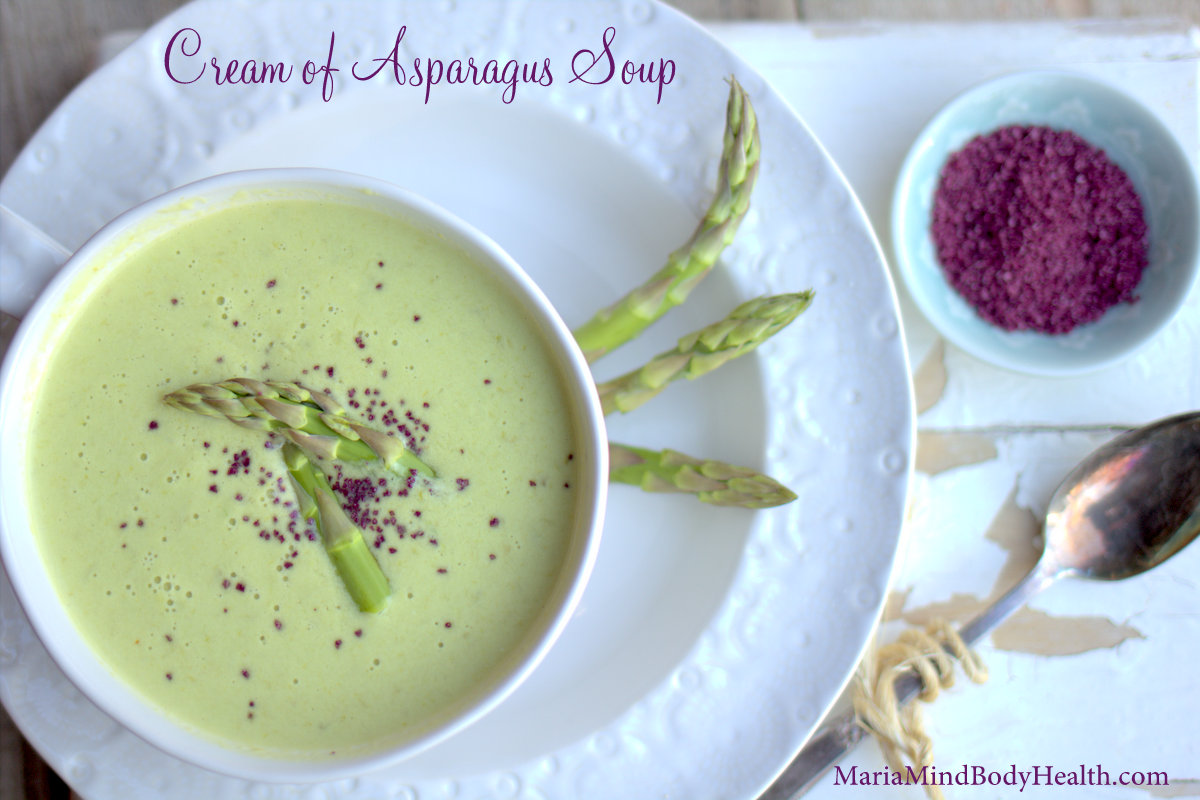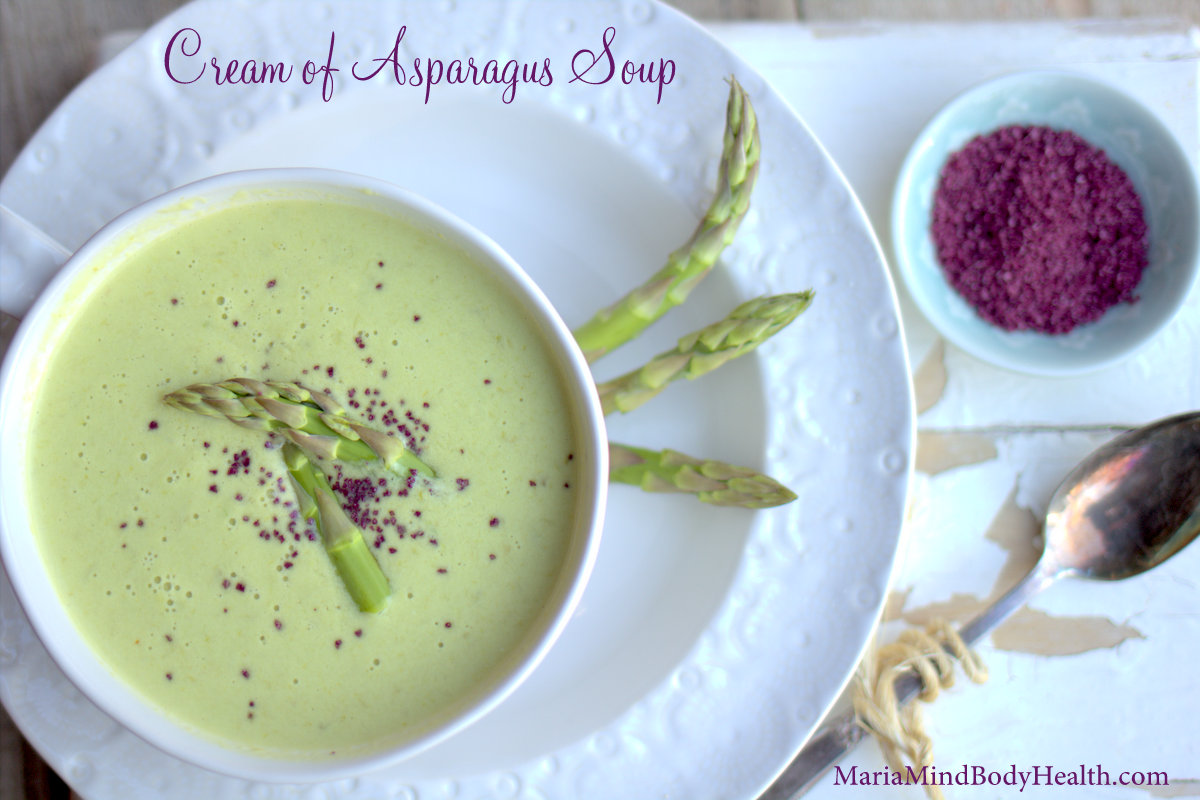 It is springtime, which also brings to mind asparagus. Here is a great alternative to the goo that plops out of an aluminum can that Campbell's refers to as Cream of Asparagus Soup. Have you checked out the ingredients on the can? Yuck!
Ingredients: Water, Asparagus, Vegetable Oil (Corn, Cottonseed, Canola And/Or Soybean), Modified Good Starch, Wheat Flour, Contains Less Than 2% Of Cream (Milk), Salt, Dried Whey (Milk), Soy Protein Concentrate, Sugar, Monosodium Glutamate, SpiceMSG is a slow poison and it is in everything; Lay's potato chips, Doritos, Campbell's soups, Ramen, Canned Gravy, frozen dinners, frozen pizzas, salad dressings (especially low-fat varieties). Tons of 'reduced' or 'no-fat' foods are laced with MSG to make up for the flavor lost when fat is reduced. If you don't see MSG on the label, you still aren't safe; the word 'Hydrolyzed Vegetable Protein','Accent, 'Aginomoto,' 'Natural Meat Tenderizer,' is just a sneaky name for MSG.
Glutamic acid in MSG is known as an excitotoxin; this means it excites the brain cells. It causes brain cells to fire too much until they are exhausted and die. This causes us to be addicted to the MSG 'fix,' which is why Lay's Potato Chips claim, "I bet you can't eat just one." Lay's knows they have the upper hand on your brain chemistry. This excitotoxin effect in our brain causes ADHD, autism, and Alzheimer's.
This process of over-exciting the brain depletes our brain of serotonin (the feel-good chemical in our brain and gut). Headaches and migraines are the main complaints of MSG consumption, which makes sense because low serotonin is the Migraine headaches are caused in part by changes in the level of serotonin. Serotonin plays many roles in the body, one of which is the effect on blood vessels. When serotonin levels are high, blood vessels constrict (shrink). When serotonin levels fall, the blood vessels dilate (swell). This swelling can cause pain or other problems. Many things can affect the level of serotonin in your body, including your level of blood sugar, certain foods, and changes in your estrogen level if you're a woman. To read more check out my book: Secrets to Controlling Your Cravings, Weight, and Mood.


MSG downregulates our body's leptin production (our appetite suppression), so it makes us hungry sooner. How can this be? Well, MSG stimulates the pancreas, which in turn increases insulin production even though there is no need for insulin. This will cause our blood sugar to rise too much and then drop. When our blood sugar drops, hunger is stimulated (which is why you don't want to eat too many carbohydrates either). Overproduction of insulin will cause insulin resistance, diabetes and obesity.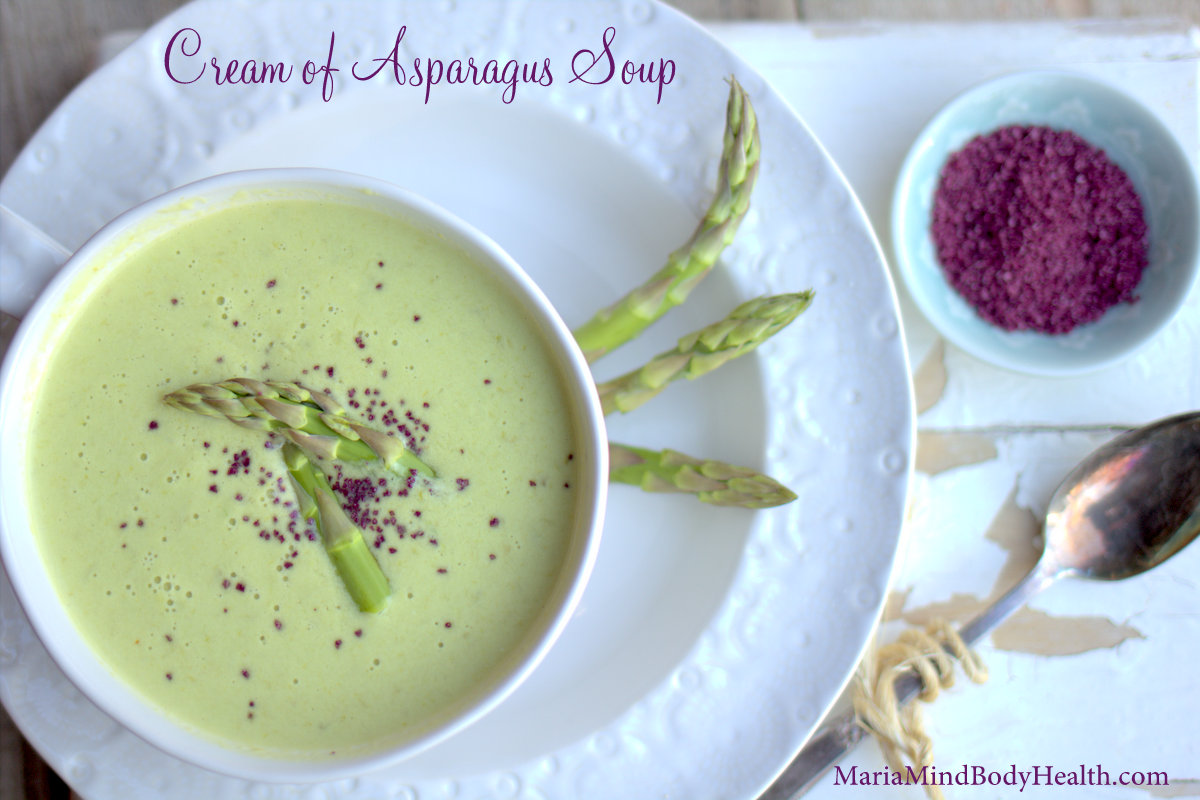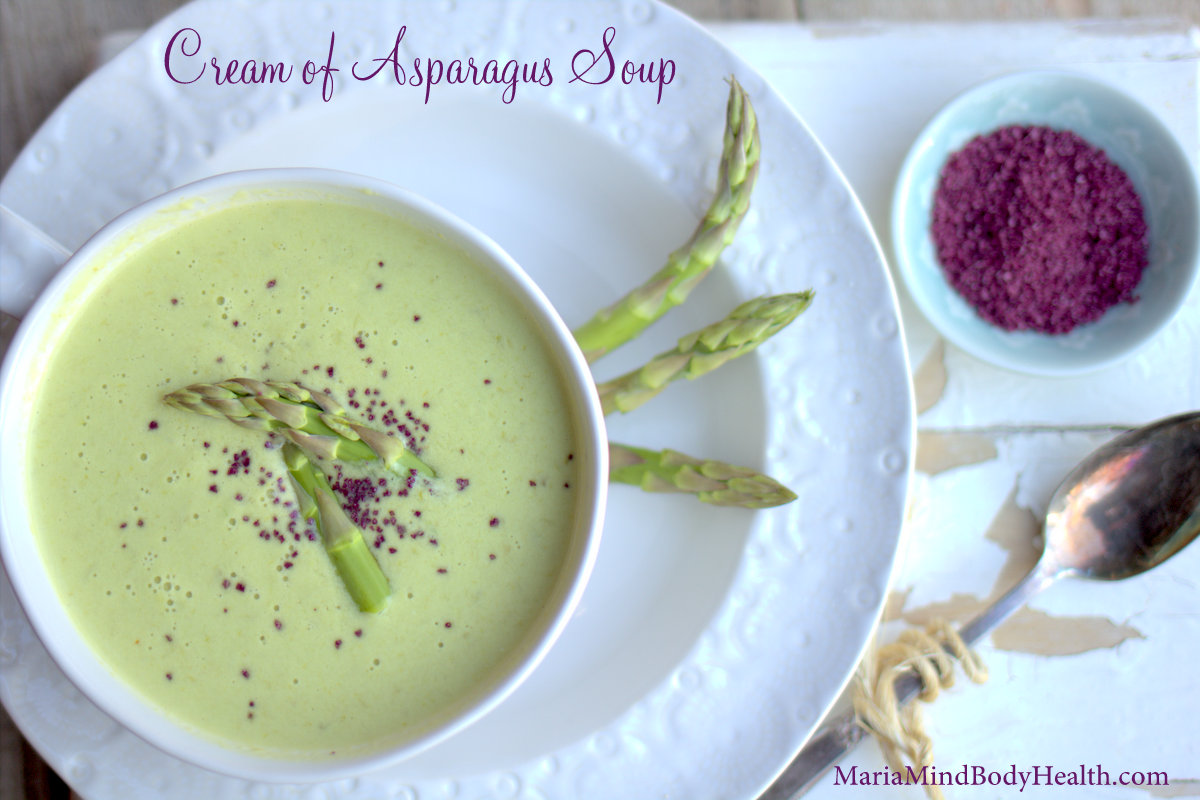 1 1/2 pounds fresh asparagus
1 cup chopped onion
6 TBS butter
1 pinch Celtic sea salt
6 cups chicken broth (or veggie broth)
4 TBS cream cheese
1 tsp dried dill weed
1 tsp Celtic sea salt
1/2 tsp ground white pepper
2 TBS coconut aminos (or organic tamari) (soy sauce)
Break off and discard tough asparagus bottoms. Break off tips; set aside. Coarsely chop stalks. Cook in a skillet over medium heat with onion in butter, salting lightly, for 8 to 10 minutes. When onions are clear add the stock. Cook 8 to 10 minutes. Cool slightly.
In a blender, puree 1/2 the soup with cream cheese until very smooth.
Return puree to the rest of the soup pan. Add dill, 1 teaspoon salt, pepper, and tamari. Add in the asparagus tips. Heat gently but don't boil. Makes 6 servings.
NUTRITIONAL COMPARISON (per serving):
Traditional Soup = 255 calories, 22.3g carbs, 3.3g fiber, 9.9g protein
"Healthified" Soup = 200 calories, 6.5 carbs, 2.7 fiber, 10.9g protein
MSG STUDIES: Guimaraes RB, Telles MM, Coelho VB, Mori C, Nascimento CM, Ribeiro. Brain Res Bull. 2002 Aug. 'Obesity induced by neonatal monosodium glutamate treatment in spontaneously hypertensive rats: An animal model of multiple risk factors.' Iwase M, Yamamoto M, Iino K, Ichikawa K, Shinohara N, Yoshinari Fujishima. Hypertens Res. 1998 Mar. 'Hypothalamic lesion induced by injection of monosodium glutamate in suckling period and subsequent development of obesity.' Tanaka K, Shimada M, Nakao K Kusunoki. Exp Neurol. 1978 Oct. No, the date of that last study was not a typo; it was published in 1978.