Testimony of the Day
"Hey Maria, I'm a Brazilian, I live here in US for about 5 years now, so forgive me if I have some grammar issues.
So, I always was skinny my whole life, and when I turned 24 I started to gain weight, and was diagnosed with hypothyroidism, witch it was something that I expected because my dad and his sister had thyroid issues, it runs in the family, and pretty soon I got back on track.
After I got married (3 years after that), I started again gain weight faster ( 20 lb in 6 months) and my doctor was always mad with me, I was eating everything that she has asked me too, but I wasn't loosing any weight. In Brazil we eat lot of rice and beans, French fries, bread, ow we have a lot of types of bread, anyways, lots of carb foods, and I was raised eating this and it was really easy do it.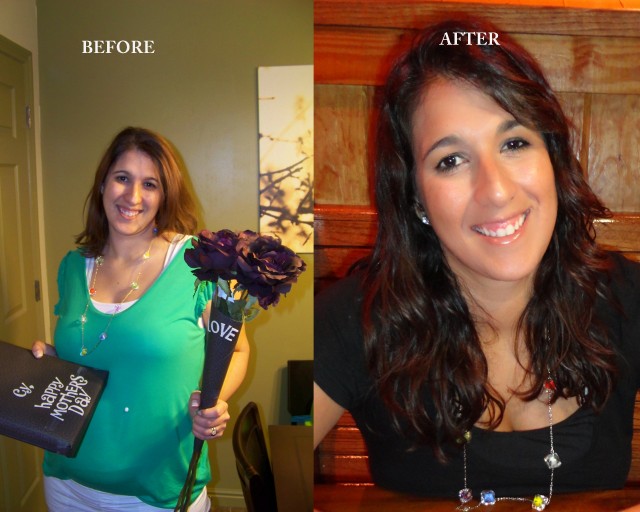 One year after my marriage we came to US and I was pregnant of our first child, we were a poor college students, and gained here pretty fast 35 lb more, and got pregnant again 10 months after my baby was born, and did the same with the third, but in my third pregnancy I was that time with 193 lb and had gestational diabetes and a hight risk pregnancy, and almost died in my delivery with hemorrhage, and ended up having an hysterectomy.
So I was determined to loose all the weight that I had gained in 4 years (which was 50 lb), so started the regular diet, didn't work, so I went to weight watchers, didn't work, anyways, lots of diet, lots of frustration, I was exercising everyday and the weight wouldn't come down.
It was when I was looking for books ate amazon that I discover Maria book, and with the reviews, her facebook page I bought her book right always, read it in two weeks and started right always, this march, and since then I had lost 40 lb, I couldn't be happier, it was hard to give up my favorite foods, but as soon my cravings disappeared, I started to have the energy that I had never felt with 3 kids under 4, what else could I asked for? I still want o lose more 15 lb, but I'm on my way. I love Marias recipes, I love losing weight always having a desert.
Love you!! Cynthia"
To get started on your path to health and healing, click HERE. 
Best Facebook Post of the Day!
"Dairy Queen I've missed you for the last 5 months;( . But when this arrived today , I said whoo hoo! Bring on the healthified chocolate/almond butter sugar free ice cream treats for the summer! No more missing the frozen tasty treats that I love so much!
Thanks Maria for letting us know the ice cream maker was on sale! I would spend more on blizzards and larger pants this summer then what this little beauty cost me! 50% off this awesome little kitchen toy! Happy DANCE!" -Lori
Click HERE to get the ice cream maker on sale. When mine broke (because of over-use) they sent me a NEW one for FREE! Love Cuisinart! 

Weekend Eating
Do you wake up Monday morning with a "food hangover" and dreading the scale? In the past, I was what you would call a "week-day" dieter. I would be so good during the weekdays (probably because I was so busy) but on those relaxing weekends, I would let anything pass my lips. Yes, I said anything. All of the junk food I blog about staying away from, I was guilty of eating in my past life (several years ago). I would love Friday afternoons because it meant I no longer followed my rules of eating. I do not judge anyone for their diets because I was there once myself too. It was a long process to get where I am today.
Awhile back, Craig and I were at a Chinese/Sushi restaurant and I asked my husband "When was it, where I would see Crab Rangoon on a menu and not be tempted to order it?"… This wasn't an over night process for me and I don't expect it to be for you. One main thing that helped for me was to take note of how I felt in the morning after eating junk food.  Just how awful I felt the next day helped me make better choices.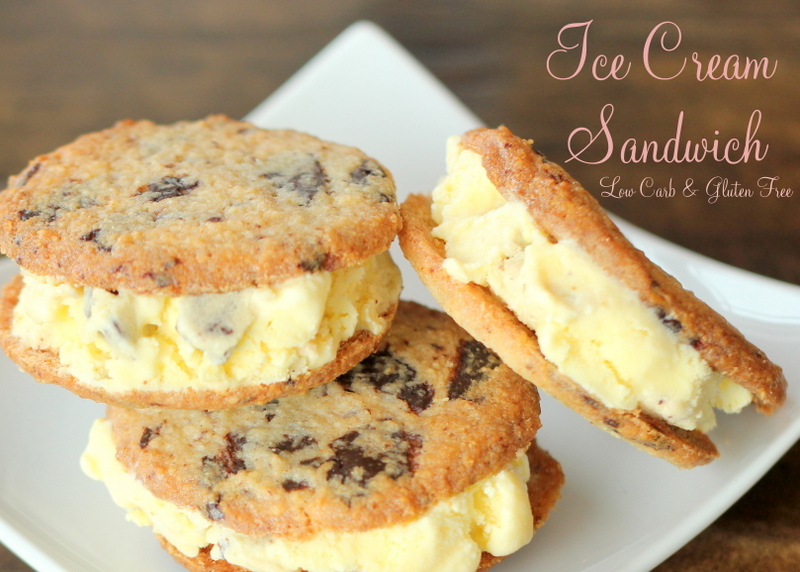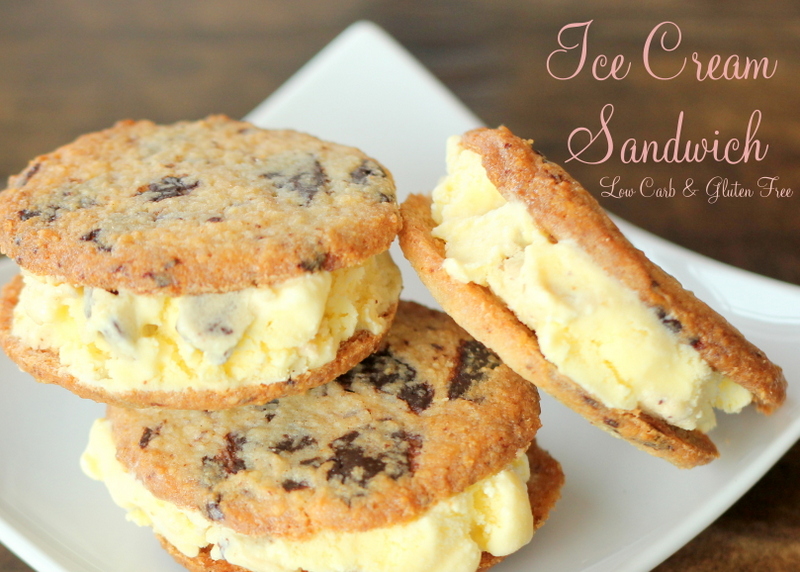 The average woman eats 400 more calories (most of them in the form of carbohydrates) on a Saturday or Sunday than she does on a weekday, which can lead to a 9 pound gain over the course of a year.
This yoyo weight gain also causes a tired liver. Instead of hating yourself on Monday morning, keep some of my "healthified" treats on hand.
I actually do recommend a higher calorie day once or twice a week to help stimulate the thyroid and T3 production, but this doesn't mean a "cheat day" of Pizza Hut and Dairy Queen. It means maybe a huge piece of "healthified" dessert that day or an extra serving of "healthified" pizza. I usually have my cheesecake or my ice cream recipe on those days (I'm not dairy sensitive). Where Craig prefers an extra hamburger (he doesn't have a sweet tooth).
To read more on Over-Feeding Days, check out my book Secrets to a Healthy Metabolism. 

Ice cream
Someone mentioned on my Facebook Fanpage that they didn't want to be a "stick in the mud" mom for not taking their kids to the new Frozen Yogurt shops that are popping up on every street corner!  When I was a teenager, I mistakenly ate fat free frozen yogurt for a dessert thinking it was a safe "diet" food. NOPE, it isn't. One of the most famous frozen yogurt chains ingredients for vanilla yogurt powder is: Pure Crystalline Fructose, Dextrose, Maltodextrin, Non-fat Milk, Yogurt Powder, Micro-encapsulated Probiotic (Lactobacillus Sporogenes)
Not good! The first 3 ingredients = sugar, followed by processed cow's milk. Maltodextrin, in particular, has a glycemic index of 110 (sugar is only 57).  Not only is it made from GMO corn, it also increases blood sugar. The scary thing is, since it technically isn't a sugar (in the chemical world), it doesn't have to be listed as a sugar. SO things like Ensure or Pedia-Sure will claim 0 grams of sugar…sure, but the maltodexterin will increase blood sugar even higher than sugar would. To read more on this, check out the chapter on Alternative Sweeteners in Secrets to a Healthy Metabolism. 
Also, have you seen the prices at those places!? I often get questions about the cost of the ingredients I recommend. I calculated the price for my ice cream recipe with all the top-notch ingredients like organic coconut oil, Swerve (or Just Like Sugar) and farm fresh organic eggs. The results:
My recipe = $3.13 per pint.
Ben and Jerry's = about $4.00 per pint.
Cold Stone Creamery = $7.50 a pint and it has 2 GRAMS of trans-fat!
You can also buy most of the ingredients I use in bulk and store in a chest freezer to lower the cost even more! Eating healthy costs you a lot less in the long run due to medical bills but it can cost less now versus buying pre-packaged at the grocery store. It just takes a little more of your time, which I would also argue against since the time it take to load everyone up and drive to Dairy Queen and back is about how long it take to make fresh ice cream at home!  And it tastes so much better when you make it fresh at home! I get my ingredients for great prices HERE and on the right column on this blog where it says "stock your pantry".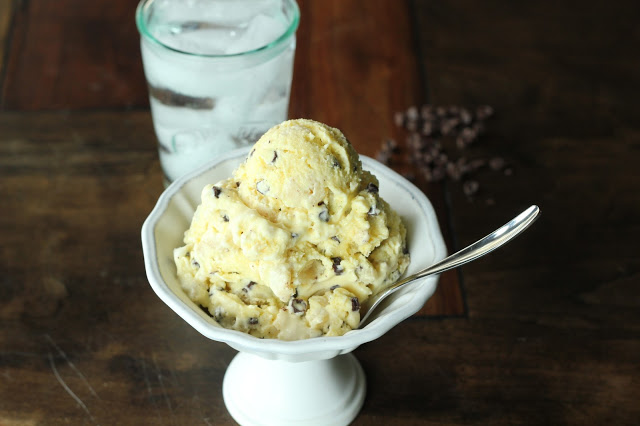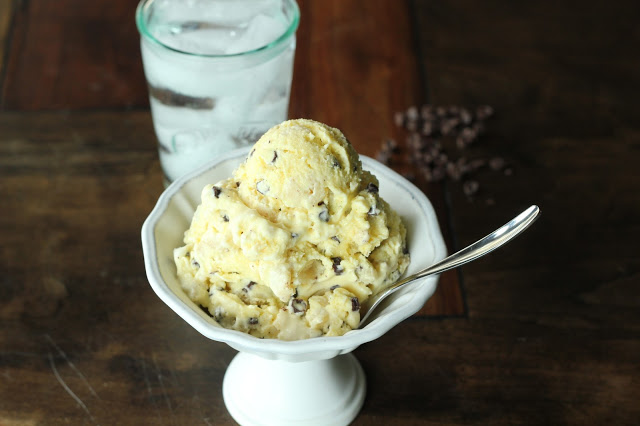 Cookie Dough Ice Cream
Making low sugar ice cream is tricky. If you use erythritol for a sweetener, it hardens to a ROCK! BUT if you use Swerve or Just Like Sugar, it stays nice and creamy! Another trick is to always add a pinch of salt to the mixture.
Ingredients
VANILLA ICE CREAM:
5

large

egg yolks

3/4

cup

allulose

keeps ice cream soft

1

teaspoons

stevia glycerite

1

cup

organic heavy whipping cream

1

cup

unsweetened almond milk

1

teaspoon

Redmond Real salt

1

vanilla bean

Click HERE to find (or use vanilla extract)
"HEALTHIFIED" CHOCOLATE CHIP COOKIE DOUGH
3/4

cup

blanched almond flour

1/4

cup

coconut flour

1/2

cup

butter

or coconut oil

3/4

cup

Natural Sweetener

or erythritol or Allulose

1

teaspoon

stevia glycerite

1

teaspoon

Redmond Real salt

1

ChocoPerfection Bar

chopped
Instructions
ICE CREAM: Place all of the ice cream ingredients in a blender (Click HERE to find my favorite blender) and mix until smooth.

Place the saucepan onto medium heat on the stove and cook, stirring constantly (I used my hand mixer, see photo). Stir until thickened into a custard (make sure to heat slowly or you will get scrambled eggs!).

Remove from heat and cool completely (I cooled overnight in the refrigerator...it was hard to wait!).

Place into your ice cream machine (click HERE to find the one I love AND it is 1/2 off the original price!!!) and watch the magic happen within 15 minutes or according to your ice cream maker's directions.

Freeze until set for vanilla ice cream or stir in chunks of cookie dough.

COOKIE DOUGH: In a medium bowl, cream the butter and natural sweeteners. Cream for a few minutes until very fluffy.

In a separate bowl mix together the almond flour, coconut flour and salt.

Slowly add in the dry ingredients to the wet and mix until smooth.

Add in chopped chocolate.

Using your hands, roll into little balls and freeze.

Once frozen stir into the vanilla ice cream.

ICE CREAM SANDWICH OPTION: Add an egg to the cookie dough and bake some dough at 325 degrees F for 13-18 minutes to make a few ice cream sandwiches!
Nutrition
Calories:
341
|
Fat:
31
g
|
Protein:
6
g
|
Carbohydrates:
8
g
|
Fiber:
5
g
|
P:E Ratio:
0.2
Here is a video of me making ice cream (and some protein bread with the whites!).