Chili Lime Chicken Kabobs
 COCONUT VINEGAR
What is coconut vinegar you may ask when you see this recipe? Well, Coconut vinegar exceeds all other vinegars in amino acids, vitamins and mineral content. Don't worry, it doesn't taste like coconut!  Here are some reasons why I love it!
1. It is also a FOS (a prebiotic that promotes digestive health).
2. The sap used to make coconut vinegar comes from coconut trees grown in volcanic soil rich with minerals. No need to worry about your potassium if you don't eat potatoes or bananas (because they are too high in sugar/starch), coconut vinegar has 192mg per tablespoon!!! The sap also contains large amounts of phosphorus, potassium, iron, magnesium, sulfur, boron, zinc, manganese and copper.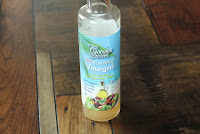 3. Coconut sap has all 9 essential amino acids, which are the building blocks of protein. It also contains 8 nonessential amino acids. Proteins are part of every living cell in your body, it forms hemoglobin, which carries oxygen and antibodies, which boosts the immune system. Amino acids also repair tissue, serve as neurotransmitters, transmits messages within the brain, and some detoxify your body and boost metabolic functions.
4. It is low on the glycemic index, coming in at only 35 on the scale.
This natural vinegar is a great replacement for your recipes that call for other vinegar. I use it for Kai's bone broth, soups, dips, salad dressings, marinades…you name it. Click HERE to find.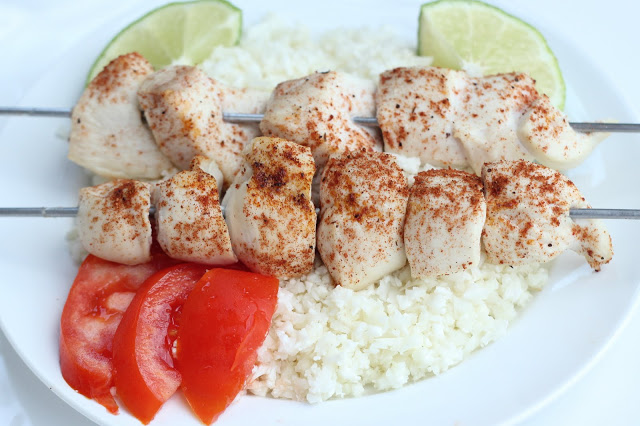 Here is a yummy dinner idea with only a little cooking inside on these hot days!
I am more like you than you realize… you can find me opening a Kettle and Fire organic beef broth instead of making my own broth quite often.
"HEALTHIFIED" KABOBS 
3 TBS coconut oil (melted) OR butter
1 1/2 TBS coconut vinegar OR red wine vinegar
1 lime, juiced
1 tsp chili powder
1/2 tsp paprika
1/2 tsp onion powder
1/2 tsp garlic powder
cayenne pepper to taste
Sea salt and freshly ground black pepper to taste
1 pound skinless, boneless chicken breast halves – cut into 1 1/2 inch pieces
4 skewers
OPTION: Non-starchy Veggies for the grill: Peppers, mushrooms, zucchini
In a small bowl, whisk together the oil, vinegar, and lime juice. Season with chili powder, paprika, onion powder, garlic powder, cayenne pepper, salt, and black pepper. Place the chicken in a shallow baking dish with the sauce, and stir to coat. Cover, and marinate in the refrigerator at least 1 hour. Preheat the grill for medium-high heat. Thread chicken onto skewers, and discard marinade. Lightly oil the grill grate. Grill skewers for 10 to 15 minutes, or until the chicken juices run clear.
Serve on top of Cauliflower Rice:
4 cups cauliflower, grated
1 TBS coconut oil OR butter
"RICE": To make the "rice," cut the cauliflower into pieces and pulse in a food processor until small pieces of "rice."  (click HERE to find the one I love on sale for $30! Original price $78!)."TIP: You can also use the heart of the cauliflower for rice, or use for making "French Fries."  (TIP: can do this up to 2 days ahead of time and store in the fridge for easy lunch/dinner options). Stir fry the cauliflower "rice" in oil  for about 3-5 minutes or until cauliflower pieces are done to the desired liking.  Makes 4 servings.
NUTRITIONAL COMPARISON (per serving)
Traditional Rice Kabobs = 567 calories, 16g fat, 39g protein, 59 carbs, 1.6g fiber
"Healthified" Kabobs = 325 calories, 16g fat, 37.5g protein, 6.5 carbs, 2.9g fiber
NUTRITIONAL Comparison Per CUP:
White Rice = 53 carbs, 0 fiber, 242 calories
Cauliflower Rice = 3 carbs, 1 fiber, 28 calories
I make a huge batch of cauliflower rice and keep it in the fridge for an easy addition to dinner when I am running late.
TESTIMONIES OF THE DAY
Phone Client Testimony (UPDATE FROM ROBERT: Click HERE to find his original testimony on how he does it with traveling 80% of the time):  "Hi Maria, Just a quick note.  When we started over a year and a half ago a good part of my goal was life insurance.   As I crossed other milestones including not losing 20 lbs in 12 months, I just had my paramedical this am.
I don't have the blood results back but blood pressure, pulse and weight were great. In fact I was 14 lbs UNDER the next weight class. 
Once final confirmation and results of blood I'll try to send you another. But after 20 months just wanted you to know we did it.  Lost the weight, kept it off and have been a new normal for at least 16 months.
More to follow.  All the best to you." Bob
To get started on your path to health and healing, click HERE.