Testimony of the Day
"Hi Maria! I just wanted to show you a quick update after being on your diet for 5 days!! I've attached a before and after picture. My itchy, rashy legs have always looked their worse when I'm in a bath or shower; they are always there, but something about the hot water would make them very red and more noticeable than they already were. The "before" picture is how my legs would look while bathing for the last 3 or so years. I was so happy to take a bath tonight and realize they are almost all gone! I just wanted to thank you again for saving my skin!" Malorie
To get started on your path to health and healing, click HERE.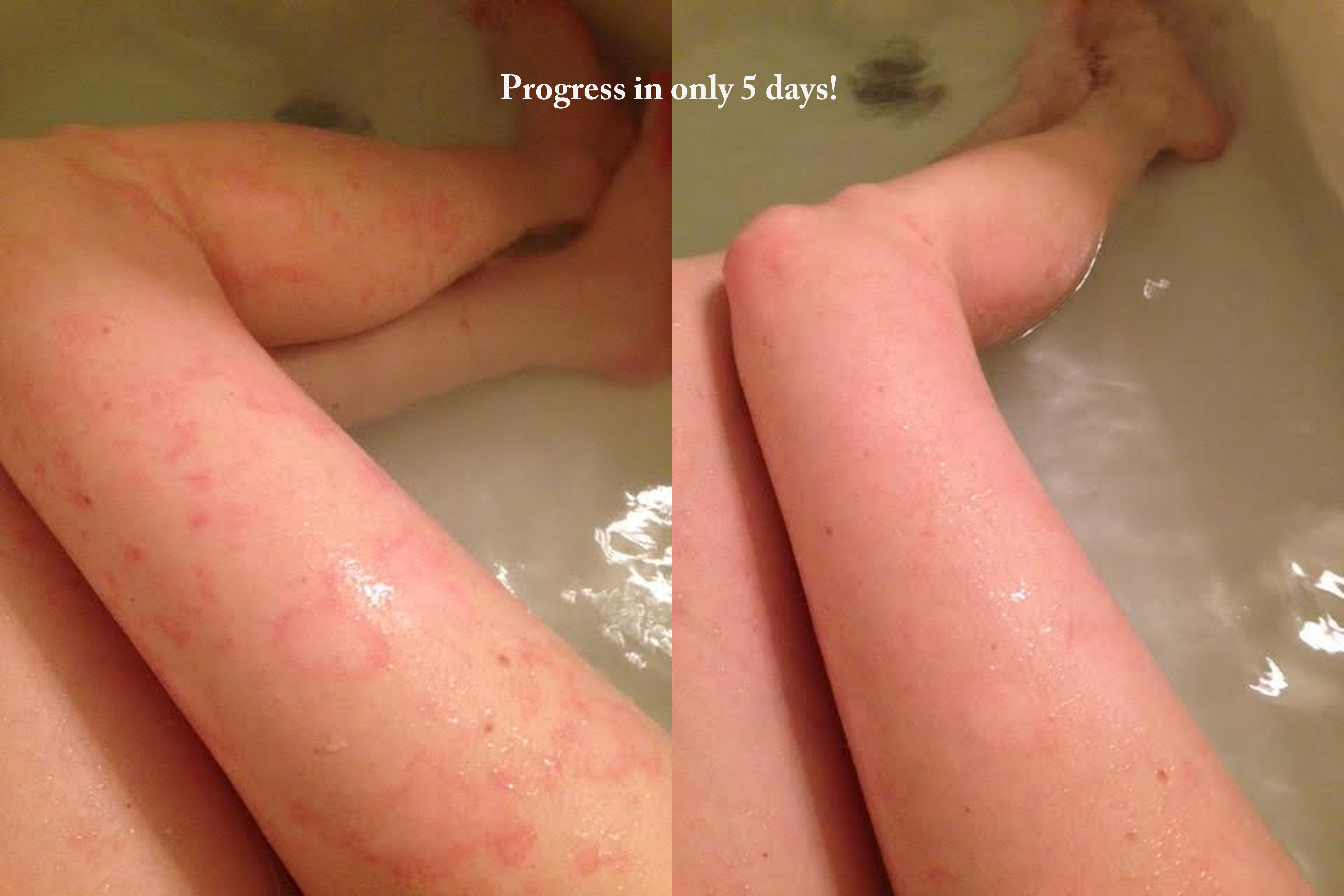 LOW CARB AND ENERGY
Energy Can Come From:
1. Glucose: created with carbohydrates and protein
2. Fats, both from the diet and from stored body fats
3. Ketones which are derived from the metabolism of fats
KETONES and ENERGY = EAT HEALTHY FATS
If you want to stop being a "sugar burner" you must derive energy from another source. Enter fat. When we start eating a healthy low carb diet, our bodies slowly switch from burning sugar to burning fat. This is where eating becomes an "art." Energy must be derived from healthy fatty acids and ketones produced from foods such as coconut oil. At first the body will feel lethargic due to the mechanisms switching over; burning sugar is easy, burning fat takes a few days to adapt.
The brain prefers to use ketones instead of glucose for energy (in Alzheimer's the brain can no longer convert glucose for energy, coconut oil is VERY healthy for these patients!).
Eating a very low carbohydrate diet stimulates the production of ketones from body fat; which is why people lose so much weight on this diet. Cutting out carbs and reducing protein also leads to a lower insulin level in the blood. A normal blood sugar is 1 TEASPOON of sugar in you blood. Many Americans consume over 63 teaspoons a day! If you can conquer a normal blood sugar, it reduces the problems associated with high insulin levels; insulin resistance, leptin resistance, high blood pressure, Metabolic Syndrome, weight gain, sleep issues…
To produce ketones, focus on carbs being only 5% of your total intake. For diabetics, the level may need to be lower to counteract insulin resistance. Typical levels of carb intake for a type-2 diabetic are around 30 grams per day or less; the level should be lower still at about 20 grams a day or less for a type-1 diabetic. Here is a good ratio to follow for calories/macro-nutrient consumption:
5% carbs
10-20% protein
70-80% fat
Don't eat just lean proteins! It is not tolerated well in our body. It leads to nausea in as little as three days. A high healthy fat diet, however, is the traditional diet to sustain for a lifetime. Eating only lean protein causes excess intake of nitrogen, which leads to hyperammonaemia, which is a build up of ammonia in the bloodstream and is toxic to the brain. Many traditional societies survived on a purely animal product diet, which was naturally high in fat…they didn't have George Foreman Grills.
Our paleo ancestors actually consumed more fat than protein; with a ratio of about 80% calories from fat and 20% from protein. During prolonged periods of starvation or something such as marathon running, fatty acids are converted into ketones, the preferred energy source for highly active tissues like those found in the heart and muscles. Ketones provide a long lasting energy to all cells with mitochondria. Ketones are used to generate ATP. If you use glucose for energy, it needs the intervention of bacteria, ketones can be used directly.
*Note: Using a quality REAL salt is also essential for electrolyte balance. We start skipping the salt and we get low energy. I'm not talking about pre-packaged and fast food junk salt. A Celtic Sea Salt filled with minerals will help with energy.
My favorite electrolyte product for athletes is ENDUROLYTES FIZZ. Click HERE to find.
The healthiest more energizing fats come from animal sources. Quality animal sources like free-range egg yolks and grass fed beef!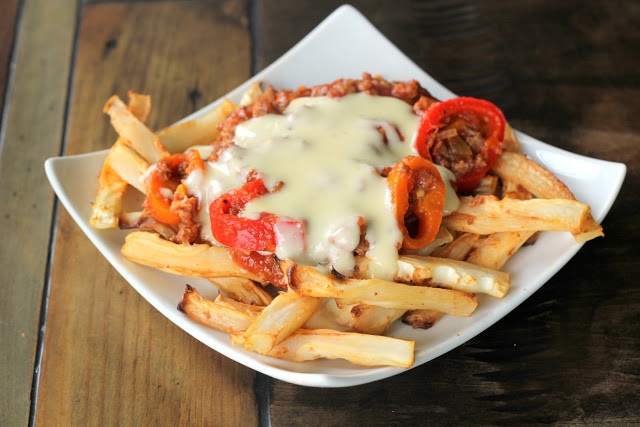 "Healthified" Chili Cheese Fries
CHILI:
2 pounds grass-fed ground beef
1 pound Italian sausage
2 (28 oz.) cans diced tomatoes with juice
1 (6 oz.) can tomato paste
1 large yellow onion, chopped
3 stalks celery, chopped
1 green bell pepper chopped
1 red bell pepper chopped
2 green chilies chopped
4 pieces bacon (fried, drained and chopped)
1 cup beef broth
¼ cup chili powder
1 TBS minced garlic
1 TBS dried oregano
2 tsp ground cumin
2 tsp hot pepper sauce
1 tsp dried basil
1 tsp Celtic salt and pepper
1 tsp cayenne pepper
1 tsp paprika
1 tsp stevia glycerite
FRIES:
2 heads of cauliflower stems
1 tsp Celtic sea salt
1 tsp chili powder
OPTIONAL: Top with "Healthified" CHEESE SAUCE OR 1 (8 oz.) block Cheddar cheese, shredded
CHILI: Heat a large stockpot over medium-high heat. Crumble the ground chuck and sausage into the hot pan, and cook until evenly browned. Drain off excess grease. Pour in the diced tomatoes and tomato paste. Add the onion, celery, green and red bell peppers, chili peppers, bacon, and beef broth. Season with chili powder, garlic, oregano, cumin, hot pepper sauce, basil, salt, pepper, cayenne, paprika, and stevia. Stir to blend, then cover and simmer over low heat for at least 2 hours, stirring occasionally. After 2 hours, taste, and adjust salt, pepper, and chili powder if necessary. The longer the chili simmers, the better it will taste. Remove from heat and serve, or refrigerate, and serve the next day. Makes 12 servings.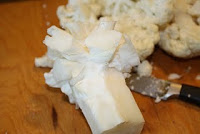 FRIES: Preheat the oven to 425 degrees F. Cut the stem out of the cauliflower (you can also use the whole cauliflower if you want, but it won't look like "french fries"). Cut the stem into french fry shapes. Place on a greased cookie sheet. Spray the 'fries' with coconut oil spray and sprinkle with chili powder and salt. Bake for 25 minutes or until golden brown. Remove from the oven. Spoon chili over fries and top with cheese.
NUTRITIONAL COMPARISON (per serving)
Traditional Chili Fries = 411 calories, 17g fat, 8g protein, 52g carbs, 5g fiber
"Healthified" Chili Fries = 432 calories, 27g fat, 33g protein, 14g carbs, 5g fiber (57% fat, 30% protein, 13% carbs)
"Healthified" Chili = 421 calories, 27g fat, 33g protein, 11g carbs, 4g fiber (58% fat, 31% protein, 10% carbs)
VARIATION: You can also use my other "French Fry" ideas, such as Eggplant Fries found in my cookbook: Nutritious and Delicious
To read more check out: Fat is the most valuable food known to Man PROFESSOR JOHN YUDKIN