Chili Dog Pizza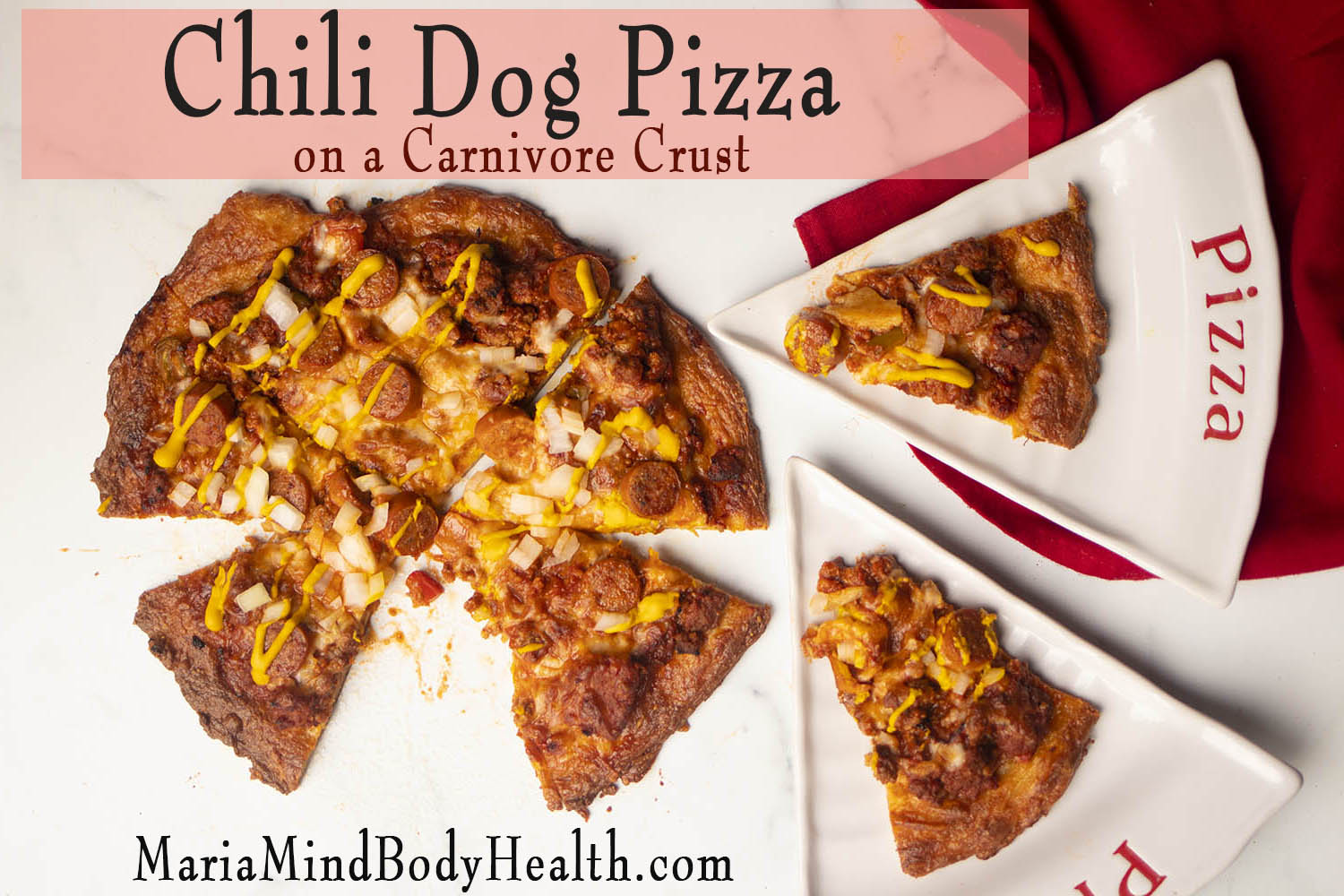 Everyone goes CRAZY for my Chili Dog Chili! Everyone also LOVES my carnivore pizza crust! Why not marry the two???
Actually, this recipe for Chili Dog Keto Pizza came to me when I was running!
I love to listen to podcasts on my runs. During one of my runs, the hosts were talking about the best frozen pizzas. One of the pizzas they talked about was a Chili Dog Pizza! The pizza had chili as the sauce, topped with cheese and slices of hot dog! They also said how the pizza came with a little baggy of raw onions to put on top after you baked it. BRILLIANT! I thought, I must try this with my carnivore pizza crust! Click HERE to listen to podcasts that I have been interviewed on if you love to listen to podcasts too!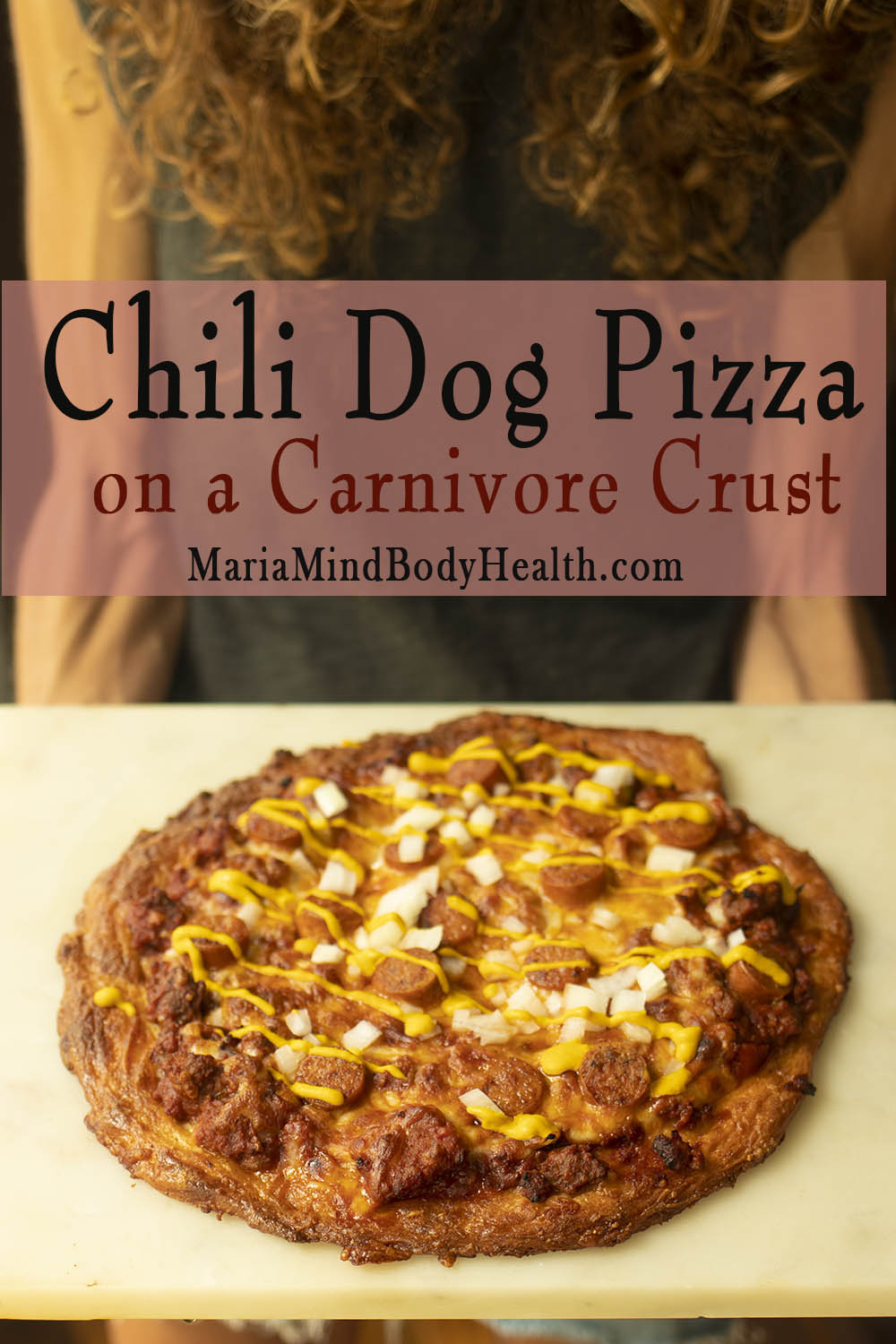 To make my Keto Chili for this Chili Dog Pizza, I used Italian Sausage but sometimes I use Chorizo! However, it is hard to find Italian Sausage and Chorizo without sugar and if you do, it is really expensive! That is why I order Butcherbox products! They also have NO SUGAR in their bacon, hot dogs or any of their high quality cuts of meat and wild caught seafood!  Click HERE to get sugar-free bacon! 
It is hard to find bacon without sugar and when you do it is VERY expensive! That is why I order Butcherbox bacon! It is sugar free and it is mailed to my front door!
If you LOVE bacon like my son does, you are going to want to check this out!
Butcherbox is doing a special deal when you sign up now!
If you're an existing ButcherBox member I've got deals for you too.
Skip the stores with all the temptations and get quality food mailed to your front door!
Click HERE to access member deals and specials. You'll find exclusive and limited time offers as well as new product launches like lobster, ground bison, seafood sampler, cast-iron favorites, their legendary bacon blast (10 packs of bacon for just $5/pack), and so much more. Their member deals are constantly changing so be sure to click HERE
Primal Kitchen is SO generous that they are doing a special discount for all of my readers! Use code: Maria for 20 % off!
If you want to watch me make delicious keto recipes like Chili Dog Pizza recipe, subscribe to our new YouTube Channel, and comment below on what video recipe we should make next!
Chili
Ingredients
4

pieces

sugar free bacon Click HERE

1

large

yellow onion

chopped

1

green bell pepper chopped

1

red bell pepper chopped

2

cloves

garlic

minced

2

pounds

ground beef 85% lean Click HERE

2

28 ounces

diced tomatoes with juice

1

6 ounces

tomato paste

2

green chilies chopped

1

cup

beef broth

I used Kettle and Fire brand

¼

cup

chili powder

1

tablespoon

dried oregano

2

teaspoon

ground cumin

1

teaspoon

dried basil

1

teaspoon

Redmond Real salt

use code Maria15 for 15% off

1

teaspoon

ground black pepper

1

teaspoon

cayenne pepper

1

teaspoon

paprika

1

teaspoon

stevia glycerite

optional
Instructions
Heat a large stockpot over medium-high heat. Add the diced bacon and cook for 4 minutes or until cooked through and crispy. Remove bacon from the pot while leaving the drippings. Add the onions, bell peppers and garlic and saute for 5 minutes or until onions are soft. Add the ground beef and sausage into the pot, and cook until evenly browned.

Drain off excess grease. Add in the diced tomatoes and tomato paste. Add the chili peppers, bacon bits, and beef broth. Season with chili powder, garlic, oregano, cumin, hot pepper sauce, basil, salt, pepper, cayenne, paprika, and stevia. Stir to blend, then cover and simmer over low heat for at least 1 hour, stirring occasionally.

After 1 hour, taste, and adjust salt, pepper, and chili powder if necessary. The longer the chili simmers, the better it will taste. Remove from heat and serve or use to make Chili Dog Pizza!
Nutrition
Calories:
338
|
Fat:
21
g
|
Protein:
24
g
|
Carbohydrates:
11
g
|
Fiber:
3.7
g
|
P:E Ratio:
0.8
Chili Dog Pizza
Ingredients
Crust:

1 3/4

cup

shredded mozzarella cheese

2

tablespoons

cream cheese

or butter

3/4

cup

powdered pork rinds

Pork Panko

1

egg

1/8

teaspoon

Redmond Real salt

use code Maria15 for 15% off

TOPPINGS:

1

cup

Chili

from above, 2 servings

1

cup

shredded Monterey Jack cheese

2

Pederson's Farms hot dogs

sliced into 1/2 inch long pieces

GARNISH:

Diced raw yellow onion

Drizzle of Primal Kitchen Dijon mustard and ketchup

use code Maria for 20% off!
Instructions
If you have a pizza stone, place it into the oven. Preheat oven to 425 degrees F.

To make the dough, place the mozzarella and the butter in a heat safe bowl and microwave for 1-2 minutes or until the cheese is entirely melted. Stir well.

Add the powered pork rinds, egg and salt and using a hand mixer, combine well.

Put the dough on the greased piece of parchment paper on a flat baking sheet and pat out with your hands to make a large round circle.

If you are using a pizza stone, transfer the pizza on the parchment and slide it onto to the hot pizza stone in the oven by sliding the parchment and pizza from the baking sheet onto the stone. Bake for 5 minutes or until the crust starts to get a little golden.

Meanwhile, place the diced bacon into a cast iron skillet. Cook over medium high heat while crumbling often, for about 5 minutes or until slightly crisp. Remove from heat. Transfer to a paper towel-lined plate. Set aside.

Remove pizza crust from oven. Spread the chili all over the top of the crust and top with cheese, slices of hot dog.

Place back into the oven and bake the pizza until the cheese is melted, about 10 minutes. Remove from oven and serve with Primal Kitchen mustard and ketchup if desired.

Store extras in an airtight container in the refrigerator for up to 3 days. Reheat slices on a baking sheet in a preheated 350°F oven for 5 minutes or until warmed through.
Notes
Nutritional Information:
876 calories, 59g fat, 66g protein, 19g carbs, 5g fiber
TESTIMONY OF THE DAY
"35 days. 15 pounds. And the best I've ever felt!
Thank you Maria Wojcik Emmerich & Craig Emmerich. Thank you. Thank you Michelle Nichole Minnick for sharing something you love and to inspire me to try just ONE MORE THING before I gave up hope for my adrenal fatigue recovery.
PSMF has been a godsend!" – Ashley
Most people I consult are doing keto totally wrong. Get fast results with the my NEW Keto Packages!