TESTIMONY OF THE DAY
If you need a little encouragement to start the year off right, please read this testimony from a client who travels about 3 weeks out of the month, has a wife and a toddler and still finds time to prepare meals. He lost 35.5 pounds in 45 days just by changing a few things.

"Maria,
Many of those that have posted have struck a chord with my situation before starting with you.  The "dark" side of my story was intentionally left out because I'm not at my goal yet.  For now, I just keep myself focused on results and not how or why–especially since it's difficult to exist in the "what if I didn't have a friend that helped me?"
It is humbling to see how much trust you place in your clients and how much hope and faith they have in you!  There were some posters that touched on similar concerns to mine, so I wanted to clarify in the hope that others may see how working with you can simplify, not complicate; can be cheap not expensive.
1.  I did NOT cook for most of my progression.  I suck at cooking.  I had to ask my wife how to hard boil eggs.  Seriously.   So MY weight loss was not dependent on baking or cooking skills.  Your recipes  impacted my enjoyment and spare time, but my weight loss was not dependent on a magic recipe.  And I built up to them.  With that said, I can see how some people would see immediate benefit from substituting your healthified stuff.  But for someone that is on the road, eats out or just can't cook–don't worry.  Maria's plan works incredibly well in that reality that so many of us live in.
2.  When my son and I cook, it's often easy stuff like fried eggs or my new hard-boiled egg recipe (egg + boiling water).  I thought I'd be late to work, but it literally takes 15 minutes start to finish.  Okay, sometimes longer if we decide to sing.  My waffle maker was $50.  Made that back in one skipped trip to Sunday buffet.  Your pancakes are like $2.50 and were breakfast for 3 days.
3.  My progress and your plan for me was 100% INDEPENDENT of source of food.  Eggs were eggs.  Chicken was chicken.  I did NOT need to find cage-free, organic DHA ratio'd eggs from Chickens that did yoga every morning.
4.  I took the past 1.5 to 2 months to learn WHILE doing.  You have now recommended 4-5 books that I read while exercising.  And youtubes and postings.  But if I waited to learn, I'd still be where I was.  Maybe even more depressed.  I imagine a lot of people are like how I am in many many ways but chose not to be with this.  I would read to find fault or problems.  To blame an industry or a food.  I came to realize that even if all of that is true, so what?  It's not about them, it's about me.
5.  I did not try to change anyone but me.  We had meals where son, wife and me all ate different things.  So what?  Is that ideal–no.  But who cares?  You know what–son started asking for what "papa" was eating.  Salsa (Pace) over ketchup.  Then mustard over salsa.  Then eggs over toast.  Now mustard on eggs.   And mustard on waffles.  Eventually that's where the baking and recipes helped…and that was key for me.
6.  Your plan SAVED me money.  I saved on snack foods not because I chose to not eat them–but because I did not need to snack.  I have a $8 bag of almonds in my pantry that I bought 2 months ago–and am only now down to the bottom.  I used to spend $15/day on snacks throughout the day.
7.  It was far easier for me to use your system of basic meal first, then build.  I didn't focus on what I couldn't eat–just on what I could.  I built a meal only from known things–especially helpful when on the road.  "When in doubt, leave it out."  I was stunned that I would get full and satisfied throughout the day so I didn't even feel like I missed anything.
8.  Here's a true story–I started to pass on airline meals.  I've had two flight attendants tell me "Good for you" in a very sincere way.  One explained how she fasts while flying.  This WILL happen to anyone that does your plan–you will find camaraderie in the oddest places.
9.  I have an ego and associated my willingness to try any local food with business success and whatever.  That was totally in my head.  There are just as many, if not more, people that I work with that have endeared themselves to me because I opted to jog along the oceanside rather than eat a local potato.
10.  Mentally, it was important for me to paint a picture quickly.  After a couple days of seeing the mental shift and energy level, I tried consciously to act as though I was already there.  What you helped me focus on was things like sleep, stress and reading.  I was therefore making decisions from a positive place and not out of victim, sufferer, tired/cranky, etc..
Anyway, Maria thanks for all your help and I'm looking forward to my own home stretch to my goal.  Looking forward to trying even more of the recipes with my son who's already asking me for your chocolate donuts!  'Papa, Nutritious AND Delicious!'   He's one smart low-carb cookie!"
Click HERE to start your journey to a keto-adapted diet!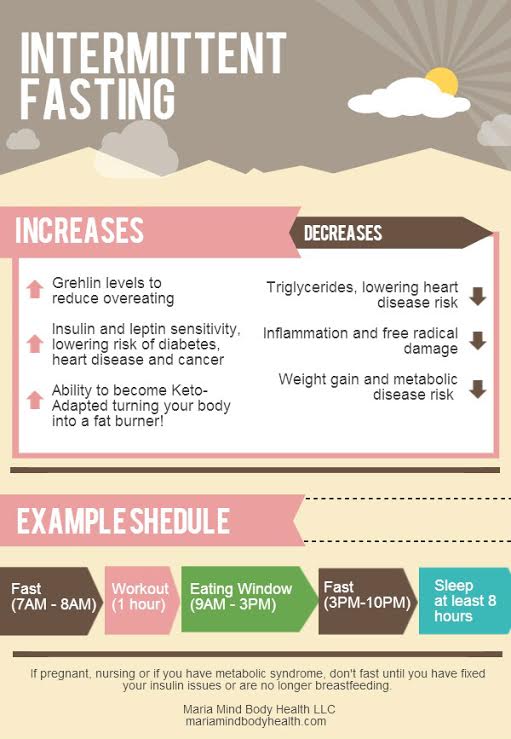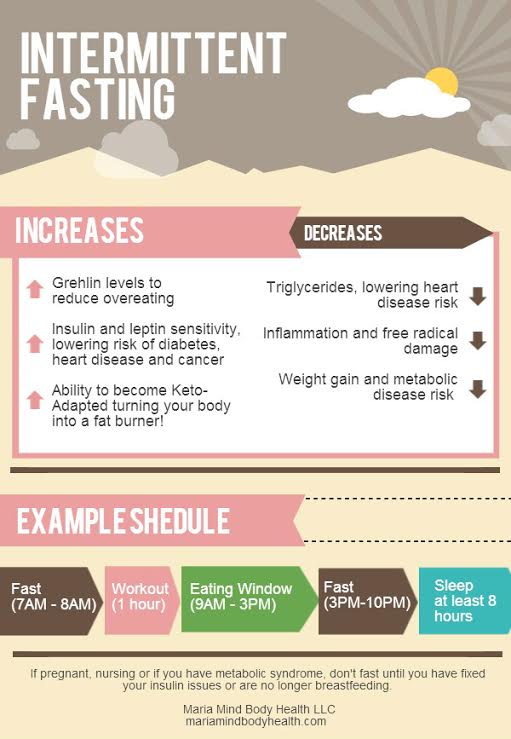 Intermittent Fasting
Breakfast isn't the most important meal of the day … "breaking your fast" is!
I remember when I first heard about "intermittent fasting." I thought, no, no, no. This is not good for anyone who wants to maintain their muscle. But after diving into what happens when you fast on a well-formulated keto-adapted diet, I realized that not only do you maintain your muscle, but there are other amazing benefits as well. As I started putting this into practice, I not only experienced the physical benefits, but the mental benefits were outstanding! I now work and write early in the morning in a fasted state for about three hours and my mind has never been clearer.
Intermittent fasting came into my life almost by accident. With the increased amount of fat I ate (while also moderating my protein), not only was I losing weight, but I was no longer "hangry." When you are eating the highest nutrient-dense foods like herbs, spices, organic egg yolks, and organic organ meat, your cells are satiated.
Fasting is not a diet. It is a pattern of eating. You can eat very poorly while practicing intermittent fasting, a decision that will cause you to not reap as many benefits than if you were to eat a well-formulated keto-adapted diet. Fasting really isn't as drastic as it sounds. When you sleep, you are starting to fast a little. During first 10 hours after eating, you are digesting and absorbing nutrients. It isn't until after not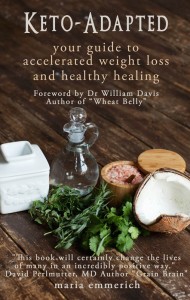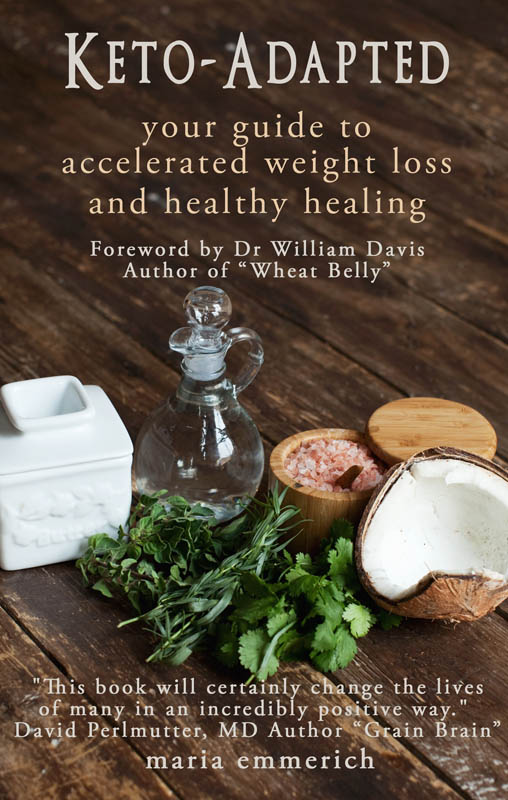 eating for 10 hours do you actually get into a fasted state. If you keep your window of eating open to only 8 hours of your day, then after 12 hours of not eating, you get into a fasted state where you can burn fat more efficiently.
I know this may sound impossible. What I find interesting is that with most dieting, the mental part is easy but the physical part is hard. What I mean by that is knowing you need to cut carbohydrates and gluten is easy, but the physical act of making those changes is the hard part. With fasting, it is the mental part that blocks many clients from even trying it. It sounds impossible, so they don't even try. I was there, too. I did not like the idea of fasting or at least I thought I didn't. I liked eating. But since I was a sugar burner, I always wanted to eat. Now that I'm keto-adapted, I save so much time by not being plagued by thoughts of food all day.
Read more about Intermittent Fasting and how it helps heal our bodies in Keto-Adapted.
Click HERE to get a limited edition Hard Cover.
Click HERE to get a soft cover.
Thank you all for your love and support!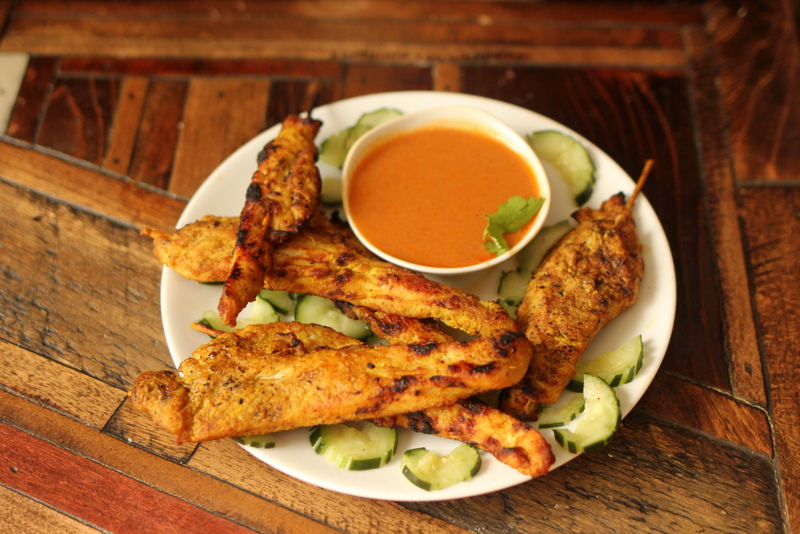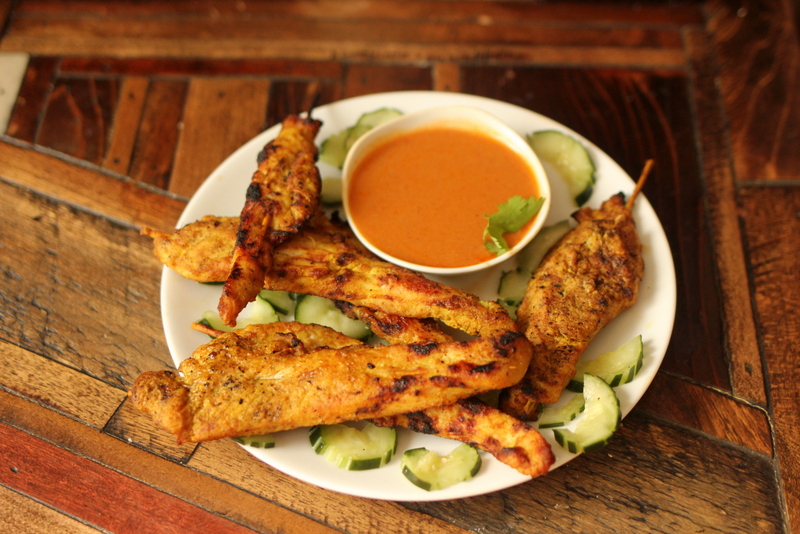 "HEALTHIFIED" CHICKEN Satay
1 pound boneless, skinless chicken sliced into strips
MARINADE:
2 TBS Organic Tamari (or coconut aminos)
2 TBS Swerve confectioners (or drop of stevia glycerite)
2 TBS fresh lime juice
1 TBS MCT oil
1 TBS curry powder
2 garlic cloves, minced
1 tsp finely minced fresh ginger
1/2 tsp ground cardamom
SAUCE:
2 tsp minced ginger
2 tsp Organic Tamari sauce (coconut aminos)
1/2 cup coconut milk
1/2 cup Natural Peanut Butter OR SunButter
2 TBS Swerve confectioners (or a drop of stevia glycerite)
1 tsp cayenne pepper
Optional: 1/2 cup scallions, chopped
CHICKEN: Combine the marinade ingredients and marinade the chicken in the refrigerator overnight.
Heat 2 TBS coconut oil in large skillet  (or heat grill to high heat) and cook chicken until it is no longer pink, about 2-3 minutes. Set aside.
SAUCE: Reduce heat to low and in a medium pan add ginger, Tamari sauce, peanut butter, coconut milk and cayenne pepper. Cook, stirring frequently, until sauce is bubbly and warm, 1-2 minutes. Remove from heat and sprinkle with scallions. Serve immediately. Makes 5 servings.
NUTRITIONAL COMPARISON (per serving)
Traditional Dish = 360 calories, 17 carbs, 2.6g fiber
"Healthified" Dish = 290 calories, 3.2 carbs, 2.1g fiber
FYI: The McNuggets only have 2g protein per serving! There's barely any meat in them!
Chicken McNuggets: White boneless chicken, water, food starch-modified, salt, seasoning (autolyzed yeast extract, salt, wheat starch, natural flavoring (botanical source), safflower oil, dextrose, citric acid, rosemary), sodium phosphates, seasoning (canola oil, mono- and diglycerides, extractives of rosemary). Battered and breaded with: water, enriched flour (bleached wheat flour, niacin, reduced iron, thiamin mononitrate, riboflavin, folic acid), yellow corn flour, food starch-modified, salt, leavening (baking soda, sodium acid pyrophosphate, sodium aluminum phosphate, monocalcium phosphate, calcium lactate), spices, wheat starch, whey, corn starch. Prepared in vegetable oil (Canola oil, corn oil, soybean oil, hydrogenated soybean oil with TBHQ and citric acid added to preserve freshness). Dimethylpolysiloxane added as an antifoaming agent.