TESTIMONY OF THE DAY
"Hi Maria! I sent you a family before (May 2013) and our most recent family photo (December 2013). I have also included a picture of me at my highest weight (210 pounds) and a picture from 2 weeks ago. In July 2013, my husband thought he was having a heart attack and we went to the ER. It turned out to be acid reflux. The doctor said that he would probably have to stay on Prilosec for the rest of his life. I knew that couldn't be true. There had to be other things we could do.
I had always cooked and baked for our family from scratch and we ate healthy foods but obviously it was not working for us. As I was researching different wheat-free and sugar-free recipes, I found you. We cut out wheat as that was a trigger food for him and sugar. I dropped 7 pounds the very first week! He started to feel better and was dropping weight as well.
We have changed our entire home to a grain-free, sugar-free home. Our oldest son came off medication for ADHD in January. He had been on it since 1st grade. He just turned 17 last Sunday. His acne has also improved from full-blown breakouts to 1 or 2 blemishes. Our middle son lost 8 pounds and we were not restricting his food. Our youngest has improved greatly in his behavior. We discovered that food dyes made him aggressive but now that we have eliminated sugar and grains, he is a different kid.
As of January, I had lost 35 pounds but, I had stalled. I was not exercising. My husband had lost 45 pounds but, he had also stalled. I went to the doctor for a physical and they noted the weight loss. My blood work was amazing except my bad cholesterol was a little high which he told me would go down with exercise. I also talked to him about the supplements I had read about in Maria's books. He told me the ones he recommended from the list for me and I started taking a probiotic, omega 3, vitamin D . . . The doctor has this awesome scale that tells you fat%, fat mass, muscle mass, water content. He lets me come in every other week to weigh in and see my progress. He also sent me to a trainer to get a baseline fitness assessment and I started working out with her. My husband and I joined a gym and I am working out at least 3 times a week. I never would have considered myself athletic before. I was always active but, not really into fitness. Now I miss it when I don't exercise. I feel better when I do.
Since January, I have lost 14.2 pounds of fat and gained 3 pounds of muscle. I have gone from 42% body fat to 36% body fat. I am still working and am not where I want or need to be yet. I have lost 2 inches off my neck! Who knew your neck could even lose 2 inches?!?! I have lost 10 inches off my waist, 7 inches off my hips, 4 inches off each thigh and 3 inches off each arm. I am starting to see definition again that I haven't seen since high school. My wedding ring is loose . . . it has never been loose. I am tempted to pull my wedding dress out of the basement and try it on. The other day, I tried on a pair of pants size small and they fit! I will never go back . . . ever. As of this morning, from my heaviest, I am down 51 pounds and my husband is too! Thank you! Kristi T.
To get results fast, click HERE for easy to follow keto-adapted meals.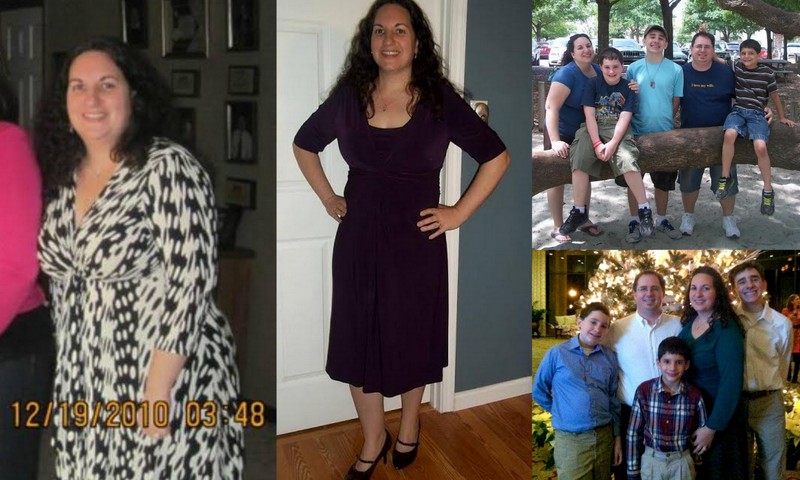 HEATH TIP: Wait 6 months after your weight has stabilized to get your cholesterol taken. When eating a keto-adapted diet, you lose weight by burning body fat rather than lean mass, as you do with low-fat diets.  For example, if you are losing 1 pound of body fat every four days, that is 3500 calories worth of animal fat into your blood as triglycerides. If you get your blood drawn in the middle of your well-formulated keto-adapted weight loss journey, there's a good chance that your numbers will look "bad" to your doctor. Triglycerides may be very high since your blood is now full of them because they are getting released from your fat cells.
CHICKEN ADOBO
There is some controversy about the use of Tamari (soy) sauce in the traditional dish, Chicken Adobo. This is a tasty  Filipino dish; some believe that soy sauce was too much of Chinese influence and therefore use coconut milk instead. That is how I made this recipe and personally, I prefer the taste this way!
"HEALTHIFIED" CHICKEN ADOBO
2 lbs chicken thighs
1/2 cup coconut vinegar
1/2 cup coconut milk (or Tamari soy sauce)
4 cloves garlic, crushed
1 tsp black peppercorns
3 bay leaves
Combine all ingredients in a large pot. Cover and marinate chicken for 1-3 hours. Bring to boil, then lower heat. Cover and let simmer for 30 minutes, stirring occasionally. Uncover and simmer until sauce is reduced and thickened, and chicken is tender about 20 more minutes. Serve with Miracle rice or sauteed cauliflower rice. Makes 6 servings.
NUTRITIONAL COMPARISON (per serving)
Traditional Adobo with rice = 506 calories, 16g fat, 47g protein, 40g carbs, 1.2g fiber (38.8 effective carbs)
"Healthified" Adobo = 337 calories, 16g fat, 44.4g protein, 2g carbs, 0.6g fiber (1.4 effective carbs)
Coconut Vinegar nutritionally exceeds other vinegar in its amino acid, vitamin and mineral contents, and is an excellent source of FOS (a prebiotic that promotes digestive health). In addition to using in your favorite dressings and marinades, our Coconut Vinegar may also be used instead of apple cider vinegar for skincare or with any internal cleansing program. (This delicious vinegar does not have a coconutty flavor.) Click HERE to find.
MY TESTIMONY
When my dog, Teva, started losing her hair in patches, the first thing my veterinarian asked me was, "What are you feeding her?" Yes! What a good question! But you know what? I have never been asked that question at the doctor. Not once. Not even when I was a teenager suffering from IBS and acid reflux. I was just given a prescription. Nothing frustrates me more than getting a Band-Aid for the symptoms and not addressing the underlying cause of my issues which is why this job is so important to me. I want people to start feeling amazing, eliminate migraines, get off cholesterol-lowering drugs, increase serotonin naturally, balance hormones to alleviate PMS. And do it with food and natural supplements so you can feel like a happy and healthy person I finally became after years of IBS, estrogen dominance and low moods.
In my "before" photo, I was 15 years old where I was on a camping trip in Colorado. I already lost 12 pounds in this photo due to giardia (a parasite in the water), but you get the idea that at age 15 I was going down the wrong path. I decided enough was enough and I was like everyone and thought I needed a caloric deficit in order to lose weight. So I took up running. My love for movement and exercise did not come easily for me. Sure, I liked to play as a kid, but when it came to phys-ed, let's just say I wasn't the first kid picked to be on any team. I still remember when I was in middle school, pacing back and forth in my parents' yard and contemplating how to get out of the dreaded "mile run" that I had to do in phys-ed the next day. My anxiety about this was getting the best of me. I remember thinking how I could break my leg so I didn't have to run because if I were just to say that I was sick that day, the teacher would just make me run it the next week. I had to think of something more long term. Not wanting to actually break my leg, how could I fake a broken leg? All of these ridiculous ideas went through my head!
Eventually, I started to like running and I ran at least 11 miles daily and was still 150 pounds (at 5'2). I often ran in the morning and then another run in the afternoon. I also started training for marathons. What gives? I ate Special K with skim milk for breakfast and dinner, dried fruit for lunch and still was too heavy for my frame. Sure, once the weekend hit, I was so hungry, I ate junk. It was impossible to balance my neurotransmitters and control my cravings on a diet like that!
As I learned more about nutrition, neurotransmitters like serotonin and the ketogenic lifestyle, I started to switch my running to lifting weights and yoga. I do run a bit in the morning, but the neighbors all laugh at me because I am usually looking down at my phone answering emails! It is a relaxing run. 
I'm telling you about my exercise regime because I want you to realize that it is NOT about calories in and calories out. Albert Einstein's definition of insanity = doing the same thing over and over again and expecting different results, yet we all seem to be succumb to this lie. Our bodies are more complex than that. It isn't a simple answer. Our hormones and mitochondria determine our fat loss and fat gain. I want you to know that you do not have to kill yourself at the gym in order to lose weight. I certainly was sick of running all the time and living off of diet food like fat-free pretzels; which FYI, are higher on the glycemic index than jelly beans!
Anyway, my testimony is to help you feel encouraged and empowered to take control and understand that you deserve this and you do not have to live off of salads or live at the gym. If you are willing to take the time to prepare meals, even if they are slow cooker meals, you CAN do this! You deserve to feel amazing too!
I look forward to your "after" photos too!" – Maria