Testimony on Keto-Adaptation
"A year ago June my then 38 year old husband was in a health crisis. Type 2 diabetic who had just developed high blood pressure. His pressure was so high, his weight was almost 300 pounds and our new Family Doctor went through the roof. He was on the verge of a stroke or heart attack. He also suffers from Severe Sleep Apnea.
I started us on a diet back then which used lean protein shakes. When I learned about you, I switched over to "your way" or now known as the "Maria way or the ME way" (ME= Maria Emmerich) of high fat, moderate protein, low carb.
Almost a year down the road he's lost 50 pounds his blood pressure is much better and his diabetes is under control. He had a sleep study done and his very severe sleep apnea is now moderate when he sleeps on his side and only severe if he sleeps on his back. I also have lost 50 pounds and that's even after spending 3 months this Spring/Summer in bed with a broken ankle after a freak ice storm this past April.
We aren't perfect at following you yet but we've already made such huge strides forward. We are working at changing the habits of a lifetime. So Happy to have found you!!! -Sherrilee"
Click HERE to start your journey to a keto-adapted diet!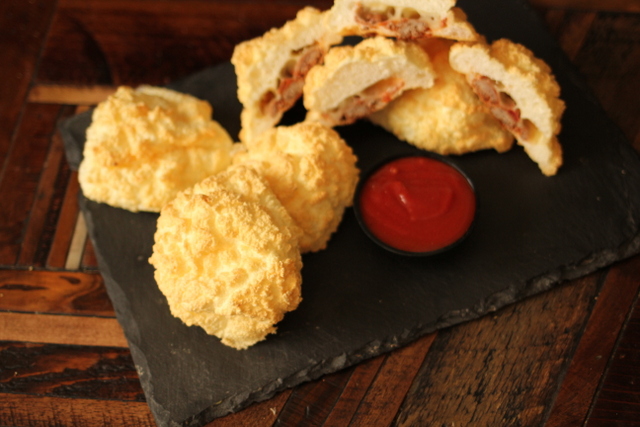 My friend Rebecca mentioned that she makes a "Cheeseburger Bun" for her family. Her traditional recipe is a flour and yeast bread, stuffed with hamburger and cheese. She tried the "healthified" recipe out with her family and the whole family loved it! Even my little sweetheart Trista liked it! Thanks Rebecca!
1 pound grass fed beef
1/4 onion, chopped
Optional: additional spices, salt and pepper
3 eggs, separated
1/4 cup unflavored whey
1 tsp onion powder (if desired)
6 slices cheddar cheese
In a fry pan, cook the beef and onions. Add salt, pepper and spices. Set aside.
Preheat oven to 350 degrees. Separate the eggs. Mix the whites in a clean, dry bowl (it won't work if there is water in the bowl). Mix in the unflavored whey. (Optional: using a spatula, gradually fold the egg yolk mixture into the white mixture, being careful not to break down the whites). Add in the onion powder. Place the "dough" on a greased baking sheet, top with ground beef and cheese, then top with another layer of "dough." Bake at 350 degrees for 18 minutes. Makes 6 sandwiches.
NUTRITIONAL COMPARISON (per sandwich)
Traditional Cheeseburger Bun = 365 calories, 22.1 carbs, trace fiber
"Healthified" Cheeseburger Bun = 245 calories, 1 carb, trace fiber