Testimony of the Day:
"Maria, I have struggled with weight loss my entire life since I was six years old and my doctor put me on my first low fat and low calorie diet. I would lose 5 pounds here and there but remained heavy and as a kid it is hard to stay on a restrictive diet because the first time you are allowed anything sweet you eat all that you can because you have been deprived of it for so long. Time passed and when I was in 7th grade my mom decided to try out the Atkins diet that helped me to succeed in my weight loss taking off 60 pounds in about 15 months. I had never felt better and really kept it off until I got my first job at a fast food restaurant when I was seventeen. The weight started coming back after a few too many fries and I was eating fast food nearly everyday at work and gaining despite living an active lifestyle.
The years passed and I steadily gained at 145 pounds and 5'2 my doctor had suggested I start trying to lose weight as my blood sugar was very unbalanced and my blood pressure was abnormally high for a 20 year old. I was starting to have the problems of a 50 year old at the age of 20.
When I was 23 I found out my husband and I were pregnant and I stopped all dieting and ate whatever, whenever and a lot of it. I had a nightmare of a pregnancy being put on bed rest for high blood pressure at 4 months along. At the time of delivery I was 207 pounds. I was so unhealthy and completely miserable fighting off cravings was nearly impossible and my weight had gotten out of control. After the baby and things started to settle I once again reached towards a low carb lifestyle. It was harder this time after consuming so much junk food for years and then go back to low carb eating. At that time I didn't realize there were low carb desserts and had never heard of my beloved almond flour. Even though I was low carbing during the week, I would allow myself junk food on the weekend needless to say my progress was very slow and disappointing and I fell off the low carb wagon.
In November 2011 after bad blood work revealing I was prediabetic and my blood pressure was once again going up I decided I really had to make a change in my life. I decided that this time I was going to take a different approach to low carb and really seek out recipes so that I wouldn't feel deprived. Pinterest had just started up at the time so I pinned low carb desserts by a blogger named Maria Emmerich who single handedly changed everything I ever thought about nutrition, dieting, and living a healthy lifestyle. I began buying the ingredients she suggested and making her recipes which left me feeling amazing and satisfied. One month in and I was down 15 pounds! I couldn't believe it, I was eating all these great foods and losing, I never hit a plateau and even started incorporating exercise into my life. When I first started living the Maria Way I was 170 pounds and one year later I was 115 pounds. I couldn't believe I had lost 55 pounds in one year! The best part was when I went to the doctor and they didn't even recognize me, it was the best feeling ever. My doctor was surprised at my appearance but did warn that my blood work may not be any different because the low carb lifestyle promotes high fat (blah, blah, yawn). Well did I prove him wrong, my blood pressure was perfect and my prediabetes was gone. The doctor left saying, "well you have cured yourself you are in perfect health."
I have been living the Maria Way for nearly two years now and I have never been happier! You have changed my life, the way I look at food and have inspired me more than you could ever know. Everyday I am thankful for you in my life because without you this would not have been possible." -Amanda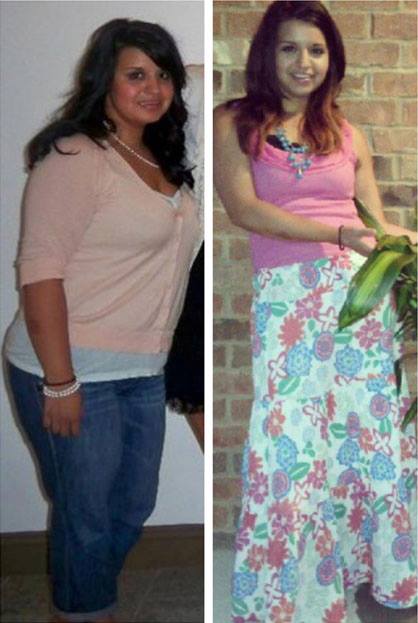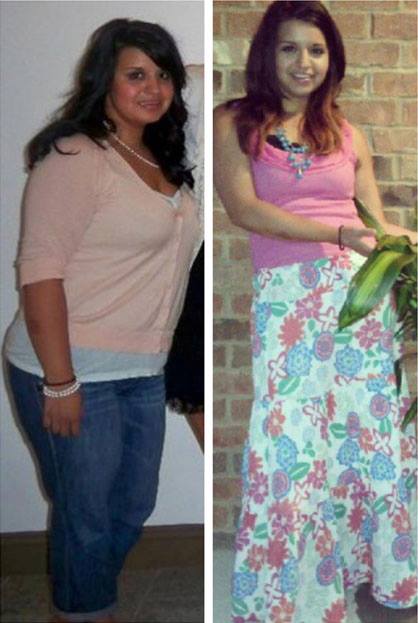 NEW AND IMPROVED MEAL PLANS!
We have gotten some amazing feedback on the 30 day meal plan option. One email said "Holy Moly! That included more tips than I thought it would! I certainly see where I went wrong with my grain free/low carb diet before this!" 
But Craig and I are perfectionists, so he helped me add even more detail along with a grocery checklist for each week.
If you want to get started on your "after" photo, click HERE.

RISOTTO
I love the TV show Hell's Kitchen. I always wanted to be a chef:) When they make the lobster mascarpone risotto, my mouth starts to water. So here is my healthier version. Enjoy!
If you are a vegetarian, you can omit the lobster. But might I suggest adding oysters? Zinc is a mineral that I find many of my vegetarian and vegan clients to be deficient in. This is problem-some because a zinc deficiency can cause poor blood sugar regulation which leads to extreme cravings for salt or something sweet after a meal, intense PMS symptoms, poor thyroid regulation, poor taste receptors, as well as many other issues. Oysters are filled with zinc! I was visiting with a vegetarian chef in California who claims that they don't see oysters as an animal and let me explain why:
1. They don't have a brain
2. They are technically a bi-valve (so are clams and mussels)
3. Oysters can't feel pain
4. Oyster farming is beneficial not harmful
If you want to watch me make a healthy "risotto" on KARE 11 TV show, click HERE.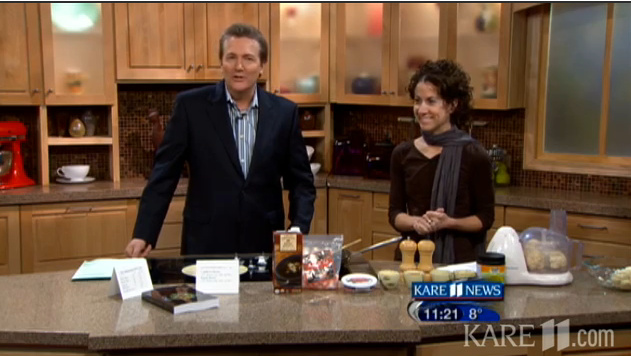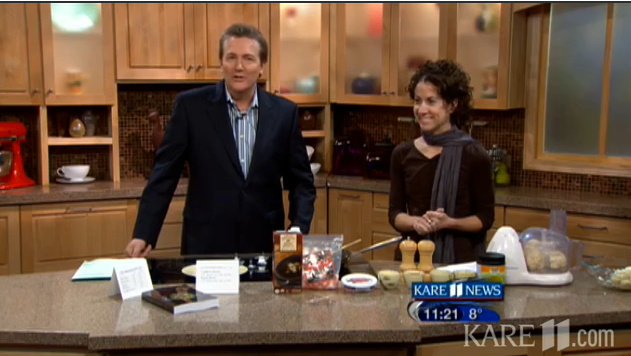 To find this recipe click HERE. 
Craig often likes to go to get "healthifed" sushi (sashimi, no rice) with Micah. While he was there he overheard the sushi chef tell the waiter to try the sushi rice because yesterday someone else made it and it didn't taste good. He said he adds over 3 quarts of sugar to each batch of rice, which equals to be 34 grams of ADDED sugar per cup of rice! We never eat rice but that sure is another reason not to!
Try my "healthified" sushi instead! Recipes found in The Art of Healthy NEW COMBINED COOKBOOK!
Thank you so much for your love and support!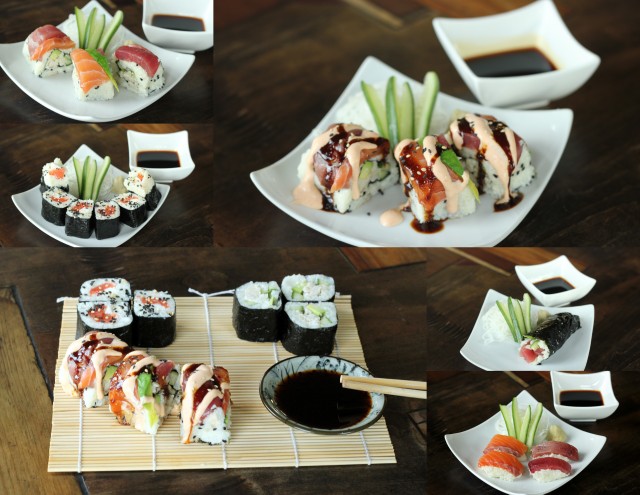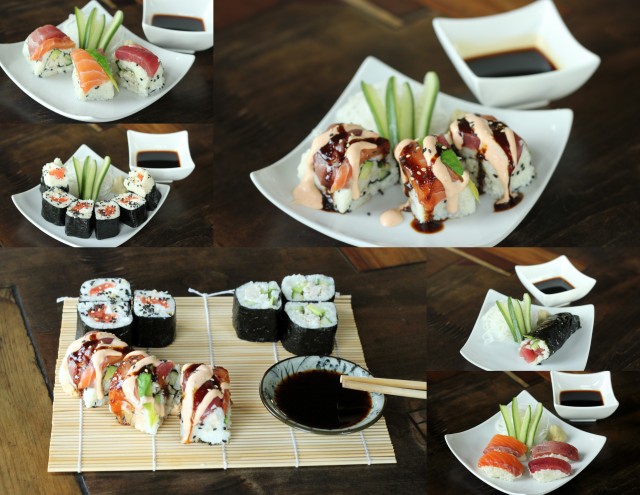 If you would like to help out a small family, rather than large business, I am happy to announce that you can now get my books as a high quality ebook that works on any platform. This is an ebook format that works on any computer or mobile device. It is a beautiful pdf that has all the full color pages and layouts as the printed books with click-able table of contents and searching capabilities. This is extremely useful when trying to find a recipe. These books are much higher quality than the ebook platforms (kindle, apple). Plus, most of the profits don't go to Amazon or apple! Just go here to get your copy!
Just Click HERE or select "My Books" above to get your copy now!